Oktoberfest After Dark, 10/10/09
Drinking out of plastic steins, dancing, singing, making out, getting muddy, eating greasy food and paying outrageous ATM fees: Soulard Oktoberfest. Photos by
Steve Truesdell
.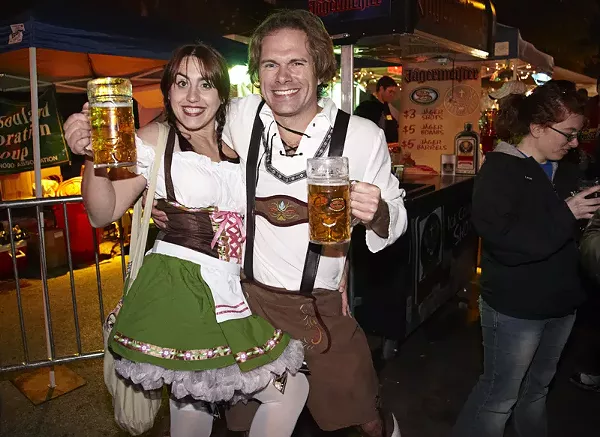 Jamie and Ryan with get their "German" on.
The Fräuleins of Oktoberfest.
Dasha, proving style can triumph the cold.
Amy and Ashwin, glasses empty after a full day.
As the evening wore on, walking became more of a challenge for some.
Cooking up some potato pancakes.
Stephanie and Kevin found an open space for dancing behind the stage.
"The shades say it all, dude."
"Is that Jake or Elwood?"
"It's our first Oktoberfest. This is AWESOME!"
"Thank god for portable ATM's, the beer was expensive!"
Brave Combo rocked out one polka after another keeping the masses happy.
Katie and Natalie recently moved to St. Louis from Columbia, Missouri and were experiencing their first Soulard Oktoberfest.
Tiffany gives a thumbs up for the potato pancakes.
Shelly Kidwal and Bobby Autry sample the delights of Oktoberfest.
"We're definitely a 'glass is half-full' kind of group."
Dan and Rob, trying to forget the Cards loss.
Jaeger Girls or really cute Pumpkins?
The scene in front of the Lafayette Street stage where Brave Combo was playing.
Friends, fellowship and beer.
The strudel! Enough said.
Potato pancakes and applesauce, it tastes much better than it looks.
Katie and Brent Youngblood trying out some Oktoberfest hats.
Pretty ladies and beer! A boy's dream come true.
Tracy, Jason, and Monique hanging out in the big tent.
Inside the tent, the floor was packed all night.
Ziggy Zoggy, Ziggy Zoggy Oi! Oi! Oi!
Keith was showing off his new pigtails.
Sarah and Kaman enjoying a polka together.
Lindsay was selling the brats at a stand run by Joanie's Pizzeria.
What's Oktoberfest without an accordion?
Alyson, Ginger and Natalie were all smiles even though the Cardinals lost.
Lafayette Street was packed for Brave Combo.
Johny and Alana doing the beer polka.
Mark Saak in his Oktoberfest best
Angie was selling those big, warm, soft pretzels that go so well with beer.
Melissa showing off her chicken sandwich.
Brats and sauerkraut, so good at night, so not good in the morning.
"Oktoberfest, it's not just for the college kids."
Euclid Media Group, LLC
Read Our Sister Publications