So you want to see the symphony, catch a Cards game, get into a tiny little tram car and see the world at 630 feet. The only problem is you didn't get your tickets fast enough. Sold-out events are a fact of life, and nobody likes to get all dressed up and then find themselves sitting in the car desperately searching for a plan B.
Don't cry into your Budweiser. We got your plan B right here, pal (thrusts hips, points down to the list below).
1. Instead of the Symphony
The St. Louis Symphony is a world-renowned orchestra that presents a healthy season of fan favorites, lesser-known gems and a glittering array of guest musicians and conductors. That means shows can sell out. But even if they do, you don't have to go without great music. Scattered around the city and greater metro region are a host of options for fans of classical music. Cathedral Concerts at the Cathedral Basilica of St. Louis (www.cathedralconcerts.org) offer a mix of touring groups and local musicians such as Tallis Scholars, the Vienna Boys Choir and sacred organ music and collegiate choirs. The Bach Society of Saint Louis (www.bachsociety.org) performs choral music from Mozart, Rachmaninoff, Rutter and of course, Bach — this year the city-wide Bach Festival is back after a long absence. If chamber music is more your thing, you have options. The Chamber Music Society of St. Louis (www.chambermusicstl.org) presents small ensemble selections by Beethoven, Rosetti, Ravel and Prokofiev, while Chamber Project St. Louis (www.chamberprojectstl.org) is all about eclectic and modern music. Mixed in with your Stravinskys and Beethovens you'll get contemporary chamber music interpretations of everybody from Langston Hughes to Elvis.
2. Instead of a Cardinals Game
When they're hot, St. Louis Cardinals tickets go quickly. If you absolutely live and die by the fortunes of them Birds (and already paid the mortgage to park), walk around the stadium to Ballpark Village (www.stlballparkvillage.com) where you can see the game on any size screen in about a half-dozen restaurants, with food that promises to be more affordable, even with tip, than nine innings of stadium fare. If it don't mean a thing unless you're seeing baseball with your own eyes, a short drive across the bridge gets you to Sauget, Illinois, where the Gateway Grizzlies (www.gatewaygrizzlies.com) play minor league ball in a sweet little bandbox of a stadium. Tickets are family-friendly and the view is great from anywhere. For $7 you can take sit just outside the outfield on a grassy lawn, and for $45 to $55 the whole family can go VIP on the party porch — you get wait staff to bring you Pepsi products or select A-B brews, wine or margaritas. That's all included in the ticket price, as is the all-you-can-eat buffet.
3. Instead of a Show at the Fox
When a hot show comes to town (coughcough, Hamilton), tickets will be scarce. But you don't have to call it an early night. At the south end of the same block as the Fabulous Fox is the Kranzberg Arts Center (kranzbergartscenter.org), which holds a black box theater (home to Upstream Theater and numerous local theater companies on a one-off basis) and a studio space that hosts jazz groups and experimental music performances. Two blocks east sits .ZACK (kranzbergartsfoundation.org/zack), an arts incubator with a 202-seat proscenium theater that's home to local theater companies R-S Theatrics, Tessearact Theatre, Insight Theatre Company and the Ignite Theatre Company. If nothing there strikes your fancy (jeez, you're picky), the Marcelle Theatre is right around the corner. And New Line Theatre Company (www.newlinetheatre.com), which calls the Marcelle home, does nothing but rock & roll musicals (think American Idiot, Heathers, Assassins).
4. Instead of the Gateway Arch
It's big, silvery and shiny, and it has elevator rides to the top, where a heavy wind makes it sway. During the summer those lines back up quite a ways, and as of press time, renovations had closed the inside of the Arch and the museum beneath it to repairs. If you can't wait (either in line or for renovations to be complete), head to the south leg of the Arch and see the skyline the old-fashioned way — on a one-hour cruise down the Mississippi and back in replica steamboats the Becky Thatcher and the Tom Sawyer (www.gatewayarch.com). Tickets are more affordable than you think ($10 for kids, $20 for adults). Trips run March through December and give you a sense of both the Arch's scale and the river's.
5. Instead of the Muny
The Muny (www.muny.org) is a massive, historic outdoor theater in Forest Park that hosts nothing but musicals during the summer — so yes, there will be sell-outs. But you don't have to go far to see the show, because every performance offers 1,450 free seats in the last nine rows. Many families indulge in the entire season, because why not? Expose kids to the great American art form on a regular basis and they'll be fans for life.
6. Instead of the Saint Louis Art Museum
Its motto is "Dedicated to art and free for all," and the Saint Louis Art Museum delivers. The entire museum is free year-round, and even ticketed shows are free on Friday. But sometimes, the kids get antsy, and you get tired of saying "Don't run," "Lower your voice!" and "Don't touch." If they've clearly had enough, you can rush 'em out the door to Art Hill (www.slam.org). You can't miss it — it's the big hill just below the statue of St. Louis. Kids can roll, run, play tag, blog, whatever their thing is. If you really want to overload 'em, lead them behind the museum and down a smaller hill to the Saint Louis Zoo (www.stlzoo.org). Admission is free every day, and the world-class zoo has everything from spotted hyenas to sea lions.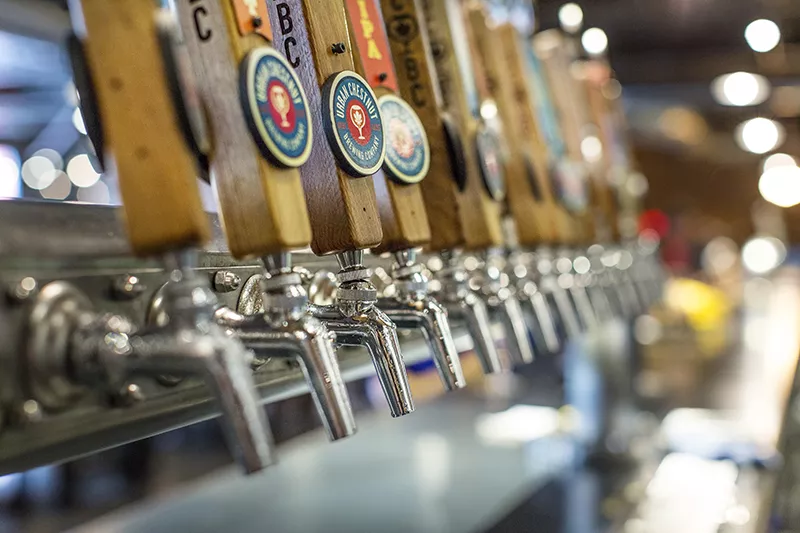 PHOTO BY JENNIFER SILVERBERG
Urban Chestnut offers a craft beer alternative to St. Louis' famed Anheuser-Busch tour.
7. Instead of the Anheuser-Busch Brewery Tour
The big daddy of American brewing offers year-round tours of its facilities (www.budweisertours.com) so you can see how the beer gets made and taste a free sample, too. But maybe, for whatever reason, you're not into Bud. The rapidly growing Urban Chestnut Brewing Company (urbanchestnut.com) in the Grove lets you take a self-guided tour of its German bierhall and brewing facilities during regular hours. If you want a free tasting at the end, you can opt for the self-guided tour + tasting (you get a limited edition glass and four, five-ounce samples) or the guided tour + tasting on Saturday. It ain't a bad way to spend an afternoon.
8. Instead of Grant's Farm
The sprawling Busch family estate is an eye-opener (www.grantsfarm.com). Admission is free, and you can take a guided tram ride of the entire 201 acres — also free. There are animal exhibits, a barn that houses livestock, a rather fascinating display of horse tack and those world-famous Clydesdales. But if you show up to park and find yourself out of luck, the Magic House (www.magichouse.org) isn't far away. It offers hundreds of hands-on exhibits that foster learning, such as the static electricity ball, a giant kaleidoscope, model trains that kids can operate and a big wall that lets youngsters make three-dimensional impressions of their whole bodies.
9. Instead of the City Museum
You ain't seen nothing like the City Museum (www.citymuseum.org). The four-story house of wonders has secret tunnels, a series of faux-trees you can climb on (and behind), a cave system that extends under the first floor and a massive replica whale — and that's just part of the ground floor. But in the summertime, those lines can get long, especially in the morning. If you're looking for something free and open to the public, Citygarden (www.citygardenstl.org) is a short drive east and has a beguiling selection of large public art sculptures. Kids can physically interact with many of 'em. The most popular one might just be Warren T. Byrd Jr.'s three fountains, where kids splash around in the spray plaza whenever it gets hot.