National Record Store Day
DJ's, deals and live music during National Record Store Day parties at Vintage Vinyl and Euclid Records. By Annie Zaleski.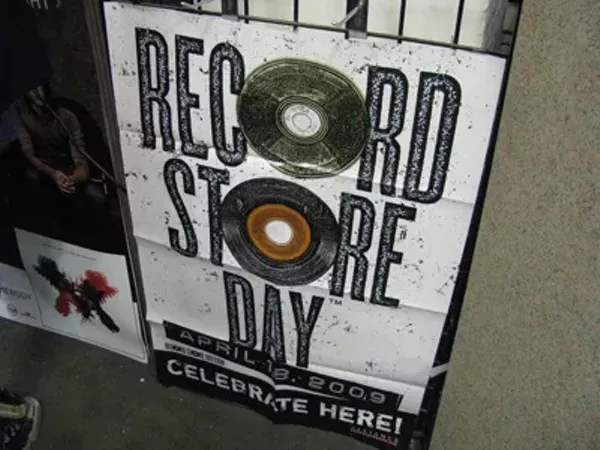 National Record Store Day.
Euclid Records owner Joe Schwab. Afternoon rain didn't stop patrons from flocking to the Webster Groves record store, which offered ten percent off everything in the place.
Euclid Records employee Steve Pick helps a customer. He noted that the store was packed with people all day.
Euclid Records was crowded all day with people buying music and enjoying live performances from local acts such as the Trip Daddys, Troubadour Dali and the Bottle Rockets.
The St. Louis band Bent, a favorite in the '90s, performed for the first time in many years.
Bent vocalist Rob Wagoner, pictured here, noted that it had a "new" CD for sale.
Bent's Jawbreaker-esque tunes sounded fantastic.
Record Store Day boasted scads of limited-edition vinyl and CD's for sale, like this My Morning Jacket live EP.
More Record Store Day exclusives, from Bruce Springsteen and Grizzly Bear.
Even metal gods Slayer got into the Record Store Day fun.
Patrons ponder the Euclid used section.
Ben Phillips (left) and Kevin Buckley from Grace Basement, who performed at Euclid in the early afternoon.
Vintage Vinyl enticed customers with no sales tax on purchases.
Vintage Vinyl co-owner Tom "Papa" Ray DJ'd some soul/reggae favorites for customers, one of many guest DJ's.
Vintage vinyl co-owner Lew Prince and his son, Sam, who works at the store.
Like Euclid, Vintage Vinyl was also busy with customers -- so much so that the store ran out of free PBR early in the day.
Vintage Vinyl employees (including RFT freelance photographer Sarah Paradoski) were worn out from the busy day.
The members of So Many Dynamos, who were guest DJs at vintage Vinyl and held a release party for their new seven-inch, "New Bones," later in the night at the Billiken Club.
Heroes of the Kingdom/Ring, Cicada vocalist Christian Powell (right) and pal spent some time (and cash) at Vintage Vinyl. Powell snagged the new Mastodon CD.
Vintage vinyl clerks help out more satisfied customers.
The Beat Street crew took turns spinning tunes, scratching records and mixing tunes together. Later in the day, the rhythms and beats drew a couple of rubber-limbed break-dancers.
Da Fly DX on the ones and twos. He and DJ Alejan, who also spun, used to co-host a KDHX show.
DJ B-Money (left) has produced tracks for Jay-Z and 50 Cent and scratched on Jennifer Lopez's "Jenny From the Block."
DJ Needles (right) hard at work.
Vintage Vinyl clerk/Bunnygrunt member Matt Harnish (left) and morning DJ Donnie Fandango (right). Fandango DJ'd his favorite pop tunes, including cuts from the Ting-Tings, the Gaslight Anthem and Sugar.