Page 3 of 3
DANNY WICENTOWSKI
Department of Health and Senior Services Director Dr. Randall Williams at the state hearing in 2019.
Shannon says her work is the easy part. It only gets overwhelming when the state throws hurdles and regulations in the way. To know it could be so much simpler to use Planned Parenthood's services is an aspect of the job she despises.
On October 31, 2019, she found herself fighting those forces directly. Called to testify in front of the state commission, she spoke about the clumsy, confrontational inspections by Koebel and the state health department. She explained that the clinic initially agreed to perform the second pelvic exam mandated by the state, but she and her staff decided it was too "unbearable" for patients to endure. The court took a recess after Shannon broke down in tears recounting the new regulation.
Her testimony came on the final day of the commission's hearing. Most of the headlines followed the revelation that the Department of Health and Senior Services had mined medical records to create a spreadsheet that tracked patients' menstrual cycles in hopes of finding evidence of failed abortions.
In the end, Planned Parenthood's review of more than 4,000 cases turned up two concerning cases, both of which an outside expert testified were handled appropriately. Planned Parenthood's leaders and supporters felt good about their chances by the end of the hearing, but there was no guarantee they would prevail. It was up to a single commissioner, Sreenivasa Rao Dandamudi, to decide, and it wasn't clear when that decision would come. For the next six months, Shannon and her colleagues went to work never knowing what each day at the office would bring. Shannon recalls worrying about her patients, who depended upon their representatives for their right to a safe, legal abortion.
"There were many days where we felt weary, but we knew we were doing the right thing," she says. "We knew we had to stay in the fight for the women."
On May 29, 2020 — a full year after Planned Parenthood first took the state to court — Shannon was in a meeting on the top floor of the building when she overheard cheering flooding in from the halls. Dandamudi's decision was out, and he had sided with Planned Parenthood.
"Planned Parenthood has demonstrated that it provides safe and legal abortion care," Dandamudi wrote in his decision. "The physicians who perform abortions at Planned Parenthood through Washington University and [Barnes-Jewish Hospital] are all exceptionally competent and well trained."
A year of persistent effort to continue serving Missouri residents finally came to fruition. Shannon stopped the meeting she was in, raced down the hall, jumped over office supplies that were strewn across the floor and leaped straight into a coworker's arms.
"We were crying and hugging, because we see that someone else understands our hard work and why we are meant to be open," she says. "It felt victorious."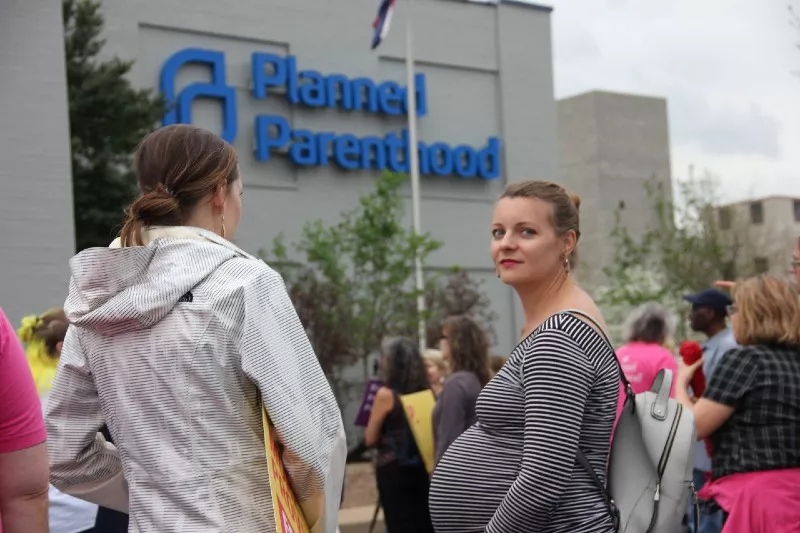 The festive mood spread rapidly beyond the office. A rally had broken out in the city, mainly to celebrate the lawsuit's outcome. Shannon joined the group near the Arch, taking the stage at one point to speak alongside Planned Parenthood colleagues and activists in between the crowd's chants of "Stand up, fight back" and "Hey, ho, Parson's got to go."
Shannon remembers it as one of the proudest moments of her career.
"We had finally stood up for ourselves in a way that we had never done before," she says in a recent interview, "and it took all of us. There wasn't any going back."
Even on the more mundane days at the office, Shannon and her coworkers find ways to make her work enjoyable.
"I am leading a team of people who care about people, and that's enough for me," she says.
The Missouri Administrative Hearing Commission decision ordered the renewal of Planned Parenthood's license until May 2021. It was a relief, but it has still been a difficult year as health-care providers in the midst of a pandemic. The staff has been forced to come up with new, socially distant care for many of their services.
Shannon recalls seeing coworkers cry because they couldn't be present for their favorite part of the job — face-to-face time with their patients. The hug-rich culture of the Forest Park Avenue location has had to turn to "air fives" for the time being.
And even in a pandemic, the protesters remain. Shannon says they will sometimes pose as Planned Parenthood workers and tell arriving patients that the location is shutting down or that they can help a patient before they even enter the building. With this, they attempt to steer patients away from using any of Planned Parenthood's resources. It's about the only time they get to Shannon — when they deceive patients and interfere with them getting care.
"Abortion is a deeply personal and complex decision," she says. "Information should never be used to coerce or shame or judge anyone who is pregnant."
But most days, as she steps out of the office for her 30-minute commute home, the angry faces shouting at her from the sidewalk barely register. She's already switching out of her worker mode as she walks past them. Her invisible Wonder Woman gear begins to dissolve for another night. Shannon's boys are waiting at home. If she's having trouble separating from the job, she will put extra care into teaching them lessons she's learned during her nineteen-year-career: open-mindedness, respecting one's needs and being able to meet people where they are, all values which she adheres to in her job daily.
As she pulls her car up to the wrought-iron gates surrounding the parking lot of Planned Parenthood, she can see protesters standing just outside its boundaries. They hold up neon posterboard signs with Bible verses scribbled across them in bold permanent marker, condemning the workers in the name of God.
Shannon, making the first turn down Forest Park Avenue, reminds herself of a similar quote from scripture that she lives by each day: "Don't get weary in well doing."
STEVEN DUONG
Kawanna Shannon
Correction: An earlier version of this story incorrectly reported how state restrictions on abortion providers affected clinics in 2018. We regret the error.