Thirty minutes — that's how long it takes Kawanna Shannon, a 41-year-old St. Louis native, to get to work on a normal day. But the drive is much more than just a morning commute for her. She stops at Smoothie King, gets her usual and merges into a highway lane filled with droopy-eyed, middle-aged men and women making their way to the office for the day. She sips on her drink, turns up her Earth, Wind & Fire playlist and zones out about the long day ahead of her.
Shannon has spent the past nineteen years of her life overseeing abortions at Planned Parenthood in the Central West End. It's a job she cares deeply about, but that doesn't make it easy.
As she nears the Forest Park Avenue facility, she mentally prepares, pulling on what she calls her "invisible Wonder Woman gear" before she turns into the lot and parks her car. A blue banner that reads "STILL HERE" hangs overhead, covering half the gray cinder-block building.
The mother of five will pass a few morning-shift protesters who roar that she is a murderer defying the word of God himself as she makes the twenty-foot walk to the front door. At this point they're little more than background noise, a fixture of the job, to Shannon.
Once inside, the atmosphere changes instantly. Shannon walks through the glass entryway, past a receptionist. She is greeted by a security guard who guides patients to their destinations within the three-story building. The first floor is the source of Planned Parenthood's controversy and the target of protesters and conservative state politicians. With tiled floors lit by fluorescent lights, it's where the abortions and vasectomies take place. A second medical floor is above.
Shannon makes her way to the third floor and begins working with her staff of 40 — a crew of physicians, surgeons, medical techs, medical assistants, educators and a research team. As the supervisor of all abortions for Planned Parenthood in the St. Louis and southwest Missouri region, Shannon sees a rotating cast of coworkers and patients each day.
Even with the plethora of people Shannon must oversee, she makes sure that each patient feels comfortable and knows her options. If a patient comes in for an abortion, Shannon says, the staff makes sure it is the choice the patient wants to make for herself. That's a part of the job that she doesn't think opponents of Planned Parenthood understand. She considers education before, during and after these tough decisions the key to good care.
Shannon still finds passion for her work after nineteen years in this profession because of the people. When she receives the notes that say "thank you for not judging me," she loves using it as an excuse to celebrate her two favorite aspects of the job: her coworkers and patients.
But she's mindful of the others who've been working for years to put an end to the work Planned Parenthood does.
"There are people who really don't want us to exist," Shannon says. "There are people that don't want us to be able to help a woman in need."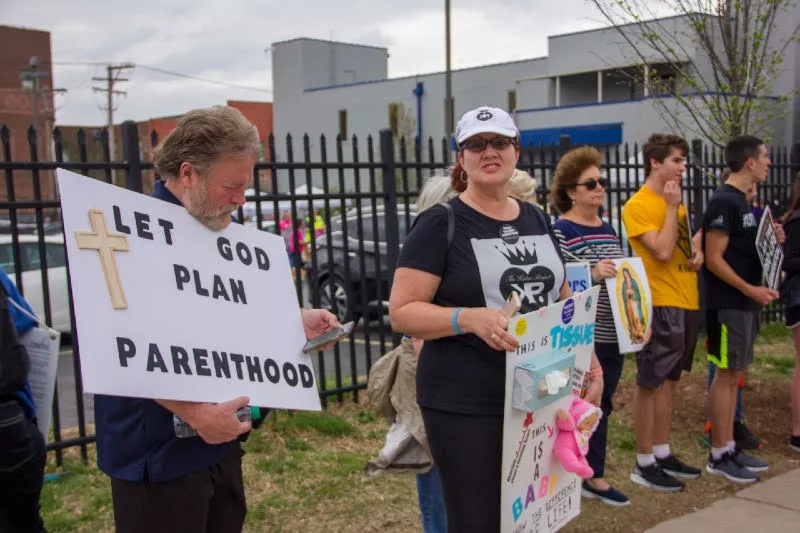 DANNY WICENTOWSKI
Anti-abortion protesters are a daily presence outside Planned Parenthood's clinic in the Central West End.
To see the daily crowd of protesters outside the clinic, passersby might think that Planned Parenthood's primary function is performing abortions.
Shannon encourages anyone with this idea in mind to "dig a little deeper," as abortions are only 3 to 4 percent of the total services carried out at the center. One of Planned Parenthood's leading services is actually its well woman exams. The assessments can detect all sorts of diseases, infections and even cancer for women.
It's not that the nonprofit organization tries to downplay or hide the fact that it performs abortions; it's just that there is so much misinformation surrounding its operations.
When it does come to reproductive services, Shannon says the biggest goal is always preventative care, whether through sex education, birth control or family planning resources. If all else fails, Planned Parenthood, of course, provides abortions to its patients.
"If you were in a situation that was out of your control or something is just not the timing you need, we are proud to also offer abortion," Shannon says. "We do not sweep abortion to the side — it's a service that we offer. Just like we offer a well woman exam, we offer abortion."
In 2019, Planned Parenthood clinics across the country performed 345,672 abortions in medical centers such as the one on Forest Park Avenue. But Republican lawmakers in Missouri have worked steadily for decades to restrict access in the state. In 2008, there were five clinics statewide that offered abortions as one of their services. In 2017, just two remained.
After the 2016 landmark court case Whole Woman's Health v. Hellerstedt, in which the Supreme Court ruled that the law could not place an unnecessary burden on women seeking health care, the number of abortion providers expanded in Missouri. For a brief stint in 2018, there were three spread across the state, including the Forest Park Avenue Planned Parenthood. Yet, in just months, clinics in Columbia and Kansas City had to stop offering abortion services because of quickly adopted state restrictions. Joplin and Springfield clinics were prevented from even starting.
Now Planned Parenthood's clinic in the Central West End is the only in-state option for more than 1 million patients of reproductive age across Missouri. That's left women in rural areas driving hundreds of miles, or even crossing state lines, to get a safe, legal abortion.
It's also made the clinic even more of a target for opponents. If they could force the facility to close, Missouri would become the first state in the country without an abortion provider since Roe v. Wade was decided in 1973.
"It's a bit of an honor, and sometimes a little scary, knowing that you have the whole state on your shoulders," Shannon says.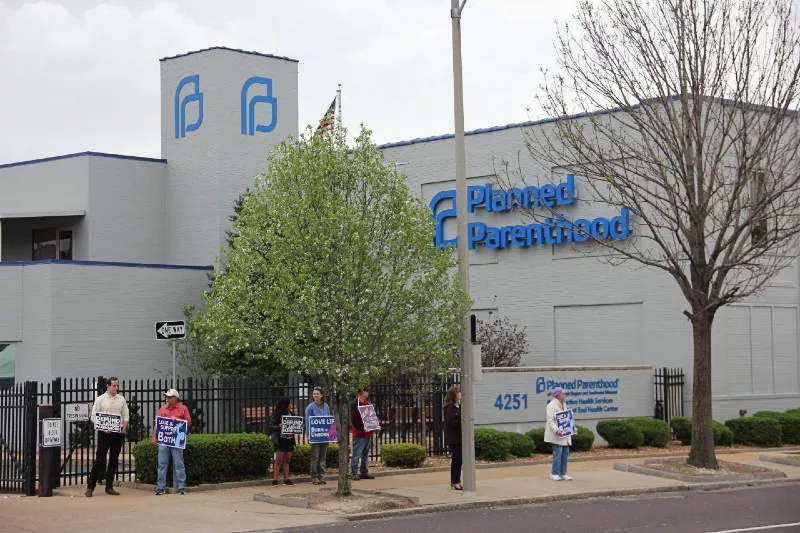 In 2018, the Missouri Department of Health and Senior Services' licensing supervisor, William Koebel, visited Planned Parenthood's Forest Park Avenue clinic for an inspection. This was new. The clinic's operations were typically reviewed every year by an inspector, but this was the first time the department's top regulator had visited to personally handle the inspection. In fact, it was the first time Koebel had inspected any medical facility. But Koebel and/or members of his team visited five times that year, and even though there had been no problems with previous years' inspections, Shannon says these new probes had an "accusatory demeanor."
"It seemed as if they didn't understand their own regulations, as if they didn't understand the women's anatomy," Shannon would later testify in a state hearing. "They started asking questions as if they didn't understand how to do an inspection."
One point of contention between Planned Parenthood and the state was a new regulation to administer two pelvic exams, instead of one, to women prior to an abortion. With patients traveling from across the state to come to the clinic, the requirement meant women would have to travel to St. Louis multiple times, an added and invasive hardship that Planned Parenthood says served no medical purpose and was only designed as another barrier to women seeking the procedure.
"Patients were made to get unnecessarily violated," Shannon later testified.
When Planned Parenthood refused to conduct the extra exams, citing their duty as health-care providers to do what was best for their patients, the clinic was issued a citation. The complaint was filed by Koebel.
At the same time, the state was dragging its feet on renewing Planned Parenthood's license. With the license set to expire at midnight on May 31, 2019, the organization went to court and persuaded a St. Louis judge to issue an injunction, allowing the clinic to temporarily continue operations while the licensing issue was worked out.
Under court orders to make a decision on Planned Parenthood's license, the state announced in June 2019 it would not be issuing a renewal. Koebel's boss, state health director Dr. Randall Williams, claimed state inspectors had uncovered 30 violations, including botched procedures.
"We feel we have a duty to prevent future harm, to prevent future accidents or bad outcomes from happening again," Williams told reporters during a June 21, 2019, news conference.
But Planned Parenthood claimed the denial was politically motivated and argued the state had "weaponized" the licensing procedure as a backdoor way to end abortion in Missouri.
Circuit Court Judge Michael Stelzer eventually ordered the two sides to take up the dispute in front of the Missouri Administrative Hearing Commission, which has authority over licensing disputes in the state.
A hearing scheduled for that fall pitted Planned Parenthood against top state health officials. Shannon was among witnesses due to testify. If her side lost, it would mean more than a single clinic closing — it would be the end of legal abortion in Missouri.
DANNY WICENTOWSKI
Department of Health and Senior Services Director Dr. Randall Williams at the state hearing in 2019.
Shannon says her work is the easy part. It only gets overwhelming when the state throws hurdles and regulations in the way. To know it could be so much simpler to use Planned Parenthood's services is an aspect of the job she despises.
On October 31, 2019, she found herself fighting those forces directly. Called to testify in front of the state commission, she spoke about the clumsy, confrontational inspections by Koebel and the state health department. She explained that the clinic initially agreed to perform the second pelvic exam mandated by the state, but she and her staff decided it was too "unbearable" for patients to endure. The court took a recess after Shannon broke down in tears recounting the new regulation.
Her testimony came on the final day of the commission's hearing. Most of the headlines followed the revelation that the Department of Health and Senior Services had mined medical records to create a spreadsheet that tracked patients' menstrual cycles in hopes of finding evidence of failed abortions.
In the end, Planned Parenthood's review of more than 4,000 cases turned up two concerning cases, both of which an outside expert testified were handled appropriately. Planned Parenthood's leaders and supporters felt good about their chances by the end of the hearing, but there was no guarantee they would prevail. It was up to a single commissioner, Sreenivasa Rao Dandamudi, to decide, and it wasn't clear when that decision would come. For the next six months, Shannon and her colleagues went to work never knowing what each day at the office would bring. Shannon recalls worrying about her patients, who depended upon their representatives for their right to a safe, legal abortion.
"There were many days where we felt weary, but we knew we were doing the right thing," she says. "We knew we had to stay in the fight for the women."
On May 29, 2020 — a full year after Planned Parenthood first took the state to court — Shannon was in a meeting on the top floor of the building when she overheard cheering flooding in from the halls. Dandamudi's decision was out, and he had sided with Planned Parenthood.
"Planned Parenthood has demonstrated that it provides safe and legal abortion care," Dandamudi wrote in his decision. "The physicians who perform abortions at Planned Parenthood through Washington University and [Barnes-Jewish Hospital] are all exceptionally competent and well trained."
A year of persistent effort to continue serving Missouri residents finally came to fruition. Shannon stopped the meeting she was in, raced down the hall, jumped over office supplies that were strewn across the floor and leaped straight into a coworker's arms.
"We were crying and hugging, because we see that someone else understands our hard work and why we are meant to be open," she says. "It felt victorious."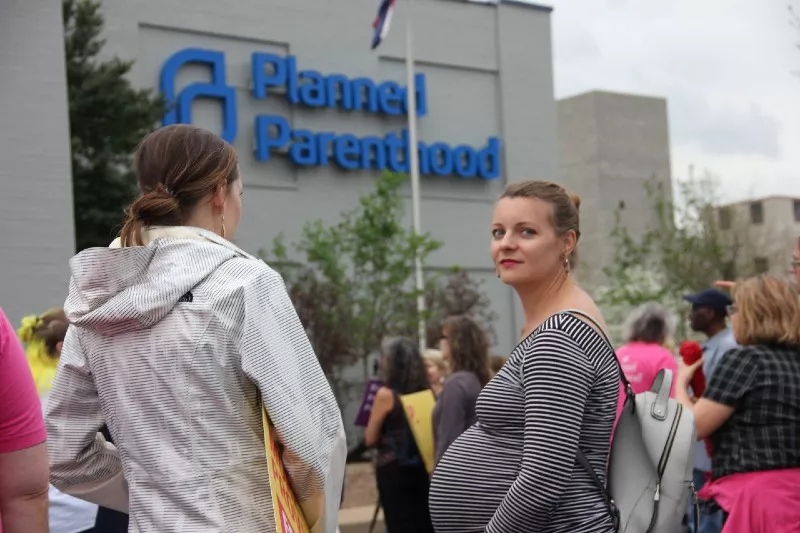 The festive mood spread rapidly beyond the office. A rally had broken out in the city, mainly to celebrate the lawsuit's outcome. Shannon joined the group near the Arch, taking the stage at one point to speak alongside Planned Parenthood colleagues and activists in between the crowd's chants of "Stand up, fight back" and "Hey, ho, Parson's got to go."
Shannon remembers it as one of the proudest moments of her career.
"We had finally stood up for ourselves in a way that we had never done before," she says in a recent interview, "and it took all of us. There wasn't any going back."
Even on the more mundane days at the office, Shannon and her coworkers find ways to make her work enjoyable.
"I am leading a team of people who care about people, and that's enough for me," she says.
The Missouri Administrative Hearing Commission decision ordered the renewal of Planned Parenthood's license until May 2021. It was a relief, but it has still been a difficult year as health-care providers in the midst of a pandemic. The staff has been forced to come up with new, socially distant care for many of their services.
Shannon recalls seeing coworkers cry because they couldn't be present for their favorite part of the job — face-to-face time with their patients. The hug-rich culture of the Forest Park Avenue location has had to turn to "air fives" for the time being.
And even in a pandemic, the protesters remain. Shannon says they will sometimes pose as Planned Parenthood workers and tell arriving patients that the location is shutting down or that they can help a patient before they even enter the building. With this, they attempt to steer patients away from using any of Planned Parenthood's resources. It's about the only time they get to Shannon — when they deceive patients and interfere with them getting care.
"Abortion is a deeply personal and complex decision," she says. "Information should never be used to coerce or shame or judge anyone who is pregnant."
But most days, as she steps out of the office for her 30-minute commute home, the angry faces shouting at her from the sidewalk barely register. She's already switching out of her worker mode as she walks past them. Her invisible Wonder Woman gear begins to dissolve for another night. Shannon's boys are waiting at home. If she's having trouble separating from the job, she will put extra care into teaching them lessons she's learned during her nineteen-year-career: open-mindedness, respecting one's needs and being able to meet people where they are, all values which she adheres to in her job daily.
As she pulls her car up to the wrought-iron gates surrounding the parking lot of Planned Parenthood, she can see protesters standing just outside its boundaries. They hold up neon posterboard signs with Bible verses scribbled across them in bold permanent marker, condemning the workers in the name of God.
Shannon, making the first turn down Forest Park Avenue, reminds herself of a similar quote from scripture that she lives by each day: "Don't get weary in well doing."
STEVEN DUONG
Kawanna Shannon
Correction: An earlier version of this story incorrectly reported how state restrictions on abortion providers affected clinics in 2018. We regret the error.