Page 4 of 4
THEO WELLING
Auntie M's beads come from all over the world. Many are purchased, but some are acquired by barter. "I had to sweeten the deal a bit to make that trade," Auntie M says of his prized rubber chicken beads.
The Krewe of the Tawdry Turret prides itself on throwing the finest beads in Soulard. But in addition to holding court in and around the Opera Box, Auntie M is also known for being the host of the High Heel Drag Race, which originated around Clementine's but was bequeathed to Nadine Soab, owner of the Joint at 12th and Allen (formerly Nadine's).
As Auntie M explains, "Patty Poo" (also known as Soulard socialite Patrick Burke) used to throw a party during Mardi Gras in the late '80s or early '90s. It was he who organized a high-heel race, which originally went from his store to Clementine's.
The first event permitted participants to run any route between the store and Clementine's as long as they wore a wig and heels. A few rough-and-tumble contestants wore helmets over their wigs.
A tradition was born, but it was far from smooth sailing. "I remember when the race went up the hill on Allen and then back down to Clem's," recalls Auntie M. "The crowd would close in on the street to watch these guys run — many of which were just regular guys in heels. That would create a V of spectators, and the guys running back would smash into people. There was blood!"
After much trial and error over the years, the operation, which takes off at 12th and Allen, is safer and smoother now. It comprises four races. First is a relay race; anyone can participate and no heels are required, other than the one you will be carrying. The second is open to anyone in heels (minimum two-inch height, but no worries, loaners are available), and the third is racing against Tony, St. Louis' fastest high-heel racer, winner of countless high-heel races (they actually had to add more events so others had a shot). The final race is for full drag.
Nadine Soab is thrilled to have Auntie M run the show. "I think he's awesome in a totally freak-me-out kind of way, but probably the most sane guy I know," she says. "He's just such an incredible person. When we're planning everything he gives me all the time in the world — he's never in any hurry."
And of course Auntie M always has special beads commemorating the race, some with high-heel beads, and some with letter beads spelling out HIGH HEEL DRAG RACE and then the year.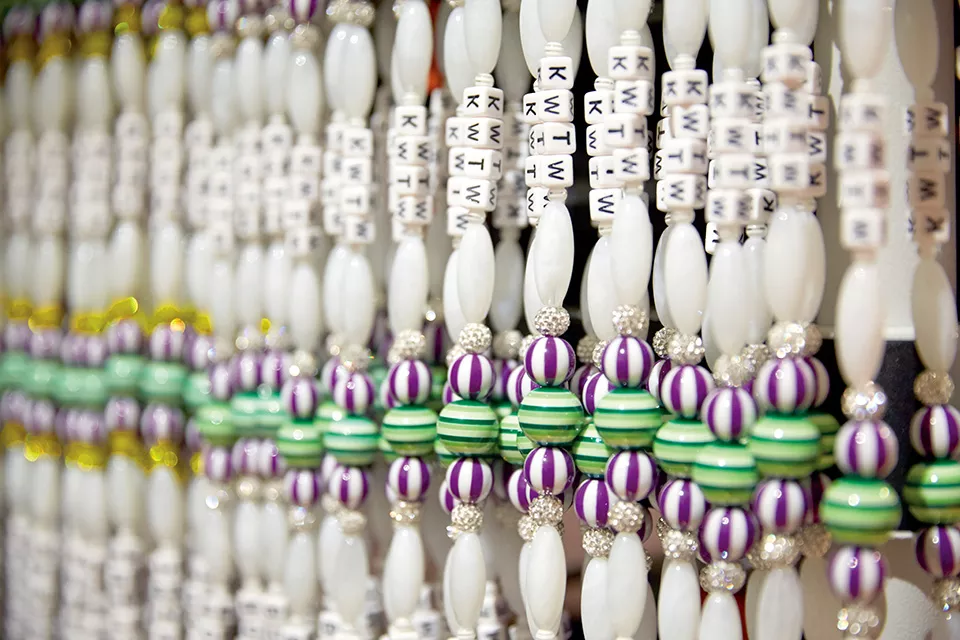 THEO WELLING
Auntie M's creations are the ultimate Mardi Gras status symbol.
Prime time at the Opera Box is from 10 a.m. to 3 p.m., with Auntie M making his way to the High Heel Drag Race by 1 p.m. As the sun fades, so do the cultural nuances differentiating one intersection from the next. Soulard takes on one single, rowdy flavor. The parade people, the bead traders, the drag entertainers and even Auntie M and the krewe roll out and are replaced with a tsunami of what Bastille and Grey Fox queen Jade Sinclair refers to as "the Zombie Apocalypse."
For two decades Auntie M has lived and breathed beads. I can't help but ask why. It is an answer he ponders for a day or so before replying by text.
"Making the beads is a way to stay sane and happy," Auntie M explains. "My mother would crochet all the time and it would all just pile up until she began donating it all to a shelter for children. A lot of the reason behind doing the beads is because I'm able to do something creative and give it to people right away.
"It takes it out of any kind of craft show or art gallery or anything like that. And nothing compares to the happiness you can bring to someone with a random gift. They're like, 'Oh wow. What just happened to me? I was just given this free thing at a fun event.'"
There's a social contract involved in going out in full regalia, Auntie M posits. You are signaling that you are there to engage, and to put on a show. But he sees a role for revelers as well, especially those wanting beads. "You have to be interesting and fun. We're all making an effort to entertain one another. What are you bringing to the party?"
If you're fun, interesting and engaging, you stand a chance of obtaining a fine Mardi Gras heirloom.
And if you've got your sights set on the precious Golden Penis, you better work.