Page 3 of 3
TL WITT, SARA SWATY ROGER, MAXI GLAMOUR
Ever the advocate, Glamour is a member of the Satanic Temple activist group.
Den of Drag Monsters
Filming reality television means being secluded from reality. For six weeks, Glamour was holed up in exurban Los Angeles, dividing their time between their eighteen-hour days on set and nights in a sketchy motel complete with fighting drug users.
"It was very difficult at first," they admit. "It was a complete social media blackout, it was like detoxing. And there was a child lock on our phones, so no porn at first. But they fixed it."
The days of shooting began to blend together. "Staring at the walls, hurry up and wait," they recount. "Little sleep. No windows." Still, there were some perks. "It was so good not seeing straight people for six weeks, though."
Proving your mettle as "The World's Next Drag Supermonster" isn't a joy ride. Punishments included things like getting mystery tattoos and eating live spiders, and fellow contestants had very sharp elbows. "They were mean," Glamour, who arguably came off as the nicest contestant, recalls. But wigs were knocked back in episode four when Glamour came to the end of their journey and read everyone for filth — a read which surprised and inspired respect from the contestants.
Once the elimination episode aired, Glamour posted the following to their Facebook page:
"It's taken me a week to reprocess my elimination. I've gone through all the feelings of being cheated, not good enough, and hyper critical of my own art. I by nature am not a competitive person. When many people are fighting over the same thing I choose to find something else that pleases me. Maybe that's my nonconformist attitude that I don't want what everyone else wants. I didn't care about the crown and I didn't care about letting everyone know I thought my art was better than theirs. I went there to be me and use the show as a platform for social change. I went in the show with a non confrontational attitude with an attempt to diffuse any drama directed to me. Some behaviors on the show and many other shows were toxic attention seeking actions that replicate aggressive bullying found too often in our home communities. My point of being on the show was to demonstrate an outlet that deviates from that path. I wish I had thousands of dollars and sponsors to make my experience easier and get a bigger platform. I didn't, I just had the polka gods smiling down on me! And smiled they did! Looking forward to spending this next chapter with y'all and seeing where the roads take me!"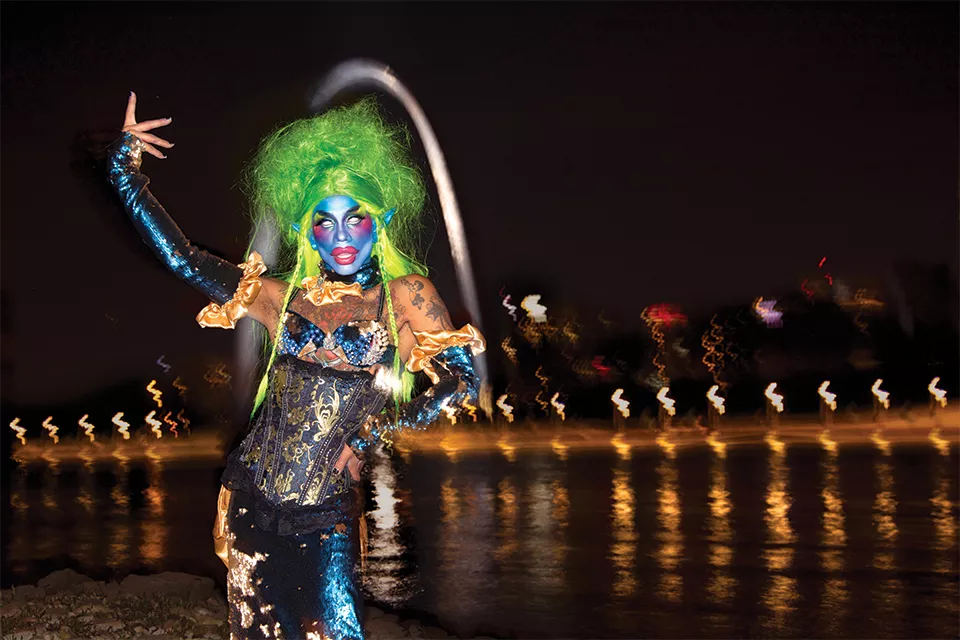 ANDY PAULISSEN
Performing and mentoring drag artists, Maxi Glamour is seemingly the busiest entertainer of their kind in St. Louis — and the stage is only getting bigger.
Marrying the Global & Local
With season three of Dragula broadcasting in more than 60 countries, a Boston-based talent manager lining up appearances and their new jet-setting lifestyle, Glamour has a different perspective on their art and their work.
"We validate mediocrity at times," they assert. "We validate our own mediocrity. I know what level I can be on. What I should be on."
They're also less prone to accept the status quo in their own backyard. One of many topics Glamour has been speaking on is the lack of diversity on some local drag stages.
"If you're a producer and you're not putting black people in your show, maybe you shouldn't be producing," Glamour says, in what has become their oft-repeated mantra.
"I'd like to help use the fact that most St. Louisans that are registered voters are Democrat to help encourage those queer folk to not just be Democrat but also progressive. I think St. Louis can often find itself stuck in the past. It's that whole 'Show Me State' mentality that makes people afraid of new things. Honestly, I hear more people talk about the 1904 World's Fair than they do about the future of St. Louis. If more people talked about what could be, instead of what used to be, we wouldn't be stuck with things like that unfortunate trolley. This comes with acknowledging the fact that the NAACP put up a travel advisory warning for the state and how we process that. My vision of St. Louis is to lead the state and country with legislation and a cultural attitude that embraces diversity to not only exist, but flourish."
Sitting in clouds of pot smoke at their south-city flat, Glamour explains they see themself as a spiritual leader of drag through glamour, beauty and kindness. They also explain their mission: "I want to drastically change the St. Louis scene." Glamour pauses and considers their words. "I can definitely change St. Louis."