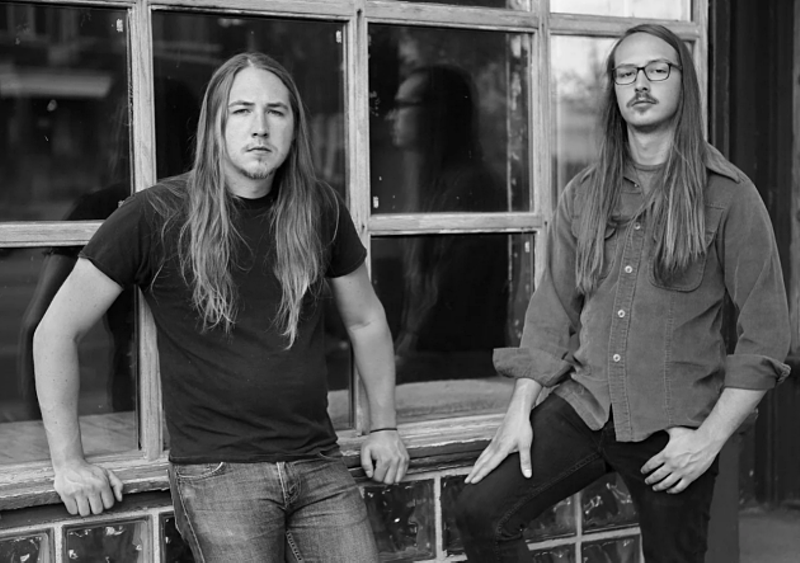 The music of the Maness Brothers — David on guitar and Jake on drums, both on vocals — is, by design, quick and dirty. The pair plays an intensified version of hill country blues, employing circular, hypnotic riffs with more than a little grit and gristle on top and an insistent, exploratory approach to rhythm. But while the brothers' music thrives on immediacy, the process of committing their songs to wax was slightly more arduous.

"The oldest song we wrote in 2013," Jake says of the material on the new LP, titled Maness Brothers. "The other ones were written 2014, 2015. We recorded the album in March of 2015 immediately when we got back from a 30-day tour. We went into the studio with Kit Hamon, and then we got it mixed and mastered, looking around for a label to put it out."
The Maness Brothers had planned on releasing the six-song album with a local label, but a series of miscommunications and obfuscations — test-pressings that never materialized, funding that dried up — eventually scuttled the plans. Thankfully, the band had been in contact with Romanus Records out of Indianapolis, and the label was interested in releasing the new LP. In addition to the high-fidelity pleasures of vinyl records, Romanus specializes in making Willy Wonka-esque combinations with its releases: Jake counts at least seven different iterations of the new LP. Some will be a three-color burst, some will have a paisley imprint on the wax, and others will be filled with colored sand that shifts as the record spins.
The heads of Romanus Records, Chris Banta and Warner Swopes, also make up the band Brother O' Brother, another guitar-and-drums duo that the Maness Brothers have played with in the past. That band will share the stage with the brothers at the album's release show this weekend, alongside touring bands Calliope and Catl, and local artists Bug Chaser, Beth Bombara and Strange Places.
Since the Maness Brothers helm the annual, multi-day Whiskey War Festival, booking a release show is a cakewalk. Still, this week's show represents a continuum of the band's evolution — expect a fair number of guests coming on stage to help the two-piece flesh out its sound.
"It's gonna be a big, huge crazy fun time," Jake says of the seven-band affair. "It's all interconnected; all the touring bands on the bill are kind of our family. We've all been helping each other out the past five or six years."
Jake contends that the relative economy of his band — two members used to sharing close quarters who can travel light — has made getting on the road relatively easy. "We're a two-piece band and we toured in a four-cylinder Nissan Rogue that got 22 miles to the gallon," he says. "Booking the tour wasn't hard to do.
"We've done over 300 days on the road, and a lot of those days — at least a third of those days — are from 2015," he continues. "This year has been a pretty good year for us, and we've finally got jobs where we can take off when we need to and make enough to pay rent and survive."
The brothers have another year of touring mapped out, including another 30-day jaunt that will take them west. Their schedule also includes a slot at October's Deep Blues Festival in Clarksdale, Mississippi, alongside a bevy of blues-guitar virtuosos. "That's been one of our goals since we started the band," Jake says of playing the festival.
For a band that's built its reputation on the road, having a physical artifact to show off (and, more importantly, sell at the merch table) is something Jake eagerly awaits. On past tours, the band has sold its debut EP, Grief Factory, alongside assorted swag including prayer candles, posters and patches. But a beefy, candy-colored LP will likely bring some permanence.
"Having this vinyl and going on tour this year with that, it's gonna be way better," Jake says. "We'll make more money on the merch table, and [the fans] will have a super bad-ass twelve-inch to remember us by. I think our tours are gonna hold more weight in the long run."


Maness Brothers Record Release Show
4 p.m. Saturday, April 15. Off Broadway, 3509 Lemp Avenue. $10. 314-773-3363.