When Davide Weaver awoke the morning of March 28, 1996, flames wreathed the top two floors of the Soulard apartment building he called home. Smoke choked the air of his bedroom.
Weaver's girlfriend, Brandy Wilson, lay in bed beside him. But no matter how hard Weaver tried to move her, she remained still. His own limbs felt sluggish and heavy, and even as he gasped the thick air, panic mounting, he realized it was too late. Wilson had already inhaled too much smoke. She was dead.
He almost gave up right there.
"It's a really bad St. Louis story, I don't know how to describe it any other way," Weaver recalls on a recent afternoon. Seated at a table in the corner of Beatnik Bob's, the throwback café in City Museum, the 44-year-old artist rubs at the lattice of scar tissue covering his left arm. Tears gather at the corners of his hazel eyes.
"I have no idea why I woke up with that much smoke. It should have killed me," continues Weaver. "I was trapped in the third floor. When I tried to escape and go down the staircase, I went straight into the middle of the heart of the fire. That's when I took on the fight of my life."
Weaver was able to fight his way downstairs. He collapsed in the kitchen, where firefighters would soon pull him from the still-burning building. But he escaped at a terrible cost.
Doctors would place him in a drug-induced coma in order to treat the burns covering more than 70 percent of his body. His hands and arms were charred to the bone, necessitating multiple skin graft surgeries. He spent months in the hospital.
The cause of the fire was never determined, leaving Weaver with unanswered questions and a rolling grief that waned little in the intervening 20 years. But while the blaze consumed just about everything Weaver owned, it left him with two mementos of his previous life. The first was an Imperial AT-AT Walker, part of Weaver's collection of vintage Star Wars action figures.
The second memento was a fireproof briefcase, filled with dreams.
PHOTO COURTESY OF DAVIDE WEAVER
A 1996 apartment fire left Weaver hospitalized, heavily bandaged and barely alive.
Davide Weaver (pronounced "DAH-vee-day," reflecting his family's Italian heritage) might be St. Louis' best-kept secret. Anyone who has sampled dishes at Taste of St. Louis or jammed into the night at 2720 Cherokee owes the man a thank-you. Indeed, Weaver's resume reads like a miniature history of St. Louis' cultural revival in the last decade.
After founding the artist collective Art Dimensions in the early 2000s, Weaver built a network of up-and-coming artists, entrepreneurs and promoters, culminating in 2005's reboot of the Taste of St. Louis festival. After four years (and tens of thousands of attendees), Weaver sold his shares in the food festival to a partner — and immediately co-founded 2720 Cherokee, the warehouse-sized music venue and gallery space that anchors the increasingly influential art and music scene on Cherokee Street. Thanks in part to his investment, the once-neglected south St. Louis street has become the hippest place in town.
It is in the basement of 2720 Cherokee that Weaver maintains his studio, although the word hardly seems adequate. 'Sprawl' seems more fitting, albeit a carefully curated one. Weaver prefers the term "therapeutic mind ride."
"I like the whimsical kind of feel, kind of like in a dream," he says during a tour. Illuminated by patchwork lamplight, the walls support layers of curtains and picture frames. They hang above antique furniture, several mirrors and an army of tchotchkes, trinkets and, well, junk.
"Things aren't really where they're supposed to be, but you still recognize it. I try to play with your subconscious a little bit," he says. "A lot of this stuff has been thrown away at some point in someone's life, and I just collect it and use it."
Weaver grew up in University City, but he was born into the restaurant business. His mother, Rita, ran the local European Café and another restaurant in Clayton. By the time he turned thirteen she had put him to work bussing and waiting tables. In his mother's restaurants, the young Weaver first observed how a sweeping obsession with organization could transform a bare room into a marvel, practically a living thing.
"She designed all aspects, from the menu to plate presentation and the interior design for the restaurant. That deeply affected me," reflects Weaver. "I feel like that was a seed that was planted in my head for creating an environment where people come in and they become a part of it."
On the other end of the spectrum, his father, Dave, worked in the construction business. The youngster enjoyed a childhood in which both power tools and inspiration were readily available.
After graduating from Christian Brothers College High School in 1990, Weaver enrolled at the University of Kansas, where he majored in ancient history. But by his senior year, Weaver was falling in love with the idea of something a bit more modern. Building on his restaurant background, Weaver taught himself to brew beer and produced a business plan to open a microbrewery in downtown St. Louis. He says he was closing in on a deal with Kansas City's 75th Street Brewery.
"I was supposed to meet them on a Saturday. That's etched in my head forever," Weaver says. "Thursday morning I was in the fire. And that meeting never happened."
Weaver's family took up a 24-hour-a-day vigil in the hospital. John White, a childhood friend, showed up the day after the fire, only to learn that Weaver had been placed in a coma while doctors treated his mangled limbs.
More than a month later, they woke Weaver up.
"He was mummified head to toe. I could only see his eyelids," recalls White. "The first time I saw him with his bandages off of his face, he was in bad shape. His nose was basically gone. He had no skin from his shoulders down on his arms and hands."
White says he wanted to do something nice for his friend, who was clearly suffering through the emotional and physical toil of recovery. His idea involved a bit of breaking and entering. Months after the fire, he made his way to the blackened shell of Weaver's apartment.
"I just wanted to have a look and see what was still salvageable. He had his whole life in there," White says now.
"I broke into the adjoining apartment, and I went up to the third floor and crawled through a hole into what had been his bedroom. Everything was gone. Not everything had been burned, but if it hadn't burned it had melted. The TV was melted, the stereo was melted, his Star Wars collection was melted. Except for that Imperial Walker, so I grabbed that."
White isn't entirely sure what possessed him to take the Walker. He and Weaver had spent many enjoyable Friday nights eating takeout from Joanie's Pizza and blasting through the original trilogy on VHS, so perhaps White sensed its value as a kind of totem, a reminder of better times. (Years later, Weaver would utilize dozens of Star Wars action figures for installation pieces in City Museum and 2720 Cherokee.)
On the way out of Weaver's destroyed apartment, White grabbed one more thing: a heavy fireproof briefcase. It contained Weaver's handwritten notes for his microbrewery business, as well as a floppy disc with his business plan.
At first, Weaver didn't even recognize the contents of the briefcase. Along with the physical effects of his injuries, he struggled with deep memory loss. In fact, even after White presented him the briefcase, Weaver left it unopened for months.
"That was everybody's big question while I was in recovery, 'Are you going to pursue opening the microbrewery?' I didn't even remember me wanting to open the microbrewery," Weaver explains. "I had tons of memory loss. I didn't remember studying the microbreweries. My answer was, 'No, I don't even know how to brew. I don't know anything.'"
When he did finally open the briefcase, and read his own handwriting, the memories came back, as if someone had flipped on a light switch in his mind.
"The briefcase was like a room that opened up to me, and I recalled everything that I worked on for a couple years," he says. "It slowly opened back up for me that yeah, eventually I want to open a microbrewery."
Three years after the fire, Weaver fulfilled that dream. The microbrewery was called the Bacchus Brewing Company. But it survived in its Union Station locale for just one year before closing permanently in 2000.
Weaver found himself out of work but in possession of a large Washington Avenue loft. This became the setting for his first art installation, a room Weaver festooned with layers of fabric, ornaments and recycled objects — whatever items and decoration that could be arranged just so in order to draw an experiential response from the visitor.
With that much free space, Weaver realized he could do more, especially for other artists jockeying to get a foothold in St. Louis. Weaver found a willing ally in a childhood friend from University City: Mike Landau, owner of the Phat Buddha Productions recording studio.
"We realized that both of us had a lot of friends who were struggling artists and had no organization, no way of really promoting themselves and giving themselves a chance to become successful professional artists," Landau says.
Weaver and Landau conspired to create a support system for St. Louis' resource-hungry art scene, eventually founding a nonprofit to host gallery shows and attract burgeoning talent. They called the nonprofit Art Dimensions, and it initially attracted 20 artists and put on shows every six weeks or so.
Growing Art Dimensions kept Weaver busy for several years, but he itched to put his skills to wider use, and for a much larger audience. He began toying with the idea of reviving a big food festival begun by the city, only to be discarded. It was called Taste of St. Louis, and it would be a bigger project than anything he'd pulled off before.
He'd need help. He'd find it in the office of Ann Chance.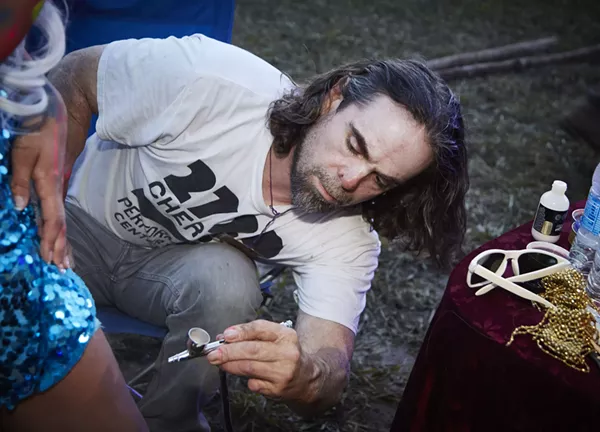 PHOTO BY STEVE TRUESDELL
Davide Weaver at work on his installation.
The early 2000s were not a good era for St. Louis' festival scene. "There was very little activity downtown; we really didn't have a lot of events," observes Ann Chance, the city's special events program executive. "And then September 11 happened, and then we really didn't have anything going on."
Before moving to her current job in 2006, Chance worked for the Downtown St. Louis Partnership, where she was tasked with bringing some measure of vitality to the cultural desert of downtown. She naturally looked at the defunct Taste of St. Louis, which had attracted hordes of food lovers downtown from 1992 to 1997, beginning in the administration of then-mayor Vince Schoemehl. The festival disappeared when Schoemehl's successor, Freeman Bosley Jr., disbanded the city's special events office.
Chance coordinated with Weaver and Art Dimensions on several small-scale projects, and by 2003 they began planning to put Taste of St. Louis back on the map.
Chance's connection to Weaver extended beyond Art Dimensions, however. A longtime resident of Soulard, Chance had awoken to sirens on the morning of March 28, 1996. She joined a throng of neighbors in watching fire engines spraying water at Weaver's burning apartment building.
She can still remember the pungent smell of the old house disintegrating, the heat pushing her and onlookers away from the blaze. "We all saw it, the whole thing. We knew it was horrible, that there were injuries."
Nearly a decade later, Weaver, she says, took to planning the Taste of St. Louis like it was his masterpiece. The festival re-debuted in 2005, eventually blossoming into a carnival-like operation featuring food trucks, dozens of restaurants, live music performances, chef challenges and live art demonstrations.
"To them, the taste of St. Louis was a taste of everything, not just food," she says. "It was a taste of the music, a taste of the art, a taste of what St. Louis is all about."
The festival grew quickly, drawing more than 300,000 people by its third year. In 2008, the St. Louis Board of Aldermen passed an official resolution honoring Weaver and his co-founders, K Sonderegger and Mike Kociela, for reviving the dormant festival.
But by 2009, Weaver decided he'd had his fill of Taste of St. Louis. He sold his shares to his partners and washed his hands of the enterprise.
"It blew up way bigger than I ever imagined," Weaver says now. "I have a passion for the city. I could go broke doing what I'm doing, as long as I'm doing what I believe in. My partners, they had different reasons than mine. We started clashing on some things." He declines to get into details.
In 2014, five years after Weaver sold his shares, his former partners shocked city residents by moving the Taste of St. Louis to Chesterfield.
Landau thinks the split was likely for the best.
"Davide would never have agreed to move the event to Chesterfield," Landau says confidently. "I can tell you that right now, that was probably a huge fight they avoided."
PHOTO BY STEVE TRUESDELL
Weaver's work on display at Cosmic Reunion
As an artist, Weaver is at something of a crossroads. Last year, he sold his shares in 2720 Cherokee. And after two failed attempts at turning things over to a new president of Art Dimensions to relieve his workload, he allowed the nonprofit to dissolve last year.
"The one thing I dedicated to myself this last year is that I want to get my art out, and I need to let go of some things to be able to do that," Weaver says. "I have freed up a lot of time, because taking care of a bunch of other artists in a nonprofit is like herding cats: Some of them want to come up and cuddle with you; some want to come up and scratch you."
On one hand, Weaver's latest artistic phase appears to be flourishing. His meticulous recreations of key Star Wars battles spent years drawing oohs and ahhs from patrons at 2720 Cherokee, and similarly ambitious exhibits — including a four-foot diameter Death Star made from old computer parts and action figures — drew crowds to City Museum earlier this year.
He's also finding a way to merge his artistic skills with commercial opportunities. In the same year Taste of St. Louis fled to Chesterfield, Weaver and Landau launched the World's Fare Heritage Festival. Now preparing for its third year, its first in the World's Fair Pavilion in Forest Park, the festival (August 19-21) brings together many of the same components as Weaver's idealized early version of Taste of St. Louis — food, music and art — while adding commemorative exhibits honoring St. Louis industry and and the legacy of the 1904 St. Louis World's Fair.
But Weaver's life, already marked by tragedy, has hit rough patches as well. In January 2015, doctors found a tumor growing inside his left ear. Weaver's friends came to his aid, raising money for his surgery with benefit concerts and a GoFundMe campaign. Now the father of a seven-year-old boy, Weaver says his doctors have given him a clean bill of health.
Finally, over Memorial Day weekend, Weaver takes a full day to focus on his art. Along with a team of assistants, he makes the 45-minute drive to Cosmic Reunion, a four-day music and arts festival in the Astral Valley that's along the lines of a Missouri-based Burning Man.
This is his second year making the trip. His first time, Weaver says he did brisk business selling collage-painted vinyl records. Making money from his art is "something I've gotten away from a little bit," he adds, but he's trying to force himself to focus. After so many years supporting other artists' visions, he admits that promoting his own work feels somewhat unnatural.
At his spot near Cosmic Reunion's main stage, Weaver spends hours building a nautical-themed installation piece, a stage for a nighttime performance. He'll spend even more time applying dabs of Day-Glo body paint to two female models in mermaid costumes.
Around 9:30 p.m., a network of black lights brings his work to startling life. Many festivalgoers walking by the stage become rooted to the spot, hypnotized by the psychedelic mermaids. The models' faces glow orange and pink, the layers of paint smoothing their expressions into identical mirrors of serenity. One bystander, enraptured and clearly stoned, mutters to himself, "Are those girls real?"
Weaver observes from afar, scarred arms crossed over his chest. After a few moments, he gestures at one of the models to leave the stage. He retrieves a compact case of paint and adds a few more streaks to her ribs and neck. The stage and lights look good, sure, but the tableau is not quite there yet. Weaver can always find room for more color.
PHOTO BY STEVE TRUESDELL
Weaver adds a touch of blue paint to a model's face during an installation showcase at last month's Cosmic Reunion festival.
Editor's note: A previous version of this story referred incorrectly to Taste of St. Louis' timing. It began during the Schoemehl administration, but also ran for a few years during the administration of Schoemehl's successor. We regret the error.

<!——StartFragment——>
Follow Danny Wicentowski on Twitter at @D_
Towski. E-mail the author at Danny.Wicentowski@RiverfrontTimes.com