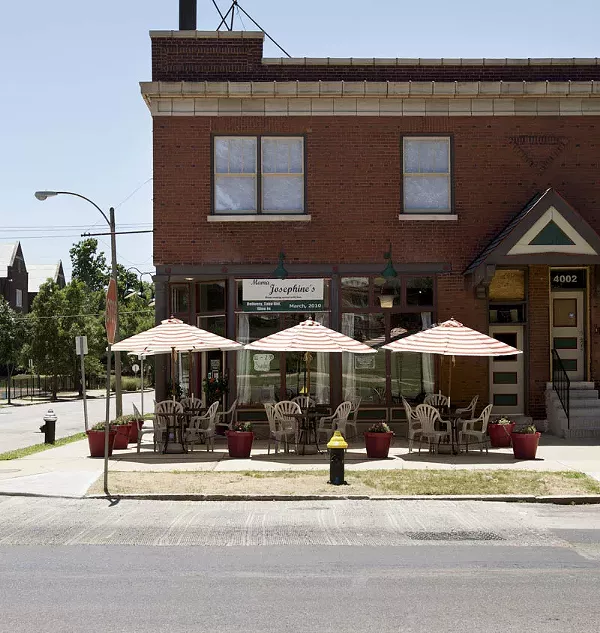 Mama Josephine's small corner restaurant at 4000 Shaw, St. Louis, MO.
The interior of Mama Josephine's is intimate and welcoming.
Mary Samuelson (left) and daughter Amy Keller (right) posing in the restaurant's interior below a portrait of Mary's mother and restaurant namesake, Josephine.
The Fingerlickin Fish comes with hushpuppies and another side of your choice. You have a choice of either catfish, fried or baked fresh tilapia filets. Here, it is shown with the catfish and the side choice of turnip greens. Also shown is the house sweet tea.
Mama Josephine's Own Eight Layer Lasagna is a recipe that Mary has no written recipe for. It was a dish she watched her mother, Josephine, prepare over the years, and continues the tradition in her new restaurant. The sauce for the lasagna simmers for eight hours and is then layered with pasta and cheeses and baked. It is served with garlic bread and a garden salad.
Kitchen manager and cook Anna Provin comes to Mama Josephine's having most recently worked at Sandrino's.
The Barbeque Pulled Pork Sandwich is made with hickory smoked BBQ pork piled on a bun with mam's special barbeque sauce. Here, it is shown "souther style," which means it is served with coleslaw on top.
The Classic Club Sandwich is a triple decker sandwich with bacon, turkey, ham, lettuce and tomato served on white or wheat bread with mayo.
All sandwiches come served with fries or chips, but for a small upcharge, you can get a side of oinion rings.
The chicken entree and Mama Josephine's is fried chicken, of course, and is shown here with mashed potatoes & country gravy, macaroni & cheese and a piece of corn bread fresh from the skillet.
Fried chicken. What more needs to be said?
Cornbread, made in the traditional iron skillet, at Mama Josephine's.
Mary's friend Denise, contributes the peach cobbler to the dessert offerings.
Mary and her dear friend Denise, who comes into the restaurant, helps out, and makes a divine peach cobbler available to patrons of Mama Josephine's.
The interior of Mama Josephine's is intimate and welcoming.