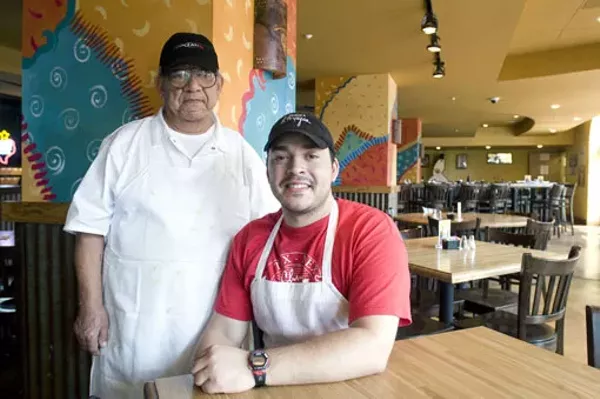 Chuy Arzola, left, and Colby Arzola, right. Not shown is Eddie Arzola, another member of the Arzola family involved in the business.
Coby, in the kitchen, shows us how to make the Austin, one of the combo platters.
Place the chicken mixture on the tortillas.
Place the burritos in the basket for some deep frying.
Coby Arzola inspects the rice.
Preparing the plate with rice and beans.
Pour the chile con queso over the crispy burritos.
Add a dollop (or scoop) of guacamole.
Chuy Arzola's Austin: two crispy chicken burritos topped with chile con queso, served with rice, beans, pico de gallo and guacamole.
The patio of Chuy Arzola's, located in Midtown at 3701 Lindell Boulevard.