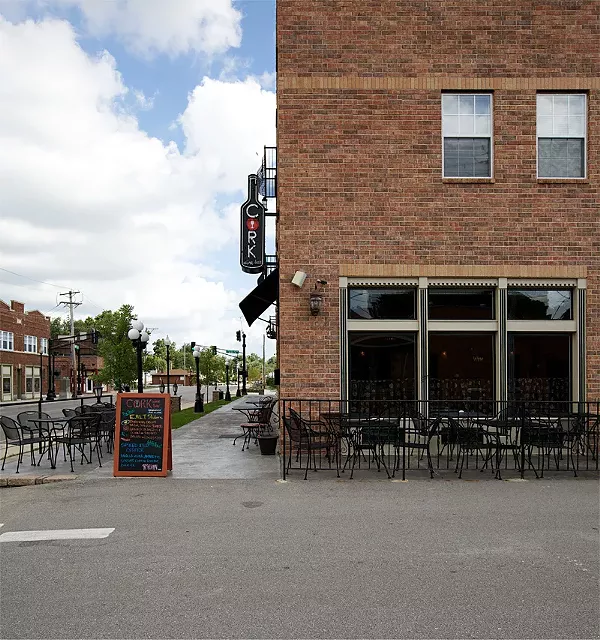 Cork Wine Bar in Ferguson, MO.
Inside Cork Wine Bar, owner Mike Lonero chats with customers from behind the bar.
Owner Mike Lonero pouring a glass of wine at Cork Wine Bar.
A flight of full-bodied reds offered at Cork Wine Bar. They are 14 Hands Cabernet Sauvignon (a 2007 from Washington), Sterling Vintner's Collection Meritage (a 2007 Central California Coast) and Navarro Malbec (a 2008 from Mendoza, Argentina).
Supporting local brewers at Cork Wine Bar.
A sausage pizza at Cork Wine Bar is house-made Italian sausage, piquillo peppers, fresh mozzarella and spinach on herbed flatbread.
Sliders - house-made burgers with crispy prosciutto, fresh mozzarella, tomato, basil pesto, grainy mustard, arugula and toasted brioche buns at Cork Wine Bar.
Cork Wine Bar offers Strawberry Shortcake made with fresh strawberries, white chocolate & strawberry scone, pistachios and fresh whipped cream.
The vodka pink lemonade martini at Cork.
Owner of Cork Wine Bar, Mike Lonero.
The Hill Brewing Company in downtown Ferguson, MO.
Brewmaster Josh Wilson of Hill Brewing Company.
An inside look at Hill Brewing Company.
Growlers top the bar at Hill Brewing Company.
A flight of Hill's beers at Hill Brewing Company in Ferguson, MO.
The upstairs banquet room at Hill Brewing Company.
The interior of Hill Brewing Company is relaxed and inviting.
The Springtime Delight salad at Hill Brewing Company is made with a spring mix tossed in house vinaigrette and topped with candied pecans, diced pineapple, fresh strawberries, bacon, bleu cheese crumbles and smoked chicken breast.
The Dip Trio appetizer is bruschetta, hummus and spinach artichoke dip served with warm pita and crispy crostinis.
The BBQ ribs, cooked low and slow comes served with fries and coleslaw. They recommend pairing your ribs with their Pecan Brown Ale.
From left to right in this flight of Hill Handcrafted Beers is the Chocolate Stout, the Irish Red, their Hefeweizen and the Belgium White.