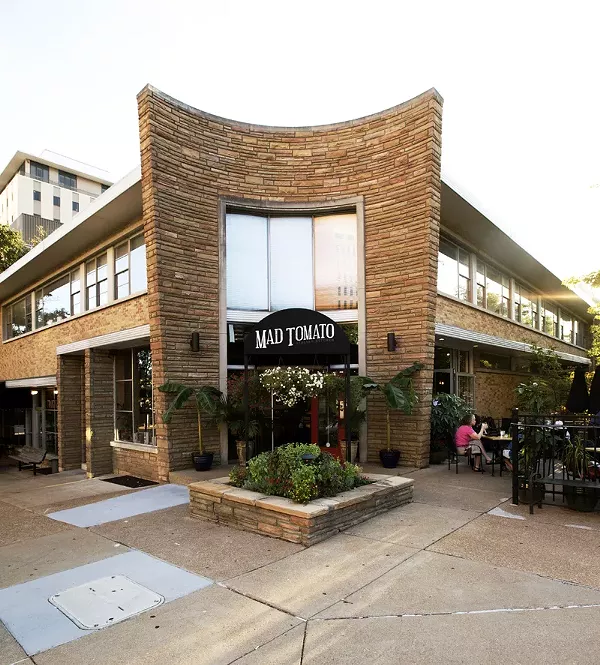 Mad Tomato, a new addition to downtown Clayton.
Mad Tomato patio seating.
Owner and chef of Mad Tomato, Vito Racanelli.
Vito prepping for Saturday night service.
The bustle of the kitchen before they open the doors on a Saturday evening.
Simple and rustic, the decor matches the style of the food.
The early dinner guests at Mad Tomato this past Saturday.
In preparation for service, fresh herbs are picked from the small garden in front of the restaurant.
Quail eggs from Silent Oaks Farm.
The calm before the storm.
Sam Racanelli, Vito's brother (most recently from Pizzeria Tivoli), has joined the staff and is manning the pizza oven.
Vito talking to the staff before opening to go over that night's menu and specials.
Patty pans from Claverach Farm. Vito shops regularly at both the Maplewood and Tower Grove Farmer's Markets.
The Mad Mary is the Mad Tomato's version of a bloody mary and is made with house-infused tomato vodka, house-made golden heirloom tomato juice, garnished with heirloom tomatoes, salt and pepper flakes and fine extra virgin olive oil, aka, "the good shit."
Bar manager, Jennifer Dormuth has been with the restaurant since it's inception, and before that, she had worked at Vito's other restaurant, Onesto.
Server Megan Knaus has also been with Mad Tomato from the start.
Sam putting the Fungi Pizza into the oven.
The pastas are made fresh, in-house, daily.
The night these photos were taken, the special was a Salmon dish. It is a pan roasted Copper River Salmon over Carmen del Toro peppers, Carola potato, green beans, pancetta and chopped shrimp. Everything, except the salmon, of course, was sourced locally.
The Fungi Pizze is made with wild mushrooms, smoled mozzarella, garlic, basil, arugula, grana, olive oil, and you can add an egg for an additional fee. Any really...why wouldn't you?
From the Antipasti menu, Hunter's Egg. It is served with beans, pancetta and polenta.
Fettuccine-Gulf Shrimp is served with fresh pasta, olives, capers, basil, chiles and tomato.
And for dessert, a tiramisu with hazelnut bark and espresso beans.
Mad Tomato got pretty busy this past Saturday night.
Happy to be working together again...brothers Vito (on left) and Sam Racanelli.
THE mad tomato. Artist - Vito and Sam's niece, Natina.