Although it may seem quaint next to the scores of mass murderers and serial killers who hack their way through contemporary popular culture, the story of Lizzie Borden, the 32-year-old woman who, according to a popular bit of verse, "took an axe/and gave her mother 40 whacks" on a hot day in 1892, has shown considerable staying power. A modest figure compared to real-life Charlie Mansons and literary American Psychos, Borden has seen her notoriety endure for more than a century, even though the murders associated with her name remain unsolved. (She was tried and acquitted, and remained for most of her life in the same small town where the killings took place.)
The story is simple: On August 4, 1892, the bodies of Andrew Borden, a successful but stingy bank director, and his second wife Abby were discovered in their home in Fall River, Massachusetts. Both bodies had multiple wounds. Andrew's daughter Lizzie (Abby was her stepmother) and an Irish maid named Bridget Sullivan were the only ones home. Lizzie gave vague and inconsistent explanations of her activities that day and became the prime suspect, despite a lack of physical evidence tying her to the crime.
Lizzie, the latest account of Borden and the crimes that have already been recreated in dozens of novels, an opera, two made-for-television movies and a ballet, draws from the material that has been discovered or speculated about in the last 126 years — family relationships, business transactions, rumors and physical evidence. But while director Craig William Macneill and screenwriter Bryce Kass sift through the decades of Bordenology to provide a reasonable reconstruction of the events, the film is less a History Channel version of Unsolved Mysteries than a look at the social and psychological pressure that may have caused them. It's a disturbing and at times brutal story, but it's also a vivid attempt to get inside of Lizzie's mind, to understand how it felt to be a young woman in the oppressive climate of Victorian America.
We first see Lizzie (Chloë Sevigny) at home on the morning of the murders, the camera following the back of her head so intently that it leaves no doubt whose perspective will dominate what follows. Once the bodies are discovered, the film leaps back in time to present the emotional state of the Borden household. Lizzie, nearly past the respectable age for marriage, is rebellious, longing to live a social life but largely ostracized by her neighbors. Her father (Jamey Sheridan) is obsessed with his business dealings and, in Lizzie's opinion, being exploited by her shady uncle, while her stepmother is so determined to keep up appearances that she insists on calling their new Irish maid (Kristen Stewart) "Maggie" rather than bothering to learn her name. To add to the discomfort, someone is dropping death threats around the house, a sub-plot only partly resolved by the film's end.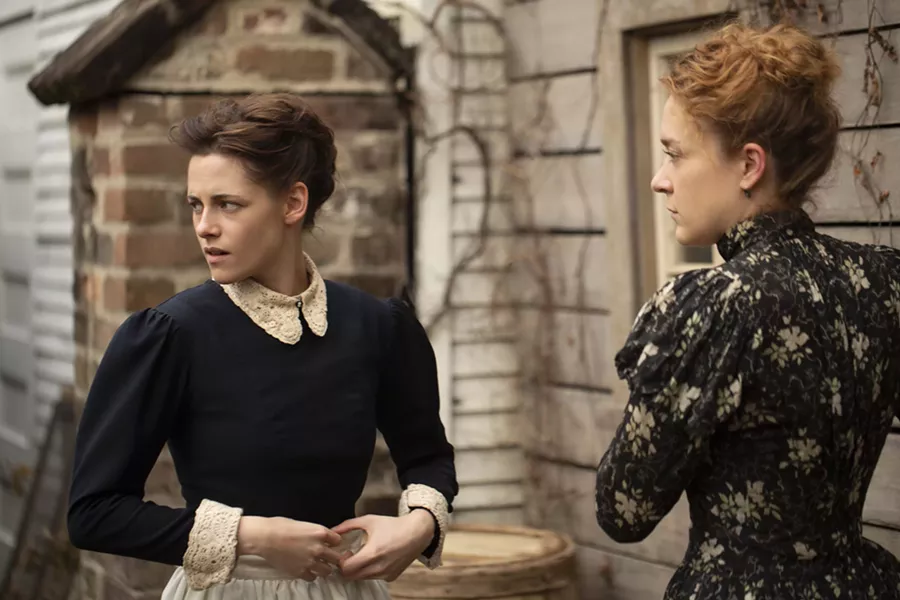 ELIZA MORSE COURTESY OF SABAN FILMS AND ROADSIDE ATTRACTIONS
Kristen Stewart and Chloë Sevigny star in Lizzie.
Director Macneill keeps the tensions in the Borden home sharply at the forefront, from domestic abuse and questionable financial dealing to extreme bursts of anger and outright sexual violence. This would be a disturbing family portrait even if we weren't aware of the impending violence, and when a pair of axes finally make their appearance (a major plot point involves the killing of several pigeons), the camera lingers on them repeatedly, increasing our level of apprehension.
Despite the inevitability of the climax and an intriguing if not entirely convincing "solution" to the 1892 mystery, the film is most resonant as a character study, a portrait of a cool, analytical independent woman in an age that neither encouraged nor respected those qualities in young ladies. Lizzie explores a class-breaking relationship with the maid (Stewart is excellent as usual, if somewhat restrained by her supporting role, and her scenes with Sevigny, with the latter serving as both romantic object and teacher, are the film's most touching). She is determined to express herself and carries the weight of her father's disapproval. She realizes she's a pawn in both her family and society, discouraged from speaking out or even securing her own financial interests.
Sevigny, who has matured from her early days as indie-flavor-of-the-week to a thoughtful and seasoned actress (she also co-produced the film), seizes the camera from the first scene and never releases it. With a sensibility that merges contemporary awareness with Victorian reserve, she takes the myth of Lizzie Borden and transforms it into a sadly convincing portrait of a very real and very human young woman.