Livetronica on the Landing, St. Louis, 7/11/08
Umphrey's McGee and Sound Tribe Sector Nine rocked Fair St Louis on Friday night, but as usual, the real festivities were at the after-party. Livetronica on the Landing kicked off soon after the fireworks stopped popping over Soldier's Memorial.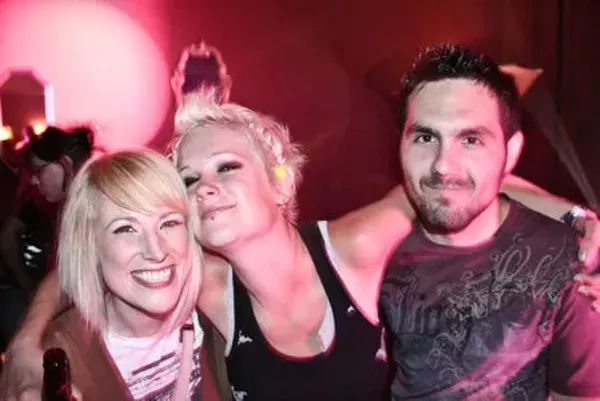 By Vikram Singh
...And no party would be complete without this guy.
By Vikram Singh
Dancing wasn't confined to the dancefloor. Any open area provided a space for folks to get their groove on.
By Vikram Singh
The main floor was packed with the sounds of live bands Mind Orchestra and Future Rock.
By Vikram Singh
Flex Boogie, winner of the RFT 2008 Music Award for best DJ, kicked off the night. His hour long set warmed up the crowd for a night of dancing until 3 a.m.
By Vikram Singh
Bodies moved to the sounds of local DJs in the basement of the Fiesty Bulldog. The stairwells were packed as people bounced around all three rooms of the venue to sample the different sounds.
By Vikram Singh
St Louis-based musician Gaia13 had the top floor moving to his unique style of reggae-laced down-tempo.
By Vikram Singh
Bassist Sean Mahaffey of Mind Orchestra used his Apple laptop to enhance his sound. The crowd definitely took to the band's self-described "live electronics with an organic approach."
By Vikram Singh
Some party-goers brought glow sticks to make their own light show as they danced.
By Vikram Singh
One highlight of the night was San Francisco-based DJ Anazia. Her unique style of "glitch-crunk-hop" music, combining well-known hip-hop with electronic manipulations, worked the crowd into a frenzy.
By Vikram Singh
Not content with glowsticks, some brought other toys to the party. Here an illuminated muli-colored hula-hoop was spun around to produce some interesting effects..
By Vikram Singh
Local DJ J Public slowed things down with laid-back dub and down-tempo beats in the upstairs room.