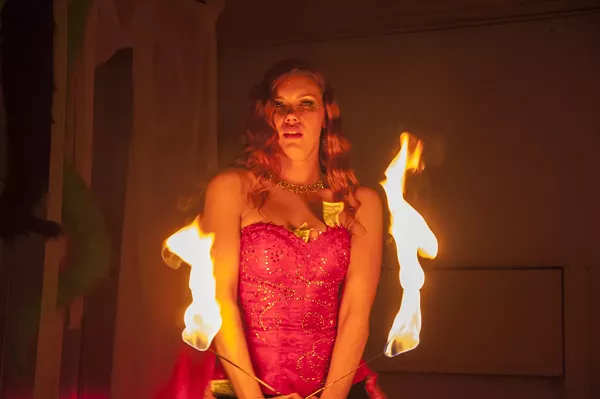 Scarlett Sinferno playing with fire.
McKenzie puffs on a pipe.
Producer of Lez Dance Lola van Ella.
Tanis Lee and Vera Valentinaa strike a pose.
Tina Dybal, Max Buehler and Ben Sevilla.
Lola van Ella shaking it like a Polaroid picture.
Brittany and Ashley going in for a masked smooch.
Ray and Ricky Kicielinski in matching bowlers.
Laura M., Teri C., and Terri Z. enjoying the evening.
Sherry Blossom and Brittany Bieber glowing with radiance.
Shazza Dazzla and Ginny Schwartz.
Elizabeth Gombos with Kristen Goodman, co-producer of Lez Dance.
Lola van Ella pulls her stocking off slowly to a mesmerized crowd.
Robert Jones and Kevin Marrufo on the dance floor.
Mindy Wunning and Ashley Crawford.
Ben and Jessica Holloway.
Scarlett Sinferno playing with fire.
Laura Klein sporting her handmade mask.
Lady Ashley Gregory, Shara Underwood and Timinka Pearl dancing.