Page 4 of 4
Dr. Andrew White, a professor of pediatrics at Washington University School of Medicine who has treated children with lead poisoning, says it's possible that lead poisoning can lead to cardiovascular issues later in life. But he added much more research would need to be done to demonstrate a definite link.
"I think it's plausible. Lead shares some properties with other atoms and molecules that are important to the heart, like calcium," White says. "Calcium and lead can certainly compete with each other. But in reading the Lancet journal article that reported the link, they were looking at ischemic heart disease, which is really like heart attacks and which are distinct from PPCM. So maybe there's no direct correlation ... but maybe there is."
ERIN MCAFEE
Ebony Thomas-Smith with her boys, Khamari and Clayton.
Parenting is a challenge
Whether it's lead poisoning or other factors that contributed to her PPCM and consequent heart transplant, this much is clear: Ebony Smith-Thomas can no longer work, nor be as active in her children's lives as she once had been.
She is entitled to what the government offers to everyone. In Smith-Thomas' case, it's a mixture of Medicare and Medicaid benefits, which paid for her transplant and a good deal of her medical care. She also receives food stamps. But it doesn't make up for the lost income from the job she had to relinquish, nor does it pay for the deductibles attached to her health-care coverage.
Smith-Thomas' cousin, Chantel Neal, whom she calls "Fav," put together a GoFundMe site for her that to date has raised just over $1,000. In the meantime, on her own Facebook page, "EB's Heart Journey," Smith-Thomas keeps friends apprised of her journey and she promotes #letstalkppcm, a group that supports and informs mothers with the illness.
Her mom and dad, and her cousin Misha Marshall, help out with childcare, so that Ebony can focus on regaining her health and spend quality time with Clay-Clay, Khamari and her nieces as she is able.
"Because I have been in and out of the hospital for quite some time, I'm not always home. But I'm a parent. I want to stay in the loop," Smith-Thomas says. "Whatever I could do to make my sons and nieces successful in whatever class that they are in, I'm going to do that. I'm that type of parent."
Her support system also includes the Webster Groves School District. Both of her sons are participants in the region's desegregation program. Smith-Thomas says she can't say enough about the administrators, teachers and parents, who once having learned about her situation created workarounds for her children to get to school and participate fully in activities.
She says that when her younger son, Clayton, balked at taking a cab that the district provides for transportation to his school, administrators made sure to have a bus to take so that he could ride with other children.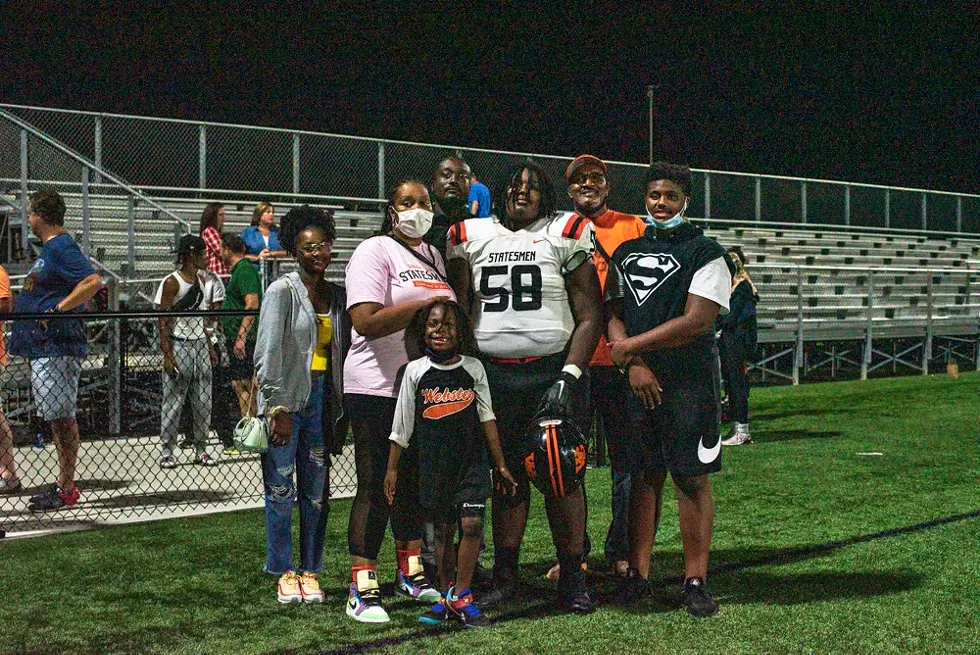 ERIN MCAFEE
Ebony Smith-Thomas still wants to be there for her family, which includes cheering on her son Khamari Smith at his high school football games.
When it comes to Khamari, Smith-Thomas singled out Webster Groves football coach Matt Buha for her most effusive praise. "I love coach Buha because he loves my boy," she says.
Buha's team is, so far, winless this season. But the coach manages to find his joy in other ways, and in particular his growing bond with Khamari, who plays offensive tackle for the Statesmen. Khamari stands 6 feet, 3 inches tall and weighs in at 320 pounds. Buha can't wait to see how Khamari develops as a player. He is already certain Khamari will succeed as a leader.
"I am so lucky to have that young man on our team," Buha says. "Khamari is one of those students who is pulling the best things out of the sport. He has learned at home to be responsible and accountable to his family, and that's how he is with our team."
Uncertain future
In mid-September, when we last spoke at length, Ebony Smith-Thomas was looking forward to attending Khamari's upcoming game at Lindbergh High School. Her outings have been more frequent of late, but there's always a measure of uncertainty concerning how they will unfold.
At various times over the spring and summer, she suffered episodes in which she would collapse as if in a trust fall. "Everyone learned to walk beside me, and there would be Clay-Clay trying to catch my head from hitting the ground," she says.
Some new medication seems to have put an end to those episodes, but Smith-Thomas and her family have learned to live with uncertainty.
Even so, she looks ahead to some anniversaries she is hoping to celebrate. "I have a business plan I am putting together to start a nonprofit to bring awareness to PPCM," she says. "I'm going to name it I Heart University."
A year from now, Khamari will be filling out applications for college. Maybe some college football recruiters will come calling. Clay-Clay will be a first grader. Smith-Thomas is determined to be present for them, whether it's on the sidelines at a game, a school jamboree, a taekwondo class or a swimming lesson.
"When they are participating in an activity," she says, "they are looking for me. I don't care who shows up. They are looking for me.
"I live for myself, but I live and breathe for my boys."
Richard H. Weiss is cofounder of Before Ferguson Beyond Ferguson and also serves as executive editor for the nonprofit racial equity storytelling project.
Zach Bayly, a board member for Before Ferguson Beyond Ferguson, also contributed information for this story.
Before Ferguson Beyond Ferguson, a nonprofit racial equity project, is telling the story of families in 63106 one by one over the course of the pandemic. You can find an archive of other family stories at beforefergusonbeyondferguson.org/63106-project/.
Sign up for Before Ferguson Beyond Ferguson's newsletter — STL Equity Matters.