Page 4 of 5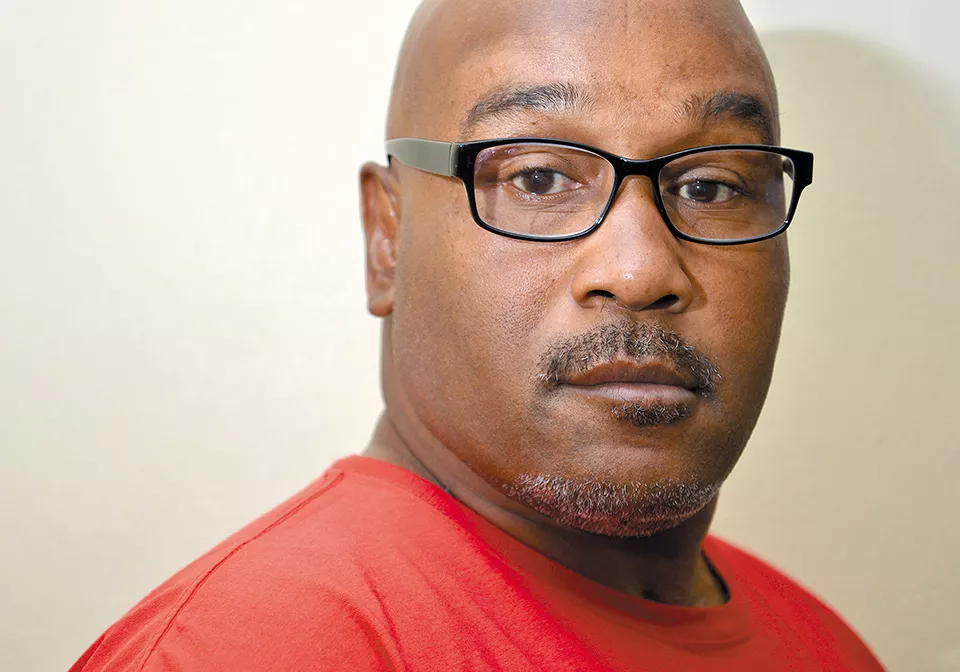 TOM HELLAUER
Darnell Murray spent six months in a St. Louis jail before he was acquitted.
In February 2017, less than two months after Gardner took office, U.S. Marshals raced after a red Kia Sportage as it sped wildly through the Metro East.
The Kia's driver, a longtime criminal named Michael Putman, had just robbed a bank in Collinsville and was desperate to get away. Deputies spotted him soon after in a gas-station parking lot and tried to pull him over. Putman almost made it to the Eads Bridge before he lost control and flipped the little SUV, showering the interior with stolen $2 bills.
It was a pretty straightforward robbery case. And by luck, it seemed investigators would also be able to hand off a strong lead in another case to St. Louis police and prosecutors. A check of the Kia's ownership revealed it had been carjacked twelve hours before in the city's Dutchtown neighborhood by a black suspect with a gun.
Putman is white, but his passenger — Darnell Murray, then 48 — was black. The carjacking victim later identified Murray from a mug shot, all but wrapping it up.
That would have made the bust a nice little two-fer, but the FBI agent investigating the Collinsville bank robbery quickly developed serious doubts that Murray was the right guy and made his concerns clear to prosecutors in Gardner's office. Prosecutors there also began to suspect it was a case of mistaken identity.
But instead of backing off charges, Gardner ignored the concerns of investigators and a senior prosecutor, insisting the case go to trial, multiple people with knowledge of the case told the RFT. To people in the office who heard about the case — and accounts definitely spread — it was an early sign of just how little the new boss trusted the opinions of her line prosecutors.
The case was handled by Assistant Circuit Attorney Morley Swingle. Swingle had just joined the office in 2016, but he was easily one of its most experienced trial attorneys. One former colleague describes him as "Mr. Prosecutor" — an enthusiastic litigator who in his spare time writes crime novels about attorneys. He served 25 years as the Cape Girardeau County prosecuting attorney before leaving under the small-town scandal of a romantic relationship with the victim in one of his cases. After a few years in Colorado, he returned to Missouri eager to handle big cases again.
Murray's case was not that. In fact, there was plenty to suggest the eyewitness who picked him out of the lineup had made a mistake.
Murray had always insisted he was at an ex-girlfriend's house in the Metro East the night of the St. Louis carjacking and went to the library the next morning. He says he met Putman for the first time after leaving the library, when the bank robber stopped him at random in Belleville to see if he had crack to sell. He didn't, but the two eventually found a dealer, bought a $10 rock and smoked it.
Putman then persuaded his new acquaintance to ride with him to a bank to pick up some cash. Murray told investigators he assumed it was going to be a normal withdrawal. But as he waited in the parking lot, Putman stormed in and told a teller, "Gimme all the hundreds!" Then he grabbed a stack of $2 bills from the cash drawer and fled.
In the car crash that followed, Murray cracked four ribs and Putman broke his wrist. The FBI agent interviewed them both at the hospital. The abrupt end to their exploits meant they had no opportunity to match stories. Nevertheless, their descriptions of meeting that morning for the first time were consistent. Further supporting Murray's alibi: electronic records showing he had spent part of the morning at the Belleville library, just as he said.
Still, Gardner seemed determined to see Murray's case prosecuted. So Swingle took it to trial — but staged a minor revolt along the way.
When Assistant Public Defender Julie Regenbogen asked the judge to reduce her client's bond from $250,000 to a promise to show up for his next court date, Swingle made no objection, clearing the way for Murray's release. He also consented to a second photo lineup on the morning of trial.
Gardner, who was still pushing the case, personally joined the lawyers in the room as the victim again picked out Murray's black-and-white photo, Regenbogen recalls. The victim later pointed him out in court as well.
Still, that identification combined with Murray's presence in the wrecked Kia twelve hours later was the entirety of the case against him. And at trial, Swingle himself called the FBI agent and deputy U.S. Marshal, who shared information suggesting Murray had been elsewhere during the carjacking. Prosecutors have a legal obligation to turn over information that could point to a defendant's innocence, but Regenbogen says Swingle went above and beyond, ensuring she had access to both federal investigators.
"I really respect how Morley handled the whole situation," she says.
Swingle's closing argument is something other prosecutors still talk about.
"Your honor, the state's position is that the evidence is sufficient for the court to find the defendant guilty," he began. He dutifully explained that Murray was a passenger in the stolen Kia and the victim had identified him as the carjacker the night before.
Then he pivoted.
"If the role of the prosecutor were just to always get a conviction and just be a rubber stamp for any eyewitness who thinks they've got it right, what I would say would end right at that moment," Swingle told the judge. "But the role of the prosecutor is also to help the court get justice. And so we wanted the judge to hear all the evidence, warts and all, both good and bad in this case, you can make an informed decision whether there is a reasonable doubt in this case."
Swingle went on to quote influential jurist George Sutherland — "But while he may strike hard blows, he is not at liberty to strike foul ones."
Some colleagues later theorized Swingle was delivering what he suspected would be his last closing as a St. Louis prosecutor. (It was not. Swingle, who declined comment, remains on staff.)
Judge Jimmie Edwards, presiding over one of his last jury trials before he was appointed the city's director of public safety, found Murray not guilty. He does not remember the details, he says, adding, "I do remember Morley having an issue with his bosses about whether the case should be tried or not tried."
In his 25 years on the bench, Edwards says his position has always been that the trial attorneys should be "given a great deal of deference," but concedes they sometimes get overruled by their bosses. "When that happens, it usually leads to problems."
Gardner says she cannot discuss details of Murray's case. She bizarrely claims that he wasn't charged under her watch, which is not true. Regardless, she maintains that it was a good case.
"I support the charges in that case," she says. "I can't speak on specifics, but in this office, we always have discussions about the strength and the weaknesses of a case. We have experienced prosecutors of over 40 years, 50 years that evaluate cases that prosecutors bring issues to and evaluate that case. We stand on the charges in that case."
These days, Murray lives in a transitional housing facility in East St. Louis. He says he's been clean for more than a year, but he suffers from bipolar disorder as a result of a head injury from an assault in the 1990s. Locked up for six months awaiting trial, his anxiety spiked, but he couldn't afford to post bond on his $250,000 bail.
"I didn't have no money," he says. "I didn't have anyone I could call that could put up their car or their house like that. I just sat."
Those six months seem like a nightmare, but he reasons that they are in the past. He never sued. When he was acquitted, he just went back to Illinois.
He says he tries not to dwell on it.
"I guess they had to stick somebody with it," he says. "May have been one of those 'tough on crime' things — make it seem like they're tough on crime."