Page 2 of 5
DANNY WICENTOWSKI
Protests erupted in the city after former St. Louis police officer Jason Stockley was found 'not guilty' of murder.
Gardner's first year and nine months in office have been tumultuous. It's not just her high-profile prosecution of the state's sitting governor — a case which began when she personally interviewed the key witness and which was dropped only after the judge ruled defense attorneys could call Gardner to the witness stand. And it's not even her staff's prosecution of former St. Louis police officer Jason Stockley on a murder charge, a hard-fought trial that ended in acquittal and more than a month of protests in the city streets.
Those cases may have dominated the headlines (and Gardner's schedule; she was a regular presence in the courtroom for both). But for the line prosecutors who handle the bread-and-butter cases that comprise the office's workload, a different set of concerns takes center stage.
To many, it seemed Gardner believed that the staff was loaded with employees loyal to Joyce or one of the two office staffers who'd run against her. Veteran prosecutors also suspect she is sensitive to the fact that she spent her five years as a prosecutor between 2005 and 2010 on low-level cases, never getting to try a homicide.
"I don't think she trusted any of us and wanted to take advice from any of us who were there," says a former prosecutor. "She knew there was a perception she was inexperienced, she was ill-prepared."
Instead of tapping into the staff's expertise, she shut them out, leaving her and a few trusted staffers to muddle through the machinations of running the state's busiest prosecutor's office, former and current subordinates say.
Streams of people have quit or were pushed out. Exactly how many is unclear. The St. Louis-Post Dispatch reported that about two dozen of the office's 60 prosecutors left in Gardner's first seven months, but multiple others have left since, and the office failed to provide staff lists to the RFT despite repeated requests over a five-week period.
A number of the fleeing prosecutors have been white, leading to rumblings about bias, but numerous minority attorneys have also left. One black former prosecutor, who didn't agree with Gardner's management, says it is difficult to speak out because of the sense that there's a concerted effort to take down the city's first black circuit attorney. "I don't want to be associated with that," the former staffer says.
Dwight Warren, who had been a St. Louis prosecutor nearly 40 years, was let go during Gardner's first three months. Gardner told him she could no longer afford his position, which Joyce had used special funding for, but Warren describes it as a "pretext firing."
He says it was not as if prosecutors on staff were out to resist Gardner's wishes — they simply did not know what those wishes were. "What Kim's philosophy is, I have no clue."
Out of necessity, those who left have been replaced primarily by younger attorneys. People who might normally have a few more years to work drug cases and burglaries have been pressed into trying top-level felonies, current and former staffers say.
Critics — and even a few supporters — say there are few places to go with concerns. Several described two key members of Gardner's newly hired executive staff, First Assistant Robert Steele and Chief Warrant Officer Christopher Hinckley, as openly and inexplicably hostile.
(Spokeswoman Susan Ryan acknowledges the criticism, but defends the pair. "Ms. Gardner is aware of the feedback about Mr. Hinckley and Mr. Steele from some employees," Ryan says in an email. "Every new attorney who comes into this office, regardless of his or her position, has to make the transition into a new environment. All new employees have evolved into their positions, and so have the employees who have been with the office through various administrations.")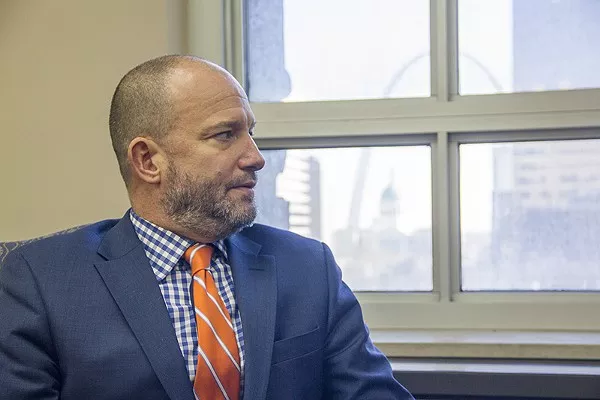 DANNY WICENTOWSKI
Prosecutors have chafed at working under the two top assistants brought in by Gardner, Robert Steele and (shown above), Chris Hinckley.
The person who seems to be Gardner's closest confidant, Maurice Foxworth, had been a paid consultant to her campaign before joining her office as a non-staff adviser. A 2017 Post-Dispatch story revealed that Foxworth was being paid $25,000 for renewable six-month contracts, and also noted that Foxworth's license to practice law was suspended in 2015 for unpaid taxes.
Staffers say nobody really understands Foxworth's role, other than that he seems omnipresent. He has sat in on meetings about cases, they say, and has often taken an active role. That struck them as problematic considering the status of his license.
When Gardner agreed to an interview with the RFT in late August, she showed up with both Foxworth and Ryan. Questioned about Foxworth, she denies that he does anything that would constitute practicing law. "That's a lie," she says.
Pressed to specify Foxworth's duties, Gardner says, "I don't really think he's a part of this article, because he's not an executive staff member." Pressed again, she and Ryan describe what sounds like an IT worker or office manager, noting that he helped upgrade their infrastructure.
Foxworth, who remains an adviser, says, "Back then, it was mainly transitioning and keeping data for Kim and transitioning and helping with innovation systems, data collection, things of that sort."
Gardner also insists she has an open-door policy and that she has done a good job communicating with staff.
Those who have worked for her, though, say that's just not true. "I'm literally going to laugh at that," says one. "The previous administration, it wasn't like you could go walking into Jennifer's office, but the door was literally open."
Unlike outside observers, who might interpret the strife as a clash between the politics of a left-leaning reformer and more conservative staff, prosecutors say it's more the day-to-day fumbling and erratic interventions from an unpredictable boss.
Four separate sources reference the case of a Metro East man named Darnell Murray, who was charged in a Dutchtown carjacking last year. Even after the FBI and an experienced prosecutor who handled the case raised doubts about his guilt, Gardner insisted the case go to trial. Murray was eventually acquitted, but not before spending six months in city jail awaiting his day in court.
In fairness to Gardner, she has pushed forward on several parts of her reform agenda. She has doubled the diversity of the overall staff to 55 minority employees since taking over, and she has been bold on two issues of major concern to her progressive base. She announced to staff in June that they would no longer prosecute marijuana possession cases of fewer than 100 grams. The new policy applies only to cases that don't include allegations of violence or other serious crimes, but it is still a major shift.
She's also been quick to go after cops accused of abusing their power. One of her campaign promises was to restore faith in the justice system. That's included trying the case against Stockley, who was charged near the end of Joyce's administration with murdering Anthony Lamar Smith in 2011 after a car chase.
The St. Louis Police Officers Association, unsurprisingly, saw the case as an attack on cops. The union initially focused much of its venom on Joyce, but the aggressive prosecution under Gardner set the stage for future clashes.
The union later opposed Gardner's bid to create a new investigative unit to investigate police-involved shootings, and it blasted her decision to stop prosecuting nonviolent marijuana cases, too. There is so little trust between the union and the circuit attorney that some cops pegged as witnesses in officer-involved shootings have refused to testify, citing their Fifth Amendment rights.
In the August interview, Gardner downplayed the clashes. She says she is bound to upset people sometimes.
"If the prosecutor is afraid of everybody, there is something wrong with that prosecutor," she says.
When the Post-Dispatch previously questioned Gardner about turnover, she was sharp: "Most of the people who left, I'm not missing them." Now, she's a little more diplomatic. "Of course, we want people to stay, but at the same time, I respect people who have chosen to go on and further their career in other areas."
A certain amount of turnover is common, she points out. Being a prosecutor is a relatively low-paying job for a lawyer, and it is grueling work. Most prosecutors who exited, she says, did so for more lucrative opportunities.
"So I'm not going to say everybody left just because of me, because I think that's unfair to them as well as the office," she says.
And while it is true that relatively young attorneys are now handling important cases, she claims it is not vastly different from previous administrations. Aside from a period following the housing crash when no one who had a job was quitting, people flowed in and out of the Circuit Attorney's Office under Joyce, she and Ryan say. The important part is evaluating attorneys to see how they handle the high-pressure workload.
"I say it's in dog years, because one year in the City of St. Louis is like ten years, to be honest with you, in other jurisdictions, because they're not handling the complex cases that we're handling," Gardner says. "They're not thrust into trial as fast as this."
For the first time in months, in August, there has been a stretch of relative calm around the office. The Greitens case has finally dropped from daily news coverage, and attorneys are grinding through the standard St. Louis mayhem. Gardner says she is focused on the long-game work of seeking justice and reducing harm.
"We didn't get in this space overnight," she says. "We're dealing with systems that have been in place for 40, 50, 60 years — ever since I've been alive — that affect the violence and crime we see."
A week later, as the city prepares to head into the Labor Day weekend, the Post-Dispatch publishes a bombshell: Gardner has just given police a list of 28 officers whom she did not trust to put on the stand. Her prosecutors would not accept new cases that relied primarily on anyone on the "exclusion list," and they would review existing cases for "viability," according to the leaked emails.
And just like that, chaos returns. Apparently unprepared for the news to leak, Gardner is left on the defensive, reacting to police outrage about victimized officers instead of highlighting what is potentially a very big problem: Prosecutors suspect St. Louis has more than two dozen cops and former cops who are fundamentally crooked.
The following days are filled with a hastily prepared statement and follow-up statements. By the end, no one seems particularly sure what is going on.