Prosecutors in the St. Louis Circuit Attorney's Office arrived at work in January 2017 curious to hear what their new boss had planned.
Campaigning as a criminal-justice reformer, former state representative Kim Gardner had easily won the election to replace Jennifer Joyce, who was leaving her post as the city's top prosecutor after sixteen years in office. Across the country a new wave of prosecutors had just begun to roll into office on progressive promises to tackle issues such as mass incarceration and cash bail. Backed by a network of activists, Gardner became the first black circuit attorney in city history.
A few prosecutors in the St. Louis office didn't like what they heard during the campaign. They packed up and left, but the majority who took the Carnahan Courthouse elevators up to the circuit attorney's offices on Gardner's first day were ready to see what was next.
"I think, for the most part, anyone who was still there in January, we were willing to give her a chance," says an ex-prosecutor, one of eleven current and former staffers who spoke to the Riverfront Times in recent weeks.
Another former subordinate says they were looking forward to changes from Joyce's famously rigid policies, which gave them little to no freedom to negotiate with defense attorneys.
"What happened, and Kim will never get it, we were excited for her," the former prosecutor says. "We were done with Jennifer Joyce."
Everyone assumed Gardner would call a staff meeting to introduce herself, explain her priorities and share expectations. A few remember a group photo and Gardner saying something vague about doing things differently. But the first day ended with no actual directives from the new leader, and it was quiet the rest of the week.
The following weeks passed the same way. Gardner might say hello if they ran into her around the courthouse, but mostly she seemed content to huddle with an adviser brought in from her campaign and executive staff hired from outside the office. What they talked about and what she wanted, staffers could only guess.
In an interview, Gardner says she preferred to meet staff members individually, especially in the beginning. "When you go into an organization, you have to, one, evaluate the organization," Gardner says. "So having these blanket policies and decisions, it takes time."
However, prosecutors say individual meetings almost always included members of her inner circle, most of whom seemed hostile to holdovers from Joyce's administration and often did most of the talking. (Gardner disputes this: "I think it's kind of sexist because, as a female, to say I can't make decisions myself, I think that really goes to the sexism and discrimination I face inside a system where you have the first African-American prosecutor in the city of St. Louis.")
As a result, they say, Gardner's stance could be hard to predict. Many assumed, for example, that a reform-minded prosecutor with an interest in ending mass incarceration would be more receptive than Joyce in re-evaluating cases they considered problematic or short on evidence. Instead, one of their first direct messages from Gardner was a staff-wide email chastising prosecutors for what she saw as a disturbing trend of staffers trying to reduce charges or dismiss cases, according to multiple people who received the email.
"When Kim is referred to as a progressive prosecutor it makes me cringe," one recent staffer says, adding, "Her approach has been, when in doubt, lock them up."
Another ex-prosecutor says Gardner and her executive staff seemed overly sensitive to the suggestion that they would go easy on criminals.
"I think she knew that that's what people thought, and she was doing everything in her power not to appear soft on crime," the former staffer says.
DANNY WICENTOWSKI
Protests erupted in the city after former St. Louis police officer Jason Stockley was found 'not guilty' of murder.
Gardner's first year and nine months in office have been tumultuous. It's not just her high-profile prosecution of the state's sitting governor — a case which began when she personally interviewed the key witness and which was dropped only after the judge ruled defense attorneys could call Gardner to the witness stand. And it's not even her staff's prosecution of former St. Louis police officer Jason Stockley on a murder charge, a hard-fought trial that ended in acquittal and more than a month of protests in the city streets.
Those cases may have dominated the headlines (and Gardner's schedule; she was a regular presence in the courtroom for both). But for the line prosecutors who handle the bread-and-butter cases that comprise the office's workload, a different set of concerns takes center stage.
To many, it seemed Gardner believed that the staff was loaded with employees loyal to Joyce or one of the two office staffers who'd run against her. Veteran prosecutors also suspect she is sensitive to the fact that she spent her five years as a prosecutor between 2005 and 2010 on low-level cases, never getting to try a homicide.
"I don't think she trusted any of us and wanted to take advice from any of us who were there," says a former prosecutor. "She knew there was a perception she was inexperienced, she was ill-prepared."
Instead of tapping into the staff's expertise, she shut them out, leaving her and a few trusted staffers to muddle through the machinations of running the state's busiest prosecutor's office, former and current subordinates say.
Streams of people have quit or were pushed out. Exactly how many is unclear. The St. Louis-Post Dispatch reported that about two dozen of the office's 60 prosecutors left in Gardner's first seven months, but multiple others have left since, and the office failed to provide staff lists to the RFT despite repeated requests over a five-week period.
A number of the fleeing prosecutors have been white, leading to rumblings about bias, but numerous minority attorneys have also left. One black former prosecutor, who didn't agree with Gardner's management, says it is difficult to speak out because of the sense that there's a concerted effort to take down the city's first black circuit attorney. "I don't want to be associated with that," the former staffer says.
Dwight Warren, who had been a St. Louis prosecutor nearly 40 years, was let go during Gardner's first three months. Gardner told him she could no longer afford his position, which Joyce had used special funding for, but Warren describes it as a "pretext firing."
He says it was not as if prosecutors on staff were out to resist Gardner's wishes — they simply did not know what those wishes were. "What Kim's philosophy is, I have no clue."
Out of necessity, those who left have been replaced primarily by younger attorneys. People who might normally have a few more years to work drug cases and burglaries have been pressed into trying top-level felonies, current and former staffers say.
Critics — and even a few supporters — say there are few places to go with concerns. Several described two key members of Gardner's newly hired executive staff, First Assistant Robert Steele and Chief Warrant Officer Christopher Hinckley, as openly and inexplicably hostile.
(Spokeswoman Susan Ryan acknowledges the criticism, but defends the pair. "Ms. Gardner is aware of the feedback about Mr. Hinckley and Mr. Steele from some employees," Ryan says in an email. "Every new attorney who comes into this office, regardless of his or her position, has to make the transition into a new environment. All new employees have evolved into their positions, and so have the employees who have been with the office through various administrations.")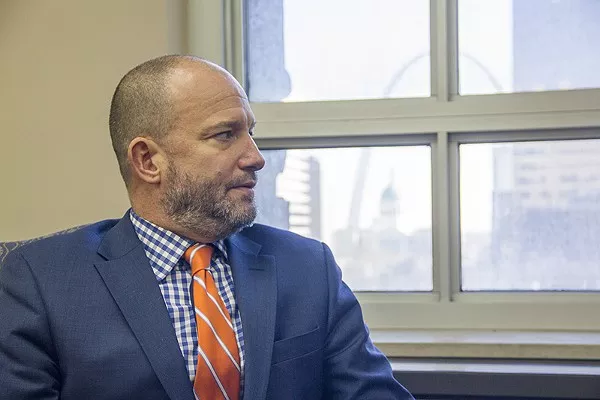 DANNY WICENTOWSKI
Prosecutors have chafed at working under the two top assistants brought in by Gardner, Robert Steele and (shown above), Chris Hinckley.
The person who seems to be Gardner's closest confidant, Maurice Foxworth, had been a paid consultant to her campaign before joining her office as a non-staff adviser. A 2017 Post-Dispatch story revealed that Foxworth was being paid $25,000 for renewable six-month contracts, and also noted that Foxworth's license to practice law was suspended in 2015 for unpaid taxes.
Staffers say nobody really understands Foxworth's role, other than that he seems omnipresent. He has sat in on meetings about cases, they say, and has often taken an active role. That struck them as problematic considering the status of his license.
When Gardner agreed to an interview with the RFT in late August, she showed up with both Foxworth and Ryan. Questioned about Foxworth, she denies that he does anything that would constitute practicing law. "That's a lie," she says.
Pressed to specify Foxworth's duties, Gardner says, "I don't really think he's a part of this article, because he's not an executive staff member." Pressed again, she and Ryan describe what sounds like an IT worker or office manager, noting that he helped upgrade their infrastructure.
Foxworth, who remains an adviser, says, "Back then, it was mainly transitioning and keeping data for Kim and transitioning and helping with innovation systems, data collection, things of that sort."
Gardner also insists she has an open-door policy and that she has done a good job communicating with staff.
Those who have worked for her, though, say that's just not true. "I'm literally going to laugh at that," says one. "The previous administration, it wasn't like you could go walking into Jennifer's office, but the door was literally open."
Unlike outside observers, who might interpret the strife as a clash between the politics of a left-leaning reformer and more conservative staff, prosecutors say it's more the day-to-day fumbling and erratic interventions from an unpredictable boss.
Four separate sources reference the case of a Metro East man named Darnell Murray, who was charged in a Dutchtown carjacking last year. Even after the FBI and an experienced prosecutor who handled the case raised doubts about his guilt, Gardner insisted the case go to trial. Murray was eventually acquitted, but not before spending six months in city jail awaiting his day in court.
In fairness to Gardner, she has pushed forward on several parts of her reform agenda. She has doubled the diversity of the overall staff to 55 minority employees since taking over, and she has been bold on two issues of major concern to her progressive base. She announced to staff in June that they would no longer prosecute marijuana possession cases of fewer than 100 grams. The new policy applies only to cases that don't include allegations of violence or other serious crimes, but it is still a major shift.
She's also been quick to go after cops accused of abusing their power. One of her campaign promises was to restore faith in the justice system. That's included trying the case against Stockley, who was charged near the end of Joyce's administration with murdering Anthony Lamar Smith in 2011 after a car chase.
The St. Louis Police Officers Association, unsurprisingly, saw the case as an attack on cops. The union initially focused much of its venom on Joyce, but the aggressive prosecution under Gardner set the stage for future clashes.
The union later opposed Gardner's bid to create a new investigative unit to investigate police-involved shootings, and it blasted her decision to stop prosecuting nonviolent marijuana cases, too. There is so little trust between the union and the circuit attorney that some cops pegged as witnesses in officer-involved shootings have refused to testify, citing their Fifth Amendment rights.
In the August interview, Gardner downplayed the clashes. She says she is bound to upset people sometimes.
"If the prosecutor is afraid of everybody, there is something wrong with that prosecutor," she says.
When the Post-Dispatch previously questioned Gardner about turnover, she was sharp: "Most of the people who left, I'm not missing them." Now, she's a little more diplomatic. "Of course, we want people to stay, but at the same time, I respect people who have chosen to go on and further their career in other areas."
A certain amount of turnover is common, she points out. Being a prosecutor is a relatively low-paying job for a lawyer, and it is grueling work. Most prosecutors who exited, she says, did so for more lucrative opportunities.
"So I'm not going to say everybody left just because of me, because I think that's unfair to them as well as the office," she says.
And while it is true that relatively young attorneys are now handling important cases, she claims it is not vastly different from previous administrations. Aside from a period following the housing crash when no one who had a job was quitting, people flowed in and out of the Circuit Attorney's Office under Joyce, she and Ryan say. The important part is evaluating attorneys to see how they handle the high-pressure workload.
"I say it's in dog years, because one year in the City of St. Louis is like ten years, to be honest with you, in other jurisdictions, because they're not handling the complex cases that we're handling," Gardner says. "They're not thrust into trial as fast as this."
For the first time in months, in August, there has been a stretch of relative calm around the office. The Greitens case has finally dropped from daily news coverage, and attorneys are grinding through the standard St. Louis mayhem. Gardner says she is focused on the long-game work of seeking justice and reducing harm.
"We didn't get in this space overnight," she says. "We're dealing with systems that have been in place for 40, 50, 60 years — ever since I've been alive — that affect the violence and crime we see."
A week later, as the city prepares to head into the Labor Day weekend, the Post-Dispatch publishes a bombshell: Gardner has just given police a list of 28 officers whom she did not trust to put on the stand. Her prosecutors would not accept new cases that relied primarily on anyone on the "exclusion list," and they would review existing cases for "viability," according to the leaked emails.
And just like that, chaos returns. Apparently unprepared for the news to leak, Gardner is left on the defensive, reacting to police outrage about victimized officers instead of highlighting what is potentially a very big problem: Prosecutors suspect St. Louis has more than two dozen cops and former cops who are fundamentally crooked.
The following days are filled with a hastily prepared statement and follow-up statements. By the end, no one seems particularly sure what is going on.
DANNY WICENTOWSKI
Spokesman Jeff Roorda says Gardner has "completely ruined" the relationship with the city's police union.
Within hours of the Post-Dispatch story going live, Jeff Roorda is on the steps of the courthouse, bashing Gardner.
Roorda, the police union's business agent, is possibly the nation's most fervent believer that there is a war on police. (A portion of the sales of his book, called Ferghanistan: The War on Police, were dedicated to ex-Ferguson cop Darren Wilson, who killed eighteen-year-old Michael Brown in 2014.) The exclusion list is, to his mind, further proof that cops are under attack. He claims the list put a dangerous city in even greater peril and torched the last shreds of a relationship between Gardner and officers.
"She's completely ruined it," Roorda says. "There is no relationship."
The list itself was not part of the leak, and the union spokesman says if the names are made public, it could destroy the careers of officers who haven't had the opportunity to challenge or even hear the allegations against them.
And Gardner has more problems than Roorda. Police Chief John Hayden initially puts out a noncommittal statement, only to come out swinging after Gardner claims police had requested the list.
"No leaders from our department asked the Circuit Attorney's Office to compile an exclusion list, nor do we have any need for such a list," he wrote, directly contradicting Gardner. "I was quite surprised to have received it."
Hayden went on to say there was "no indication the list was properly vetted," noting that six of the officers didn't even work for the department any more and several others had been investigated and cleared. "This list is an unnecessary overreach which would be better handled on a case-by-case basis."
Gardner responds shortly after with her third statement in three days.
"If Chief Hayden is unaware of the details regarding our concerns with the credibility of some of his officers, then he needs to look no further for the information than from his own command staff," Gardner's statement said. "We have documented communications between our Chief Warrant Officer and the Commander of Professional Standards regarding this issue."
Prosecutors around the country have long kept at least mental notes about which officers they do and don't trust. Often it is an unspoken designation, but lists exist and are sometimes made public. Philadelphia's new district attorney, a longtime civil rights lawyer, released his predecessor's secret list to defense attorneys this spring. He has also promised to build an even larger database of sketchy cops and share it with defense attorneys. An accounting of less-than-credible officers will ultimately help the police department, he told the Philadelphia Inquirer.
"They need to know that so that they don't put an officer whose credibility is in question in a position, when they could have put an officer deemed credible, [and] thereby mess up a case," he said.
The Ethical Society of Police, which represents black cops locally, defended Gardner. "No doubt, the Circuit Attorney's Office has some problems," the organization tweeted. "However, officers invoking the 5th instead of testifying is really alarming because of our oath to uphold the law. How can you take verbal testimony/written reports by them in criminal cases at face value going forward?"
Roorda wouldn't discuss specifics about any officers on the list, and neither would Gardner, saying only that it is essential that prosecutors can trust the testimony of police when pursuing cases.
"A police officer's word, and the complete veracity of that word, is fundamentally necessary to doing the job," she wrote in one statement. "Therefore, any break in trust must be approached with deep concern. When we prosecute a case, we have the potential to take someone's liberty from them."
Gardner says the job of prosecutors has become more complex in the era after the death of Michael Brown. "Post-Ferguson" is a term she uses multiple times in her 75-minute interview with the RFT.
There is new scrutiny of mass incarceration, dubious convictions and a cash-bail system that keeps the poor in jail for minor offenses. Old-school lock-'em-up tactics are no longer acceptable.
"If we look at arrest rates and prosecution rates, St. Louis city has sent more people to prison than any other jurisdiction in Missouri," she says. "So if that equals a safer city, we should be the safest city in America."
Whether that will change significantly on her watch remains to be seen. So far, adversaries and allies describe mixed results. Gardner's decision to stop prosecuting mid-level marijuana-possession cases will undoubtedly keep more than a few offenders out of the system. But defense lawyers have felt some of the same frustrations as they did with previous administrations.
Mary Fox, who leads the public defender's office in St. Louis, won a court order in 2015 to force Jennifer Joyce to stop removing witnesses' addresses and other information from reports given to defense attorneys. Fox had hoped evidence and reports would flow more quickly when Gardner took over, but it seemed worse, often in haphazard ways. In April, Fox filed a petition for a writ of mandamus, asking the court to find that Gardner was violating the original order. The office was doing such a bad job of turning over required evidence, she alleged, that the judge needed to force the circuit attorney to implement basic training for her young staff.
"I may not like Jennifer Joyce's management style, but at least she had some management," Fox told the RFT in May. "There was clear supervision and training of her staff members."
Gardner bristles at mention of the petition, noting that Fox's office has plenty of turnover and new lawyers, too. She says the claims are routine gamesmanship: "This is the same argument she [Fox] uses every year or two years."
But Fox says the failures of Gardner's office are real, and have had the effect of keeping low-income defendants in jail for months on end, despite no finding of guilt. "A writ is an extraordinary remedy, and we only do it when there are extraordinary circumstances," she adds.
Still, both agree that the situation has gotten better in recent weeks. Gardner now has a centralized unit dedicated to handle discovery, and Fox says long-running negotiations with the circuit attorney's senior staff have yielded results. "It has gotten significantly better," Fox says. "It isn't perfect yet, but it is moving in the right direction."
Gardner says she has focused on violence and the "crime drivers" who are responsible for the bulk of the city's mayhem: "We want to identify those individuals and prosecute those individuals to the fullest."
In a growing number of cases, however, the Circuit Attorney's Office doesn't prosecute them at all. Instead, Gardner has been handing off cases to the feds. Under new U.S. Attorney Jeff Jensen, federal prosecutors in St. Louis have nearly doubled their criminal caseload. Between January and June, 2,389 defendants were charged in the federal system, compared to 1,444 during the same period last year. Meanwhile, Gardner's office is on pace for about 4,600 cases in 2018, a drop from the roughly 5,500 notched by Joyce's prosecutors in 2015.
Jensen says his office and the circuit attorney's are in contact nearly every day, talking about cases and strategies. "The close coordination between the supervisors has never been as close as it is now," Jensen says.
And while critics grouse that the feds are just cleaning up for an inept local prosecutor, Jensen says Gardner is off to a good start. He says his office has the benefit of greater resources, including an excellent probation department, leading to far lower recidivism rates.
The feds also have the hammer of far harsher sentences. There is no parole in the federal system, and there is also no local federal prison. That means a robber who might have done less than ten years down the road in Pacific could spend twice as much time at a facility in Michigan or Texas, far away from family visits.
At the same time, Jensen says he and Gardner both work with the Urban League, Better Family Life and other social-service organizations to promote alternatives to the crime and punishment.
Gardner says she is also working closely with the police department's gang officers to build new intel while also expanding a Crime Strategies Unit to focus on the city's most violent offenders.
"At the same time," she says, "we also have to reduce harm by making sure we don't put the wrong people in the system with this heavy touch."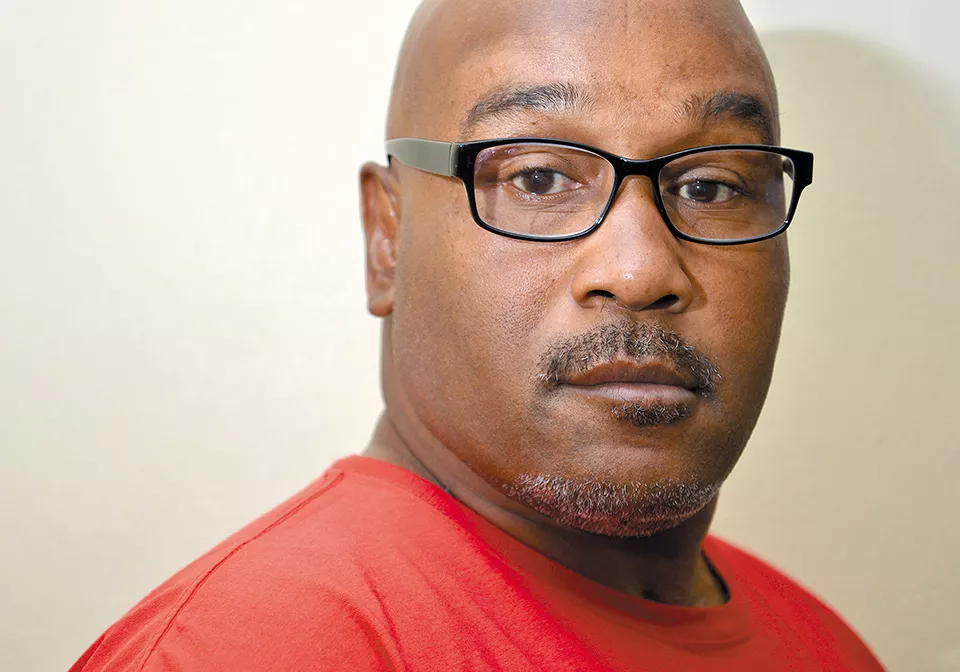 TOM HELLAUER
Darnell Murray spent six months in a St. Louis jail before he was acquitted.
In February 2017, less than two months after Gardner took office, U.S. Marshals raced after a red Kia Sportage as it sped wildly through the Metro East.
The Kia's driver, a longtime criminal named Michael Putman, had just robbed a bank in Collinsville and was desperate to get away. Deputies spotted him soon after in a gas-station parking lot and tried to pull him over. Putman almost made it to the Eads Bridge before he lost control and flipped the little SUV, showering the interior with stolen $2 bills.
It was a pretty straightforward robbery case. And by luck, it seemed investigators would also be able to hand off a strong lead in another case to St. Louis police and prosecutors. A check of the Kia's ownership revealed it had been carjacked twelve hours before in the city's Dutchtown neighborhood by a black suspect with a gun.
Putman is white, but his passenger — Darnell Murray, then 48 — was black. The carjacking victim later identified Murray from a mug shot, all but wrapping it up.
That would have made the bust a nice little two-fer, but the FBI agent investigating the Collinsville bank robbery quickly developed serious doubts that Murray was the right guy and made his concerns clear to prosecutors in Gardner's office. Prosecutors there also began to suspect it was a case of mistaken identity.
But instead of backing off charges, Gardner ignored the concerns of investigators and a senior prosecutor, insisting the case go to trial, multiple people with knowledge of the case told the RFT. To people in the office who heard about the case — and accounts definitely spread — it was an early sign of just how little the new boss trusted the opinions of her line prosecutors.
The case was handled by Assistant Circuit Attorney Morley Swingle. Swingle had just joined the office in 2016, but he was easily one of its most experienced trial attorneys. One former colleague describes him as "Mr. Prosecutor" — an enthusiastic litigator who in his spare time writes crime novels about attorneys. He served 25 years as the Cape Girardeau County prosecuting attorney before leaving under the small-town scandal of a romantic relationship with the victim in one of his cases. After a few years in Colorado, he returned to Missouri eager to handle big cases again.
Murray's case was not that. In fact, there was plenty to suggest the eyewitness who picked him out of the lineup had made a mistake.
Murray had always insisted he was at an ex-girlfriend's house in the Metro East the night of the St. Louis carjacking and went to the library the next morning. He says he met Putman for the first time after leaving the library, when the bank robber stopped him at random in Belleville to see if he had crack to sell. He didn't, but the two eventually found a dealer, bought a $10 rock and smoked it.
Putman then persuaded his new acquaintance to ride with him to a bank to pick up some cash. Murray told investigators he assumed it was going to be a normal withdrawal. But as he waited in the parking lot, Putman stormed in and told a teller, "Gimme all the hundreds!" Then he grabbed a stack of $2 bills from the cash drawer and fled.
In the car crash that followed, Murray cracked four ribs and Putman broke his wrist. The FBI agent interviewed them both at the hospital. The abrupt end to their exploits meant they had no opportunity to match stories. Nevertheless, their descriptions of meeting that morning for the first time were consistent. Further supporting Murray's alibi: electronic records showing he had spent part of the morning at the Belleville library, just as he said.
Still, Gardner seemed determined to see Murray's case prosecuted. So Swingle took it to trial — but staged a minor revolt along the way.
When Assistant Public Defender Julie Regenbogen asked the judge to reduce her client's bond from $250,000 to a promise to show up for his next court date, Swingle made no objection, clearing the way for Murray's release. He also consented to a second photo lineup on the morning of trial.
Gardner, who was still pushing the case, personally joined the lawyers in the room as the victim again picked out Murray's black-and-white photo, Regenbogen recalls. The victim later pointed him out in court as well.
Still, that identification combined with Murray's presence in the wrecked Kia twelve hours later was the entirety of the case against him. And at trial, Swingle himself called the FBI agent and deputy U.S. Marshal, who shared information suggesting Murray had been elsewhere during the carjacking. Prosecutors have a legal obligation to turn over information that could point to a defendant's innocence, but Regenbogen says Swingle went above and beyond, ensuring she had access to both federal investigators.
"I really respect how Morley handled the whole situation," she says.
Swingle's closing argument is something other prosecutors still talk about.
"Your honor, the state's position is that the evidence is sufficient for the court to find the defendant guilty," he began. He dutifully explained that Murray was a passenger in the stolen Kia and the victim had identified him as the carjacker the night before.
Then he pivoted.
"If the role of the prosecutor were just to always get a conviction and just be a rubber stamp for any eyewitness who thinks they've got it right, what I would say would end right at that moment," Swingle told the judge. "But the role of the prosecutor is also to help the court get justice. And so we wanted the judge to hear all the evidence, warts and all, both good and bad in this case, you can make an informed decision whether there is a reasonable doubt in this case."
Swingle went on to quote influential jurist George Sutherland — "But while he may strike hard blows, he is not at liberty to strike foul ones."
Some colleagues later theorized Swingle was delivering what he suspected would be his last closing as a St. Louis prosecutor. (It was not. Swingle, who declined comment, remains on staff.)
Judge Jimmie Edwards, presiding over one of his last jury trials before he was appointed the city's director of public safety, found Murray not guilty. He does not remember the details, he says, adding, "I do remember Morley having an issue with his bosses about whether the case should be tried or not tried."
In his 25 years on the bench, Edwards says his position has always been that the trial attorneys should be "given a great deal of deference," but concedes they sometimes get overruled by their bosses. "When that happens, it usually leads to problems."
Gardner says she cannot discuss details of Murray's case. She bizarrely claims that he wasn't charged under her watch, which is not true. Regardless, she maintains that it was a good case.
"I support the charges in that case," she says. "I can't speak on specifics, but in this office, we always have discussions about the strength and the weaknesses of a case. We have experienced prosecutors of over 40 years, 50 years that evaluate cases that prosecutors bring issues to and evaluate that case. We stand on the charges in that case."
These days, Murray lives in a transitional housing facility in East St. Louis. He says he's been clean for more than a year, but he suffers from bipolar disorder as a result of a head injury from an assault in the 1990s. Locked up for six months awaiting trial, his anxiety spiked, but he couldn't afford to post bond on his $250,000 bail.
"I didn't have no money," he says. "I didn't have anyone I could call that could put up their car or their house like that. I just sat."
Those six months seem like a nightmare, but he reasons that they are in the past. He never sued. When he was acquitted, he just went back to Illinois.
He says he tries not to dwell on it.
"I guess they had to stick somebody with it," he says. "May have been one of those 'tough on crime' things — make it seem like they're tough on crime."
DANNY WICENTOWSKI
Former Circuit Attorney Jennifer Joyce says critics don't understand the complexity of leading the city's prosecutors.
The complexity of the circuit attorney's job is nearly impossible to understand until you actually are the circuit attorney, Jennifer Joyce says.
That's a lesson she learned, sometimes painfully, during her first years in office. She remembers being a homicide prosecutor and wondering what exactly her predecessor, Dee Joyce Hayes, did to fill the hours since she was not carrying a heavy load of cases. Now, she understands.
"You've got to deal with City Hall, the public, the media — you could do it 80 hours a week if you're so inclined," Joyce says. After retiring, she started a consulting business and cruises around the country in an RV.
Joyce acknowledges that twenty prosecutors left during her second year in office (Ryan claims it was more). After that, she says, she got serious about improving her management skills. She learned to lean on experienced litigators. And she worked to find ways to take the pulse of the staff — small things like delivering candy on birthdays as an excuse for a chat.
"When morale bottoms out, it's really a struggle," she says. "When morale is good, you can do anything."
She declines to give an assessment of Gardner's tenure so far, in part because she respects the way Hayes held her tongue during her own tough early years. But she says people should remember what a tough job circuit attorney is. "My hope is that she finds her footing in the job."
Between the Stockley case, the Greitens case and the mass exodus of prosecutors, Gardner has had few slow days. But some see signs she is indeed finding her footing.
Career prosecutor Rachel Smith was an executive staffer under Joyce and has since gone part-time for family reasons. She now focuses on death-penalty cases.
Every boss is different, she says, but she is free to do her job. "I've got the autonomy I need and the independence I need to make my own decisions," she says.
And after all the turnover, a young group of attorneys has begun to coalesce into a core that could lead the office for years to come. They're getting their shot after maybe three or four years, instead of five or six, but they are energized by their responsibilities.
"We are actually liking it, because we are getting opportunities we probably wouldn't have gotten," one says.
All but six of the office's attorney vacancies have been filled, and fewer people seem to be looking for new jobs. It was disconcerting to see so many mentors leave in such a short period, but most are just a phone call away, the current prosecutor says. And, no, Gardner was not a good communicator at the start. They often learned about big moves in their office from reading the news. But she has gotten better and is letting her attorneys work; she really has no other choice.
"Right when Kim came, it wasn't good," the prosecutor says. "But two years later, we're here and we're working hard."
The Rev. Darryl Gray, an activist and now community liaison for the Ethical Society of Police, says Gardner deserves a chance. Ultimately, the city needs her to do well, he says.
"The reality is she's in there now, and we all have an obligation to make sure she succeeds," Gray says.
It is never going to be easy. The latest clash over the exclusion list is all but guaranteed to fuel a series of flare-ups, and another major change in leadership is less than a week old. Robert Dierker, a former judge considered to be one of the state's top legal experts, left on September 7 after less than nine months as Gardner's chief trial assistant. He served a key role in the Greitens prosecution and argued in front of the state supreme court on behalf of the circuit attorney during his last week in the job. Dierker's conservative views — he railed against "femi-fascists" in a 2006 book — made him publicly controversial, but he was seen inside the office as a stabilizing force. It's a role he continued to play on his way out of the door.
"In the past, some departing folks have been rather snide in their farewells," he wrote in an email to staff. "I want everyone to know that you work for a fine person in Kim and a fine office, which you all make what it is. Kim has shown great grit and integrity this year and is deserving of your support. She knows that you can and will support her in keeping the office up to high standards, and she truly wants to make the office a better place to work."
The departure of Dierker is sure to be a blow, but this time Gardner seems to be prepared. She named his replacement, former Jefferson County associate judge and assistant prosecuting attorney Travis Partney, at the end of July. As far as criticisms about how she has run the office, she makes no apologies. The job is more complicated than it has ever been, she says. St. Louis' crime is high, and the public wants change.
She says, "I'm that prosecutor who is choosing to look at those complex issues."