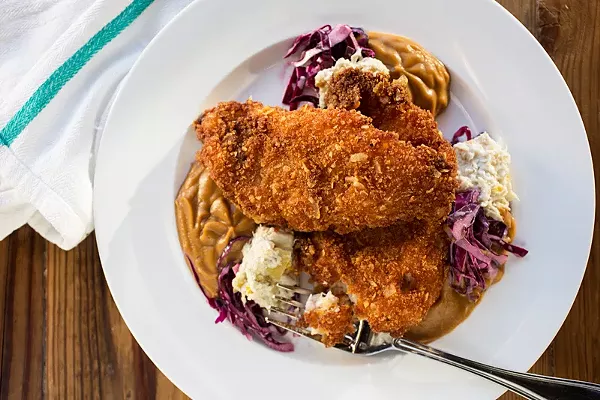 The catfish entree comes encrusted with Zapp's potato chips and is served with sweet potato and red cabbage slaw.
The shrimp and grits entree.
One of the "Snackies": shrimp toast, pickles and garlic butter.
Juniper's pork and beans.
Juniper's chicken & waffles come with pickles, syrup and peanut butter.
Barkeep Joe Duepner making "The Pentecostal."
Juniper's full breadbasket comes with biscuits including buttermilk and angel, cornbread, hushpuppies and popovers, and they're served with seasonal jams and butters.
From the "Potted & Cured" section of the menu, the "Country Ham Flight."
Juniper's Christopher Walken.
Juniper's chef de cuisine, Ryan McDonald, prepares an order of shrimp and grits.
Juniper's owner and executive chef, John Perkins.