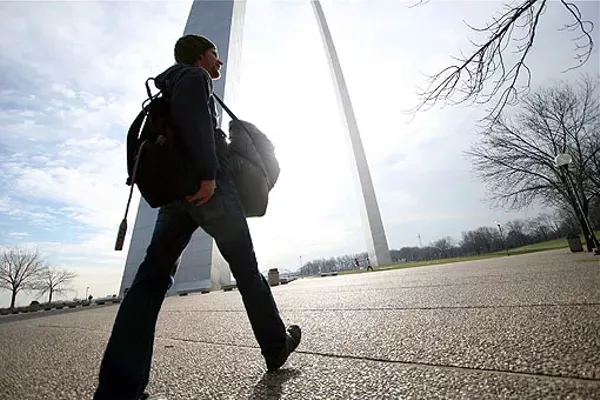 Performance artist and St. Louis native, Jimmy Kuehnle walks toward the Gateway Arch to begin his inflatable suit performance at noon on Friday, December 18, 2009. Kuehnle's performance went through three other cities before making its final stop in St. Louis.
Kuehnle puts down his gear underneath the Arch.
Kuehnle starts laying out his suit, which he will then fill using a battery pack in his bookbag that connects to a fan inside the suit. Kuehnle has been performing in inflatable suits since 2006.
Using a hole at the bottom of the suit, Kuehnle navigates his way into it.
With his suit filled with air, Kuehnle begins his journey, heading toward the city. Kuehnle uses multiple inflatable suits for his performances, but chose this suit, which is called "Big Red."
Kuehnle walks up a grassy hill toward the Old Courthouse.
A group of businessmen try and duck under the suit as Kuehnle walks the streets. Kuehnle's obtrusive suits are designed to be in the way -- it makes for a better reaction from people.
Making it to Citygarden, Kuehnle approaches a group of schoolchildren.
These students play with and question Kuehnle about his identity. As one would expect, Kuehnle says he usually gets his best reactions of the performance from kids.
A group of guys react as Kuehnle begins to chases them across a crosswalk.
A police officer makes a phone call, staring down Kuehnle and his suit. Kuehnle says most of the time security and law enforcement provide help if needed and don't take offense to the performance.
Kuehnle makes his way down Market Street.
A man ducks under Kuehnle's suit as they both walk across a street.
A woman gets playful and jumps to touch Kuehnle's suit.
Kuehnle make his way across Olive Street when there was no heavy traffic.
A woman looks out from a door to get a better glimpse of Kuehnle and his suit.
A woman holds onto a clothes rack, gazing at the giant red blob.
A woman working in an alterations shop stares in puzzlement as she watches Kuehnle's suit walk past the window front.
After a small hole was punctured in the suit, Kuehnle fixes the problem by tying a knot below the hole.
Two guys laugh as they find out what the inflatable suit is all about.
Customers of 12th Street Diner laugh as Kuehnle runs his suit straight into the window of the restaurant. Kuehnle says the idea of his performances is to invoke a spectacle, shock-value and the absurd. "People are vulnerable and acting like how they're not supposed to act in a restaurant."
A man turns around as Kuehnle and his suit walk towards him.
Kuehnle block a car as he walks across the street.
Kuehnle tries to make his way underneath the shuttered St. Louis Centre.
Kuehnle sticks his head out of the suit looking for oncoming cars before he crosses the street. In addition to the front opening, the suit has two holes on the side that Kuehnle looks through while spinning from side to side.
Kuehnle's performance comes to an end about two blocks from the Eads Bridge on Washington Avenue. His suit snagged a sign and a gash has been torn into it.
After exiting his suit, Kuehnle declares that St. Louis has beaten him and thanks everyone who came to watch him.
An hour and a half after the beginning of the performance Kuehnle begins to pack up his suit.