Page 2 of 4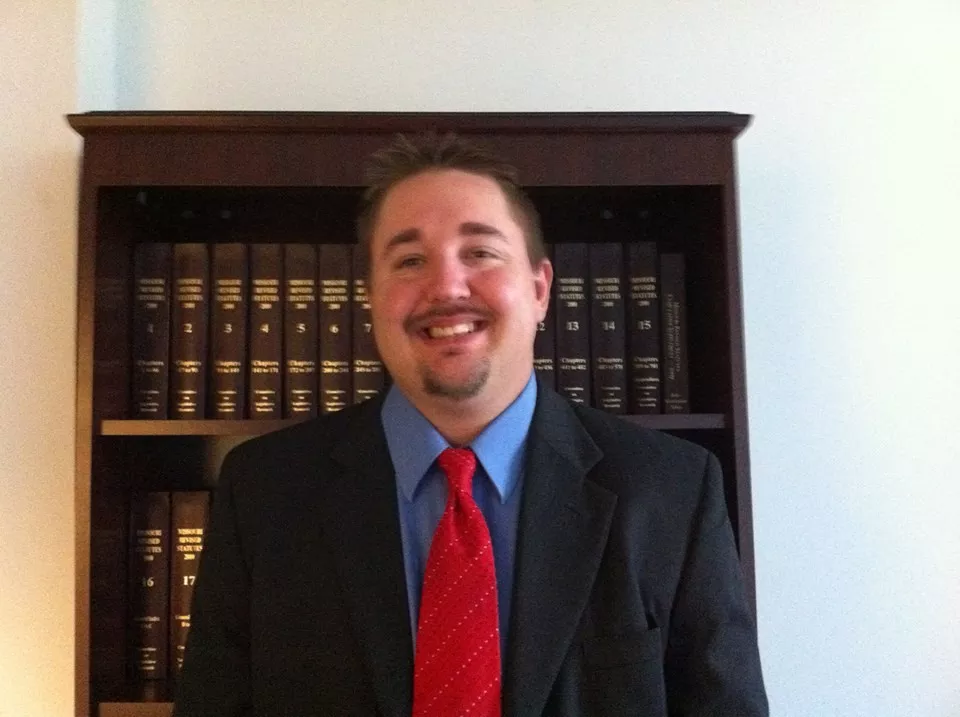 FILE PHOTO
"How do I disprove a negative?" asks prosecutor Jerrod Mahurin.
Mahurin joined the St. Francois County government in 2008, as an assistant prosecutor. It was a job he landed after a few years in private practice following Oklahoma City University School of Law.
"He was new, he was young, I just figured he had a lot to learn," Davidson says, describing her first impressions of her future boss.
At first, she had little interaction with him. But in a small office of around sixteen employees, word traveled quickly, and the youthful assistant prosecutor was the persistent subject. Davidson says she tried to ignore it.
"The girls had been talking about it. I knew something was going on with him," she says. "At the time he hadn't even said anything to me, and so that was fine. No big deal. I've tried to just put it out of my mind, thinking, 'If I don't participate, and I don't act with them, if I just do my job, I'll be left alone.' That didn't happen."
For her, the trouble began two years after Mahurin started, in 2010. She recalls overhearing a secretary laughing about a dick pic she'd received. The secretary passed the phone over. There was, indeed, a penis. Davidson says the name and contact number belonged to Jerrod Mahurin.
"I've seen it," she says. (Mahurin denies that he's ever sent an explicit photo of himself to a prosecutor's office employee.)
Two years later, in 2012, Mahurin's career in county government took off. That year, Governor Jay Nixon appointed Mahurin St. Francois County prosecuting attorney. The governor's move was a response to a vacancy after the elected prosecutor, Wendy Horn, was appointed associate circuit judge. Mahurin, then in his early 30s, had just four years as an assistant prosecutor under his belt, all in the same small town.
Over time, though, Davidson says Mahurin's behavior continued to blur boundaries.
She claims to have overheard him during a training trip at the Lake of the Ozarks bragging about how many women he'd slept with other than his wife. She says he also showed her an X-ray picture on his phone that featured a man's visible penis "that went under his knees."
In another incident, which took place around 2016, she says Mahurin approached her during a staff-wide gathering at a bar celebrating the end of a jury trial. "He wanted to know if I'd ever had a threesome," she says. "And then he asked me about my little hands. He put his hand up to mine, and told me how little and pretty my hands were."
Not knowing how to respond, Davidson says she excused herself for a smoke and went home. "It was just so creepy. It threw me for a loop."
In other instances, "he made comments about him being good in bed, having a big cock," says Davidson. "He once made a comment [that] he was good and that there's no complaints."
In another incident, the second former employee allegedly heard Mahurin remarking to a secretary, regarding some work issue, "We can fight about this now, but we'll take care of it in the bedroom later."
This same source says that Mahurin was warned that his comments were inappropriate.
"I experienced him making comments and jokes and situations where he said stuff about a lot of secretaries," the source says. "Things like, 'Oh, you know her boobs are fake,' or, 'She had an affair.'"
To be clear, Davidson says that in some cases Mahurin's statements and overtures have been reciprocated by other employees. But not by her.
"Women have sent pictures back," she says. Still, despite her refusal to play along, she claims Mahurin continued to make suggestive comments to her. "I just never gave him anything to run with, I blew it off or ignored him or walked away," she says. "That was not me. I'm too old for that."
Three sources inside the office — Davidson and two other former employees — indicate there was discussion about an attempt to hold Mahurin accountable. In separate interviews, they independently described how a group of four secretaries had made plans to sue Mahurin in late 2014, even consulting an attorney. (The three staffers who discussed the incident with the RFT were not a part of the group considering litigation.)
According to salary records, over the next two years, the clerical staff enjoyed significant raises, with several staffers seeing their yearly paychecks grow by more than $6,000. Ultimately, no lawsuit was ever filed.
That's even though Mahurin's conduct allegedly persisted. The source who claims they heard Mahurin making suggestive comments about his employees' bodies says they also witnessed the prosecutor continue to abuse his power over the secretarial staff. At one point, the source says, a secretary refused to deliver a check to Mahurin's home, protesting, "Well, I just know that since his wife isn't there, he's going to try to make me have sex with him."
Davidson says the secretary also confided in her about same incident, expressing worry at the consequences of complying with — or disobeying — the prosecutor's orders.
Mahurin contends that the incident is a fabrication. In an interview, he says he would never ask a secretary to drop something off at his house.
The secretary, Spring Henson Gray, however, tells a different version of the story. While she says Mahurin did ask her to bring the check home, she insists she never suggested to anyone that he was trying to have sex with her.
"I have never been victimized," Gray says. "I've never had any issues with him, he's always been very fair. Not one of [the clerical staff] has been treated better than the other one."