Page 4 of 4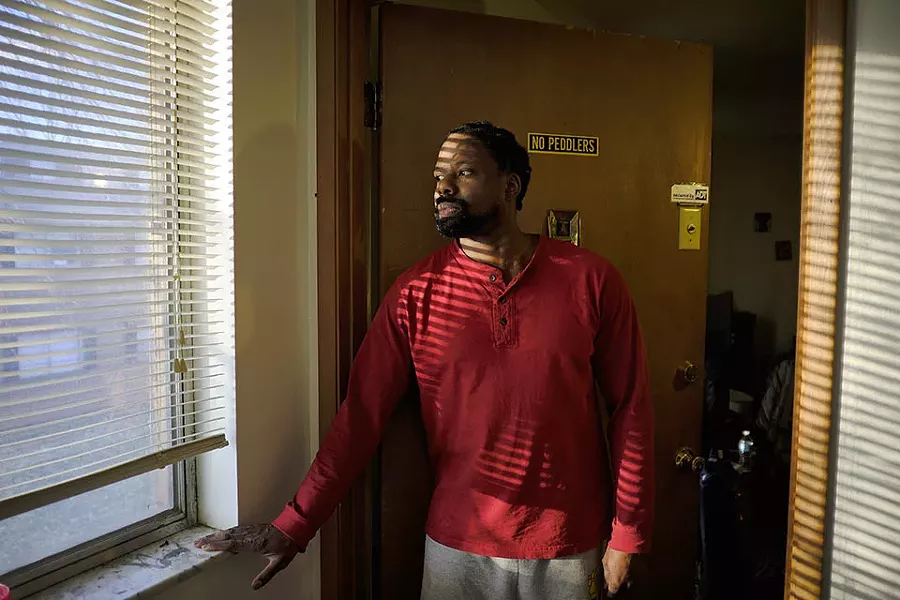 THEO WELLING
Samuel Rodgers has lived in Blue Fountain apartments for thirteen years.
While going into receivership has quickly proved a benefit to residents at Southwest Crossing, it's not clear if the same can be said of Springwood. In fact, the 2019 court battle between TEH and Bel-Ridge is discouragingly reminiscent of a 2011 court battle over the same complex. At the time, Gannon Properties owned and managed Springwood, and the company was at odds with PNC Bank, which had loaned it the money to buy the properties. In 2011, like in 2019, many of the units had fallen into disrepair, and the entire complex faced possible condemnation by Bel-Ridge. Coverage in the Post-Dispatch at the time was not as robust as in 2019, but the issues residents had with the property were largely the same: broken appliances, no heating or cooling, crime, an unresponsive property manager. Instead of blaming the city, though, Gannon blamed PNC for taking control of tenant rents, controlling "which vendor bills to pay" and not authorizing payments on sewage service. In the end, just as would happen eight years later, Springwood went into receivership and Brentwood-based MLP Investments took over.
In August 2011, Springwood was bought by Taterville, an LLC set up by St. Louis-based lawyer Michael P. Steeno. At the end of 2014, the apartments were sold to TEH.
Will the receivership managed by Trigild be any more successful than the receivership managed by MLP? An article in the Post-Dispatch a few days after management of Springwood was handed over to Trigild mentioned new locks on doors and an inspection of units. A message left for Trigild at their local office went unreturned.
A recent visit to Springwood on a Friday afternoon found the place to be a bit of a ghost town. In the complex's various parking lots less than one in ten spots was occupied. A piece of paper taped to the front door of the leasing office instructed residents to mail their rent checks to Trigild at an address in San Diego. A man in the office who wasn't particularly interested in talking did say that residents in fact still lived at Springwood but that no new tenants could be accepted at this time. On the leasing office desk, a sign stated that new residents must have an occupancy permit and their unit's electricity service registered in their name. Emblazoned on the sign was the logo for TEH Management.
It's difficult to know what TEH will do next, because it's hard to know what their plan was to begin with. Maybe the firm took on too many properties too fast and the widespread problems have more to do with incompetence than malfeasance. Alternatively, perhaps the plan all along was to keep overhead costs as bare bones as possible while the company sucked as much rent money out of the region as they could until the whole operation collapsed.
The status of TEH's other properties in the metro are unclear.
At least one other property seems to no longer be under TEH's management — the key word being seems. A recent visit to Blue Fountain Apartments (1.1 stars on Google) in north city's Baden neighborhood made it clear that no one who lives there is entirely sure who owns the complex. The property was quiet except for the hum of electric wires. The buildings looked unkempt though not in any sort of severe disarray. No one was in the leasing office and a sign taped to the front door began, "We understand that the last several months have been a difficult time within the community ..." The note went on to say that a new, unnamed company had bought the complex. The new owners, the note said, would host a meet and greet December 1, which by the time I got there had been about a week ago.
Samuel Rodgers is a Blue Fountain tenant in his late thirties who has lived at the property for thirteen years. He says he is without hot water and a working furnace. Recently, a neighbor reported a carbon monoxide leak in the basement below Rodgers' unit, and when firefighters arrived, they got no answer knocking on Rodgers' door. Fearing he was passed out, firefighters were about to bust down his door when he returned home. He's glad he got home in time, because he's not sure when or if his door would have been repaired.
I also bumped into Ryan, a seven-year resident of Blue Fountain who didn't want me to use her last name. She said she's seen her share of shortcomings at the apartments. Flooded basements, broken furnaces, a woman who's ceiling fell into her shower, another woman who every night has to shove her couch against her door because it won't lock. The meet and greet set up by the new owners left Ryan with more questions than answers.
"I could have run that meeting," Ryan told me. "He didn't know anything. It was like somebody sent a maintenance man. We don't know who bought it. We don't know if someone is going to use it. We don't know if they're going to condemn it."
She asked the man running the meeting if this was still TEH property.
"I don't know," he responded.
"Well then who sent you?" she asked him.
"I don't know."
Editor's note: A previous version of this story misspelled Michael Shultz's name. We regret the error.