Page 3 of 4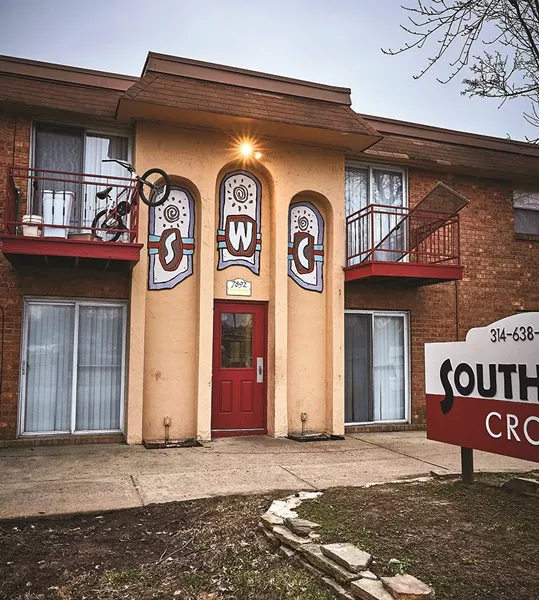 THEO WELLING
TEH bought the Southwest Crossings in Carondelet in 2015 and, after four tumultuous years, lost custody of the property at the end of 2019.
The seeds of last month's rent strike at Southwest Crossing were being sewn as far back as March 2019. Around the same time TEH was crying foul over the $34,000 bill from Bel-Ridge, the decaying conditions at the Crossing came to the attention of Homes for All St. Louis. Homes for All describes itself as "a tenant organizing coalition made up of grassroots and non-profit organizations."
Michael Shultz, who like everyone at Homes for All is a volunteer and who came to the organization through St. Louis Socialists, was one of the people who began knocking on doors at the Crossings, talking to whoever was home and trying to figure out how their complaints could be remedied. Shultz said when he first met residents the complaints he heard included "everything from a hole in the ceiling with water coming down to the mold that you can smell and taste when you walk in, bugs, cockroaches, rats, mice."
Homes for All helped residents form a tenants association and encouraged them to report every instance of mold and other hazards to the city's Citizens' Service Bureau and to document those requests. Ultimately more than 70 such calls were made to the CSB in 2019.
"We're telling the tenants, I know it sucks and you feel like you're being ignored, [but] write down the call, when you made it, who you talked to, what you complained about and we'll keep track of what it actually took to get a response," Shultz said.
At some point, TEH became delinquent on payment to the city for trash service and to the power company for electricity to the common areas at Southwest Crossing. Those services only stayed online because the city began footing the bill.
Fall proved to be a chaotic and confusing season at Southwest Crossing. In October, maintenance workers like Giammanco as well as the entire office staff stopped getting paid. Tenants were more or less left to their own devices. When Giammanco and Jones' plumbing backed up again, Giammanco was able to fix a broken auger that other workers had abandoned and use it to snake his pipes. With the office staff also off the job, there was no one to collect rent. Some residents still paid, and the checks piled up in a box in the leasing office until someone — it's unclear who — eventually took them.
Amid this confusion, seemingly random individuals knocked on residents' doors, claiming to be the new owners and asking for rent checks to be made out to them. Local TV news incorrectly reported that the building had been condemned. Shultz said this caused a panic among many of the residents who thought they would have to find new places to live.
On a Monday morning, four days after TEH lost the Springwood property, TEH co-founder Eliram Rabin showed up at the Crossing in Carondelet with a group of investors and was quickly confronted by unpaid employees. One man, Corey Thompson, said he'd been hired to clean mold out of the apartments but had never gotten paid. He pulled his motorcycle behind Rabin's sedan, preventing Rabin from leaving. The police showed up. When Rabin did leave, Thompson gave chase on his bike in hopes that, as he told Bogan who was there covering the standoff, Rabin would "pull over and give me my money."
I later asked Thompson if he ever got paid. He said he hadn't but that he wasn't worried about it: Karma would take care of it in the end.
"Was that the first time you ever chased someone on your motorcycle?" I asked.
"First time for a good reason," he said.
TEH faced a reckoning at the end of 2019. Better-organized tenants, another fed-up municipality and even Senator Hawley converged on the company.
It began a week before Thanksgiving, when the north-county municipality Bridgeton took TEH to court over ordinance violations for failing to provide heat to residents at their Bridgeport Crossing Apartments. In court, in front of a real judge, TEH failed to show.
A few days later, Hawley visited the TEH-owned complex in Bridgeton to check on the living conditions there. News cameras in tow, he talked to residents who said they'd been living without heat and running water. After the visit, Hawley called for a federal investigation. The conservative senator later tweeted that what he saw at the Bridgeport Crossing Apartments was "deplorable" and that he'd urged the Department of Housing and Urban Development to take action.
In December, the tenants association at Southwest Crossing working with Homes for All declared a rent strike. Shultz said it's important to keep in mind that many of the tenants taking part in the rent strike put their money in an escrow or in dated cashier's checks as a sign of good faith that payment would go through once the owners resolved their issues. Jones gave her rent to a social worker at St. Patrick's Center.
On December 6, Mayor Lyda Krewson's office filed a petition in circuit court to have Southwest Crossing deemed a nuisance and force TEH "to take corrective action or order the property be sold."
Four days after Krewson's office filed its suit, Freddie Mac filed a lawsuit for Southwest Crossing to be put in a receivership. Not long after, the Sansone group took control of the Crossing.
My most recent visit to Southwest Crossing saw things looking up at the property. A pickup truck with the Sansone Group written on its door was parked out front. A few lots over was a Laundry Matters van. About ten construction workers were moving about the buildings, though neither they nor the staff in the office were eager to talk to a reporter.
Jones said that the new owners had been quick to begin repairs. In the first days of them being on site, they built a wheelchair ramp for her disabled neighbor and replaced his carpet, which had flooded long ago.
"They've been working their butts off," she said, seeming optimistic.
But when we talked a week later she said she felt more and more like Sansone was "putting a dollar-store Band-Aid on a war wound." The whole place was in such disrepair. Plumbing in particular continued to be a problem. She and Giammanco loaned their neighbor the auger to clear a clog, but the auger hit mud, implying a pipe had broken.
When Giammanco and Jones' own plumbing backed up again, the office workers were nice enough to give them a key to a vacant apartment to use its running water. Jones says she appreciated this, but at night she has to walk across a hall where she knows people are squatting just to use the bathroom.
Jones, who has been a victim of domestic abuse, wants people to know that Southwest Crossing isn't just a place where people come to eke out some sort of bare minimum, that she's had to work hard to get to a place where she has an apartment, money for rent every month. "We're people, too," she said.