Page 2 of 4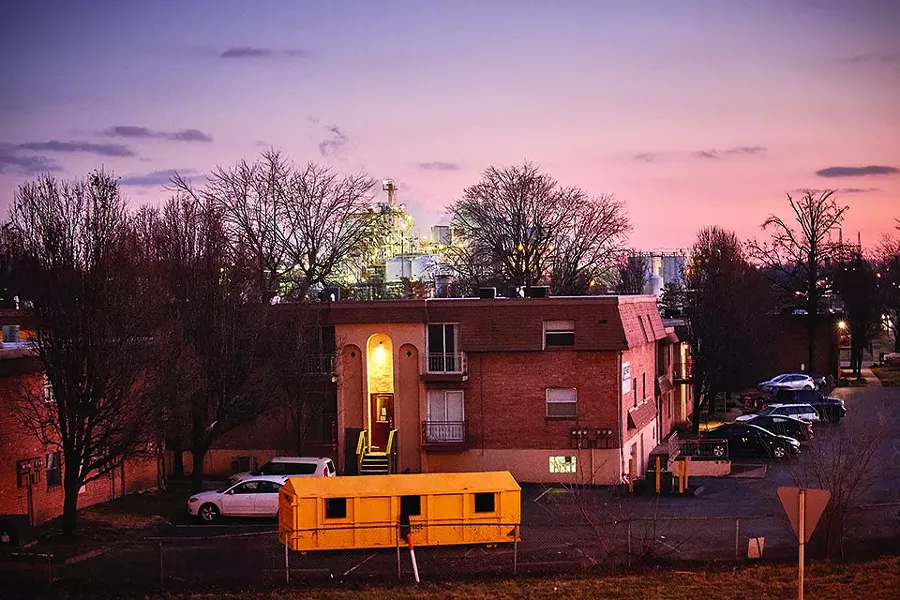 THEO WELLING
A chemical plant sits just beyond The Southwest Crossings apartment complex in south city's Carondelet neighborhood.
Last year was a pretty bad year for a lot of folks living in TEH apartment complexes. It was seemingly a pretty bad year for the company itself, too. They had custody of at least two of their properties taken away by the courts. The St. Louis Post-Dispatch published more than twenty stories about them, most of them by reporter Jesse Bogan, none of them particularly flattering. Pulitzer-winning columnist Tony Messenger called them "rogue" landlords. The editorial board said they "write the book on slumlord management." Also in 2019, TEH went to legal war with a tiny north-county municipality. Additionally, the Missouri Attorney General's Office stepped in to resolve at least sixteen complaints tenants had with the company. Perhaps most impressively, TEH managed to draw bipartisan condemnation from both Republican Senator Josh Hawley and local socialist organizers.
TEH was founded in 2006 in Israel by Gilad Israeli and Eliram Rabin. According to the Israeli tech news website Calcalist, "Israeli worked as a lawyer for years before pivoting to real estate, while Rabin boasts years of experience in Israeli and American real estate." According to the Calcalist article, the mayor of Jerusalem is an investor, as are a handful of other big wigs in Israeli higher education and politics. The firm also owns low-income housing in Tulsa, Kansas City and Pennsylvania.
In 2014, TEH Realty bought the Springwood apartments in Bel-Ridge (1.2 stars on Google) and a year later, about twenty miles south, the Southwest Crossings in Carondelet. The purchases were part of a larger buying spree that the company embarked on around St. Louis, eventually buying eleven other properties in the region, mostly in north county. Since 2015, the Post-Dispatch reported, the firm has collected more than $1.25 million in rental subsidies from the county.
After Ferguson police officer Darren Wilson killed Michael Brown in August 2014 near the Canfield Green apartment complex, Bogan and his colleagues at the newspaper started reporting more on life in subsidized housing, both in north county and around the region. The Northwinds and Park Ridge, both in Ferguson and both eventually bought by TEH, were of particular interest because about a decade ago they were refurbished in part with taxpayer money. Even as TEH became an increasingly important player in the subsidized housing market, eventually owning apartment complexes totaling nearly 2,400 units, the owners refused to talk to media.
"When owner Eliram Rabin finally did sit down for an interview [in 2019] he was gracious, but his comments rang hollow," Bogan said. "Asked why TEH was buying more properties instead of investing in the ones it already owns, he acted surprised to hear of dismal living conditions."
Rabin either lied to Bogan or had somehow missed the prolonged battle his company was fighting against Bel-Ridge, at the heart of which were a slew of violations issued in September 2017. That month Bel-Ridge's building inspector Raymond Winston conducted an inspection of Springwood and cited TEH for everything from defective roofs and railings to cracked sidewalks to graffiti. Sixteen buildings in the complex were cited for issues related to roofing, thirteen for grading and drainage, seven for sidewalks and driveways. The list went on, and it would eventually lead to an all-out legal war between the company and the municipality.
The total population of Bel-Ridge is a little more than 2,500, meaning that the 270-unit Springwood, which according to court documents was 94 percent occupied at the time TEH bought it, encompassed a significant chunk of Bel-Ridge's total residents.
Gradually the number of things Bel-Ridge found to be wrong with Springwood grew, and in August 2018, the city cited Springwood for more than 150 violations. In January 2019, an administrative search warrant was served on Springwood, and Winston conducted another inspection. This inspection found defective floor coverings, inoperative heating units, water leaking from heating units, broken windows, and holes in walls and ceilings. Additionally, Winston's report states 30 families were allowed to move into units without first obtaining occupancy permits or inspections. There were signs that TEH wasn't a totally absentee landlord, but even the work the company did at the complex was problematic. Winston found new electrical panels installed, new furnaces and new water heaters that had not been installed with proper permits and were therefore cause for violations. After this inspection, Bel-Ridge sent TEH a bill for about $34,000, a $170 charge for each of the 202 units Winston inspected.
Later, in a messy court case, TEH would point out that just a few weeks before that September 2017 inspection Bel-Ridge passed an ordinance raising the fee for an occupancy inspection to $170. A similar inspection fee in St. Louis city is $90.
To determine the fate of Springwood, Bel-Ridge held an administrative hearing that was also a public hearing as well as, oddly, a sort of trial at City Hall. The director of Bel-Ridge public works Cary Herndon presided as a quasi-judge. As Bogan reported, "an attorney representing the owner of the complex addressed Herndon as 'your honor' at times, and the attorneys questioned residents who spoke." St. Louis County Councilwoman Hazel Erby, who was present, called the proceedings a joke. In a court filing, TEH complained that given Herndon was the city inspector, he was in essence both a judge and interested party.
Nonetheless, residents spoke about the condition of Springwood. One resident stated that for a nine-day period over Thanksgiving he was without running water. Another said that he had to resort to heating his apartment with his electric stove after the furnace stopped working. A home health care worker whose client lived at Springwood said her client's window was broken and door would not lock. Current and former residents spoke of mold and bug infestations, appliances that went un-repaired despite frequent requests for fixes. The complaints went on. Afterward, Herndon concluded that Springwood was "a nuisance and detrimental to the health, safety and welfare of the residents" and ordered the complex "vacated and closed."
TEH sued Bel-Ridge over what the company saw as its property being shut down through a kangaroo court. It claimed that the building inspector, Winston, often only made it aware of violations through informal "back on the envelope" ways, such as in emails sent from his iPad. TEH accused Winston of preferring to "maintain a specter of blight over [TEH's] property in order to continue to extract payments." TEH submitted an affidavit in which Abir Levy of Midwest New Construction swore that he went to Bel-Ridge City Hall and attempted to apply for occupancy permits for units but was told he could not do so. Midwest New Construction and TEH both have offices in Reading, Pennsylvania. In fact, both companies seem to work out of the same suite in the same building. Regardless, TEH and Bel-Ridge quickly reached a legal impasse. The municipality insisted due diligence had been followed. It denied Winston had issued violations in any improper manner. The city wouldn't even concede that TEH owned the property that TEH said it did.
In September 2019, due to the volume of resident complaints, the Housing Authority of St. Louis County informed TEH it would no longer issue housing vouchers to properties it owned.
The case between TEH and Bel-Ridge was still unresolved in October when Fannie Mae, the government-sponsored mortgage loan company that secured the loan TEH used to buy Springwood, filed suit in St. Louis Circuit Court demanding that the property be put in receivership.
Receivership is a somewhat complicated legal and financial concept, but in essence it's a mechanism that protects a lender's investment. In this case, Fannie Mae feared TEH would never be able to pay back the money (plus interest) it had borrowed to buy Springwood. In accepting the loan secured by Fannie Mae, TEH agreed to a receivership clause, which allowed Fannie Mae to take control of the property from TEH and bring in another entity to run it. On November 1, management of the Springwood Apartments was handed over to San Diego-based Trigild, Inc. With that, TEH lost custody of and the ability to make money from Springwood.
TEH's court case with Bel-Ridge is still technically ongoing, though it has largely been rendered moot. TEH switched counsel, and both their current and former lawyers declined to comment for this story on the record. In general TEH is pretty tricky to get ahold of. They have no central office. An email sent to one of the investors was not answered. In court filings, the listed address is always that of their counsel, and the employees at the complexes are usually as in the dark as the journalists asking them questions.