ShowcaseSTL, the RFT's annual blowout celebration of St. Louis' unparalleled musical talent, returns again this weekend to the Grove — and it's going to be a doozy. This year, for the first time, the festival will stretch to two full days across ten venues in order to accommodate in excess of 100 performing acts. It is the largest collection of local musicians on one bill in St. Louis history, and we're damn proud of that fact.
And that's not all. In 2018 we're upping the ante by bringing indie-rock legends Guided by Voices and rapper/singer Brooke Candy to town to headline the festival, so you'll be able to take in some top-notch touring acts in addition to bountiful local music.
Speaking of local music, this year also brings the return of the STL 77, our list of 77 local acts who did big things in the last twelve months. That includes Kevin Bowers, who led a group of St. Louis players in LouFest's tribute to Chuck Berry in September; Tef Poe, who was recently signed to the legendary Tommy Boy Records; and even the much-missed Bob Reuter, who released an album from beyond the grave this year in the form of Big Muddy Records' release of the Dinosaurs' archival recordings. As we have in years past, we reached out to our readers, as well as promoters, musicians, radio DJs, music writers and venue owners, to ask them about their favorite acts of the last year, and then we whittled down and compiled those picks into this list. Presented sans genre, category or classification, the STL 77 represents a yearbook of sorts of St. Louis' top talent — many of whom will be performing at ShowcaseSTL this weekend.
Now read up on some of the best music St. Louis has to offer in 2018, then head to rftshowcase.com for more information on the big party. We'll see you Saturday and Sunday in the Grove!
—Daniel Hill
RJ HARTBECK
Paige Alyssa.
Paige Alyssa
A standout with her turn as Janet Jackson at last year's An Undercover Weekend, Paige Alyssa brings the same '80s dance-pop feel to her original work, only with her smooth, warm vocals added to the mix. The EP and two singles Alyssa has released over the last two years swirl with enough synths and drum machines to make anyone nostalgic for the days when MTV still showed videos and dance floors were rife with neon clothing. Turning to the a cappella tracks on each single, however, the listener discovers the true power of the songs: Alyssa's voice, one developed in church choirs and polished as a vocal performance major at Webster University. While her sounds may evoke the sonics of decades past, Alyssa is clearly on a path to lead St. Louis pop music into the future.
Recommended If You Like: Janet Jackson, Ameriie, TLC
Official: paigealyssamusic.com
Facebook: facebook.com/mspaigealyssa
—Jeremy Essig
Kevin Bowers
With the release of Nova two years ago, Kevin Bowers set himself apart on the St. Louis music scene. The album not only explored Bowers' love for international rhythm, but also featured some of the city's best talent sitting in as session players. The live shows that accompanied the album were notable not just for the musical talent onstage, but also the pomp that comes with including dancers in full costume, interacting with the audience. Nw working on a new album, Bowers began his musical journey with a fascination with Police drummer Stewart Copeland and landed at the Musicians Institute in Los Angeles before he returned to his home base of St. Louis, where you might have caught him leading a group of St. Louis stalwarts backing last year's big LouFest tribute to Chuck Berry. Bowers' shows are can't-miss affairs not only for fans of world music but anyone who enjoys watching high-level creativity play out before them on a stage.
Recommended If You Like: Animal Logic, Stewart Copeland, Bill Bruford
Official: kevinbowersmusic.com
Facebook: facebook.com/kevinbowersmusic
—Jeremy Essig
The Provels

Yeah, they can jam, and yeah they don't take themselves too seriously (dig song titles like "Cookie Mouth" and "Slow Cheddar"), but the members of the Provels are also on the cutting edge of the St. Louis funk-rock scene. Led by Jim Peters on guitar and Philip "Spanky" Manaois on organ, the band isn't afraid to sing, but it excels in the outer stratospheres of tight and dirty instrumental workouts, when the rhythm section of Bill Newmann and Jonathan Taylor can really lock in and put the greasy exclamation point on the funk in its sound. The band's only releases to date are 2014's self-titled collection and last year's sneaky and slinky EP Greatest Hits, but there's little doubt there are more irresistible fatback grooves in the arsenal those came from.
Recommended If You Like: The Meters, Booker T and the MGs, Lettuce, Galactic
Official: theprovels.com
Facebook: facebook.com/theprovels
—Roy Kasten
Lobby Boxer
On a just-released session for the acclaimed music-discovery site Daytrotter, the ebullient emo/math-pop trio Lobby Boxer rolled through a few new tunes with its trademark pep and vigor. And while it is no small thrill to see the hard-touring locals get some national press, it's even better to hear those new songs. It's been more than two years since Big Bucks, the group's debut full-length, came out, and the new tracks continue the band's flurried, genre-blurring approach. The session's first track, "Kingshighway Dot Gov" name-checks one of our city's main arterial routes even as it attacks the song's changes with some hybrid of Rush and Green Day. The session serves as a hopeful aperitif for a forthcoming album.
Recommended If You Like: proggy emo, poppy math-rock, sugar highs
Official: lobbyboxer.com/
Facebook: facebook.com/LobbyBoxer/
—Christian Schaeffer
VIA ARTIST BANDCAMP
Mathias and the Pirates.
Mathias and the Pirates

Mathias and the Pirates makes it a point to embrace variety. Since its inception in 2012, the hip-hop outfit has employed electro-funk, live reggae and rock backdrops, as well as classic sample-based boom-bap beats for raps equally likely to fire up a protest or a party. Whether crafting character studies, making self-deprecating jokes or rallying against corrupt authorities, Mathias and Ms. Vizion are adept at delivering their message through both straightforward rhyming and sing-song verses; Ms. Vizion often handles hooks with multi-tracked soulful belting. The Pirates have grown in ranks over the years to include drummer Andrew Gibson, DJ VThom, saxophonist Terry Grohman and trumpeter Shelby Carter, all of whom color in the beats to make them pop with vibrant energy. The combined result is a festive, all-inclusive sound you can nod your head or shake your ass to.
Recommended If You Like: Freestyle Fellowship, Fishbone, Ozomatli
Facebook: facebook.com/PiratesSTL
Bandcamp: pirates.bandcamp.com
—Bob McMahon
Oxbraker
For Oxbraker, the Busch floweth freely and the Ampeg runneth over. Throbbing bass and lumbering drums do the heavy lifting while drop-C mega-riffs coast to stoner metal glory, all beneath a set of vocal chords thrashed to match the alkaline growl of stoner metal's pioneers. For this hard-working south-city metal band, it's all in a day's work. High off a newly released digital album with six barn-burning anthems that take the band's sound to new highs, Oxbraker shows huge promise within a metal scene that is starting to explode. Where local contemporaries play it fast and loose, this quartet takes a huge bong rip and sets the cruise control. Bring earplugs and brass knuckles.
Recommended If You Like: The Sword, Motorhead, Kyuss, tinnitus
Bandcamp: xbraker.bandcamp.com
Facebook: facebook.com/profile.php?id=100009987942151
—Kevin Korinek
Broke Poets
If you're looking for local hip-hop that represents St. Louis, you'd be hard pressed to find another collective as essential as Broke Poets. The nod-heavy rhythms are old school and fresh as hell with a sharp ear for samples and beats to bounce down the city's streets. Lyrical flow is spread evenly among the group's core members — Jonezy, Bobo Bryson, Capo, Que Houston, Ackurate, Jia Davis, Veron, Mathias, Ryan Wordsmith — who blend newcomer talent and veteran rap chops into an unforgettable listening experience. While Broke Poets' self-titled digital album, released last fall, has been making the rounds in hip-hop circles, it's the group's dynamic live sets that are the talk of the town, as everyone takes a turn at the mic and the song unfolds in fascinating ways. You'd be hard-pressed to find a group more qualified to craft the soundtrack for this city.
Recommended If You Like: The Pharcyde, Jurassic 5, Wu-Tang, Digable Planets
Bandcamp: brokepoets.bandcamp.com/releases
Facebook: facebook.com/brokepoets
—Kevin Korinek
Rev. Sekou
No single line could sum up the righteous and riotous music of Rev. Osagyefo Uhuru Sekou, but this one comes close: "In times like these we need a miracle/Ain't nobody going to save us/We're the ones we've been waiting for." A preacher, filmmaker, writer, composer, bandleader and activist, Sekou has roots in St. Louis and was an active presence during the Ferguson uprising. He was busted twice here — once for praying in the streets. For Sekou, politics is just spirituality by other means and vice versa, and his music, notably on last year's deeply bluesy yet experimental In Times Like These (produced by Luther and Cody Dickinson of the North Mississippi Allstars), always tells it like it is and as it may yet be. Sekou's revolution doesn't need to be televised; his relentless touring has taken the gospel of civil rights around the world.
Recommended If You Like: Gil Scott Heron, the Last Poets, the Roots, Mavis Staples
Official: revsekou.com
Facebook: facebook.com/revsekou
—Roy Kasten
Old Salt Union

Bluegrassers start young; they'd better, because it takes a lifetime to master the form. Old Salt Union isn't a bluegrass band, but since its members were teenagers they've been working out their original version of not-quite-jammy, not-quite-traditional string-band music. Those years of woodshedding paid off last year with the band's self-titled album, on one of the country's premier acoustic music labels, Compass Records. The album shows how deeply Old Salt Union's songwriting has grown and how committed its members remain to taking risks with arrangements. And the band refuses to settle for just connecting with a loyal local fan base — they're road warriors who show no signs of slowing down anytime soon.
Recommended If You Like: Old Crow Medicine Show, Bela Fleck, David Rawlings Machine, New Grass Revival
Official: oldsaltunion.com
Facebook: facebook.com/OldSaltUnion
—Roy Kasten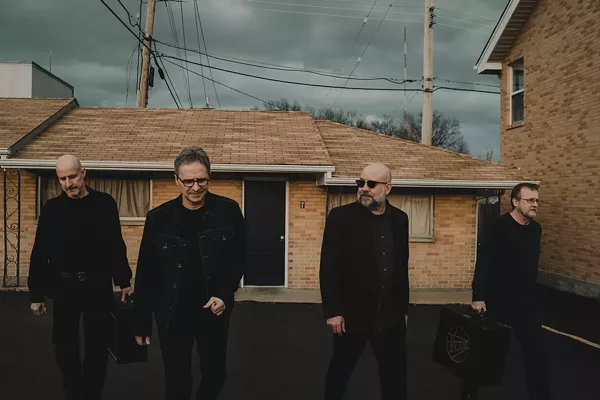 VIA THE ARTIST
Finn's Motel.
Finn's Motel
In 2006, Finn's Motel made waves with Escape Velocity, a collection of heart-racing power-pop with one foot in the garage and the other on an arena stage. Eleven years later, the Joe Thebeau-led troupe oiled its joints and slowly creaked back to life with the release of two full-length albums (and, as of April, the Stone Lions EP). There's no rust for the weary, however — and the troupe is swiftly making up for lost time. Both Jupiter Rex and Quinta del Sordo are brimming with smart, insightful songwriting with many sonic moods, from howling jangle explosions to delicate acoustic ruminations. Although Guided by Voices is an obvious touchstone — how Finn's Motel got to the song title "Number 7 by the Ice Machine" before Bob Pollard is beyond us — "Into the Realm of Jupiter Rex" is Teenage Fanclub-esque and "Help Is On The Way" is a generous Superchunk homage.
Recommended If You Like: Guided by Voices, Superchunk, late '70s Cheap Trick, '80s R.E.M., obscure Midwest power-pop, '90s Wilco
Facebook: facebook.com/FinnsMotel
—Annie Zaleski
Sleepy Kitty
2018 has been a frustrating one for Sleepy Kitty. Singer and guitarist Paige Brubeck has struggled with her voice and, as a result, she and drummer Evan Sult (who, full disclosure, is the RFT's new art director) have been on a semi-hiatus from performing. If that wasn't enough, Brubeck and Sult's stock of poster prints (the duo are master printmakers and designers) was wiped out in the mini-tornado that hit the recent Art Outside event in Maplewood. And yet this year the band released an excellent EP, Bastard Orphan, a uniquely lo-fi rock take on some choice cuts from the Hamilton soundtrack (yeah, you wish you had thought of that first) and continued collaborating with friends including Kevin Bowers and Matt Basler of Tok. Word is they've been holed up working on video projects and art, and there's no doubt the band will return to full-on and regular live rocking soon.
Recommended If You Like: The Velvet Underground, Ume, Sonic Youth, Pavement, Art Chantry
Facebook: facebook.com/sleepykitty–music
Official: cargocollective.com/sleepykitty-music
—Roy Kasten
The Dinosaurs
If St. Louis has a great punk scene (and it surely does), it has bands like the Dinosaurs to thank. Formed in 1978 by the late Bob Reuter — best known as a photographer, DJ, songwriter and leader of loud, messy, rootsy rock bands such as Kamikaze Cowboy and Alley Ghost — the Dinosaurs didn't stand a chance in a St. Louis scene that thought the Stooges were a trio of slapstick comics. Last year, Big Muddy Records, which has toiled to keep Reuter's legacy alive, released the band's extant recordings, including the legendary single "Rock 'n' Roll Moron," and what do you know? Reuter could fuzz rock like a mutha and his melodies and songs were indestructible, no matter how hard the band tried. The album belongs in the collection of anyone who cares about rock & roll.
Recommended If You Like: The Stooges, the Ramones, the MC5, New York Dolls
Official: bigmuddyrecords.com/artist/the-dinosaurs
Bandcamp: thedinosaurs.bandcamp.com
—Roy Kasten
Adam Hucke
You may know Adam Hucke from his longtime stint in the Funky Butt Brass Band where, as a founding member, he has used his trumpet to pierce the upper register of the group's New Orleans-inspired funk, soul and jazz melange. And while he's also served as a valued, first-call session player for years, Hucke has been secretly tending to his own music, both with and without his signature horn. Last year's Madam I'm Adam gave formal introduction for Adam Hucke's Music for Nerds, a catch-all of his musical talents and interests. Much of it tends toward the quirky — They Might Be Giants and Weird Al are touchstones — but no one can deny the earworm that is "The Vegetables are Singing," an ode to greens that would make Brian Wilson proud.
Recommended If You Like: They Might Be Giants, the Beach Boys, Weird Al, Moxy Fruvous
Official: www.adamhucke.com
Facebook: www.facebook.com/musicfornerds/
—Christian Schaeffer
The May Day Orchestra
Tim Rakel has fronted a handful of bands over the past fifteen years — the raggedy Bad Folk, the harder-charging Union Electric — but the May Day Orchestra holds a special place in his collected songbook. A songwriter with a burly, stentorian delivery and a desire to tell knotty stories rather than make easy rhymes, Rakel returned with a new May Day lineup at the beginning of 2018, and its album Wake pinpoints the band's strengths. On the album, Rakel sings of Yusuf bin Hasan, a Kenyan revolutionary who led a massacre in Mombasa in 1631. But for Rakel and his bandmates, the story is a launch pad for themes of colonialism and revenge, and with new guitarist Charlie Tabing's searing leads, these songs work as equal parts history lesson, parable and rock song.
Recommended If You Like: Folk operas, the people's history, Son Volt
Bandcamp: themaydayorchestra.bandcamp.com
Facebook: facebook.com/MayDayOrchestra
—Christian Schaeffer
Crim Dolla Cray
Sure, keeping the party going tends to be priority No. 1 for most DJs, and Crim Dolla Cray is no different, but she's also able to shapeshift to fit any mold or mood on a whim. She even put fingers to wax for an ensemble with contemporary composer John Wiese at the tail end of 2017. While Cray does haunt south-city bars — with the Royale being the closest thing to a home base — she can be found catching partygoers in the web she spins between two records just about anywhere. Most recently? She laid out that dance-floor vibe to a crowd of thousands with two sets at Cherokee Street's Cinco de Mayo celebration.
Recommended If You Like: Smooth transitions, rare vinyl, actually dancing and not just talking about it
Facebook: facebook.com/CrimCray
Soundcloud: soundcloud.com/crim-dolla-cray
—Joseph Hess
Hounds
A young band with a modern-rock-radio sound, Clockwork shot to the top of the pile with a slot at 2015's LouFest — a boon for any band, let alone one with members unable to partake legally of the green room's beer cooler. But in the months and years after that festival set, the members of Clockwork opted for a reboot and recast themselves as Hounds. Brothers Jordan and Logan Slone and drummer Logan Mohler didn't start from scratch, of course, but a live-in-the-room production method helped the group strip back, simplify and create its sturdy and streamlined 2017 self-titled debut.
Recommended If You Like: Cold War Kids, the Districts, early Arctic Monkeys
Official: houndssounds.com
Facebook: facebook.com/HoundsSounds
—Christian Schaeffer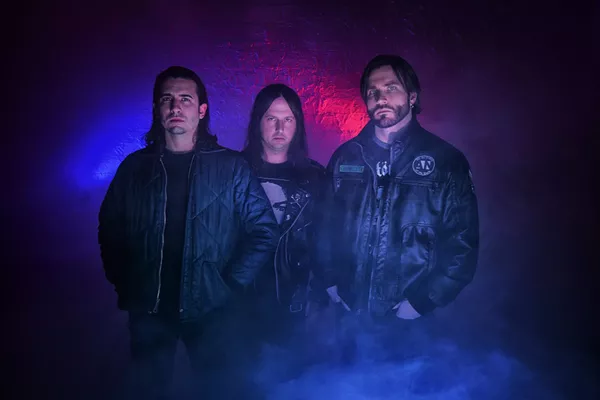 JOSH ROWAN
The Lion's Daughter.
The Lion's Daughter
The Lion's Daughter has always had flair for the cinematic, but the band's last three releases have brought that quality to the forefront. A Black Sea, the trio's 2013 collaboration with folk band Indian Blanket, saw the band aiding its acoustic counterpart in creating a doom-oriented sound fit for desolate post-apocalyptic panoramas. On the band's 2016 full-length Existence Is Horror (recently re-released by French metal label Season of Mist) the Lion's Daughter manages to pull from a variety of metal subgenres to craft a sonic scene of a much more crowded and chaotic cataclysm. In May, the release of the first single from the upcoming Future Cult gave a glimpse of a new direction. In addition to the expected metal sounds, "Die Into Us" utilizes synth textures straight out of a John Carpenter score, which makes you wonder: How long until the Lion's Daughter becomes this generation's Goblin?
Recommended If You Like: Neurosis, Zombi, Ministry, Nachtmystium, Craft
Facebook: facebook.com/thelionsdaughter
Bandcamp: thelionsdaughter.bandcamp.com
—Nick Horn
Honeydew
Playing loud is easy. Playing quietly and minimally, however, takes a certain amount of precision and timing. When you've only got a couple of instruments, everything's magnified, and it becomes painfully obvious if you flub a chord or forget a word. Not every band can do it, but Honeydew can — and does. On its debut self-titled cassette, most of the songs are guided by simple, melodic bass patterns and interlocking Casiotone riffs, with occasional drums. Nicole Bonura's straightforward vocals are perfect for her songs: They run the gamut from food allergies to awkward conversations but always retain a certain self-deprecating, observational humor.
Recommended If You Like: Dubb Nubb, Girlpool, Marine Girls
Bandcamp: honeydewstl.bandcamp.com
Facebook: facebook.com/honeydewhoneydewhoneydew
—Mike Appelstein
Seashine
We are currently living through shoegaze music's second hurrah. Slowdive and Lush have made successful comebacks, Kevin Shields is forever promising a fourth My Bloody Valentine album, and newer groups such as Beach House and Diiv have taken up the genre's echo-y, effects-laden conventions. Local quartet Seashine is influenced by all of the above, yet steers clear of carbon copying. Led by vocalist/guitarist Demi Haynes, Seashine strikes a nice balance in its songs between ambient beauty and thick, controlled chaos. The vocals and melodies are wistful but clear, even when the band's wall of sound is at its highest. Live, Seashine turns up the volume for an immersive physical experience.
Recommended If You Like: Lush, Stereolab, Slowdive
Facebook: facebook.com/seashineband
Soundcloud: soundcloud.com/seashineband
—Mike Appelstein
Nikee Turbo
You'll be hard-pressed to find a Nikee Turbo track that doesn't already have thousands of views — and those that don't yet will get there, you can bet. The young rapper doesn't ride a wave or skate on trends for a quick viral hit; he has a huge, dedicated fan base that keeps looping back for new drops. And it's not hard to see why. If his mixtape Flood the Streets for the South says anything, it's that Nikee will keep digging deeper with his swag and sense of style. He sounds ever-changing because he's constantly collaborating, and if one thing keeps Nikee fresh both on record and on video, it's that he vibes as if he were coming straight from the stage. That's a feel that can't be faked.
Recommended If You Like: Rappers that don't fit inside the box
Facebook: facebook.com/NikeeTurbo
Soundcloud: soundcloud.com/nikeeturbo
—Joseph Hess
Najii Person
Najii Person never hesitates to say exactly what's on his mind, and that honesty provides a fascinating insight into the mind of one of St. Louis' best up-and-coming lyricists. While many rap artists prefer to curate a specific type of track, or lean on a single producer to help craft a trademark sound, Najii uses everything from old-school boom-bap beats and piano samples (which you can hear on "God Knows") to cutting-edge post-trap (best exemplified on "Not Around") to frame his thoughts. The sonic diversity of his work might make another rapper come across as unfocused — or, even worse, like a musical tourist. But thanks to an obvious love of a wide range of hip-hop along with the honesty of his lyrics and his humble, rapper-next-door delivery, Najii's output simply reads as glimpses into the mind of a complex, multifaceted and thoughtful human being.
Recommended If You Like: Isaiah Rashad, Kendrick Lamar, Anderson .Paak, Smino, early Lupe Fiasco
Facebook: facebook.com/najiiperson
Soundcloud: soundcloud.com/nperson
—Nick Horn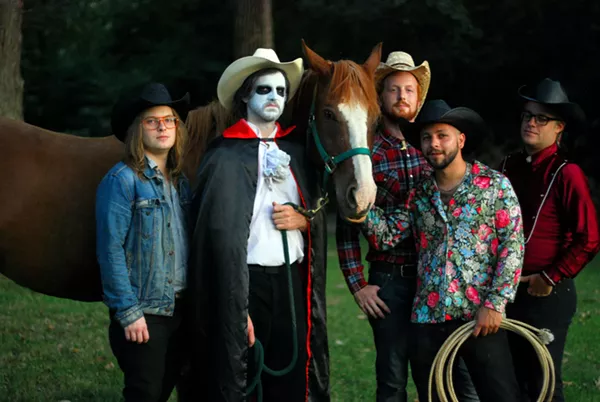 ADAM NEWSHAM
Dracla.
Dracla
Dracla has a hell of a gimmick. Ray Kannenberg stars as the stoner-metal quintet's vampiric namesake, a 1,072-year-old bloodsucker who spellbound the souls of his "maul boiz" to eternally young bodies so they could serve as his backing band. Armed with a bass, Dracla speak-sings in a Transylvanian accent of weeping shadows, winding snakes of fire, and bothersome dogs over sludgy, down-tuned rock grooves. The campy trappings are intentionally funny, but Dracla itself is no joke. Guitarists Jake Jones and Nick Kampen volley twin leads full of swaggering triplet runs over the whirlwind of pounding tom fills and galloping beats summoned by drummer Kevin Insinna, while Nathan Dick's organ lurks in the shadows as a sinister presence. Tempos often shift into double time and back, but the band hits hard at any speed. All in all, it's a bracing attack worthy of its immortal leader.
Recommended If You Like: Black Sabbath, Fu Manchu, Kyuss
Facebook: facebook.com/draclasocialmediarelations
Bandcamp: dracla.bandcamp.com
—Bob McMahon
Middle Class Fashion
Middle Class Fashion is a band that likes to test its own boundaries. The band has shown notable growth on each album, starting with the piano-driven power pop of its earliest recordings, and more recently embracing minimal synth tones on 2016's iii. Ego, its fourth album, is another step sideways. At turns tense and spare ("Every Time," "Hot"), at others moody and dark ("Cold Blooded Rock and Roll," which sounds nothing like you think), the band continues in an electropop vein, but always with a warm melodic core. "Searching," already a live favorite, is a fine rocker that faintly recalls Sleater-Kinney at its most urgent. Album closer "No Lie" is Middle Class Fashion's version of stadium rock, complete with guitar solo and a soaring, lighters-in-the-air chorus. We're lucky to have this band.
Recommended If You Like: Ultravox, Sparks, Magnetic Fields' electronic side
Official: middleclassfashion.com
Facebook: facebook.com/middleclassfashion
—Mike Appelstein
The BonBon Plot
Playing gently is usually more difficult than playing loudly; any novice behind a drum kit quickly learns that volume is easy but nuance takes talent. And while the craft behind the BonBon Plot's cover sets speaks to some well-honed jazz chops and an intuitive understanding of Brazilian rhythms, the trio's music is breezy and weightless — and soothes like a balm. Guitarist Will Buchanan has plenty of gypsy jazz licks at his disposal, and upright bassist Janet Buchanan keeps a lithe low end while singing a variety of American jazz standards, bossa nova crossover hits and French pop classics. You're likely to find the BonBon Plot at receptions, private parties and corner cafes, but the trio makes such pleasant background music that you'll want to pull up a seat (or find a dance partner) and pay attention.
Recommended If You Like: Astrid Gilberto, Django Reinhardt, Sergio Mendes & Brasil '66, a mimosa-heavy brunch
Facebook: facebook.com/thebonbonplot
Official: thebonbonplot.com
—Christian Schaeffer
Bloom
It's a point of fact that Kalyn McNeil has one of the most arresting voices in town. As Bloom, McNeil makes slow-drip R&B that manages to showcase every facet of her range, from cavernous to ear-piercing. Her 2017 release, SIN[SES], was made with the help of former St. Louisan Dylan Brady, and his production can skew both atmospheric and apocalyptic. But on "Purple Flowers," a stand-alone single from late last year, Bloom proved that she needs little more than her own multi-layered voice and some ambient reverb to craft a stunning track. The accompanying video was immersive and sensual, amplifying the song's mix of sexuality and spirituality with a healthy dose of self-love and body-image positivity.
Recommended If You Like: Rhye, Abra, Frank Ocean
Official: thebloomexperience.com
Facebook: facebook.com/ExperienceBloom
—Christian Schaeffer
Zak Marmalefsky
Whether it's a dark sense of humor or a raw recollection of real life, Zak Marmalefsky is a wily wordsmith. His poetry smoothly moves on a bed of dense melodies built with only a six-string, offering what looks like a simple proposition from the outset: a singer-songwriter. At face value, that's what you get, but his baritone stream-of-consciousness also offers a candid account of the human condition, perhaps even his own at times. With more than a hundred songs stretched across limited tapes and Bandcamp pages, Marmalefsky has accrued a massive body of work that he recently built upon with My Number, a full-length released at the end of 2017.
Recommended If You Like: Baritone singing, acoustic guitar, nothing else
Official: zakm.biz
Bandcamp: zakm.bandcamp.com
—Joseph Hess
Bunnygrunt
The cover of My First Bells, a compilation of Bunnygrunt's first few seven-inch recordings that was released this year, features a young Matt Harnish and Karen Ried onstage during their first out-of-town gig. A lot has changed since then; the band's then-signature twee-pop leanings hardened into something a little scuzzier, and Ried's move from drums to bass led to a somewhat fluid lineup. But as the band celebrated its 25th year in 2018 (with an ad-hoc festival that stretched over several nights), the anniversary shows were a good reminder of what has remained central in Bunnygrunt's longer-than-expected tenure: a musical partnership between two like-minded pop weirdos that continues to yield sweet, tangy fruit.
Recommended If You Like: Bunnygrunt singles, Bunnygrunt albums, Bunnygrunt shows
Official: bunnygrunt.com
Facebook: facebook.com/thereal-bunnygrunt
—Christian Schaeffer
AUSTIN ROBERTS
Mom.
Mom
On "Revenge Is Ours," the second track from Mom's new self-titled album, singer Piper Williamson yelps, "Innocence doesn't matter/Be true, be you." That kind of assertive individuality is what the band is banking on, with break-neck drumming, wildly corrosive guitars and riot grrrl vocals that will curl your lip and get you swingin'. Even though punk has its own clear trappings, the genre bends wildly to the will of those who push its limits, and Mom is the band that's lately been going on the offensive — a DIY lesson in how to rock and not give a fuck. The band excels in bubblegum gutter-punk that's flashy, quick and timeless, an equally perfect soundtrack for last-minute protests or pool parties in deep south city. Mom is sure to bring out your inner activist or make you want to start a safety-pin collection.
Recommended If You Like: Sleater-Kinney, Erase Errata, the Julie Ruin, Skin Tags
Bandcamp: momstl.bandcamp.com/album/mom
—Kevin Korinek
Frankie Valet
Trading in the vintage 4-track for an iPhone, Frankie Valet pushes its newfangled indie gems out in good old-fashioned lo-fi. Formerly known as the Sleepeasies, Jakob Nelson and company bring to mind those halcyon days when bands were discovered playing in their garages by record execs cruising through the neighborhood in a Camaro. Well, OK, if those myths were real and such a thing ever did actually happen, Frankie Valet would have no trouble making a living. But these are songs written between shifts of waiting tables, drowning under student-loan debt and spending what little money is left to drive across the country to play basements and house shows. Doesn't that feel more honest?
Recommended If You Like: The Strokes, Devo, Talking Heads
Facebook: facebook.com/fkazzzezs
Bandcamp: frankievalet.bandcamp.com
—Joseph Hess
T-Dubb-O
St. Louis rapper T-Dubb-O (born Antoine White) has never been one to rest on his laurels, a fact that becomes more and more obvious as his accomplishments stack up higher and higher. He's performed at AC3 and SXSW; he's been featured on MSNBC, TeleSUR English, BET and BET France; he's been written up in Hip Hop Weekly, Ebony, XXL and Rolling Stone; he spoke at the 2015 Drug Policy Reform Conference and had multiple meetings with Barack Obama during his presidency. But that recognition hasn't softened White's resolve to strive for the next goal. On his most recent release, December's Money, Pleasure & Pain, his battle rap roots shine through in his aggressive delivery and in the immediate and visceral quality of his lyrics. Still, pop/trap tracks à la the Weeknd balance the heaviness of White's lyricism, making his songs surprisingly easy listening.
Recommended If You Like: Nipsey Hussle, Wiz Khalifa, SOB X RBE, the Weeknd
Facebook: facebook.com/TDubbO
Official: t-dubb-o.com
—Nick Horn
Mvstermind
His moniker might sound like hyperbole, but with every passing month Mvstermind becomes a more fitting name for rapper and producer Muhammad Austin. With a bare-bones studio setup in the basement of his parents' Spanish Lake home, Austin has managed to become recognizable on a national level thanks largely to a cleverness that seeps its way into nearly every aspect of his work, from his lyricism and production to his branding, all the way to novel marketing ideas like tiered ticketing for his local performances. The sharp wit of Mvstermind's lyrics is matched by his distinctive production style, which touches on the dream-pop of Little Dragon and the vaporwave sounds of Vektroid. While most artists default to one or the other, Mvstermind is one of a select few who have discovered how to work hard and smart.
Recommended If You Like: J. Cole, Goldlink, Anderson.Paak, Saba, Kendrick Lamar
Facebook: facebook.com/Mvstermind
Official: mvstermind.com
—Nick Horn
Tef Poe
"I'm obligated to tell the truth," spits Tef Poe at the start of the killer track "Blackballed" from his recent EP 24 Hours to Live. That truth is first and foremost of and for his streets, for those who live and die there and refuse to temper the rage about it all. If you don't know those streets you can't really understand Poe's music: hard as cold black steel and as dense and mean and tight as trap music ever gets. In his self-fashioning, from his rhymes to his artwork, Poe gives no fucks about liberal hopes. Food stamps, gun control, Hillary Clinton, Obama, the black church: all lies to Poe and his crew. Earlier this year, he laid out a message for Kanye and his MAGA hat: "What the fuck, my n*gga? You using your powers for wrong...We love you, come back home." St. Louis' scene has never known a more honest or insatiable rapper, and with his recent signing to Tommy Boy Records, the rest of the world will soon know too.
Recommended If You Like: Kanye West (pre-Trump), Run the Jewels, Young Jeezy, Public Enemy
Official: tefpoe.com
Facebook: facebook.com/tefpoe1
—Roy Kasten
VIA BANDCAMP
Glued.
Glued
Glued is good at keeping everything together. Each guitar line seems more off-kilter than the last, each bass line moving independently at its own rhythm — but then everything snaps back in a series of head-nodding hooks and life-changing choruses. The quartet has its roots in '90s-era indie rock and Chicago-style shoegaze, creating a south-city soundscape all its own. Dueling guitar riffs rev the band's engines before Chelsi Webster's vocals cut through above the clash and din of her powerhouse drumming, offering a wobbly pop-scape of dreamy melodies that endures long after the song ends. Hot off the release of the brand-new, four-song EP Insides, available as a cassette with digital download, the band reaches into deep pockets of under-the-radar rock and shoegazes its way back to the stars above.
Recommended If You Like: The Pixies, Autolux, Wye Oak, Cheatahs, DIIV
Bandcamp: glued.bandcamp.com
Facebook: facebook.com/gluedband
—Kevin Korinek
Kid Scientist
It's no wonder that Kid Scientist mastermind and frontman Joe Taylor became ERA Theatre's musical director. With florid lyrics and flamboyant performances, Taylor's music is ripe for a theatrical production — or, rather, productions, because 2017 EP A Report from the Future might need separate musicals for each of its songs, which inhabit their own distinct genres. The band's range encompasses a dark cabaret rocker, a tense tango, a lightly trotting country ditty, a string-assisted piano ballad and much more. Numerous guest musicians give the EP a richly layered sound, but the core lineup of drummer Dave Moore, keyboardists Taylor and Audrey Morris, and interim bassist Brian McClelland more than fill up a room with a warm but punchy attack. This chemistry keeps Kid Scientist's sound cohesive across its many styles, allowing Taylor to be the dashing star both in front of and behind the curtain.
Recommended If You Like: The Decemberists, Ben Folds, the Dresden Dolls
Facebook: facebook.com/kidscimusic
Bandcamp: kidscientist.bandcamp.com
—Bob McMahon
Blvck Spvde
On this year's full-length release Hopeless and Romanticizing, the rapper and producer formerly known as Veto Lamar Money and Black Spade (he has since stylized out the "a's") takes his jazz and soul and down-tempo influences to wholly unexpected and thrilling places. He's singing now, with a confident and subtle baritone, and exploring melodies straight out of Stevie Wonder, with lush arrangements that sound as sexually healing as Marvin Gaye. He hasn't turned his back on hip-hop, not hardly, as his samples are delightfully obscure and his beats still deftly deconstructed. Though billed as a teaser for a full vocal-oriented workout to be titled BLVCK SPVDE and the Svmthngz-N-Nvthngz Sessions, the quasi-mixtape of Hopeless and Romanticizing is more than a sketchpad. It's a fresh and exciting chapter for one of this city's most celebrated musicians.
Recommended If You Like: Stevie Wonder (circa Secret Life of Plants), Prince (circa Dirty Mind), J Dilla, Common
Facebook: facebook.com/blackspadeofficial
Soundcloud: soundcloud.com/vmoney2004
—Roy Kasten
The Knuckles
Separately, Rockwell Knuckles and Aloha Misho are two shining lights within the St. Louis music community. Together, as the Knuckles, the artists are even more formidable, as the partnership magnifies their ambitious creative aspirations. That's evident from the duo's music — a shape-shifting amalgamation of slinky hip-hop, kaleidoscopic rap and soaring R&B — and versatile range. The low-key "Everybody Talking," which features producer/rapper Laudie, boasts an unstoppable hook and midnight-dark beats, while the piano-sprinkled "So Much To Say" finds Misho showing off her striking, soulful voice. Then there's the Trifeckta-produced "Party To Party": With its dystopian electronic accents and bold lyrics ("We wasn't invited/So we crashed it instead/We don't speak your language/But we're doing our best"), the song doubles as the group's manifesto. In other words, the Knuckles' art is so compelling and unique, it demands attention and a seat at the table.
Recommended If You Like: SZA, Kendrick Lamar, Alicia Keys, Andre 3000
Official: theknuckles.net/home
Facebook: facebook.com/theknucklesband
—Annie Zaleski
VIA ARTIST WEBSITE
Tonina Saputo.
Tonina Saputo
Tonina Saputo is one to watch forever. The recent Berklee College of Music grad has hit the ground running and found sure footing in her hometown of St. Louis, where the community has embraced her as one of its own. In addition to being a regular performer at the Dark Room and the National Blues Museum, she's lent her immeasurable talents to Pokey LaFarge and Looprat, and she recently wrapped up a brief European tour on the heels of a Spanish-language release titled Black Angel. A vision of Esperanza Spalding with a dash of Norah Jones, the accomplished upright bassist has developed her own take on Latin rhythms and folk-soul. While her jazz renditions give head nods to funk icons, it's her singular voice that you have to experience in person — truly one of those "once in a lifetime" voices. Fluttering from a soulful whisper to a wind in the breeze, it starts at a murmur before it unfolds into movement.
Recommended If You Like: Norah Jones, Esperanza Spalding, Tracey Chapman, world music
Official: iamtonina.com/home
Facebook: facebook.com/iamtonina
—Kevin Korinek
Grace Basement
Kevin Buckley is a musical man about town. Every Monday night, he and Ian Walsh set up at McGurk's, playing traditional Irish tunes under the moniker Keepin' it Reel. At other times, the multi-instrumentalist can be found in local clubs and record stores kicking out the rock-folk jams as Grace Basement. Working with a core group of talented collaborators — guitarist Marc Schneider, bassist Greg Lamb and drummer Jill Aboussie — Buckley sounds confident and focused on the band's fourth full-length, Mississippi Nights. Lush songwriting and airtight arrangements abound, no matter what the approach: mid-tempo, soul-twang inflected ballads ("Standing On A Corner"), stomping rock & roll (the saxophone-driven storm "Rising Sun," laissez-faire "Midnight Bell") and piano- and fiddle-driven Britrock (the swinging, Oasis-esque "Summertime Is Coming"). In fact, Mississippi Nights might be Grace Basement's best release yet — it's a record for all moods and seasons.
Recommended If You Like: The Waterboys, '80s XTC, pre-Yankee Hotel Foxtrot Wilco
Official: gracebasement.com
Facebook: facebook.com/gracebasement
—Annie Zaleski
Guerrilla Theory
If you've ever wondered whether renowned hometown heroes the Urge inspired younger groups, look to Guerrilla Theory for the band's second coming. Awash in Sublime-era ska and easy-going rhythms, the six-piece outfit has more hits than a bong convention outside of Denver, blending a mish-mash of styles from hip-hop, reggae and alterna-rock to form its own party-centric sound. The band has been making its way around the local scene since 2015, playing to crowds at the Pageant, Delmar Hall and Pop's, and it's been steadily dropping videos on YouTube following last fall's release of debut album G-OMETRY. Raise your beer and enjoy the good vibes. It's 4:20 somewhere, right?
Recommended If You Like: Incubus, Sublime, 311, Living Color, sideways ball caps, hangin' witcha boyz, trombone reverb
Official: guerrillatheory.com
Facebook: facebook.com/GuerrillaTheory
—Kevin Korinek
Pinkcaravan!
Pinkcaravan! brings something fresh to the St. Louis hip-hop scene, with adept lyricism and novel beats that rival fellow female emcees of similar caliber. Since the release of her debut four-song EP A Very Sad Happy Birthday last year, the rapper has been riding a mounting wave of popularity that's garnered thousands of clicks and even seen one of her songs added to the season two soundtrack of Netflix's Dear White People, alongside big names including Tyler the Creator and Mayer Hawthorne. Produced by Namesake, Pinkcaravan! dives deep into innocence lost and coming to terms with getting older. Rhymes feel like they're recited from a personal diary rather than sung — nonchalantly, almost effortlessly, as though mumbled in a group conversation you're not meant to hear. But as you dig into those murmured lyrics, you'll catch yourself leaning in closer with the rest of the crowd.
Recommended If You Like: Missy Elliot, Noname, Childish Gambino, M.I.A.
Soundcloud: soundcloud.com/pinkcaravan
—Kevin Korinek
VIA ARTIST BANDCAMP
Mad Keys.
Mad Keys
Brandon McCadney may seem like a standard-bearing beatmaker at first glance. The instrumental tracks on his debut LoveWaves EP have enough of a rise and fall to make sense as stand-alone songs, but your ears are already filling in where a lyricist could wrap themselves in his electric pianos and woozy synths. Indeed, the guest vocalists on the album, Orlando Vaughn and Teresajenee, fit nicely with McCadney's Soulquarian vibes. But as Mad Keys, McCadney produces a warm, jazz-flecked space for listeners, and he kicks at the corners of the soft contours of urban lounge music with his classically trained violin flourishes, adding a crucial voice to his producer's palette.
Recommended If You Like: Regina Carter, Robert Glasper, D'Angelo
Official: itsmadkeys.com
Bandcamp: madkeys.bandcamp.com
—Christian Schaeffer
Drew Gowran
While plenty of music lovers have paid a cover to see Drew Gowran take sticks to skins as the drummer of several south-city rock outfits — his long tenure with Little Big Bangs comes to mind — any person who leaves his or her house might be treated to a free set just by walking down the street. Most people will just call it busking, but Gowran elevates the act of turning a sidewalk or patch of grass into a stage with a clear sense of performance and percussive muscle. His new album, Dismantle, shows Gowran picking apart years of forceful rock drumming, distilling his sound down to a focused set of bells, pot lids and found percussion. A film on the 30-year-old's approach, "Busking On The Wagon," will be screened at this year's St. Louis Filmmakers Showcase.
Recommended If You Like: YouTube videos of amazing drummers, Tim Daisy, Jon Mueller
Facebook: facebook.com/DrewGowranmusic
Bandcamp: drewgowran.bandcamp.com
—Joseph Hess
Fister
Many Fister releases are black, mystifying and as heavy as Stanley Kubrick's monolith. The doom trio tends to release side-length slabs of song, from the 45-minute, one-track album IV a few years back to last fall's split-single release with CHRCH (if you can call a twenty-minute track a "single"). So it's something of a palate cleanser when the band's just-released No Spirit Within opens with the relatively microscopic instrumental "Frozen Scythe," which has hints of that Link Wray-style rumble-and-twang. The rest of the album follows the format that Kenny Snarzyk, Kirk Gatterer and Marcus Newstead have been refining for almost ten years: sludgy tempos, soul-scraping vocals and a seemingly tantric desire to slowly but surely remove your soul from the pit of your bowels.
Recommended If You Like: Boris, Earth, Sleep
Bandcamp: fister.bandcamp.com/music
Facebook: facebook.com/fisterdoom
—Christian Schaeffer
Karen Choi
Karen Choi's life and travels have led her all around the Midwest and some points north and south. Raised in Nebraska, the current St. Louis resident recorded her last album, 2016's Through Our Veins, in Minnesota. Tracks such as "Road to Tennessee" and "Kentucky Hills" suggest that the landscape and music of the South animates her art, and a twangy lilt gives a country flavor to her largely acoustic songs. To our ears, though, the gentle waltz of "Mississippi River Heart" is an ode to St. Louis — or some lucky soul living here — and Choi had a busy spring gigging around her adopted hometown with shows at the Sheldon and the Tap Room. Lately she has been backed by scene vets Tony Barbata (drums) and Stephen Nowels (bass), but Choi's voice stands at the center of her songs regardless of who is behind her.
Recommended If You Like: Over the Rhine, Shelby Lynne, Kathleen Edwards
Official: karenchoimusic.com
>Facebook: facebook.com/karenchoimusic
—Christian Schaeffer
The St. Louis Steady Grinders
In some ways, the union of Valerie Kirchhoff and Ethan Leinwand feels pre-ordained. She has worked the local jazz-and-blues scene as the titular Miss Jubilee (with and without the Humdingers), while he moved to town a few years back to be near to the source of pre-war, low-down piano blues. Together as the St. Louis Steady Grinders, the pair digs into a rich, underappreciated catalog of piano rags and blues from the 1920s and '30s. And while their tutelage has brought them acclaim in town (thanks in part to last year's self-titled album), the pair has also started booking gigs overseas. It appears booking agents in the United Kingdom and Austria have taken a liking to their iteration of St. Louis' blues.
Recommended If You Like: Victoria Spivey, Stump Johnson, late nights at BB's Jazz, Blues & Soups
Facebook: facebook.com/steadygrinders
—Christian Schaeffer
ALBUM ART FOR STRANGE WOMAN.
Bates.
Bates
To say that Bates works hard might be the understatement of the year. Born Tamara Dodd, the emcee designed her own website, handles her own distribution and books all of her own performances. She even writes and directs her music videos (she's released four in the past year alone). In addition to the work she puts into her own creative endeavors, Bates is the founder and driving force behind FemFest, an annual event featuring performances from the women of the St. Louis music scene. The festival's most recent and largest iteration, held in February at 2720 Cherokee, featured 54 artists across two stages. Even the most cursory listen to her music reveals a sense of the almost frighteningly intense, focused energy that drives the St. Louis rapper. Bates lives every day — and drops every bar — like it's her last.
Recommended If You Like: 2Pac, Eminem, Young Ma, Twista
Facebook: facebook.com/BatesSTL
Official: www.bates-stl.com
—Nick Horn
Stacey Winter
2017 was the year that Kit Hamon stepped away from his role as a sideman and support player and introduced his pop-hedonist alter-ego, Stacey Winter. While his musical gifts were far from secret for those who have caught him backing up his wife, Beth Bombara, on drums, bass and keys, the six-song We're Both Right Now rendered a pop-centric vision in kaleidoscopic hues of bright synths, propulsive beats and an airy falsetto. Opening track "Lines" offers up the Prince-ian dopamine rush that Of Montreal used to excel in, while "Love or Money" floats in like a Quiet Storm ballad. While Right Now was largely self-recorded, Hamon occasionally assembles a live band to bring these well-constructed jams to life; don't sleep on it the next time he does.
Recommended If You Like: Hot Chip, Ned Doheny, Jamie Lidell, Unknown Mortal Orchestra
Facebook: facebook.com/StaceyWinterMusic
Official: www.staceywinter.com
—Christian Schaeffer
Adam Maness Trio
A good jazz gig is a little like eavesdropping on a private conversation; the band is aware of the audience but is often more invested in the interpersonal communication happening on the bandstand. Watching the Adam Maness Trio work through its weekly gig at Thurman's in the Shaw neighborhood is a little like creeping on an inside joke between pianist Maness, bassist Bob Deboo and drummer Montez Coleman as they rip through jazz standards and an increasingly varied array of covers from acts that have included Outkast and Nine Inch Nails. The cheekily named Y98 AM set on Soundcloud gives a taste of the group's high art/pop culture pedigree: "Elegie" channels some moody trip-hop as well as classical flourish via Bjorn Ranheim's cello, while "Everybody Wants to Rule the World" takes the Tears for Fears classic off your MTV screen and into the speakeasy.
Recommended If You Like: Brad Mehldau, The Bad Plus, Vijay Iyer
Soundcloud: soundcloud.com/adammanesstrio
—Christian Schaeffer
Smidley
The rush of national acclaim and devoted fandom that accompanied Foxing's ascent a few years back has shown little sign of abating. The group's third record was produced with former Death Cab for Cutie guitarist Chris Walla, and national tours have been priming the pump for the LP's release. But amid Foxing's busy schedule, singer, songwriter and itinerant trumpet player Conor Murphy found time to emerge as Smidley, his more indie-rock-centric alter ego. Smidley's self-titled 2017 album was a pop-focused antidote to Murphy's other band and its cathartic, performative update of emo, and on it Murphy found a way to make isolation both danceable ("Fuck This") and harrowing ("Milkshake").
Recommended If You Like: Broken Social Scene, New Pornographers, Tiger's Jaw, the trumpet player from Foxing
Official: smidleyband.com
Facebook: facebook.com/smidleymurphy
—Christian Schaeffer
The Mighty Pines
On its new live album, the Mighty Pines included a cover of Chuck Berry's "No Particular Place to Go." Recorded in 2017, the year Chuck moved into the eternal Hall of Fame in the sky, the local sorta-bluegrass, sorta-jam band was certainly honoring a local legend, but by tipping a cap to rock & roll's premier architect, the Mighty Pines embraced its own rock & roll aspirations as well. As the band has tightened its chops and played increasingly bigger stages through a rigorous touring schedule, it has gradually lessened its reliance on acoustic folk and assembled a sound that honors American roots music in its many iterations.
Recommended If You Like: Trampled By Turtles, the Steeldrivers, Carbon Leaf
Facebook: facebook.com/themightypines
Bandcamp: themightypines.bandcamp.com
—Christian Schaeffer
Desire Lines
Named for human-made or naturally eroded paths that cut through a landscape (if not a great album by Camera Obscura), Desire Lines is the latest incarnation of musician Jenny Roques, best known perhaps for her country endeavors with Arson for Candy and Jenny and the Late Nite, though she also performs with lo-fi garage-y bands Tortuga and JOANofDARK. The fetching Midwestern twang in Roques' voice is ineradicable, and that's a very good thing. She's one of the most instantly recognizable and winning vocalists in town. And while Desire Lines occasionally performs in minimalist configurations, its sound, which is just beginning to come together, has taken a moodier, darker, heavy-rock tone, expanded with the full backing of Matt Pace, Sam Golden, Brien Seyle and Ryan Adams. It's an ace lineup, and Roques has the experience and songs to lead this band down fresh paths.
Recommended If You Like: PJ Harvey, Neko Case, Patti Smith, Throwing Muses
Facebook: facebook.com/DesireLines
Bandcamp: desirelinesstl.bandcamp.com/releases
—Roy Kasten
Sorry, Scout
Those seeking a good example of vocal range need look no further than Sorry, Scout's Randi Whitaker. Moving from an operatic vibrato one moment to a snarling growl the next, Whitaker finds a place to incorporate these tones seamlessly while also mixing in a bit of soul — think Freddy Mercury joining a punk band that happened to record for Motown. The band was formed from a friendship Whitaker developed during open mic nights with former Kentucky Knife Fight guitarist Nate Jones, after which the two worked diligently to find the right rhythm section in bassist Dave Anson and drummer Zack Shultz. The combination is a powerhouse of styles: Jones' tasteful earwig riffs provides a counterpoint to Whitaker's melodies, and Anson almost sounds like Mike Watt at moments, as Shultz lays down a backbeat that is too hard to be called busy, yet too intricate to be called boring.
Recommended If You Like: Mother Love Bone, Fiona Apple
Facebook: facebook.com/sorryscout
—Jeremy Essig
VIA ARTIST BANDCAMP
18andCounting.
18andCounting
18andCounting is the moniker under which multidisciplinary artist Stan Chisholm creates his work — visual, sonic and otherwise. When it comes to Chisholm's original music (he also DJs), 18andCounting could be described generally as avant-garde hip-hop, but that label is probably vague enough to be virtually useless. More specifically, 18andCounting creates dark, brooding electronic atmospheres that exist on a spectrum from desolately sparse to suffocatingly dense. Over them, Chisholm rhymes cryptic verses with a delivery that's somewhere between MC Ride and Schoolboy Q. Live, 18andCounting is accompanied by TheOnlyEnsemble, comprising Sarah Vie on violin, Brennan England on slide didgeridoo and both HAI Q and Patrick Boland on drums. Together, the group creates a sound that's more organic but every bit as enigmatic and heavy as Chisholm's electronic compositions.
Recommended If You Like: Death Grips, Bjork, Lorn, Billy Woods
Facebook: facebook.com/18andCounting
Official: 18andcounting.com
—Nick Horn
Apex Shrine
Starting a band based on your parent's record collection can be a dicey proposition, but Apex Shrine is the best-case scenario of this process. The quartet trades in psychedelic rock rooted in the blues, and though this style is much older than the band's members, it sounds fresh when played with such talent and enthusiasm. Brothers Jack and Dan Eschmann wow with scorching guitar solos and upper-register vocals that would do Cream proud. New drummer A.J. Lane throws a touch of jazz behind the kit while sacrificing none of the power or precision the band needs, and bassist Brandon Pesek keeps everything coherent with his steady playing. Apex Shrine's tight chemistry and walloping attack serve songwriting that just keeps getting better — the group has diversified its tempos, rhythms and sounds while maintaining its identity. As long as groups like Apex Shrine exist, rock is not dead.
Recommended If You Like: Cream, Free, Led Zeppelin
Facebook: facebook.com/apexshrine
Bandcamp: apexshrine.bandcamp.com
—Bob McMahon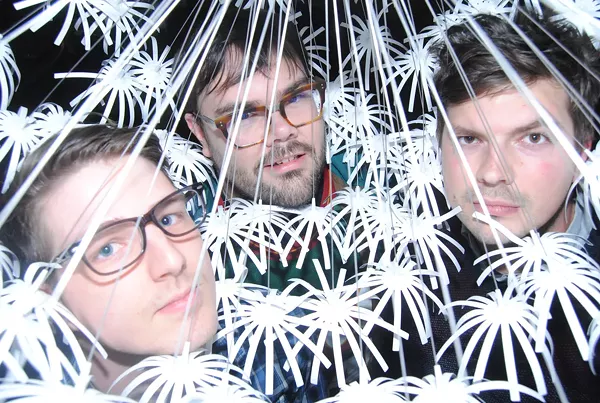 VIA ARTIST BANDCAMP
Necessities.
Necessities
"Beauty rests on necessities," wrote Ralph Waldo Emerson, that sage of Concord, Massachusetts, who believed that simplicity and economy were the pathway to godliness. One look at the barrage of blinking, brightly colored guitar pedals employed by the local trio Necessities would seem to challenge Emerson's dictum. But the polyrhythmic pop band's genesis was indeed born of a casting off: the dissolution of three distinct local bands — the pop-savvy Dots Not Feathers, noise-dance duo Volcanoes and earnest glitch-rock trio Bear Hive — brought Stephen Baier, Jon Ryan and Chris Phillips together. Their bond began with mutual admiration and friendship but moved on to making spindly, riff-centric rock songs that, yes, use a battery of effects pedals, but also give creative contours to Phillips' lyrics and delivery.
Recommended If You Like: Don Caballero, So Many Dynamos, Mutemath
Bandcamp: necessities.bandcamp.com
Facebook: www.facebook.com/necessitiesband
—Christian Schaeffer
Jr. Clooney
Calling Jr. Clooney "math rock" isn't wrong. The label gives those unfamiliar with the band a pretty accurate idea of what it might sound like: pristine clean guitar lines deftly weaving their way through complex meter changes, the occasional burst of tight distortion highlighting a bit of crunchy dissonance. But oftentimes, the same characteristics that attract die-hard listeners of the genre — dazzling displays of technical prowess coupled with an aversion to sounds that strike the players as too conventional — come across to others as overwrought and self-indulgent. Jr. Clooney manages to check all the genre's boxes without losing a more general accessibility. Instead of sounding like a brilliant mathematician hard at work on an elaborate formula, the band's music comes across more like a gifted child with a very active imagination — Jr. Clooney is cute, it's nerdy and it probably has a bright future ahead of it.
Recommended If You Like: Toe, CHON, Minus the Bear, Pat Metheny Group
Facebook: facebook.com/jr.clooneymusic
Bandcamp: jrclooney.bandcamp.com
—Nick Horn
Black Fast
Black Fast. It's difficult to come up with two words that better encapsulate the Edwardsville band's razor-sharp neo-thrash sound than its own name. "Black" captures the sense of utter hopelessness and nihilism of the band's lyrics (on "Colony Collapse," for instance, vocalist/guitarist Aaron Akin shrieks "Infinite glare/ancient despair/empty of dreams"). "Fast" captures, well, pretty much every other aspect of the band's suffocatingly tight tech metal. Akin and the rest of the rhythm section pummel listeners with riff after riff, at breakneck speed, while lead guitarist Trevor Johanson shreds his way through screaming solos with frightening precision. All of the above makes for a punishingly intense live show, but the sore neck is well worth it.
Recommended If You Like: Vektor, Havok, Goatwhore, early Metallica
Facebook: facebook.com/BlackFast/
Official: blackfastmusic.com
—Nick Horn
Shady Bug
It's hard not to catch a case of the warm and fuzzies when you're listening to Shady Bug. Led by vocalist/guitarist Hannah Rainey, the four-piece utilizes the classic grunge soft-LOUD-soft-LOUD formula to great effect, with guitars alternating between woozy, chorused clean tones à la Mac DeMarco and massive, fuzzed-out sounds reminiscent of early Weezer. On their debut tbh idk, released in April 2017, both Rainey and guitarist Tom Krenning bend notes endearingly out of tune throughout, while bassist Todd Anderson and drummer Aaron O'Neill lay down grooves that alternate between mellow and pounding. Rainey's delightfully chilled-out delivery allows the sentimentality of her lyrics to be affecting without ever becoming cloying, and the band as a whole manages to project a pleasantly and purposefully frayed aesthetic.
Recommended If You Like: Ian Sweet, Melkbelly, Palm, Dubb Nubb, Glued
Facebook: facebook.com/shadybuggg
Bandcamp: shadybug.bandcamp.com
—Nick Horn
Shitstorm
A Shitstorm, by its very nature, is in a constant state of flux, and this one is no different. At the eye of this particular Shitstorm is Matt Stuttler, who first performed under the name in October 2013. Back then it was just Stuttler, his guitar and a cassette recording of the drum beat from a thrift-store organ. In the years since, the doo-doo downpour has soaked Karl Frank, Andy Kahn and Austin Fogel (on guitar, bass and drums, respectively) who now work alongside Stuttler to help achieve his ghoulish goal of reverb-drenched psychedelic garage-punk. What's next? Who the fuck knows? One thing's for sure, though: It's gonna get messy.
Recommended If You Like: The Cramps, 13th Floor Elevators, King Tuff
Facebook: facebook.com/shitstormstl
Bandcamp: shitstormstl.bandcamp.com
—Nick Horn
Traveling Sound Machine
In rock music, you get to do anything you want. This conventional wisdom has its hazards, but in the case of Traveling Sound Machine the adage makes for consistently rewarding results. The band is all about dynamics, driven by the terrific rhythm section of Steve Larson and Dave Anson, who push every song into new moods and new vistas, even as mournful trumpets and wheezy squeeze-box tones intertwine with already intricately knitted guitars. Due out in June, the band's first full-length album, The Time We Were Almost Swallowed by the Earth, promises to build on its foundation of emotionally charged, unapologetically word-drunk songs for indie-rock true believers.
Recommended If You Like: Okkervil River, the National, Bright Eyes, Foxing
Official: travelingsoundmachine.com
Facebook: facebook.com/Travelingsoundmachine
—Roy Kasten
Gavin M.
Who says you can't judge a songwriter by his covers? In the case of Gavin M. — who has of late floated out a raft of reworkings of songs by the likes of Fleetwood Mac, Dawes, St. Louis' own LéPonds and even the inescapable David Bowie and Bob Dylan — the choices reveal a songwriter happy to embrace his heroes and learn from them. But the uniform quality of his prolific cover tunes wouldn't mean much if he didn't have anything to say in his own right. Gavin M. does. Earlier this year he released the EP Where Do You Call Home?, a spare and acoustic love letter to St. Louis that's also shot through with the pain of a recent divorce. Gavin M.'s expert tunefulness and deliciously rasped and snarling delivery drive every song home.
Recommended If You Like: Paul Westerberg, the Smiths, Lindsey Buckingham, John Wesley Harding
Official: gavin-m.com
Facebook: facebook.com/gavinmmusic
—Roy Kasten
Brothers Lazaroff
Rock & roll is forever, but rock & roll bands aren't — especially when they're as big and adventurous and perfectionist as Brothers Lazaroff. Somehow the siblings are celebrating nine full years with their core rhythm section of Grover Stewart and Teddy Brookins in place, and have recently brought on Mark Hochberg (violin) and Sam Golden (keyboards, guitar, violin) as full-time members. Often sprawling to eight or nine pieces, the group shifts and reshapes itself as mood and occasion demand. Whether throwing down in the tiny space of the Tick Tock Tavern for a regular residency, improvising across the posh Jazz St. Louis stage or stretching out at a fire-code-pushing gig at Joe's Cafe, the veterans have found a long-lasting formula: Produce new material at a dizzying pace and groove like there's no tomorrow.
Recommended If You Like: Wilco, the Meters, the Grateful Dead, Leonard Cohen
Official: brotherslazaroff.com
Facebook: facebook.com/brotherslazaroffmusic
—Roy Kasten
The Homewreckers
Jangly but anxious, melodic but punchy, the music of the Homewreckers will sound familiar to anyone raised on the most melodic side of '90s college rock — R.E.M. and the Replacements and the Smithereens — but this band is anything but slavish to the sounds of its wasted youth. Its 2015 album Dead City deserved more notice than it received, and last year's single "Always a Stranger/Burying the Past" should have been a double A-sided hit on any power-pop junkie's playlist. Led by Mike Fitzsimmons, one of this town's most underrated guitarists and a terrific tunesmith as well, the band is completed by Mike Evans on guitar, Chris Keale on drums and Jon Parsons on bass, all of whom, it should be noted, contribute some of the sweetest harmony vocals of any rock & roll band in town.
Recommended If You Like: The Gin Blossoms, Tom Petty, the Kinks, Nadine
Facebook: facebook.com/TheHomewreckersSTL
Bandcamp: thehomewreckersstl.bandcamp.com
—Roy Kasten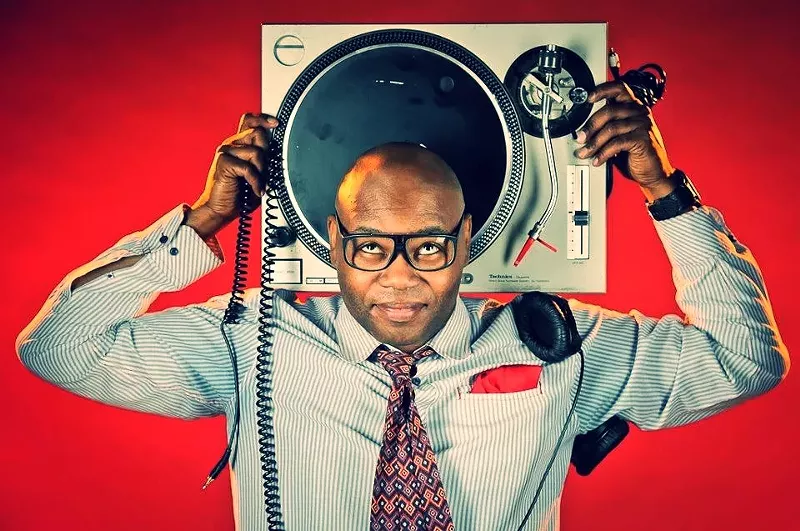 VIA ARTIST WEBSITE
DJ Nune.
DJ Nune/Lamar Harris
If Lamar Harris isn't the hardest-working man in St. Louis music, he's gunning for the title. An accomplished jazzman and music instructor, as well as a DJ of both the on-air variety and the club style, Harris isn't content just to play dance-floor hits. As DJ Nune he will do that, but he chops and screws them with his not-so-secret weapon (the trombone) and live drumming (most often courtesy of Dirtylynt), and, what the hell, he'll throw in tuba and keyboards too when the mood strikes. His mixes are true arrangements, somehow both retro and futuristic at once, and his idea of a party is when every single ass cuts loose, because he knows the mind always follows.
Recommended If You Like: Flying Lotus, Illphonics, Frankie Knuckles, the Roots
Official: thelamarharris.com
Facebook: facebook.com/djnuneislamarharris
—Roy Kasten
Railhazer
With an opening bell of massive feedback, Railhazer decries any sense of subtly and goes for the throat on its debut record, The Null and the Void. More than 40 minutes proceed with a sonorous and slow-moving sludge that carries a strong sense of narrative. Lush lyricism is delivered with a refreshingly wide range by vocalist Matt Mathias. While prog rock does bubble up through the swampy sound, the stylistic rip only adds a distinct sheen to what is, unmistakably, metal. Since releasing The Null and the Void last July, Railhazer has only sharpened its edges while playing with the likes of Thou, Black Tar Prophet and Druids.
Recommended If You Like: Eyehategod, Neurosis, tabletop role-playing games
Facebook: facebook.com/railhazer
Bandcamp: railhazer.bandcamp.com
—Joseph Hess
Mo Egeston
There's cool, and then there's Maurice "Mo" Egeston cool. A virtuoso arranger and band leader, Egeston's way with pianos and synthesizers is supremely confident and inspired. His melodies glide and then leap, from improvisation to improvisation, fueled by Afro-Cuban touches and whole lot of house and funk music, and lit up by an all-star band that includes Duane "Jingo" Williams on percussion, Eric "Snoopy" Tyler on bass and Grover Stewart Jr. on drums. The band's 2017 release Groove Suites Vol. 1 is essential late-night jazz-soul, and its current residency at the Dark Room regularly features R&B and hip-hop heavy hitters such as Thelonius Kryptonite and Coco Rochelle. Nu jazz has never sounded so soulful.
Recommended If You Like: Herbie Hancock, Stevie Wonder, St Germain, Urban Jazz Naturals
Official: moegeston.com
Facebook: facebook.com/MoEAllStars
—Roy Kasten
The Potomac Accord
Fourteen years is a long time — long enough to matriculate through grade school, high school and two years at junior college, long enough to see two consecutive marriages go bust as a result of the seven-year itch, and long enough for an adventurous piano-led indie-rock trio to release a follow-up to its 2003 album. That's what the Potomac Accord did in 2017, and that LP, Beams, retains much of the freshness and boundary-pushing that helped the Potomac Accord stand out amid numerous garage-rock and alt-country bands at the turn of the century. Andrew Benn serves as the band's engine, both as its melodic centerpiece on piano and with his slightly idiosyncratic vocals, reminiscent of a more straight-laced Wayne Coyne, while Jerry Green and Joe Willis add muscle in the rhythm section.
Recommended If You Like: Dr. Dog, Midlake, Granddaddy, Shearwater.
Facebook: facebook.com/thepotomacaccord
Bandcamp: thepotomacaccord.bandcamp.com
—Christian Schaeffer
Eric Donté
As mantras go, "nobody cares/work harder" sounds like a mixed bag. Eric Donte's track from last year, "Nothing," uses that phrase as a cri de coeur, an exhortation toward self-actualization and a reminder that an artist's true audience is always the artist himself. It's been a lesson that the rapper and vocalist has had to learn through a series of especially hard knocks, but his perseverance helps his 2016 EP God Don't Like Ugly vibrate and has garnered him fans and followers across several genres. Even Foxing's Conor Murphy has repped Donte's talents, and the band will have him open a hometown show this coming June. It throws into relief the "nobody cares" part of his mantra, but "work harder" seems permanently etched into the young artist's psyche.
Recommended If You Like: moody atmospherics, the best blend of emo and hip-hop, teddy bears
Soundcloud: soundcloud.com/eric-donte
—Christian Schaeffer

Pono AM
You'd be forgiven for dismissing Pono AM's single "Good Vibes" on its title alone, or at least for being fearful of the phrase being followed by "Only" and appearing on some vape-bro's T-shirt at the nearest music festival. But the hazy jangle of the band's lead-off track from last year's three-song Here's Pono AM vibrates with a winning lackadaisical flair — it sounds as if each member recorded in his own corner of some suburban wood-paneled basement with only passing awareness of his bandmates' presence. That looseness doesn't dull the song's simple and direct chorus, which led the RFT's Evan Sult to dub it the song of last summer. You'll find it holds up pretty well in 2018 as well.
Recommended If You Like: Ariel Pink, Mac Demarco, Allah-Las
Facebook: facebook.com/ponoamstl
Bandcamp: ponoam.bandcamp.com
—Christian Schaeffer
VIA ARTIST WEBSITE
Andrew Ryan and the Travelers.
Andrew Ryan & the Travelers
A few years ago, Andrew Ryan was more likely to be found behind the drum kit than in front of a rock & roll band. But as the guitarist, singer and songwriter of Andrew Ryan & the Travelers, he's taken the move from beat-keeper to band-leader in stride, and the group's debut album Across Currents shows the band's knack for Americana colors and Telecaster twang. Ryan wrote many of these songs during out-of-town stints as a construction worker, and the time away from home gives shading to his songs about people caught between commitments and desires. Ryan's whispered vocals demand intimacy, and the Travelers' supple instrumentation — especially Marie Marotti's backing vocals — help to fill out the corners of these songs.
Recommended If You Like: Whiskeytown, Great Lake Swimmers, Okkervil River
Official: andrewryanandthetravelers.com
Facebook: facebook.com/Andrewryanandthetravelers
—Christian Schaeffer
Ben Diesel
Let's pretend for a moment that famed thespian Vin Diesel had a younger, pudgier brother who was less inclined to muscle cars and more enamored with pop-punk. In this scenario, what he lacks in bone density and brawn, Ben Diesel makes up for in riffs, harmony and smart-assery. The local foursome isn't shy about its influences — the band has paid tribute to both Green Day and Blink-182 in the past few years — but its split EP (with the likeminded souls in Stars Go Out) show that Ben Diesel has weaponized sophomoric, web 2.0 humor and mastered the crunch and bounce of its pop-punk forebears.
Recommended If You Like: New Found Glory, Jimmy Eat World, your old STLpunk.com account, shitposting
Facebook: facebook.com/BenDieselSTL
Bandcamp: bendieselstl.bandcamp.com
—Christian Schaeffer
Cue ColdBlooded
With the release of 2017's Yourz Truly, Preston "Cue ColdBlooded" Bradley has distilled his work as one half of the Domino Effect and expanded his own approach to hip-hop as a whole. The record itself cuts to the core, particularly on "Fly Away," a track we named as one of the ten best songs by St. Louis artists in 2017. Here he wears many hats — an emcee, beatmaker and producer — and manages to keep a conscious and consistent vibe across the album. Lyrically there's a lot to digest, but between the smooth delivery and the subtle subversion of expectations, Bradley carries the weight of both heavy and heady subjects with ease befitting a veteran rapper.
Recommended If You Like: Lupe Fiasco, Kanye West, Kendrick Lamar
Facebook: facebook.com/CueColdBlooded
Bandcamp: cuecoldblooded.bandcamp.com
—Joseph Hess
Sister Wizzard
Madison Price transmits a charming sense of fearlessness when she takes the stage as Sister Wizzard. Often her songs are unadorned — a mostly-in-tune electric guitar and a spare drum machine beat was all she needed when Sister Wizzard started making the rounds in early 2017; a few of those live sets comprise her sole recorded output and are available for sampling on her Bandcamp page. These days Price often fills out her sound with a three-piece band, but her approach, which is both clear-eyed and full of wonderment, transmits its magnetism no matter the setting.
Recommended If You Like: Jenny Lewis, Waxahatchee, Anna Burch, the Chiffons
Facebook: facebook.com/sisterwizzard
Bandcamp: sisterwizzard.bandcamp.com
—Christian Schaeffer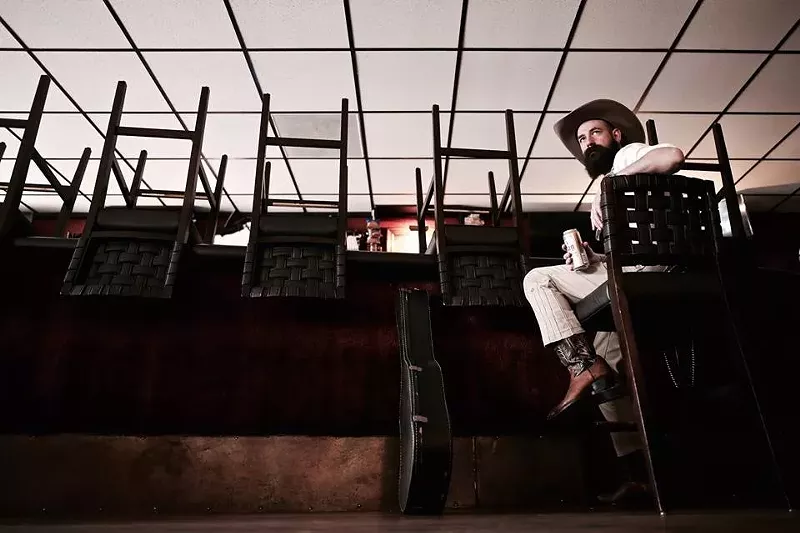 NATE BURRELL
Ryan Koenig.
Ryan Koenig
Ryan Koenig's 2017 solo LP, Two Different Worlds, found the throwback country iconoclast crafting heartfelt story-songs on which his creased-leather voice takes center stage. The musician's simple Facebook bio underscores his collaborative approach to music, however: "Been playing music for some time now, with people I've known for some time now. Trying to have been a friend to a friend everywhere I have been." Those pals certainly stepped up after a December 2017 accident left Koenig with hefty medical bills. A YouCaring fundraiser brought in more than $30,000, which provided the musician enough of a cushion to recuperate at home and get back to doing what he does best: play music with his buds. Koenig is, of course, a core member of Pokey LaFarge's band, which gave him a chance to play on Jack White's Blunderbuss; he also performs with fellow vintage country purveyor Jack Grelle and has over a decade under his belt with ramshackle blues-folk act Rum Drum Ramblers.
Recommended If You Like: AM radio stations playing classic country, a laid-back afternoon at the Newport Folk Festival
Official: ryankoenigstl.com
Facebook: facebook.com/Ryan-Koenig
—Annie Zaleski
Daytime Television
Since forming in the fall of 2017, Daytime Television has been on a total tear. The band's dreamscape of fuzzed-out pop can be heard across three separate EPs — all released within roughly six months of each other. Between singer Ysabel Johnston's soaring voice and the melodic collision of guitars, it's no wonder the band has already played local flagships such as Strange Folk Festival and Vintage Vinyl's Record Store Day celebration, not to mention the Old Rock House and Ready Room. The band's shoegaze sound hits like a heavy, lumbering giant — one that may well grow too big for the river city to hold in another year's time.
Recommended If You Like: The Joy Formidable, Slow Dive, Beach House
Facebook: facebook.com/dttvstl
Bandcamp: daytimetv.bandcamp.com
—Joseph Hess
Illphonics
The classic band trajectory involves an initial burst of inspiration, followed by a steady increase in quality, and then a creative plateau once the group is established and in a groove. A decade into their career, however, the members of Illphonics are anything but complacent. On the heels of 2015's powerful "The Brown Frequency" and 2016's inventive Gone with the Trends, in addition to a coveted slot on the 2016 LouFest lineup, the live-band hip-hop troupe released 2017's excellent Purple Piano Society. Emcee Larry "Fallout" Morris told the RFT last year the latter album "kind of represents where we're going as a group," in no small part because the band members mixed things up while recording it. "What makes this album so special is that we all sat in a room together and switched — everybody did something a little different." The results are typically eclectic — Illphonics combines elements of rap, hip-hop, funk and soul in adventurous ways, illustrating once again why the group remains one of the best in the city.
Recommended If You Like: OutKast, Lupe Fiasco, Stevie Wonder, Public Enemy
Official: illphonics.net
Facebook: facebook.com/illphonicssound
—Annie Zaleski
The Defeated County
It's tough to put a unique spin on indie-folk these days, but the Defeated County defies the odds. As demonstrated by 2016's Bar Tabs & Baby Names, the band specialize in haunting songs that touch on gothic Americana, low-desert twang, fuzzy '90s rock curios and vaudevillian waltzes. Credit for this eclectic approach goes first and foremost to lead vocalist/rhythm guitarist/songwriter Langen Neubacher. Her singular voice — which possesses a Kristin Hersh-esque dusky timbre, coupled with hints of Maria McKee's country lilt and Amanda Palmer's dramatic flourishes — drives evocative songs that aren't afraid to dig into uncomfortable places or ask tough questions. Her Defeated County bandmates — including the live rotation of Irene Allen, Devon Cahill, Simon Chervitz, Russ McCanless and Kyle Rex — are the perfect foil for her ambitious vision. On record, the band enlists a who's who of south-city musicians to add occasional violin, pedal steel, accordion and extra harmonies.
Recommended If You Like: Neko Case, PJ Harvey, Nick Cave, Dresden Dolls, Throwing Muses
Official: thedefeatedcounty.com
Facebook: facebook.com/pg/thedefeatedcounty
—Annie Zaleski