Page 3 of 4
DANNY WICENTOWSKI
Descombes poses next to what he describes as "the largest known wampum belt." He says his proof of Cherokee heritage includes "thousands of pounds" of secret genealogy records.
Back at the tribal council meeting on March 14, the recent media coverage and legal drama are mentioned only in passing. The meeting adjourns, and with the modern government tasks completed, the citizens move toward a table arranged with home-cooked dishes in steaming Crock-Pots. The room fills with the combined aroma of fried chicken, chili, and sauerkraut.
"You see a lot of people here who are comfortable in their skin," Descombes tells me as we return to the back office. Asked about the lawsuit, he rejects the conclusions of St. Louis' MBE program and its strict definitions of who is, and is not, Native American.
"We don't argue who's 'real.' That's a joke to us," Descombes says. "We simply say, 'Well, if whatever the government has decided is a minority, we qualify for that too, just as much.'"
Descombes arrives at his large executive desk. Rummaging in a drawer, he produces a sheet of printer paper with a photo of what appears to be cave carvings. He launches into a story of a tribal member who, while studying with "the Mayans," had secretly photographed a cave wall covered with intricate petroglyphs, images of human figures with tiny heads and huge torsos.
"That's the only picture he got out of there," Descombes says dramatically, but his story doesn't end there: The photo, he confides, did not include additional petroglyphs, farther down the cave wall, which portrayed "space people, spaceships and people in helmets."
We return to the main meeting space, and Descombes sits at the head of the council table to be photographed for this story. Behind him rests a multi-headed drum that he says was constructed in 1820. All around him are artifacts which, in his telling, speak for a culture that has for centuries thrived in a hostile land.
The citizens, dressed in their ribbon shirts and wampum, are still engaged in lunch and conversation. At one table sits a young man who drove from Minneapolis to attend his first meeting. The other citizens introduce themselves and welcome him warmly. He doesn't yet have a Cherokee name, like "Grey Elk" or "White Crow." The tribe offers that service to citizens, according to its website, in exchange for a "small gift."
Finally, after taking a portrait of the chief, I ask him the question that inspired my trip to Clinton: Amid the conflict over identity and recognition, what does it mean to be a Northern Cherokee?
"It's several things," he begins. "It's knowledge of your ancestors, it's knowledge of your language."
But it's something bigger than knowledge, deeper than ancestry.
"It's the fact that you know an entire society that nobody else knows," he says. "They can't know it, they can't know the history, they can't know any of this. So, it's just yours."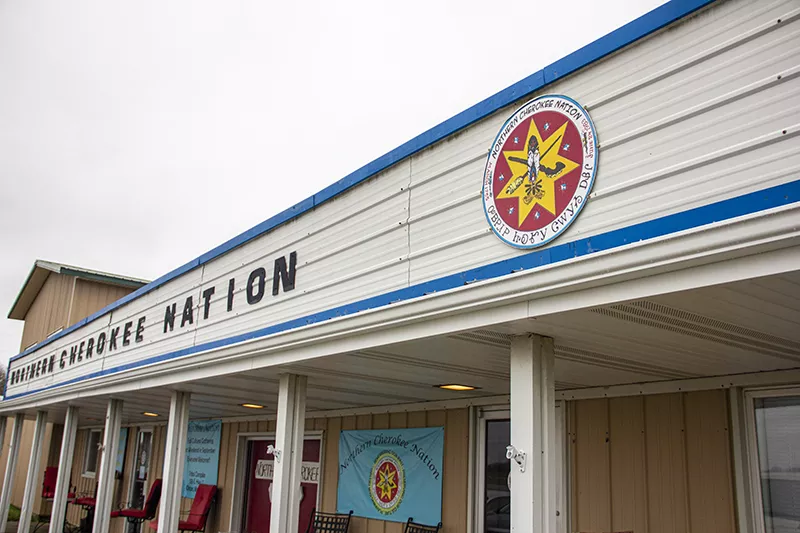 DANNY WICENTOWSKI
The Northern Cherokee Nation registered as a Missouri non-profit in 1991
After St. Louis decertified companies registered to non-federally recognized tribes, those companies filed suit, alleging discrimination. The lawsuit argues that the city's MBE program unfairly uses different standards between Native Americans and other minorities.
"The City's rules allow African Americans, Hispanic Americans and Asian Americans to meet the definition of a Minority Group Member by simply having 'origins' within a group of peoples," the lawsuit says. "Whereas Native Americans are restricted to those persons who have cultural identification and can demonstrate membership in a tribe recognized by the Federal Bureau of Indian Affairs."
But while the lawsuit seeks to prove the legal issue, it also devotes twelve pages to defending the Northern Cherokee Nation's ancestry, complete with an array of source documents used to prove the purported heritage stretching back centuries.
Or, at least to the 1980s. One exhibit includes a 1983 proclamation signed by Governor Kit Bond in recognition of the tribe's registration as a nonprofit the previous year. The language reads as resoundingly official: "I, Christopher S. Bond, Governor of the State of Missouri, do hereby acknowledge the existence of the Northern Cherokee Nation as an American Indian Tribe within the boundaries of the state of Missouri."
Today, the claim elicits a mocking counterargument from Rocky Miller, a Republican state representative from the Lake of the Ozarks and a member of the Cherokee Nation of Oklahoma.
"I can have a resolution sent to you that you're king of St. Louis County," he retorts, "and that'll be worth about as much as the resolution they have from Governor Bond."
Miller admits he has an antagonistic history with Descombes and the Northern Cherokee Nation. In his telling, the tension goes back to 2013, just after Miller entered office as a rookie legislator.
"I was in my office, and Chief Grey Elk came in to talk to me," he begins. "I'm listening to him, things were making sense. The tribe is out of Clinton, and he had the title 'chief,' and to be quite honest, I didn't know a whole lot about my own heritage."
It's not a matter of gullibility or ignorance. There's nothing inherently implausible about the existence of a tribe like the Northern Cherokee Nation. Miller had known of other federally recognized Cherokee bands, groups with their own chiefs and territory, including the United Keetoowah Band of Cherokee Indians. He assumed Descombes represented a similar group.
But then he remembered something his grandfather had told him.
"As he kept talking, I realized, 'Oh, my grandfather talked about these guys, these "wannabes."' So, I took out my tribal card, the federal documents, the blood quantum, everything showing I was a member of the Cherokee Nation — and I asked him, 'Do you have one of these?'"
Miller recalls Descombes explaining how Northern Cherokee had refused to sign various treaties associated with federal recognition and therefore didn't need to provide those documents. The response was enough for the lawmaker to make up his mind.
"I said, 'This is the deal. My grandfather would have done something pretty bad at this point. I'm not, and I will ask you to please leave and never come back.'"
Miller adds, "That was the last I ever saw of Chief Grey Elk."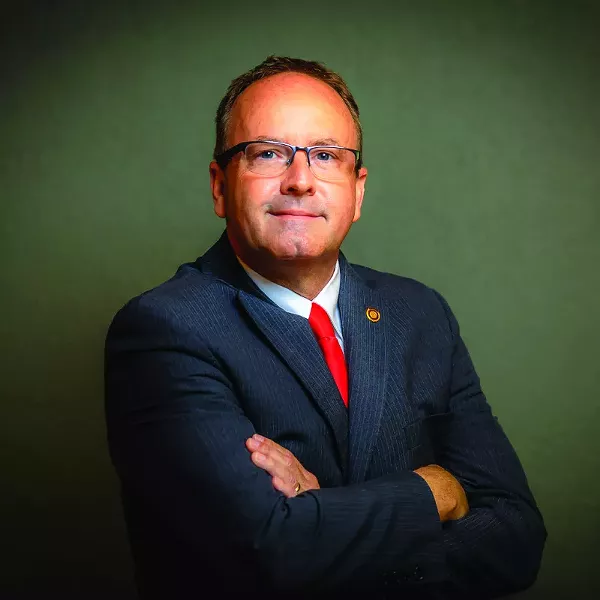 MISSOURI HOUSE OF REPRESENTATIVES
Missouri state Rep. Rocky Miller, a citizen of the Cherokee Nation of Oklahoma, argues that fake tribes are stealing from his heritage and from taxpayer funds.
The two would tangle again in 2018, when Descombes traveled to Jefferson City to protest a bill Miller had sponsored that made it a state crime for anyone not from a federally recognized tribe to sell Native American art. The bill defined an "American Indian tribe" as "any Indian tribe federally recognized by the U.S. Bureau of Indian Affairs."
Although the bill became law, Northern Cherokee Nation citizens continue to attend craft events to sell artwork; the tribe's website currently features an "Artist's Showcase" of works from its citizens, including a "Holy Man of the Northern Cherokee Nation" and a tribal member described as "famous for her beadwork."
In 2019, Miller says he contacted the Missouri attorney general, requesting the state investigate the tribe's claims of recognition and legitimacy. The complaint was later closed; a spokesman with the AG's office told the St. Louis Post-Dispatch that the office "lacked specific information or facts that could supplement the complaint."
"The attorney general, in my opinion, it just didn't seem real interested, didn't seem really aggressive," Miller says now.
And that aggravated the lawmaker, because he argues there are actually two thefts at stake: not just the theft of Cherokee heritage, but the theft of taxpayer money set aside to "level the playing field" for Native Americans whose descendants still carry the burden of centuries of abuse.
Before he was a representative, Miller operated a construction company that was certified as a minority-owned subcontractor, as his Cherokee citizenship qualified him for contracts.
Today, the Republican legislator says he doesn't support the current system of "set asides" to drive contracts to disadvantaged groups. He questions the necessity of programs that single out minorities for benefits. Still, he acknowledges the logic and the historical burden behind the programs.
After all, it's Miller's history, too.
"My grandfather was raised in an Indian school, not of his own choice. He could not practice his own heritage," he says. "I'm 54 years old. My grandfather was discriminated against in an economic way. To make up for that, his ancestors are allowed special treatment."
"Right or wrong," he adds, "that's what set asides are for, because in the past, in their history, they started at an unequal level. This is leveling the playing field. I disagree with that, but that's what the thought is."
Miller says he's confounded by the lack of national, sustained outrage at the pilfering of minority contracts intended for legitimate tribes — he references the scrutiny that in 2015 was directed at Rachel Dolezal, a white woman who was exposed for passing herself as Black while heading a local chapter of the NAACP in Spokane, Washington.
"They vilified her!" he exclaims. "What if she made $30 million off them? It's just so absurd that people don't understand it."