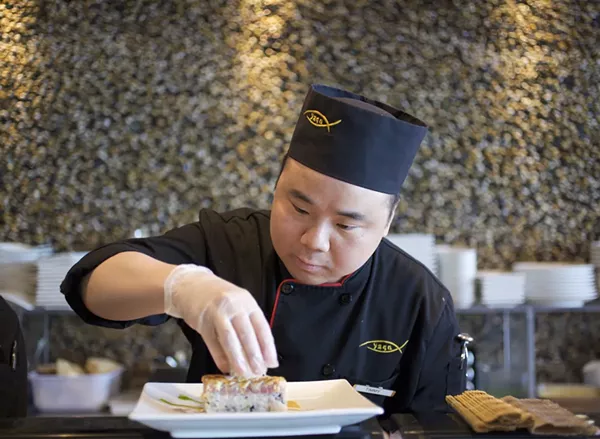 Sushi chef Tim Jiang plating the sushi special item of the day.
Sushi preparation, never a disappointment. I heart kitchen torches!
Crispy sesame-crusted salmon is served with fresh seasonal vegetables and chopped shrimp in an Asain Island sauce.
Left to right, co-owner Tony Chen, co-owner Mike Liao and executive chef Anthonie Chin.
The Crunchy Tuna Tower is mashed spicy tuna with Wasabi cracker and tempura chive flower.
From left to right, sushi chefs, Dennis He, Tony Chen, Tim Jiang, Jackie Lee.
The sushi special item. Spicy king crab and crab meat with avocado topped with seared tuna, shredded radish and gold flakes.
Co-owner Peter Chen chopping bok choy.
Voila! Chicken fried rice.
A cut of tuna in the kitchen.
Wasabi by the tub in the kitchen at Yagu.
The greeter at Yagu, located in a Chesterfield strip mall.
Keeping the garnishes fresh in the kitchen.
The interior design of Yagu contradicts the homogeneous strip mall exterior.
Yagu opened in December 2009.
One of the fusion entrees from the menu is the duck breast (shown here). It is roasted duck breast served with a sake fruit and sun dried cherry sauce, and is shown here with a potato parmesan stack.
Happy little birch trees.
Executive chef Anthonie Chin whipping up a quick order of chicken fried rice.
Chopstick supply in the kitchen.