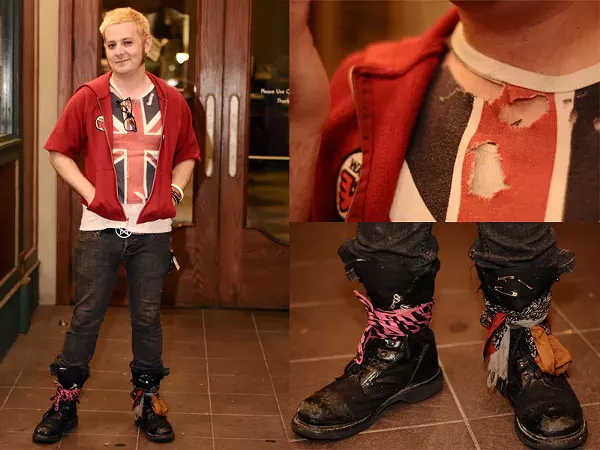 Jordan, 23, Maplewood
Regarding the hoodie: "I made it in middle school and I found it today underneath all of my fur coats." Spotted Jordan in the post 500 Days of Summer crowd outside the Tivoli.

Why are you wearing the shirt with holes?
"One of my favorites, it's just cool-looking. Most of my clothes have holes in them."

What about the scarfy boots?
"I bought [the boots] online from a police officer. They don't tie up anymore so I have to tie scarves around them to make them stay up."

What are you going to be wearing this fall?
"Jackets. I have a lot. I have two closets: one for my shirts and pants and one just for my jackets."
Brandi, 34, St. Charles
Among the torn jeans and T-shirts, Brandi stood out walking down Delmar on the way to a Killing Vegas show, post-happy hour at Blueberry Hill.

Where did you get the shoes?
"They're from Forever 21. I loved the flowers and thought they'd look cute with skinny jeans." (Although widely complimented, Brandi's friend was not pro-flower shoes.)

That's a Nice Bag!
"It's from Arden B. We only got two in at work and I had to have it. It's perfect for fall... I'm like a walking ad for the mall right now."

What trends are you looking forward to this fall?
"I work retail and I'm seeing a lot of studs, rocker type of things -- especially cropped leather jackets. Very '80s."
Ronald, 15, St. Louis
"I'm all swagger."

Walking with two friends in simple jeans and T-shirts, Ronald stood out with his bow tie and tuxedo vest.

How often do you wear bow-ties?
"I put 'em all the time." For a man who is trying to be different on the street, Ronald's bow ties probably do the trick.

Black-and-white up top and black-and-white down below? Planned?
"No. Piecing stuff together and what you think looks nice... Make sure it's different from everybody else." Although there was seemingly no direct plan to balance out his basic color boldness, the bookend feel does work.

Your look for fall?
"Casual and urban" Pulling inspiration from Kayne West and designers around St. Louis, Ronald says he has made a name for himself for his individual style. Now you can attribute the forthcoming bow-tie craze.
Jalinda, 14, Normandy
"I'm gonna wear a really hot green."

Wearing every color in the rainbow, and accessories to match the primary explosion, Jalinda was riding the U. City rainbow lion on Delmar.

Why different-colored shoelaces?
"Because it went with my shirt." Despite only being able to see black and white on her hightops, Jalinda referenced the blue in them as reasoning for the different laces as well.

Earrings and pearls?
Like the shoelaces, Jalinda is wearing an accessory of every color to match the riot of hues seen on her shirt.

What Do You Expect For Fall Fashions?
"More of a splash of colors."
Rik, 38, Loop Area Resident
"The problem with society is that too many people prefer to be sheep."

Walking in front of his store TNT Glass, Rik stood out in the Loop crowd due to his tie-dye skirt and matching do-rag. The former philosophy teacher and former Swag Festival manager, was a rebel from a young age when he led a revolt in nursery school.

Why the skirt?
"I ripped the shorts that I was wearing and I was just fuckin' bored. Plus it's comfortable."

Where he got the necklace:
Rik spun the hemp himself. (a service provided at TNT.) The stone was wrapped by a friend.

Fashion trends this fall?
"I create my own and I do not succumb to trends. I am confident in my own being."
Amelia, 26, University City
"I do my own tattoos; with razorblades and ink." The pierced, self-tattooed beauty was found on a smoke break from her job at the Delmar Lounge. A mixture of sentimentality and edge, Amelia got her first piercing at age eleven and sports 27 tattoos. (15 "unprofessional," with razor blades and India ink.)

Why The Octopus Pin?
"I just love octopuses, they're strange and kind of like aliens." And it matches her tattoo.


Why the delicate locket?
It contains a picture of Amelia and her dad. "Because my dad kicks ass."

What are your fall fashion trends?
"Probably kitchen clothes."
La'Ronald, undisclosed
"It's kind of skee. Skee as in 'too small.'"

La'R wears a shirt from the mall (PacSun), dazzling with the Dolce logo. He wondered, briefly, if the shirt was too small until, apparently, a gaggle of cheerleaders set him straight.

Why the buttons?
"They are from around the world to me. Well, around St. Louis." Although La'Ronald will initially tell you that he has received the buttons from his friends around the world, further examinations puts the story a little closer to home.

Only one haircut?
The fauxhawk is less than a year old for La'Ronald. He got his first haircut last October for Halloween. (At least that is what he says.)

What is your look for fall?
"My style varies like drugs and an addict." Although today he classifies his look as "St. Louis style," because of the simple straight-leg jeans and T-shirt, he clearly could look completely different tomorrow.
Justin, 26, University City
"They might be girls' jeans."

Working at Blueberry Hill and with enough energy to light up the Loop, Justin confessed that he rarely buys clothes. In fact, most of the clothing and accessories he was wearing were either gifts or donations from friends. He said he skateboards and plays in a band called Burnt Ninja. 'Nother talent: didgeridoo playing.

What's with the bracelet?
A gift from his girlfriend, originally belonged to her grandma.

The chain?
"Not many people rock the pocket-to-pocket chain anymore, but I have to -- for skateboarding -- or else my hands will get all caught."

What are you going to be wearing this fall?
"I don't buy clothes, I don't really like them." Fair enough.
James, 23, Fenton
"Michael Jackson gone goth."

On his way to a date, wearing an outfit that was tweaked by a roommate, and sporting his individual "if you don't like, I don't care" idea of fashion, James was sporting a gothic based fashion explosion.

Are those wristcuffs?
"It seems like a lot of skin that you could do a lot more with." Citing his dislike of bare arms, James was wearing dynamic studded wristcuffs that could be worn either pulled up or bunched down around the wrist.

What's your idea with the jacket?
James chose the jacket for its '80s punk theme -- but also for its thinning abilities. (Remember, he was on his way to a date.)

What's your look for fall?
For a man who dislikes bare arms, the cooler temperatures offer a wide variety of wardrobe. He says the vest will still be in the repetoire.
Colin, 24, Columbia
"You know, I never put that much thought into my wardrobe."

This lead singer of a band called Decadent Nation was spotted handing out tickets to his performance at The Pageant that night. The photographer/singer/student bases his simple color palette on his interest in photography that uses black and white film.

A Fedora? Really?
"I dig on the fedoras." Although Colin will mention the fact that his father used to wear fedoras, he references the classic 1940s look and films such as LA Confidential as his reasoning for donning the dapper look. Sadly, although playing a part in his music career, his violent stage movements result in him losing the hat before the first song is over. Rock out with fedora out.

The hot pink bracelet sticks out.
"I am forced to wear it." Much like his lack of forethought into his style, Colin was subconsciously trying to hide the hot pink accessory, necessary to access the stage for his performance, by tucking into his pants pocket.

Upcoming fall fashion?
Colin says he isn't spending his time pondering what colors or trends he intends to wear this fall.