Page 4 of 4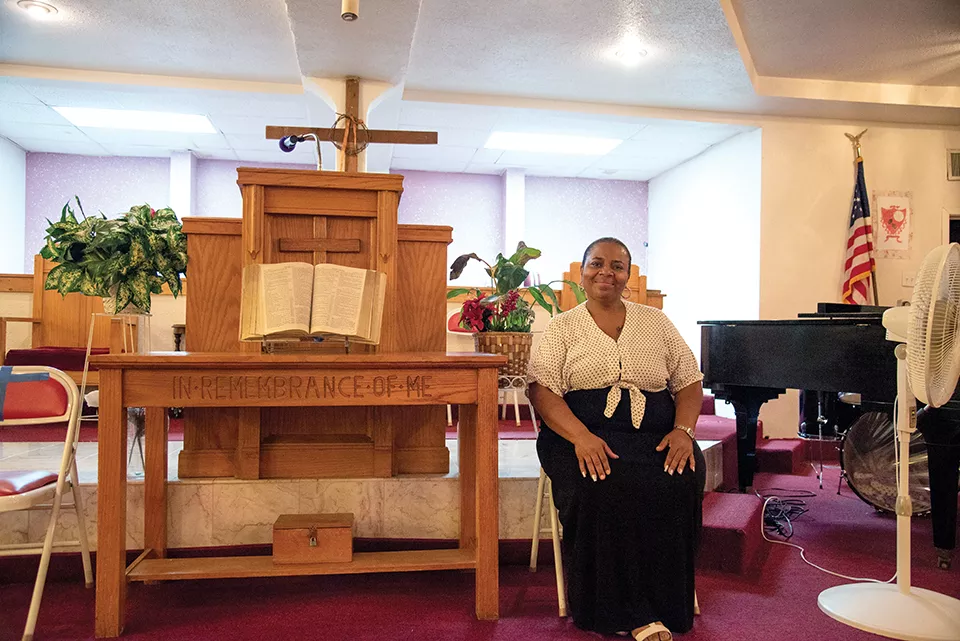 ERIN MCAFEE
Pastor Pamela Paul is driven by personal tragedy to save people from fentanyl.
Flash forward fifteen years. By then, drug overdoses had killed about 64,000 people in the United States in 2016 — a 22 percent jump from the year before, with the great majority attributed to opioids.
The nation's opioid death toll in 2016 was more than double the number in 2005 and nearly four times the number in 2000, "when accidental falls killed more Americans than opioid overdoses," according to the New York Times.
The newspaper also noted that drug overdoses were by then the leading cause of death for Americans under age 50, surpassing the death toll from gun violence, car accidents and even HIV at its peak in the mid-'90s.
But then, on July 14, 2021, the CDC announced that America's drug overdose deaths soared by nearly 30 percent, to a record 93,000, a death toll reflecting the pandemic's impact on the opioid crisis and the accelerating spread of fentanyl.
The 2020 death toll estimate is significantly larger than the previous mark of 72,000 fatalities set the previous year. It also represents the largest increase since 1999.
Sabora does not expect that the fentanyl epidemic will be ending anytime soon.
"It can be made anywhere," Sabora says. "There are so many entry points, you can't nail down one. It's like Popeye Doyle in The French Connection. You're not going to shut down the pipeline in this day and age."
The fentanyl crisis is bad, and getting worse. But addiction to fentanyl isn't a death sentence. Clarence Cooper is living proof of that fact.
I meet Cooper in the church that Pastor Pam oversees: the Faith, Hope and Love Worship Center at 1478 Union Boulevard.
Cooper, 40, started using fentanyl nearly twenty years ago. At first, he was a casual user.
"Just hanging out with my friends, being out," he says. "When I was using it, it was just my drug of choice."
Cooper started off snorting the drug, then switched to injections.
"After four months, I started to get real, real sick," he says.
Using the fentanyl would make him feel better, however.
"That's why I stay with it," he says.
Cooper figures he was spending $150 per day on his habit, which he supported through theft. "When you're in that world, whatever is not bolted down, it belongs to you," he says. A few years ago, he decided to get clean for the sake of his wife and kids.
"But when I made up my mind and said I was done, that's when it was over," he says.
He spent the next four months at his mother's house detoxing on his own. He suffered two seizures, which sent him to the hospital each time.
"After two months, I was hurting so bad," he says. "My dad came into the room and he told me, 'If you don't feed it, it got to leave.' That gave me an extra boost."
Today, Cooper is making a good living as a union laborer. He lifts weights, runs and prays.
He wants to be there for his kids. But he's scared. He doesn't know how to protect them from the fentanyl that once nearly claimed his life and that has killed five of his friends in the past year.
"It's everywhere you go," he says. "Like back in the day, you couldn't find fentanyl nowhere. You had to search high and low. ... But now it's right in front of your face."
ERIN MCAFEE
Pastor Pam, left, delivers lots of hugs during her travels.
In some fundamental ways, it's hard to feel optimistic about where America's fentanyl crisis is headed. Everyone seems to agree that in the short term the crisis will only get worse before it gets better, whenever that happens. No one doubts that by the time 2021 ends, America's official overdose death toll will surpass 100,000 people.
And let's face it: America is a capitalist society, and the global fentanyl economy is capitalism rasped down to its sleekest, most ruthless, most efficient core. It is the Platonic essence of the two engines that drive capitalism: supply and demand. Ever resilient and resourceful, it provides a product in high demand to anyone willing to pay the price, no matter how many families it destroys.
When I think about the fentanyl economy, I think of a perfectly evolved predator, a lethal beast that prowls the oceans or skies, forever on the hunt for new prey. It never tires, it never rests, it never grows old. It just constantly feeds, all the while indifferent to the carnage it leaves behind.
And yet, it is hard not to feel a little bit hopeful about this crisis. Somehow, someday it will end, because it must. And that time will come because of people like Pastor Pam, who go out every day and push hard to reverse the awful tide.
"This is the thing that a lot of people don't understand," she says. "They think people who are drug addicts just want to use drugs. Boom. There it is. Let them go. Natural selection. And it's not really like that."
Pastor Pam says that when she was using crack in the early 1980s, she didn't want to be a drug addict. "I just wanted to fit in with my friends," she says. "I had no clue. But then when I was addicted, it was something I was drawn to because of all the traumas I had had."
She says she's grateful to leave her drug life behind.
"So that's why when I look at these people, I'm able to see somebody who may be completely covered in dirt, I can give you a hug," she says. "The reason I'm going to be all right is because I'm praying, I'm sincere, and I got love for you. Because, 'There for the grace of God go I.' It could be me, it could be my brother. It was my son Brian."
Mike Fitzgerald is a freelance reporter based in St. Louis. He can be reached at msfitzgerald2006@gmail.com.