Page 3 of 4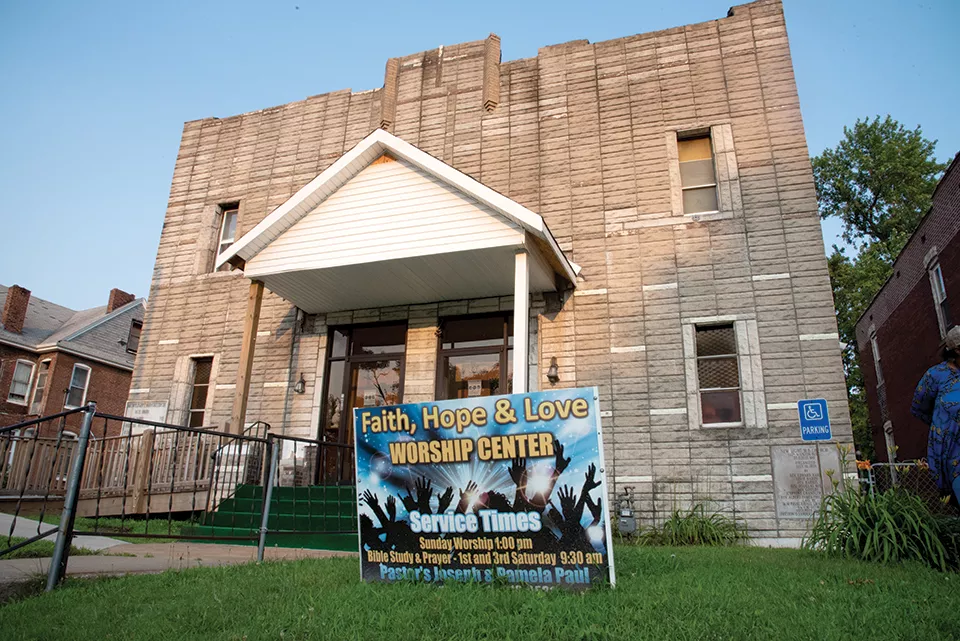 ERIN MCAFEE
Faith, Hope and Love Worship Center is Pastor Pam's home base, but she's often out in the neighborhoods.
Fentanyl has infected virtually every street drug in the St. Louis supply chain.
"There's no pure heroin out on the streets," Brown says. "And we're now seeing stimulants getting fentanyl in them, whether by accident or intentionally. Now people who are using stimulants are getting exposed to fentanyl and not even realizing it."
Chad Sabora is surprised by none of these trends.
A longtime activist in the fight against opiates, Sabora is himself a former heroin user who co-founded the Missouri Network for Opiate Reform and Recovery in St. Louis. Sabora has testified often before lawmakers about the opiate crisis. He played a key role in passing laws to make Narcan available in jails, to first responders and over the counter in drug stores. He also lobbied to pass Missouri's so-called good Samaritan law, which provides legal immunity to people who call 911 to report overdoses and who administer Narcan to overdose victims.
Sabora has watched in dismay as well-meaning laws were passed nationwide that cracked down on prescription opioid abuse, which pushed substance abusers toward heroin. In turn, U.S. efforts to crack down on heroin led the Mexican cartels to focus their efforts on fentanyl, which is more powerful, more profitable and easier to smuggle across the U.S. border.
Then the pandemic hit.
"And it was just a perfect storm for all these fentanyl analogs that are flooding the U.S. market," Sabora says. "The East Coast, nothing but fentanyl. It's not going anywhere. It's here to stay. And we're continuing to enact policies that got us here."
The enforced isolation many people endured because of the pandemic, coupled with the stress of job losses and financial uncertainty, was also another major factor in the overdose deaths, according to Pastor Pam.
In the event of an overdose, many fentanyl users had no one with them to call 911 or administer Narcan.
"If you're by yourself, who's going to bring you back?" she says.
The biggest spike in OD deaths occurred during the first months of the pandemic in early 2020. That's when the amount of fentanyl coming into America dropped sharply.
Wuhan, China — which is to fentanyl production what Hollywood is to filmmaking — is where the first COVID cases were reported. The Chinese government locked the city down completely, putting a serious crimp in global fentanyl production.
International border closures and travel bans also made it harder for fentanyl to arrive in America. But then the Wuhan lockdown ended, and fentanyl production and exports quickly rebounded.
During those two months of initial lockdowns, many fentanyl abusers had lost their tolerance for the drug. When it resumed its normal flows, their bodies weren't ready, according to Sabora.
"Then we had a massive influx come in like two months after the lockdown," he says, "and we saw a big spike in overdose deaths during that time."
ERIN MCAFEE
The opioid epidemic has been especially damaging in Black communities in St. Louis.
I first met Sabora nearly four years ago when I started writing about the St. Louis opiate scene.
Sabora was running the MoNet recovery center out of a storefront on South Broadway. Opiates, in the form of OxyContin and other powerful prescription painkillers, were still considered a primarily white, rural problem at the time, because the worst centers of abuse were located in places like West Virginia and southern Ohio.
"Fentanyl has a stronger rush — you get that warm feeling in your stomach when you use it," Sabora told me then. "But now that's all the young kids want."
America's drug overdose death toll was also being exacerbated by gaps in America's health-care system, such as the lack of universal health insurance and accessible drug treatment. Law enforcement's prohibitionist approach to illicit drugs also hurt.
"Other countries are not experiencing this," Sabora says. "But other countries have universal health care. They have syringe access programs. They have safe injection sites."
By 2017, the opiate crisis had already been gestating for two decades, thanks to the efforts of pharmaceutical giant Purdue Pharma, and the family that owned it, the billionaire Sacklers.
The Sacklers became one of America's richest families because of OxyContin, which they cleverly marketed in the mid-1990s as a safe, non-addictive way to provide hours-long relief to people suffering from acute pain caused by cancer and other maladies.
But Purdue Pharma's marketing amounted to a giant scam that led to tens of thousands of needless deaths — a scam documented by countless criminal prosecutions, lawsuits and stories in newspapers and magazines.
They showed, in meticulous detail, how Purdue Pharma had systematically misled the public and government regulators, while simultaneously buying off an army of doctors who overprescribed OxyContin by the truckload.
The pills flooded rural areas across every corner of America, triggering a staggering drug addiction crisis.
Crushed to disable its time-release mechanism, OxyContin was snorted or injected. Its popularity soared, and soon it became known as "Hillbilly Heroin." By the late 1990s, it was the go-to recreational drug for the rural poor.
One of the first national news stories about OxyContin appeared in the July 2001 issue of the New York Times Magazine. Paul Tough, its author, documented how OxyContin abuse had spread like wildfire across economically depressed small towns in Maine, the Rust Belt states and Appalachia — left-in-the-dust places that suffered steep job losses caused by globalization, and where young people faced bleak futures.
Tough interviewed a physician in rural Virginia who expressed dismay at the scope of the drug abuse he was suddenly dealing with.
''There's always been a certain degree of prescription drug abuse in this area,'' the physician told Tough, ''but there's never been anything like this. This is something that is very different and very new, and we don't understand all the reasons why. This is not just people who have long-term substance-abuse problems. In our region this is young teenagers, thirteen- and fourteen-year-olds, experimenting with recreational drug use and rapidly becoming addicted. Tens of thousands of opioid addicts are being created out there.''