The early evening sun is fading by the time Pamela Paul reaches the end of Garfield Avenue, just west of Vandeventer Avenue, a couple miles north of downtown St. Louis.
Widely known simply as Pastor Pam, she moves purposefully on this warm night, the first Friday in July, her right hand gripping several black nylon bags.
This is a corner of town tourists never see, a place of empty buildings and trash-strewn vacant lots.
Here, people — some unhoused — come to hang out, socialize, chill. Street drugs are easy to find.
The leader of a nondenominational Christian church in a nearby neighborhood, Pastor Pam walks in the company of a church friend, Elder Kenna Sykes-Harper.
Pastor Pam is on a crusade — to eliminate fentanyl, a powerful synthetic opioid painkiller that's mowing down lives nationwide at a record clip.
Like all great evangelists, she takes her message to the streets, meeting people where they are: at car detailing shops, grocery and liquor stores, street corners where people are using or looking to use.
Pastor Pam hands out the black bags, each containing a box of Narcan, the drug that reverses an overdose from opiates, especially fentanyl, which is up to 100 times more powerful than heroin.
In a gentle voice that is both sincere and adamant, she urges everyone she meets to keep Narcan on hand for emergency use. And she reminds them of Missouri's recently passed good Samaritan law, which provides legal immunity to those who call 911 to report an overdose or who administer Narcan to overdose victims.
"I couldn't save my son," she says. "But they can save somebody."
Pastor Pam describes the driving force behind her mission as her own life experiences, including the fact that both her parents used heroin for many years, leaving her grandparents to raise her.
In addition to her son Brian, she's lost a brother and nephew to fentanyl overdoses.
"I understand about forgiveness and redemption, you know," she says, adding that she herself was addicted to crack cocaine as a University City High School student in the early 1980s.
"It was a brief window of time," she says. "But it was very impactful, you know. I saw things in myself that I didn't know existed. I saw things about myself that reminded me about others that I did not like. And I just didn't want that."
Here on Garfield on this warm July night, people are in the street shooting off bottle rockets, which explode with a loud pop. The air smells of gunpowder. Smoke drifts everywhere.
Pastor Pam and Sykes-Harper meet up with a young woman named Shameeka Brown. The women talk, and then, at Pastor Pam's urging, all three pray together.
"It's a wonderful thing," Brown says of their group prayer. "I stay prayed-up."
I ask Brown if she is high right now on fentanyl.
"Yes, I am," she says. "It's an epidemic. I need whatever help I can get."
ERIN MCAFEE
From Left: Pastor Pam, Shameeka Brown and Elder Kenna Sykes-Harper pray together.
Pastor Pam and Sykes-Harper slow their gait as they draw closer to a tiny woman in an oversized wheelchair parked next to a vacant lot piled high with garbage.
Pastor Pam stops a few feet away from the woman, holds up the nylon bag and pulls out a Narcan box.
Pastor Pam leans in to the woman, who seems almost birdlike in her frail smallness.
The woman in the wheelchair identifies herself as Tonya. She reveals she's been homeless for nearly three years. And yes, she daily injects fentanyl into her body, she says.
Two empty blue syringes lay on the ground a few feet away next to some plastic bags.
"And so we heard that you overdosed a couple times, right?" Pastor Pam says, holding up the Narcan box. "You know what the Narcan is, right?"
"Yes, ma'am," Tonya says.
"And so you're going to tell somebody, 'Look, I got my Narcan, and if I'm getting high or not, if I go down, don't you leave me down here. Bring me back. Period.'"
Pastor Pam lets that sink in a moment.
"But there's treatment for you, all kind of stuff," she says. "I can get you whatever you need to turn this thing around if you want some help."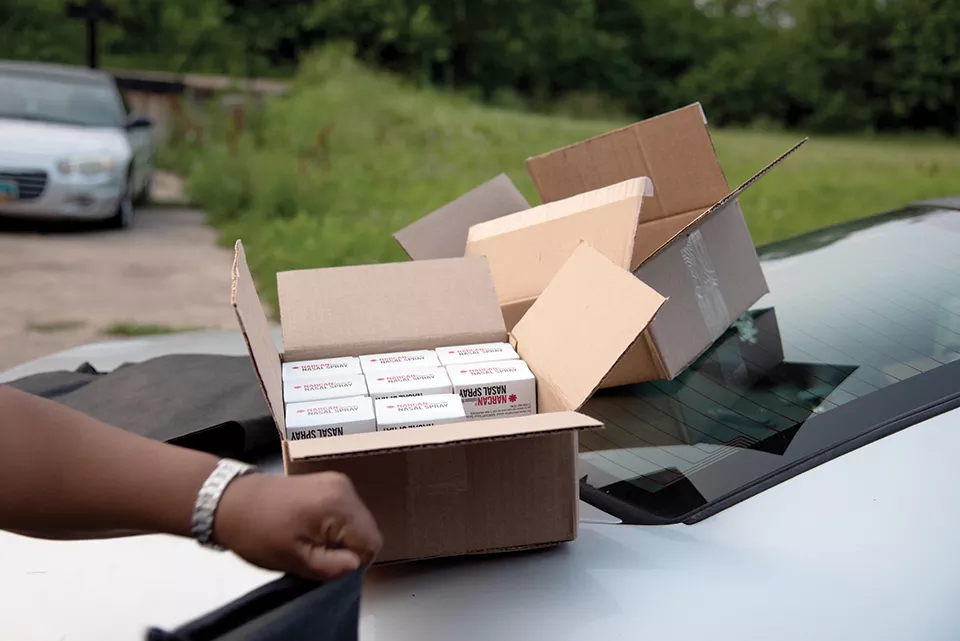 ERIN MCAFEE
Boxes of Narcan are part of the care packages handed out in the community.
I ask Tonya how she got started with fentanyl.
She tells me she transitioned to it after the local supply of heroin had dried up early on in the pandemic last year.
I ask her if she's afraid of dying from an overdose.
"I'm not afraid of death at all," Tonya says. "Because I believe in God. But I don't want to be part of a statistic in killing myself."
Pastor Pam promises to find a treatment center for Tonya.
"If you can hang on 'til Monday, I'll be here for you," Pastor Pam says, and then leans in closer.
"Can I hug you?"
"Yes, ma'm. I need that."
"All right. You deserve that."
A few minutes later, while walking back to their car, a 2004 Chrysler Concord sedan, Pastor Pam says to Sykes-Harper, "She said she was 38. My Brian would've been 38 this year."
ERIN MCAFEE
The fentanyl crisis has hit even harder in St. Louis during the COVID-19 pandemic.
Fentanyl is scything a deadly path across both St. Louis and the nation like no other drug before it.
Cheap to make, highly profitable and extremely lethal — especially to the unwary — fentanyl is churned out at industrial scales in black market labs in China, where the necessary precursor chemicals are easy to find, then shipped to Mexico. Smuggled into the U.S., it is hauled to St. Louis and other major cities by every means possible. Increasingly, it is made in secret labs in the Midwest as demand for it surges.
Once treated as something exotic because of its scarcity, fentanyl is now nearly ubiquitous. Dealers use it to cut heroin and cocaine, and they make it the basis for counterfeit versions of popular prescription drugs such as OxyContin and Xanax.
And it has triggered an unprecedented wave of overdose deaths nationwide and locally with no end in sight. The year 2020 set a grim all-time record for overdose deaths, and 2021 is guaranteed to be even worse.
Fentanyl's impact on St. Louis' Black community has been nothing less than devastating.
The federal Centers for Disease Control and Prevention estimates that 93,000 Americans died from drug overdoses during the twelve months that ended in December 2020 — an all-time record, and a 30 percent increase from the year before.
That number is even more sobering when you consider that in 2017 and 2018, overdose deaths were decreasing — thanks to a spate of federal and state laws that cracked down on "pill mills" and set up opiate prescription databases nationwide to track the worst abusers among patients and physicians.
In addition, a series of lawsuits filed by cities and state attorneys general that targeted the biggest makers of prescription opiates, including Purdue Pharma and Johnson & Johnson, had wrested billions of dollars in legal settlements to fight opiate abuse and provide treatment.
But now fentanyl, because of factors turbocharged by the COVID-19 pandemic, has blown much of that progress to hell.
Case in point: The official overdose death toll is 1,005 for the St. Louis metro area for 2020 — a 15.3 percent increase from the year before, according to figures compiled by the Missouri Institute of Mental Health.
All in all, the St. Louis region's overdose death total has soared 42 percent since 2016, when the official drug overdose death toll for the year was slightly more than 700.
For the state of Missouri, there were 1,842 overdose deaths in 2020 — a 16.5 percent jump over 2019. Opioid-involved overdoses accounted for nearly three-fourths of these fatalities. And as the epicenter of Missouri's overdose pandemic, the St. Louis region accounted for 55 percent of overdose deaths statewide.
ERIN MCAFEE
Pastor Pam speaking to people at the Phillips 66 in the neighborhood trying to hand out as many life-saving supplies as possible to as many people as she can reach.
The fentanyl plague is hitting the St. Louis Black community hardest.
Consider: In Missouri, a Black man is four times more likely to die of an overdose than a white person, according to CDC figures. What's more, overdose deaths among Black Missourians increased by 30 percent in 2020, compared to 13 percent for white people.
The high rate of overdose deaths in communities of color is largely attributable to fentanyl, says Jenny Armbruster, deputy executive director of PreventEd, a local nonprofit group that is leading the fight against substance-abuse disorder.
"It's not because more Black people are using drugs at higher rates than they previously were," Armbruster says. "But it's just now in a more fatal dose. A dose that somebody may have used with years of experience is now a fatal dose."
Overall, in the St. Louis region, opioid-involved overdose deaths shot up by nearly 24 percent, while combined opioid and stimulant-involved deaths soared by almost 55 percent, according to state figures.
Illegal drugs are like any other international import: They are intensely sensitive to kinks in the global supply chain.
Pandemic-related disruptions —lockdowns, travel bans and border closures — had temporarily cut the flow of heroin into America's cities. That led local dealers to push their customers toward fentanyl, nicknamed "fenty," which provides a more intense high than heroin, but of shorter duration, making it therefore more addictive and profitable, according to Katie Brown, project manager for Missouri's Opioid Response Project.
"So if you look at it from the economic perspective, it's cheap to get, and it's very potent in what it does," Brown says. "And if you're a person who's supplying drugs to individuals, it bolsters sales in many ways."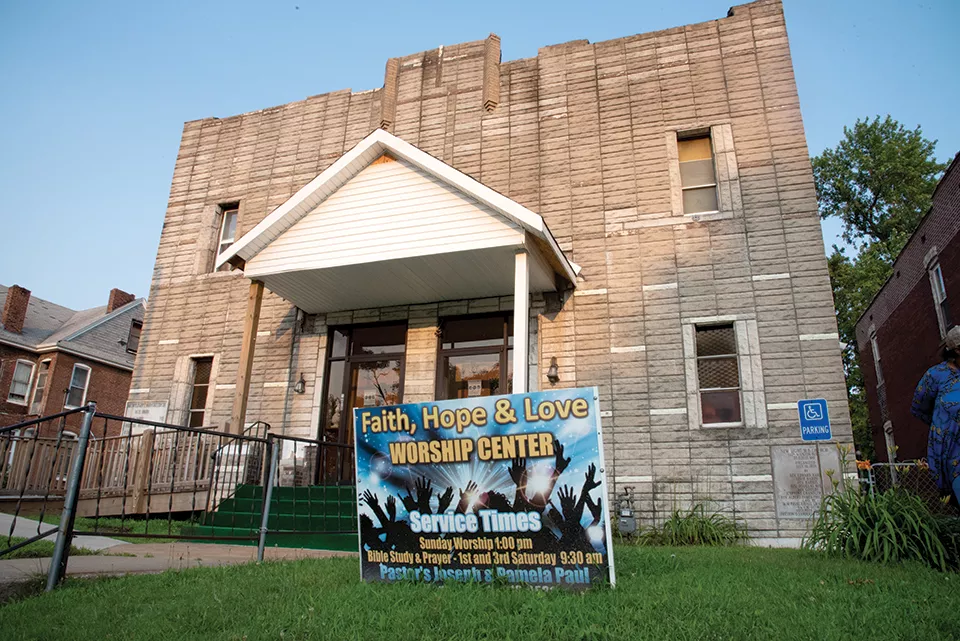 ERIN MCAFEE
Faith, Hope and Love Worship Center is Pastor Pam's home base, but she's often out in the neighborhoods.
Fentanyl has infected virtually every street drug in the St. Louis supply chain.
"There's no pure heroin out on the streets," Brown says. "And we're now seeing stimulants getting fentanyl in them, whether by accident or intentionally. Now people who are using stimulants are getting exposed to fentanyl and not even realizing it."
Chad Sabora is surprised by none of these trends.
A longtime activist in the fight against opiates, Sabora is himself a former heroin user who co-founded the Missouri Network for Opiate Reform and Recovery in St. Louis. Sabora has testified often before lawmakers about the opiate crisis. He played a key role in passing laws to make Narcan available in jails, to first responders and over the counter in drug stores. He also lobbied to pass Missouri's so-called good Samaritan law, which provides legal immunity to people who call 911 to report overdoses and who administer Narcan to overdose victims.
Sabora has watched in dismay as well-meaning laws were passed nationwide that cracked down on prescription opioid abuse, which pushed substance abusers toward heroin. In turn, U.S. efforts to crack down on heroin led the Mexican cartels to focus their efforts on fentanyl, which is more powerful, more profitable and easier to smuggle across the U.S. border.
Then the pandemic hit.
"And it was just a perfect storm for all these fentanyl analogs that are flooding the U.S. market," Sabora says. "The East Coast, nothing but fentanyl. It's not going anywhere. It's here to stay. And we're continuing to enact policies that got us here."
The enforced isolation many people endured because of the pandemic, coupled with the stress of job losses and financial uncertainty, was also another major factor in the overdose deaths, according to Pastor Pam.
In the event of an overdose, many fentanyl users had no one with them to call 911 or administer Narcan.
"If you're by yourself, who's going to bring you back?" she says.
The biggest spike in OD deaths occurred during the first months of the pandemic in early 2020. That's when the amount of fentanyl coming into America dropped sharply.
Wuhan, China — which is to fentanyl production what Hollywood is to filmmaking — is where the first COVID cases were reported. The Chinese government locked the city down completely, putting a serious crimp in global fentanyl production.
International border closures and travel bans also made it harder for fentanyl to arrive in America. But then the Wuhan lockdown ended, and fentanyl production and exports quickly rebounded.
During those two months of initial lockdowns, many fentanyl abusers had lost their tolerance for the drug. When it resumed its normal flows, their bodies weren't ready, according to Sabora.
"Then we had a massive influx come in like two months after the lockdown," he says, "and we saw a big spike in overdose deaths during that time."
ERIN MCAFEE
The opioid epidemic has been especially damaging in Black communities in St. Louis.
I first met Sabora nearly four years ago when I started writing about the St. Louis opiate scene.
Sabora was running the MoNet recovery center out of a storefront on South Broadway. Opiates, in the form of OxyContin and other powerful prescription painkillers, were still considered a primarily white, rural problem at the time, because the worst centers of abuse were located in places like West Virginia and southern Ohio.
"Fentanyl has a stronger rush — you get that warm feeling in your stomach when you use it," Sabora told me then. "But now that's all the young kids want."
America's drug overdose death toll was also being exacerbated by gaps in America's health-care system, such as the lack of universal health insurance and accessible drug treatment. Law enforcement's prohibitionist approach to illicit drugs also hurt.
"Other countries are not experiencing this," Sabora says. "But other countries have universal health care. They have syringe access programs. They have safe injection sites."
By 2017, the opiate crisis had already been gestating for two decades, thanks to the efforts of pharmaceutical giant Purdue Pharma, and the family that owned it, the billionaire Sacklers.
The Sacklers became one of America's richest families because of OxyContin, which they cleverly marketed in the mid-1990s as a safe, non-addictive way to provide hours-long relief to people suffering from acute pain caused by cancer and other maladies.
But Purdue Pharma's marketing amounted to a giant scam that led to tens of thousands of needless deaths — a scam documented by countless criminal prosecutions, lawsuits and stories in newspapers and magazines.
They showed, in meticulous detail, how Purdue Pharma had systematically misled the public and government regulators, while simultaneously buying off an army of doctors who overprescribed OxyContin by the truckload.
The pills flooded rural areas across every corner of America, triggering a staggering drug addiction crisis.
Crushed to disable its time-release mechanism, OxyContin was snorted or injected. Its popularity soared, and soon it became known as "Hillbilly Heroin." By the late 1990s, it was the go-to recreational drug for the rural poor.
One of the first national news stories about OxyContin appeared in the July 2001 issue of the New York Times Magazine. Paul Tough, its author, documented how OxyContin abuse had spread like wildfire across economically depressed small towns in Maine, the Rust Belt states and Appalachia — left-in-the-dust places that suffered steep job losses caused by globalization, and where young people faced bleak futures.
Tough interviewed a physician in rural Virginia who expressed dismay at the scope of the drug abuse he was suddenly dealing with.
''There's always been a certain degree of prescription drug abuse in this area,'' the physician told Tough, ''but there's never been anything like this. This is something that is very different and very new, and we don't understand all the reasons why. This is not just people who have long-term substance-abuse problems. In our region this is young teenagers, thirteen- and fourteen-year-olds, experimenting with recreational drug use and rapidly becoming addicted. Tens of thousands of opioid addicts are being created out there.''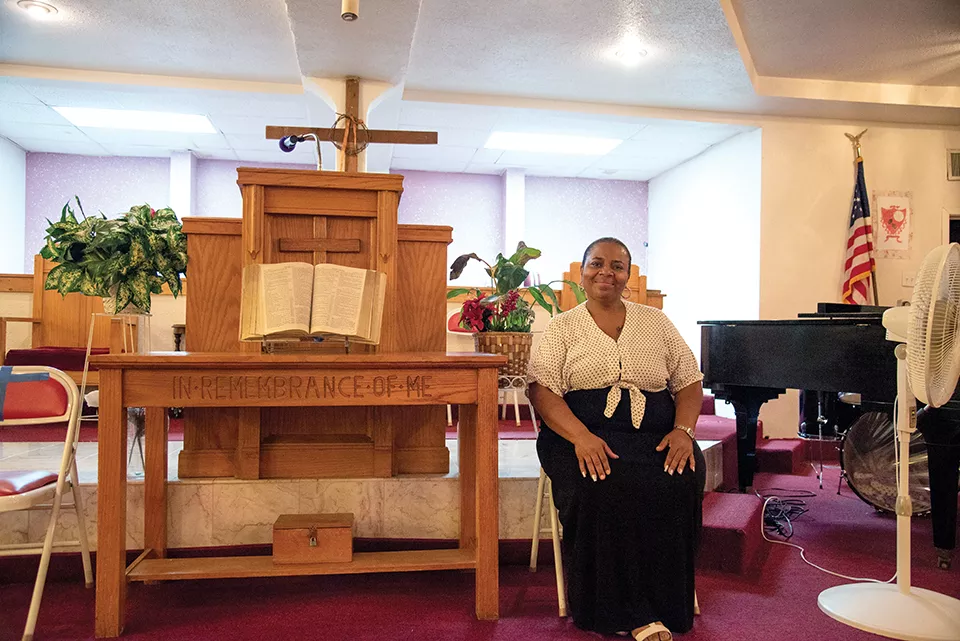 ERIN MCAFEE
Pastor Pamela Paul is driven by personal tragedy to save people from fentanyl.
Flash forward fifteen years. By then, drug overdoses had killed about 64,000 people in the United States in 2016 — a 22 percent jump from the year before, with the great majority attributed to opioids.
The nation's opioid death toll in 2016 was more than double the number in 2005 and nearly four times the number in 2000, "when accidental falls killed more Americans than opioid overdoses," according to the New York Times.
The newspaper also noted that drug overdoses were by then the leading cause of death for Americans under age 50, surpassing the death toll from gun violence, car accidents and even HIV at its peak in the mid-'90s.
But then, on July 14, 2021, the CDC announced that America's drug overdose deaths soared by nearly 30 percent, to a record 93,000, a death toll reflecting the pandemic's impact on the opioid crisis and the accelerating spread of fentanyl.
The 2020 death toll estimate is significantly larger than the previous mark of 72,000 fatalities set the previous year. It also represents the largest increase since 1999.
Sabora does not expect that the fentanyl epidemic will be ending anytime soon.
"It can be made anywhere," Sabora says. "There are so many entry points, you can't nail down one. It's like Popeye Doyle in The French Connection. You're not going to shut down the pipeline in this day and age."
The fentanyl crisis is bad, and getting worse. But addiction to fentanyl isn't a death sentence. Clarence Cooper is living proof of that fact.
I meet Cooper in the church that Pastor Pam oversees: the Faith, Hope and Love Worship Center at 1478 Union Boulevard.
Cooper, 40, started using fentanyl nearly twenty years ago. At first, he was a casual user.
"Just hanging out with my friends, being out," he says. "When I was using it, it was just my drug of choice."
Cooper started off snorting the drug, then switched to injections.
"After four months, I started to get real, real sick," he says.
Using the fentanyl would make him feel better, however.
"That's why I stay with it," he says.
Cooper figures he was spending $150 per day on his habit, which he supported through theft. "When you're in that world, whatever is not bolted down, it belongs to you," he says. A few years ago, he decided to get clean for the sake of his wife and kids.
"But when I made up my mind and said I was done, that's when it was over," he says.
He spent the next four months at his mother's house detoxing on his own. He suffered two seizures, which sent him to the hospital each time.
"After two months, I was hurting so bad," he says. "My dad came into the room and he told me, 'If you don't feed it, it got to leave.' That gave me an extra boost."
Today, Cooper is making a good living as a union laborer. He lifts weights, runs and prays.
He wants to be there for his kids. But he's scared. He doesn't know how to protect them from the fentanyl that once nearly claimed his life and that has killed five of his friends in the past year.
"It's everywhere you go," he says. "Like back in the day, you couldn't find fentanyl nowhere. You had to search high and low. ... But now it's right in front of your face."
ERIN MCAFEE
Pastor Pam, left, delivers lots of hugs during her travels.
In some fundamental ways, it's hard to feel optimistic about where America's fentanyl crisis is headed. Everyone seems to agree that in the short term the crisis will only get worse before it gets better, whenever that happens. No one doubts that by the time 2021 ends, America's official overdose death toll will surpass 100,000 people.
And let's face it: America is a capitalist society, and the global fentanyl economy is capitalism rasped down to its sleekest, most ruthless, most efficient core. It is the Platonic essence of the two engines that drive capitalism: supply and demand. Ever resilient and resourceful, it provides a product in high demand to anyone willing to pay the price, no matter how many families it destroys.
When I think about the fentanyl economy, I think of a perfectly evolved predator, a lethal beast that prowls the oceans or skies, forever on the hunt for new prey. It never tires, it never rests, it never grows old. It just constantly feeds, all the while indifferent to the carnage it leaves behind.
And yet, it is hard not to feel a little bit hopeful about this crisis. Somehow, someday it will end, because it must. And that time will come because of people like Pastor Pam, who go out every day and push hard to reverse the awful tide.
"This is the thing that a lot of people don't understand," she says. "They think people who are drug addicts just want to use drugs. Boom. There it is. Let them go. Natural selection. And it's not really like that."
Pastor Pam says that when she was using crack in the early 1980s, she didn't want to be a drug addict. "I just wanted to fit in with my friends," she says. "I had no clue. But then when I was addicted, it was something I was drawn to because of all the traumas I had had."
She says she's grateful to leave her drug life behind.
"So that's why when I look at these people, I'm able to see somebody who may be completely covered in dirt, I can give you a hug," she says. "The reason I'm going to be all right is because I'm praying, I'm sincere, and I got love for you. Because, 'There for the grace of God go I.' It could be me, it could be my brother. It was my son Brian."
Mike Fitzgerald is a freelance reporter based in St. Louis. He can be reached at msfitzgerald2006@gmail.com.