Page 4 of 5
The collective momentum for alternative transportation in St. Louis has grown in recent years, with help from organizations such as Citizens for Modern Transit, Trailnet and Great Rivers Greenway, as well as a responsive city government and the Metro system itself. These entities each make an effort to emphasize the health benefits of leaving the car behind, the positive impact on traffic congestion and air quality, and the affordability of such a choice. In addition, they all share a vision for making the region more convenient to navigate by non-automotive means, "allow[ing] more people to become less car dependent," as the mayor's Sustainability Plan Action Agenda succinctly puts it.
One concrete example of this momentum is the now-underway Loop Trolley project, set to connect the Loop and Forest Park, and in doing so "promote connectivity, environmentally friendly transportation, economic development and pedestrian-friendly neighborhoods." The major funding for the 2.2-mile system is a $25 million Federal Transit Administration grant.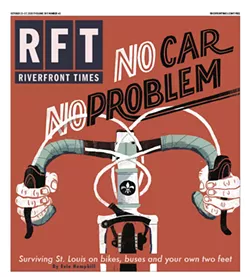 Noah MacMillan
The cover of the October 21, 2015, Riverfront Times.
As eager as I am to try out the lovely looking trolley system when construction is complete, the project also suggests something troubling about our regional priorities. MetroLink's red line already connects Forest Park and the Missouri History Museum to the eastern edge of the Loop. Why the focus on a small trolley line that will run along a rather similar path, when whole swaths of the region would benefit from, for instance, a north-south expansion of MetroLink?
It can feel as though something is absent from the conversation. Especially as I observe the range of people around me every day on the bus, on the sidewalk and on my bike, my enthusiasm for this car-free movement is complicated by an unsettling fact: that so many of the most vulnerable in our midst are already living without a car, are already "part of the solution," and it's not exactly a party.
It's not just people like James Harrison. Paul Fehler, a local filmmaker and cyclist who has been without a car for seven years, has little patience for cycling advocacy groups, believing them to be largely ineffective and even misguided as they rally around what he considers very minor successes, such as "a Bike to Work Day that expends huge amounts of their attention and budget just to court some pathetic purchase on a sliver of middle-class respectability that then vanishes almost completely the day after."
"The majority of cycling advocates also completely ignore the single largest group of cyclists in this town: working class and poor transportation-cyclists," Fehler adds. "The folks who make up the most bicycle miles traveled here are poor folks on full-suspension Wal-Mart mountain bikes, riding on the sidewalk, just trying to get to Point B. Local bike advocates don't even pretend to care about them, and it's shameful."