Immersed in Ink Tattoo Tour
The traveling tattoo show tour dubbed "Immersed In Ink" stopped in St. Louis on June 11-13, 2010 at the Millennium Hotel downtown. Besides the tattooing, there was body modification and suspension. Be careful, some photos make you queasy. Photos by
Crystal Rolfe
.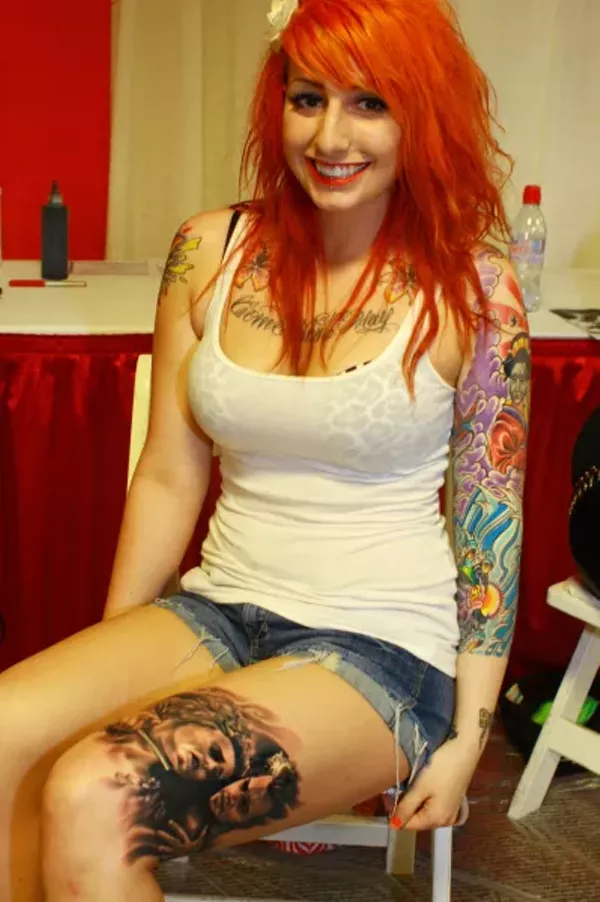 Michelle with her favorite movie tattoo themed leg. Tattoo done by Jessie Tranter of Self Inflicted Tattoos.
Christa Osborne's "Gay Robot" ...just in time for the Pride Parade. Ink done by Midwest Rick at Enigma.
Ashleah Boots deals with the pain of a back corset done by Ricardo Hernandez Espinosa of Enigma Tattoos.
Lyle Hart gets another old school Sailor Jerry tattoo to add to his collection. Tattooing by John Dorner of Psych Ward Tattoo in Florida.
Rachel Schroeder and her "Holey Baby" tattoo.
Ashleah Boots and her cheering section.
Max Tracy with his new red ink Celtic cross.
Rachel Schroeder and David Page of Self Inflicted Studios.
Gecko the Mad Scientist gets more ink. This time from Outlaw Tattoo.
Ricardo Hernandez Espinosa gettin' some staples to the face.
Allan Davidson, a portrait artist from Louisiana. This is all air-brushed.
Midwest Rick from Enigma Tattoo in the Loop.
Chase Dryden's horror leg piece by Drew Shurtleff of Big Daddy's Tattoo in Oklahoma City, Oklahoma.
Mark Carter, an impressive surrealist, fantasy artist from North Carolina.
Stu Modifies holds onto Ricardo Hernandez and Dustin Niswonger who have hooks in their backs.
Chris Martini from Viking Tattoo- Omaha, Nebraska.
Stu Modifies putting on the finishing touches to Molly Shrine's neck corset.
All finished! Ashleah's back corset.
Dave Tracy from Extreme Ink in Granite City, Illinois is working on this awesome wing.
Chris Martini from Viking Tattoo and Elmo from Dark Lotus tag teamed this pirate ship side tattoo.
Tricia and Silvie Aztlan of Aztlan Arts in Dallas.
This guy called himself the "Ink Father." He works at Outsiders Ink in Tulsa, Oklahoma.
Molly Shrine is sewn up for her neck corset.
Ashleah Boots draws a crowd as she prepares herself for a back corset.
Getting the rings put in by Ricardo Hernandez Espinosa.
Hottdogg from Authentic Ink in Omaha, Nebraska puts the finishing touches on Chris Johnson's head tattoo.
DJ gets a Jester tattoo by artist Melissa Harris from Lady Luck Tattoo out of Kentucky.
Beef of Two Bitches Gallery, getting another ant tattoo to add to her collection.
Chase Dryden with his favorite tattoo artist, Drew Shurtleff of Big Daddy's Tattoo in Oklahoma City, Oklahoma.
Zeke Zych with his new chest portrait by Elijah Nguyen of Texas.
Kyle Scarborough won first place Friday night for Best Ink of the Day for a skull tattoo.
Megan Cowled is getting her flowers tattoos by Joel Garcia of Clovis Ink.
Silvia Aztlan is ready with her syringe.
Tattoo conventions attract all sorts.
Shaelyn Sprong from Reno, Nevada goes up on her very first suspension.
Euclid Media Group, LLC
Read Our Sister Publications