In a normal American city — one that possesses many of the same attributes as St. Louis, but with another sense of spirit, different values — Hyde Park wouldn't be discussed as a turnaround story. In an alternative universe, the place never would have spiraled into turmoil in the first place.
Even considering the panoply of ills that affected post-World War II St. Louis (white flight, GI loans that made county living attractive, racial unease, poor public transport … the list does go on), Hyde Park still had the buildings (gorgeous), the land (plentiful) and the roads (right along I-70) to avert crisis. But the flight from north city was severe even by Rust Belt standards, and with a rapidly declining population, many of the buildings tumbled or languished. And so the roads became cut-throughs out of, instead of into, a neighborhood that dates back to the 1840s, with early-twentieth-century density that would've been the envy of any corner of St. Louis.
Settled by German immigrants, Hyde Park was originally a township named Bremen. Though a street with that name appears on the map today, the township was annexed and renamed after the park in its center. Today the neighborhood, a misshapen triangle tucked alongside the highway between Old North and Fairgrounds Park, is 84 percent black. Its housing units are 45 percent vacant.
Yet despite long periods of decline, Hyde Park never fully cratered. Enough people either clung to their businesses or homes or elected to find their bliss here despite troubling trends that they created an environment that's been close to full-scale re-blossoming for decades now. One keen north city observer says that at least three waves of redevelopment have almost happened in Hyde Park over the past 30 years. That some happened in part, but not whole, only adds to the intrigue.
Driving through the neighborhood or walking its blocks, you can see the spurts of activity, set against the losses of past decades. And in 2018, some key indicators suggest a tipping point is finally within reach. Neighboring Old North has become a destination for art lovers and urban homesteaders, even as the National Geospatial-Intelligence Agency is building a new home for its 3,000 employees in nearby Carr Square. And within Hyde Park itself, restaurants are opening, rather than closing. New homes are selling for low six-figure sums (even though you can still get the shell of a vacant for $2,500, condition emphatically as-is). Building permits issued in the neighborhood in 2018 to date are valued at $4.2 million.
Some whole blocks still have broken-teeth syndrome, with ugly gaps between the intact housing stock, while some buildings threaten to implode before the clock strikes 2019. And the 2014 demolition of the 119-year-old Bethlehem Lutheran Church felt like a great loss.
But Chris Naffziger, a blogger on history, architecture and preservation for St. Louis Magazine as well as his own site, St. Louis Patina, feels bullish on Hyde Park's future.
For all the neighborhood's troubles, he says, "there's so much good news." In addition to a food renaissance, with several exciting new restaurants opening their doors, "there is all sort of historic rehabbing and new construction happening for affordable housing, and there is a strong neighborhood association.
"The architecture is equal to Lafayette Square. Benton Park or Soulard. Yes, it is. I stake my reputation on it. I think in ten years, Hyde Park could be a model for creating an equitable and thriving north St. Louis community."
And if that happens — if the skeptics are wrong and the optimists are right — it won't be because of any grand redevelopment scheme, or because of the NGA or because of a big plan out of City Hall. It will be because people invested in a community that others had given up on.
Here are three of their stories.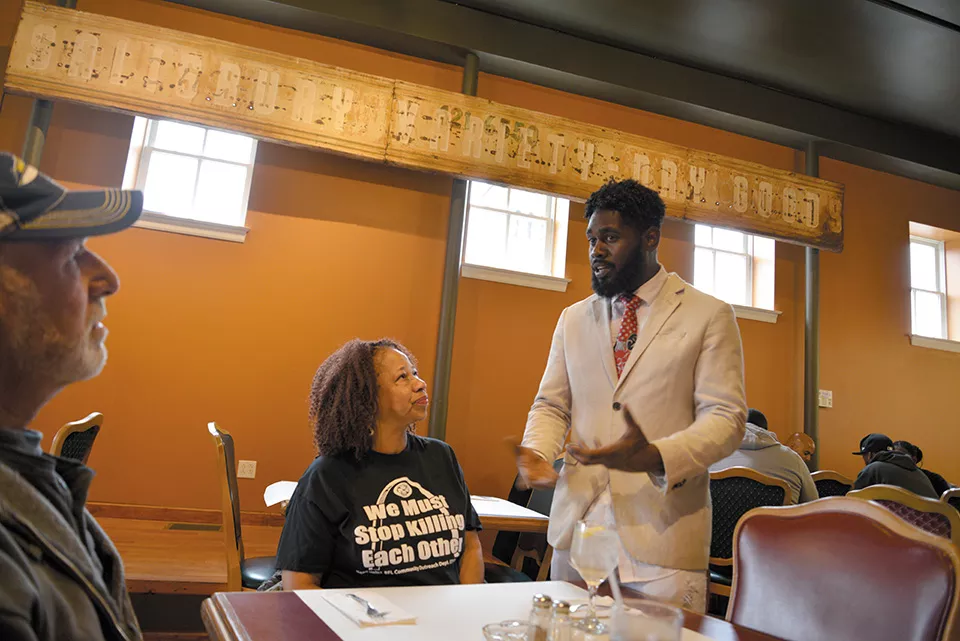 TOM HELLAUER
Alderman Brandon Bosley works the room at the River Lillie, one of two newly opened eateries in Hyde Park. City Commissioner of Recreation Evelyn Rice, center, hears him out.
The Politician: Brandon Bosley
Looking out from the front door of his office on the 1400 block of Salisbury, Alderman Brandon Bosley can spy a little of everything. An empty lot. An empty building just behind that. Painters, dabbing at the windows of the newly opened River Lillie cafe. And cars. Hundreds and hundreds of cars, making their way east and west on Salisbury. He hopes they're seeing something new in the 2018 version of Hyde Park.
"There's a certain energy you feel when you drive through Hyde Park," says Bosley, 31. "We need residents to come in and support any commercial base that we have and if we build commercial spaces without residents, we'll have to entice people to come in and spend their money. We'll maybe have to make it a place where they want to live. And though they don't exactly go hand in hand, we want to build a place where people want to live."
To do that, it's not just about numbers. It's about, yes, people. He actively encourages neighbors to wave when a car's slowly driving the street, the driver maybe taking down information in a notepad or their phone. He wants them pushing the neighborhood on that level.
"We want neighbors to have investments they feel can be protected," he says. "The more energy we can build up in the community, we can show it's good investment. We've got one of the busiest streets in the entire city and in any other city, it'd be lit up with commercial development. Thousands of people are passing by every day and things do take time to change, but we need to work faster to make it an attractive area to be in. For me, I see opportunity.
"In most parts of the city, you don't see vacant lots like we have," he adds. "So people can complain about them, but here we can build from the ground up. When I get calls, people inquire about having to rent, you'd have to work with a pre-existing structure. But here we can visualize anything we want as a community. We can conceptualize anything. Our area's historic, we do have historical buildings, but also a lot of open land."
Bosley comes from a political family, his surname known to even casual watchers of city politics. His dad is Freeman Bosley Sr., and his mother Lucinda Frazier serves as the ward's committeewoman. Freeman Bosley Jr., his half-brother, served as St. Louis mayor from 1993 to 1997. A sister, Lakeysha Bosley, will be the 79th District's representative in Jefferson City after the November election.
Brandon Bosley was elected to the post in April 2017, after defeating five other candidates in the Democratic primary. He previously worked for the city's parking division and, according to a St. Louis Public Radio profile, is also a computer programmer who has created smartphone games. He was one of six new aldermen to join the board after the 2017 elections.
He's earned respect from his colleagues. "I've been really impressed with the thoughtful approach Brandon Bosley has taken to legislation," says Alderwoman Cara Spencer. "It's easy to assume that with a name like Bosley he was handed the job, but it's clear that Brandon works hard for his community and for the city as a whole. Where sometimes there is a clear north/south division, Brandon is always one of the first to transcend geographic and racial boundaries."
Says Annie Rice, "Brandon sees the forest through the trees, and even when we disagree, I know that Brandon is working hard with his and our community's best interests at heart."
He's not afraid to court controversy. He lists something he'd like to bring to Hyde Park that would be a third rail in many parts of the city: a Walmart. Whether within the boundaries of the neighborhood, or one nearby, Bosley sees both the need and want for big-box development.
He sees it as something that could spur more human-sized projects. "I would take any large commercial development that would bring in traffic to support a corridor of mom-and-pop stores," he says. "To bring up the tax base, get more money flowing through the neighborhood. One large business would help us eat off of that traffic and give a boost to the morale of the neighborhood."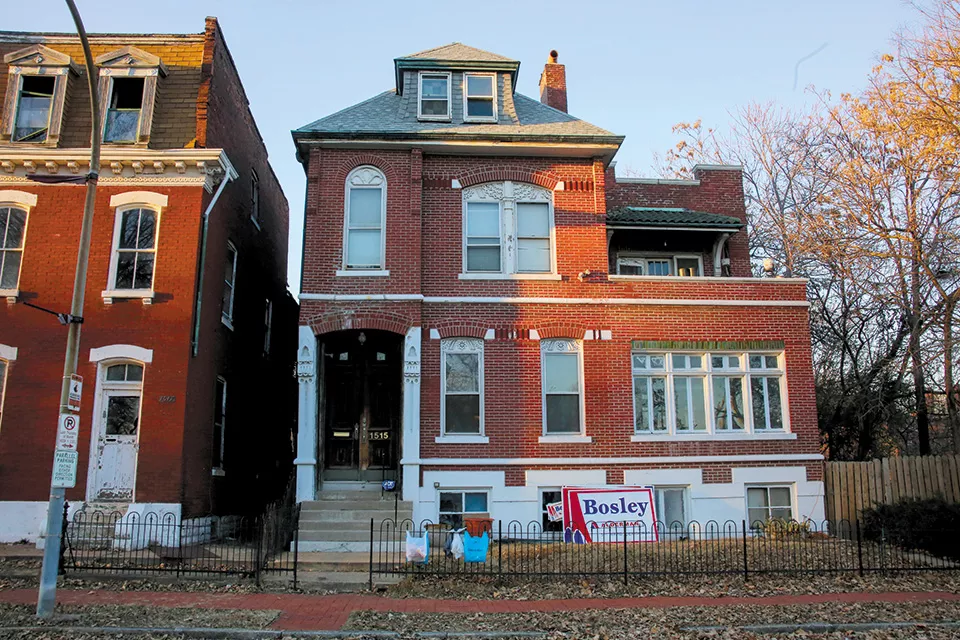 FLICKR/PAUL SABLEMAN
Brandon Bosley's family has a long history in Hyde Park.
Over and over, he ponders the role of Salisbury Street. How it enters the city's street grid at the end of the McKinley Bridge to Illinois. How it heads east, then curves into its new name, Purnell. And how Purnell quickly turns into Jefferson, mere minutes from the NGA site. From Bosley's storefront office to the edge of downtown, it's only an eight-minute drive.
,p>Proximity, Bosley says, will eventually prevail over a lot of other past issues.
"The most positive thing," he says, "is that this is the only street in the entire city that takes you north and south, from one side of the city to another state. It's extremely unique. You're close to 40, 70, Illinois. And all of that is the pipeline, the infrastructure to have an amazing amount of development in this area: commercial and grassroots. Everything's about transportation, and having one of the busiest streets in the city can help us change everything.
"It's a place, I might add," he says, "that is very close to downtown. People can sit on their porch and see the Arch. It's beautiful from an opportunity perspective. There's nowhere to go but up. When lots aren't being cut, it's frustrating. When the city isn't capable of maintaining thousands of vacant lots and houses, there's frustration that can come from that. When a space becomes empty and we're not adding more people, when we have more people leaving, it creates an impression."
Another impression?
"In Hyde Park there's no racism," he says, a statement echoed by a few. "White and black people work together here. When you have neighborhood disputes, it's over how a neighbor parks a car, or music that's too loud. There's not a high population of white people, but the ones here get along. Racially, there is not an issue."