If restaurants were judged by food alone, I should be writing a less than stellar review of Howards in Soulard. Freezer-to-fryer mozzarella sticks, mediocre sandwiches, toasted ravioli that seems too bored to crisp up to golden brown — I'd expect more from a complimentary buffet at a motel off the interstate.
Which is why I am having a difficult time understanding why I actually enjoyed myself at Howards. Really, I'm utterly perplexed.
And yet...the night I first visited was a lovely pre-fall evening. The patio provided a bubbling fountain, a view of some Soulard row houses and the rich aroma of malt from the nearby Anheuser-Busch brewery. Perhaps I was charmed. Or maybe it was the shockingly stiff dark and stormy I was served. Surely that had something to do with my easygoing attitude.
Our server should have been in a foul mood as well. Between her job at Howards and her other job at Cardinal-Glennon, she confided, she was on her 25th consecutive day of work. Yet no one would have guessed. "I do it because I really like working here," she said with a cheer usually reserved for those who haven't worked a month without a day off. "I just love Judith."
Mabel Suen
Appetizers include fried hearts of palm and onion rings.
Judith is Judith Howard, the restaurant's owner and, as some of her employees call her, the unofficial mayor of Soulard. Last November, she bought the building on the corner of Lynch and 13th streets that used to house the Hi-Way Bar and began a full-gut rehab of the space.
Though no stranger to historic restorations, Howard admits this one was especially difficult, requiring a new sewer system, new gas and electrical lines, and a new roof in addition to extensive cosmetic work on the interiors. Relying on her sizable network of friends and family, she supervised all the work herself (she even obtained her general contractor license in the process), transforming an old dive into a warm space with exposed brick, a soaring tin ceiling and a large bar made from the building's original staircase. And she did it in less than six months.
It says something about Howard that she could gather 86 people to take time out of their lives to help her renovate a building. That she has a server who actually enjoys coming to work on her days off. That she can get a restaurant critic to (almost) give her a pass on lackluster food. Howard really seems to know how to treat people, and it filters down into the hospitality she and her staff provide. If that is any indication of her prospects for success, her restaurant will do just fine.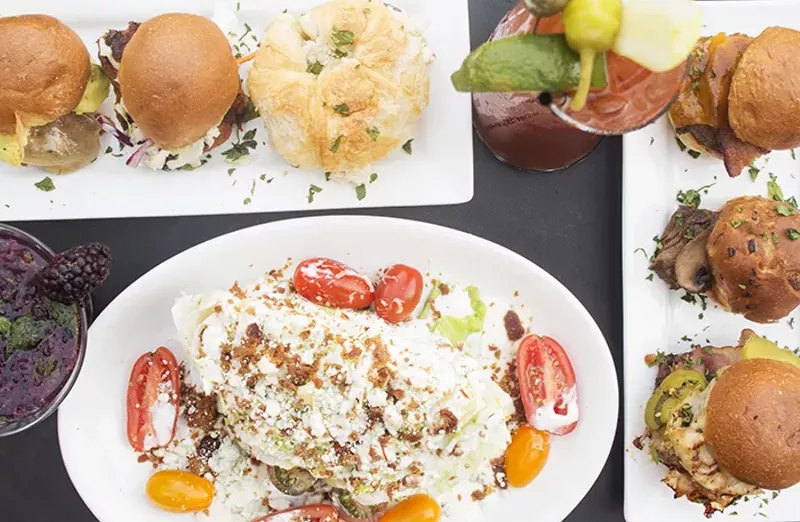 Mabel Suen
Petite sandwiches, cocktails and a wedge salad.
But while Howards may get a pass in spite of its oft-mediocre food, it doesn't get a free one. Howard reached out to Cassady Caldwell and Jackie Seal, formerly of Luvy Duvy's Café in Benton Park, to help with the food and beverage program for Howards. Instead of creating a new menu, Seal wholly revived her Luvy Duvy creations for the new digs. The original intent was for the Luvy Duvy items to be featured as part of a lunch menu, then switch over to a small selection of petite, dollar-roll-style offerings in the evenings.
However, at the neighbors' request, the concept evolved so that the lunch menu is now available during dinner hours as well. Oddly, it retains the name "lunch menu," so what is truly available, and when, is a bit confusing. Here's a cheat sheet, courtesy of our server: You can get anything at any time.
Not that you'd actually want just "anything," but that seems to be the approach to a large portion of the menu. Howards' mission statement is "by the neighbors, for the neighbors." It's setting out to be a casual neighborhood spot, and there's nothing wrong with that. Yet I highly doubt that the neighborhood is itching for a bunch of uninspired appetizers that were nothing more than a selection of frozen fare straight off a Sysco truck. Throw anything into a deep fryer and it's passable — toasted ravioli with bland spinach and artichoke filling, mozzarella sticks that will take you back to the roller-rink snack bars of junior high, yawn-inducing breaded button mushrooms.
Mabel Suen
Key lime pie.
In an attempt to liven things up, Howards offers several dipping sauces to mix and match with your fried-food-palooza, but they cost extra. The price is nominal (a mere 50 cents for a ramekin), but the idea is antithetical to the place's otherwise neighborly spirit — I felt nickel and dimed having to pay for a side of marinara with my cheese sticks.
Howards' one attempt at homemade finger food is its deep-fried pickles. The tangy, dill discs are coated in seasoned cornmeal for a fine enough taste. Unfortunately, the breading crumbled off of the pickles, leaving the naked cucumbers in a pile of crumbs at the bottom of the basket.
The "Petite and Savory" bistro menu is more inspired than the appetizers, though in execution it has mixed results. The "Roxy" chicken salad, tossed with grapes, pecans and apples and tucked into a chewy croissant, was bland and under-seasoned, while the promising "Sassy" delivered an overcooked chicken breast with scant bacon, mere traces of avocado and Havarti cheese. Unlike the larger version, which comes with chipotle mayonnaise, the petite sandwich was sauce-less and dry.
Mabel Suen
Howards' patio.
The bistro menu's highlight is the "Gene Autry" miniature steak sandwich. Slices of garlic and Worcestershire-marinated tenderloin are piled into a miniature brioche roll and finished with grilled mushrooms and onions. I ordered it with a side of blue cheese bernaise, and though I quibble with the name (using the name of the classic French sauce for a concoction without a trace of tarragon would make Escoffier roll over in his grave), I was surprisingly impressed. I found myself unable to resist dipping my steak into it like a mildly funky blue-cheese fondue.
The "lunch" menu has its share of bright spots, including a well-executed BLT on Texas toast. It's nothing I couldn't make at home, but it was overstuffed with bacon, crisp lettuce, thick slices tomatoes and a generous spread of mayonnaise. The "Rockin' Burger," though, tasted like the bread and dehydrated onion studded patties my mom used to make — and oddly a little like White Castle. Sadly, the burger bun was not sturdy enough to hold up to the burger and crumbled apart in my hands.
The roasted pork on the pulled-pork sandwich was moist with little pockets of caramelization. The flavorful meat is simmered in a molasses-style barbecue sauce, heaped onto griddled Texas toast and topped with blue cheese coleslaw. I could have done with about half of the slaw portion (it was about a one-to-one meat-to-slaw ratio), but I otherwise thoroughly enjoyed the sandwich.
If you close your eyes and think of what prime rib night at a family-style restaurant looks like, no doubt it's exactly what is served at Howards. For a mere $15.50 I was treated to an enormous inch-and-a-half thick slab of seasoned medium rare roasted beef. Accompanying it on the plate was a bisected baked potato, topped with mounds of butter and sour cream. It's served still in its foil, along with a plastic ramekin of horseradish cream. If the words "all-American" have a flavor to them, this is it.
Mabel Suen
Key lime pie.
In keeping with her family-oriented spirit, Howard invited all of her employees to submit their personal recipes for the dessert menu. Those who made the cut personally prepare the item from scratch — so you could say she has an entire staff of amateur pastry chefs. Grilled cinnamon rolls sounded heavenly, but were not as gooey as I had hoped. However, I enjoyed the way the open flames toasted the warm spice. Freshly baked chocolate cookies, though crumbly, had a deep, brown-sugary taste. As a special touch, they came garnished with whipped cream in the shape of a smiley face for my little girl.
And it's that happy touch that makes me seriously consider going back to Howards, in spite of everything. Sure, the kitchen shows that it is capable of producing good food — on roughly half of its dishes. But in a fairly deep restaurant market this shouldn't be good enough.
But it is, and the answer why comes down to Judith Howard herself. She's put the work into the building and is invested in the neighborhood. She's created a culture that shows she cares for her staff, and she understands that her restaurant's purpose is to serve her guests. If you read the comments on her Facebook page — every single one of them giving Howards five stars — you understand that she's doing more than slinging so-so food. She's making people feel welcome as if they are guests in her home.
If she's figured out how to provide that sort of impeccable hospitality, the food can't be long behind.