For many years, Mitch Meyers was a heavy-hitter in the intensely competitive world of marketing and product branding. If you were living in St. Louis three decades ago and didn't know Meyers, you at least knew her work.
After a stint at 7UP, she worked for Anheuser-Busch during its glory days in the 1980s. Meyers dreamed up the Spuds MacKenzie mascot to sell Bud Light. Later, as a partner at St. Louis-based Zipatoni, Meyers worked on major campaigns for Miller Brewing, Motorola, Energizer and Ralston. By the time Zipatoni was acquired by advertising titan Interpublic Group of Companies in 2003, the firm had more than $40 million in annual sales, offices in six states and 350 employees.
After the sale, Meyers left the rat race to become a full-time mom to her kids and enjoy the family's second home in Aspen, Colorado. But now Meyers is back in St. Louis to take on perhaps the biggest challenge of her career: Missouri's fledgling medical cannabis industry.
In the three years since Missouri greenlit a limited form of medical cannabis, only two firms have received licenses to grow and sell medical weed: Noah's Arc Foundation, of Chesterfield, and BeLeaf, of Earth City, where Meyers serves as CEO.
Under the state's current laws, both facilities may only use cannabis oils containing cannabidiol, or CBD, for patients with seizure conditions. That group represents only about two percent of the patients who experts believe could benefit from medical cannabis — fewer than 1,000 people in Missouri. BeLeaf began cultivation operations in January 2016, and treats 48 patients so far.
That patient base could vastly expand if state lawmakers followed the lead of other states, such as Illinois, where medical cannabis is allowed to treat a wide range of medical conditions, including Parkinson's disease, cancer and AIDS. But Missouri lawmakers have kept that door firmly shut.
During an interview at her Earth City facility, Meyers acknowledged the steep roadblock she faces in getting the cannabis skeptics in the Missouri general assembly to change their minds.
What compounds her frustration is the fact that public opinion polls consistently show that nearly two-thirds of Missourians support across-the-board legalization of medical marijuana — something that will almost certainly remain a fantasy until at least November 2018, when supporters hope to gain ballot access, and approval, for a statewide initiative.
An earlier campaign to put medical cannabis on the November 2016 ballot failed after backers did not gather enough valid signatures.
"The people who live in Missouri want access," Meyers says. "We get desperate people wanting access to this, who are buying on the black market and who are driving out of state to get it. And that's ridiculous."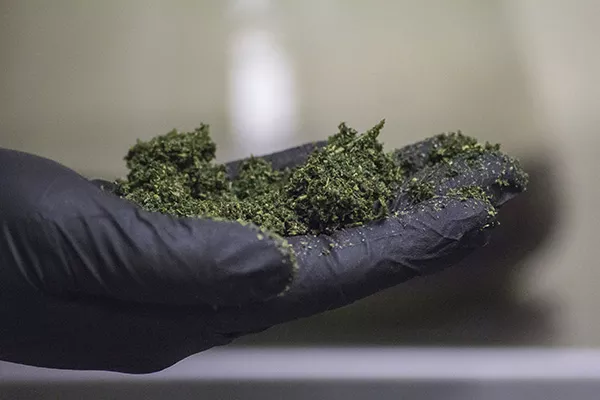 SARA BANNOURA
Cannabis plants at BeLeaf contain cannabidiol, or CBD, which contains only trace levels of THC. BeLeaf uses the plants to make CBD oil for patients suffering from seizures.
Yes, it's 2017, and 60 percent of Americans have access to some type of legal marijuana: medical cannabis in 29 states, and recreational weed in eight states and Washington, D.C.
The spread of legal cannabis is accelerating. Last November, eight states legalized marijuana for either medical or recreational marijuana. More than half — 33 total states — have now legalized marijuana in some form.
Meanwhile, Americans spent nearly $7 billion on legal pot last year — a 34 percent increase from the previous year, itself an all-time high (pun intended).
Even so, the federal government still classifies marijuana as a Schedule 1 drug under the Controlled Substances Act, the most tightly restricted category, reserved for drugs that have "no currently accepted medical use," placing pot in the same category as cocaine and heroin.
What's more, after years of "Just Say No" propaganda about the dangers of cannabis via publicly funded school programs like DARE, Cheech-and-Chong stoner stereotypes persist about anything to do with legal hemp.
Meyers and John Curtis, BeLeaf's production director, shatter those stoner stereotypes instantly. They are serious and focused, as well as brutally realistic about the obstacles they face.
Both Meyers and Curtis wear business casual attire, and look and sound about as counter-culture as any pair of middle-aged business people you'd find lurking in in a typical St. Louis corporate office. The difference is the passion behind their words: They've found their calling in life, and they're certain that other people's lives depend on it.
Which is why the roadblocks they've faced in the General Assembly have proven so frustrating.
SARA BANNOURA
Some of the hundreds of cannabis plants growing inside the cultivation center at BeLeaf Company, which is located in a former Verizon customer care center.
"We're working on that as hard as we can to help that," says Meyers, 61. "Because we've seen enough in the last two years of the legislation to know it's not going to happen there. It's not."
A former journalist, Curtis opened his first medical cannabis dispensary in Denver in 2010. He returned to his native St. Louis in 2015 to be closer to his kids. By then Missouri had begun allowing limited CBD oil production. Wanting to stay in the cannabis industry, Curtis gave Meyers a call. He soon joined her team as the man in charge of BeLeaf's cultivation and production programs.
Curtis compares the campaign to legalize medical cannabis to the issue of gay marriage.
"You see a very bright line between generations," says Curtis. "Where above a certain age there's people on both sides, and then above that there is almost universal opposition, but below a certain age there is almost universal support."
And when voters are allowed to weigh in, they tend to be much more open to change than their representatives.
"Again, this is just something where the people are going to have to lead because their elected leaders are educated to the degree their constituents are," he says.
BeLeaf is housed in a former Verizon customer care center at one end of an office park in Earth City. Within its 5,000 square-foot home, BeLeaf both grows hemp plants and makes Noah's ReLeaf, the CBD oil it markets to its clients. The oil contains tiny levels of THC, but not enough to get users high.
From the outside, it looks about as nondescript as any office in any one of countless office parks. Inside, however, it is a marvel of lights, water and plant science technology.
An indoor hydroponic flower room contains row upon row of hemp plants in the final stages of their twelve-week growth cycles. Each plant rests on a sponge-like pad attached to a narrow tube. An automatic irrigation system shoots nutrient-laced water to each plant at precisely timed intervals. The wastewater is caught, recycled and reused. Overhead are 1,000-watt, orange-colored lights that click on and off at twelve-hour intervals to mimic the light of autumn.
But while BeLeaf has lots of oil to sell, it still has too few patients — partly because of the restrictions of Missouri law, but also because of a paucity of physicians in the state willing to recommend medical cannabis. Neurologists at Cardinal Glennon Children's Hospital, in St. Louis, have been helpful, but otherwise it has been difficult to find physicians willing to recommend a drug that, technically, is still illegal under federal law.
The irony is that medical cannabis could make a huge difference in dealing with some of America's biggest health problems, Meyers says.
"The interesting thing is people tend to come to cannabis almost when it's too late," she says. "When a doctor says, 'We can't help you any longer, we've done all the chemo we can, go home, get your affairs in order.' People who don't want to throw in the towel tend to turn to cannabis because they are online and they are researching, and they're seeing this plant can kill tumors and especially certain kinds of cancers that it is incredibly effective on."
SARA BANNOURA
A 2014 law signed by then-Governor Jay Nixon allows Missourians to access medical cannabis made from CBD, but only if they suffer from seizures that cannot be treated by traditional pharmaceutical drugs.
The states that have opened their doors to cannabis legalization, such as California and Colorado, are experiencing what some observers are describing as a "Green Rush" — an economic windfall that Missouri could join if the hoped-for ballot initiative passes in 2018.
A Washington Post analysis found that legal cannabis had grown to a $700 million industry in Colorado by 2015. Colorado retailers sold $386 million of medical marijuana and $313 million for purely recreational purposes. The two sides of the market generated $63 million in tax revenue, along with $13 million collected in licenses and fees alone. The Marijuana Industry Group estimated in 2014 that the legal cannabis business also generated 10,000 direct jobs.
What's more, Colorado's legal weed industry grew rapidly, but without any of the terrible consequences that opponents of legalization had predicted. Deadly car accidents remained flat and reports of crime had actually gone down in Denver and the surrounding area, the Post reported.
Meyers has seen for herself how the legal cannabis industry helped transform Denver.
"It's real estate, it's jobs," she says. "I cannot believe how it has helped transform that city. There were neighborhoods that were terrible that are now completely vibrant with housing and work and restaurants. And a lot of it has to do with this industry."
Both Meyers and Curtis are enthusiastic about hemp's vast potential for creating new jobs for thousands of rural Missourians — a vision powered by the state's near-perfect climate and soil for commercial hemp's cultivation cycle and the fact that St. Louis is home to some of the brightest minds in plant sciences, at both Monsanto and the Danforth Plant Science Center, in St. Louis County.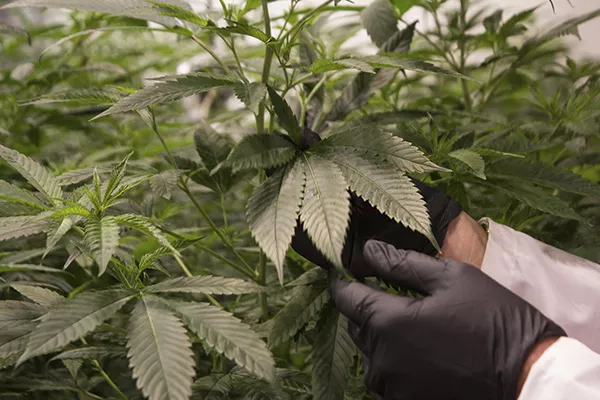 SARA BANNOURA
Human beings have been using cannabis for an estimated 18,000 years.
Commercial hemp, which contains virtually no THC, the psychoactive ingredient in recreational cannabis, has a long history in America. Hemp is an incredibly versatile plant that humans have been consuming in some form for 18,000 years or so.
In fact, the first recorded hemp crop in the state was planted in 1820, one year before Missouri achieved statehood. Twenty years later, Missouri hemp farmers had produced 12,500 tons of the crop, with much of that shipped through St. Louis en route to New Orleans. It was a key ingredient in both rope and textiles.
Today commercial hemp is used as both an insulator and as construction material in homes. The auto industry makes plastics from hemp-based oils to shave weight off luxury cars. BMW imports hemp grown in Kentucky to make the fabric for car seats and plastics for door panels of its cars built at its assembly plant in Spartanburg, South Carolina. A Canadian company is even building small airplanes out of the hemp plant. And researchers at the University of Connecticut are experimenting with hemp biodiesel fuels to power cars and airplanes.
Yet, despite the potential upside of hemp in all its uses, making a go in the cannabis industry in Missouri is "frustrating because a lot of times you're going backwards or sideways and it's hard to plan," Meyers says. "But it's also exciting because it is the beginning of a new industry and you can be part of it, and you can be part of the team that's trying to help the people get what they want. And they're ultimately going to get it."
Missouri wasn't the first state Meyers targeted for her cannabis-based business plans. First she looked to her home state — Illinois.
Meyers grew outside Carlyle, about an hour's drive east of St. Louis. Her grandparents raised corn, soybeans, some chickens and a few cattle, and she helped out on the farm.
In 1977 Meyers earned a bachelor's degree in accounting from Southern Illinois University Edwardsville and then in 1980 a master's degree in finance.
She started her career at Emerson Electric. Growing bored with finance, she moved on to a marketing job at 7UP.
After some upheaval there, she found a home at Anheuser-Busch, where she flourished, eventually becoming director of marketing for the beer giant. At that time, in the late 1980s, she was the highest-ranking woman in AB's corporate marketing division.
But it was after those years at AB, and then fifteen years at Zipatoni, that Meyers found her current calling.
She'd said goodbye to corporate life for a while and began spending time at her family's second home in Colorado. It was the early 2000s, and the state had recently legalized medical marijuana. A friend of hers who lived nearby had become certified to serve as a cannabis caregiver.
"And a caregiver can grow a certain number of plants based on patients they have," she says. "I was fascinated that someone without a medical degree can really be treating people with brain cancer and prostate cancer and lupus and Crohn's. I was always peppering her with questions and watching her."
What struck her, Meyers says, was how her friend was using her knowledge of pot to "truly help people, extend their lives, keep them alive."
By 2012, Illinois had passed a law setting up a pilot program for medical cannabis. Meyers, who has a home in Glen Carbon, watched in fascination as the new plan took shape. It allowed for a series of cultivation centers and dispensaries across the state.
An investor approached Meyers to see if she wanted to get involved.
"I said I absolutely would," Meyers recalls. "I said I've seen firsthand how it works."
Meyers became the public face of the investor group seeking to build a cultivation center outside Marissa, Illinois, about 40 miles east of St. Louis in St. Clair County. In this role, she had to speak to community groups concerned about what would happen to their town if the cultivation center got built.
"It was very controversial, very controversial," she recalls. "I was not prepared for the pushback. But you know, having never done it before, nobody says, 'Here's the road map, go do it.'"
It was an expensive education. By late 2014, Meyers' Nature Care Company LLC had already invested hundreds of thousands of dollars into a potential cultivation center and dispensary. A first-year registration fee to the state added another $200,000 in start-up costs.
But in February 2015, when Governor Bruce Rauner granted the first set of cultivation and dispensary licenses, Nature Care was passed over.
Meyers' company did win a license to open a dispensary in Rolling Meadows, outside Chicago. But the roll-out of Illinois' pilot program has moved more slowly than expected.
So far the Illinois Department of Public Health has approved medical cannabis applications for 20,600 qualifying patients since it began accepting applications for the program in September 2014. Trouble is, investors had expected that by this point in the pilot program Illinois would have more than 120,000 qualifying patients.
One of the reasons for the relatively low patient base in Illinois is the paucity of physicians willing to sign off on recommendations for patient qualifying cards. Also, insurance companies refuse to cover the cost of legal cannabis, which means patients must pay hundreds of dollars per month for medicine entirely out of their own pockets.
"Nothing's moving in Illinois," Meyers says.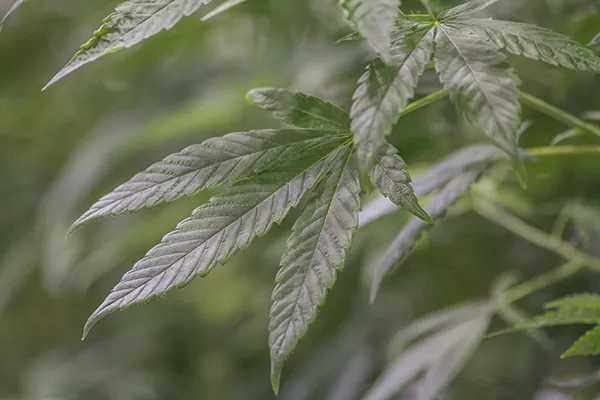 SARA BANNOURA
At the BeLeaf facility, special lights and precisely controlled injections of nutrient-laced water ensure the plants are harvested on schedule after a twelve-week growth cycle.
Things are at even more of a standstill in Missouri, which began its nascent medical cannabis program in July 2014, under a bill sponsored by state Senator Eric Schmitt (R-Bridgeton), whose son, then nine, suffers from epilepsy.
The measure, which then-Governor Jay Nixon signed into law, allows the use of cannabidiol oil extracted from marijuana to treat epileptic seizures that can't be effectively treated by pharmaceuticals.
But since then, the Republican-controlled statehouse has shown little interest in overcoming the fierce opposition of state Senator Bob Onder (R-Lake St. Louis) to any further expansion.
Earlier this year Onder, a physician, successfully blocked a Senate bill that would make it easier for families to obtain the CBD extract, expand the list of serious medical conditions for which it can be prescribed and boost its potency by increasing allowable THC levels.
Much of Onder's opposition stems from the fact that the federal Food and Drug Administration has not approved CBD products as a treatment or cure for any disease.
"And I do have some problems with the state eventually usurping the FDA approval process and endorsing the use of anything for a non-approved medication," he told the Riverfront Times in May, just before the end of the legislative session.
For her part, Meyers has tried to educate cannabis skeptics in the Missouri statehouse, but it's been to no avail.
"That's why I'm so frustrated with Missouri," she says. "It's as if they never travel out of the state or never read anything in the Scientific American or the Journal of the American Medical Association."
Meyers has a hard time masking her frustration with the legislative process.
"We're not asking for recreational cannabis to be approved," she says. "We're asking for a few little things to change so that seriously affected people can get access."
SARA BANNOURA
BeLeaf's main product is Noah's ReLeaf, an oil made from the CBD harvested from cannabis plants.
In the best case scenario, Meyers' efforts to succeed in the legal cannabis trade form the latest link in a long chain of entrepreneurs who, after many trials, struck it rich in St. Louis over the centuries: Marie-Thérèse Bourgeois Chouteau, the "mother" of St. Louis, who in the mid-1700s made the city a center of fur-trading; Samuel Cupples, who in the 1850s made a fortune in wooden matches; and of course Adolphus Busch, who in the 1870s revolutionized the beer industry by being the first American brewer to keep beer fresh by using pasteurization and refrigerated railroad cars.
But the viability of Meyers' business could mean things that transcend economics for people like Jen Lewis, of St. Louis.
Lewis' son Michael, eighteen, began using BeLeaf's CBD oil about a year ago. As a result, he is suffering far fewer seizures, even while being weaned off the prescription anti-seizure medications that forced him to spend much of his life asleep, Lewis says.
"It's been good. He's sleeping better. He's becoming vocal again," Lewis says. "Everybody that knows him says, 'Oh my gosh, he's awake.' And getting to know him again."
For Lewis, it is vitally important that BeLeaf keeps its door in open.
"Because Missouri is tough," Lewis says. "It's the Show Me State, right? You have to stay constant and persistent."
Many experts also believe that legal cannabis could help ease America's epidemic of opioid overdoses.
In 2015, for instance, more than 52,000 Americans died of drug overdoses, with almost two-thirds of those deaths linked to powerful opioids such as heroin, fentanyl, OxyContin and Percocet. (Ironically, the latter two drugs enjoy FDA approval.)
More people are dying today of drug overdoses than any other point in U.S. history. Indeed, drug overdoses kill more Americans than firearm homicides (more than 36,000) and HIV/AIDS during its peak in 1995 (more than 43,000).
States that have approved legal cannabis have seen opiate deaths drop by 25 percent, Meyers notes.
"So people began to use cannabis as a substitution for some or maybe even all of their opioids," she says. "And we've talked to patients who have completely weaned off of opioids and are using medical cannabis."
Meyers remains undaunted by the obstacles before her company, including the fact that in U.S. Attorney General Jeff Sessions recently announced that he plans to ask Congress to dismantle federal medical-marijuana protections that have been in place since 2014.
Still, she acknowledges the recent setbacks have been tough to bear.
"Some days it's pretty bleak around here," she says, "but then a patient shows up and you see the progress they're making and that's worth everything."
To those who've worked with Myers in the past, there is little doubt that she will succeed in the end.
Jack Thorwegen, who founded the Zipatoni agency and hired Meyers, said he has no doubt she will prevail.
"She's a very determined person," Thorwegen says. "She never gives up."
Thorwegen points to Meyers' many years of experience as a marketer.
"Marketers are risk-takers," Thorwegen says. "To some degree you never know when your next paycheck is coming. And it all relies on you. And you're only as good as your last job."
Back in the 1980s, during her Anheuser-Busch years, Meyers stood out for her "attitude and self-confidence," Thorwegen recalls. "In the beer world, back then, it was really a boys' club, in all honesty. It was unheard of for a woman at Anheuser-Busch to get to the level she got to."
And the growing popularity of cannabis means "the genie is out of the bottle," Thorwegen says. More and more states are growing dependent on the jobs and tax revenue generated by legal weed.
"More importantly, everybody knows somebody that medical cannabis will help. And that's what started the laws changing," says Thorwegen, who adds that medical cannabis helped his wife through cancer treatments and wean his son off painkillers taken for back pain.
Regardless of what happens at the federal level, Meyers is pinning her hopes on the success of a statewide initiative in Missouri.
DANNY WICENTOWSKI
Activist John Payne (center) is resting his hopes on a medical marijuana ballot initiative in 2018.
John Payne, the campaign manager of New Approach Missouri, the petition sponsor, says he is confident enough valid signatures will be collected for the 2018 ballot — around 250,000 — to withstand the kind of legal challenges that doomed a similar effort in 2016. Should it get on the ballot, the measure should pass, Payne says.
Public opinion surveys show that between 62 and 64 percent of Missouri voters approve of medical cannabis, Payne says.
"What we do know from the polling is that having a medical marijuana program does sort of change the way people see the plant as a whole," he says. "They start to realize that this is something that has some benefits for people. So it brings people that were formerly opposed to it to a less hostile position. So it does change the way people think on the issue."
That wouldn't necessarily mean efforts to legalize recreational marijuana would soon follow in Missouri. But it is a fact that all states with legal recreational cannabis began with measures to legalize medical cannabis, Payne says.
Meyers' decision to forge a career in legal cannabis is part of of a national trend that is redefining the burgeoning industry. As the New York Times recently reported, women in their 50s, 60s and 70s are playing major leadership roles in the cannabis industry.
"Inspired partly by their own use of the drug for pain relief, or by caring for others who use it for their own aches, these women see viable business opportunities and view their work as therapeutic for their customers," the newspaper notes.
And women account for about 36 percent of executives in the legal marijuana industry, says Marijuana Business Daily, compared with 22 percent holding top roles in other industries.
Bob Goughenour, who retired as an AB vice-president in 2000 and who worked closely with Meyers developing the Bud Light brand, says her involvement with cannabis makes sense.
"I think she likes a new challenge," Goughenour says. "I think that's a good descriptor of her. This is not about money. She's got a big heart. And she thinks she can help people. That's what she's doing."
Meyers herself believes her gender is a plus, both in her current role's caregiving aspects and its risk-taking.
"The skill sets that are required are something that women are totally capable of," she says. "So you're managing people who are managing patients. And that whole collaborative spirit, collaborative nature — women kind of uniquely embody that."
Pot may be big business in Colorado, but these days in Missouri, it's still unchartered territory. That's something that suits Meyers just fine.
"We don't have the big corporate rich white guys telling us what to do," she says. "It's us kids deciding, 'Let's go for a license.' We get it, and go, 'Crap, now what are we going to do?'We got to find a facility, hire people." And then they wait for the politicians to catch up — or the people to take the lead.