Page 3 of 3
THEO WELLING
Among thousands at the Protest Against Police Murder, a woman has a request.
With each murder of a Black person committed at the hands of police, the names of everyday citizens become household names. Black America understands and recognizes the collective groan of seeing a new name trending and the details that follow. It's not a surprise. But coupled with a global health crisis and sheltering at home, non-POC individuals and communities have been forced to pay attention. So much so that major companies spent two weeks denouncing racism, pledging their support of the Black Lives Matter movement and turning social media screens dark on #BlackOutTuesday. The women agree that everyone must do their part to make true and substantial change.
"There's information going around about something called 'performative allyship,'" Jain-Poster says. "People pretend to be allies by posting things on Instagram, and it's frustrating. That's great and all, but what are you doing in the community?"
The women say social media activism alone is not enough. Black Lives Matter is not a moment. They say it is a movement. And movements require constant attention, study and reflection. For a white person who has never had to come to terms with white privilege, discussing racism and bigotry, the time is now.
"People were doing things on social media because they saw it was trending," Mesfin says. "But this is not a trend, this is our lives."
For someone who has never protested, Black or white, trying to find a place in the revolution for equality and justice can be confusing and uncomfortable. The group says it's OK to be uncomfortable, but the goal should be to constantly work to improve the lives of others, wherever that may be. Lawyers have offered services pro bono. Some people have passed out water and milk at protests. And many have donated money, collected supplies and provided necessary support over the last month.
It's become far too easy to give in to cancel culture these days. A person could tweet the wrong opinion and be jobless by the next day. On the flip side, the sort of public shaming for not having anything to say in regard to George Floyd's death and the BLM movement has become just as critical of a piece of dismantling systemic racism as physically taking to the streets to protest.
Often, rhetoric gets thrown around in the academic space about accessibility, education, "doing the work" and "organizing efforts." While those buzzwords and phrases are important, the women emphasize how anyone, regardless of educational background, is useful in demanding justice and equality. They note that while they organized the protest and galvanized the city to spring into action last month, they never set out for notoriety. Still, these four women planned, organized and executed the June 7 protest. This is important, especially as several people attempted to take credit in published news articles and photographs about the effort. It's an example of the type of erasure of Black and Brown women that is prevalent.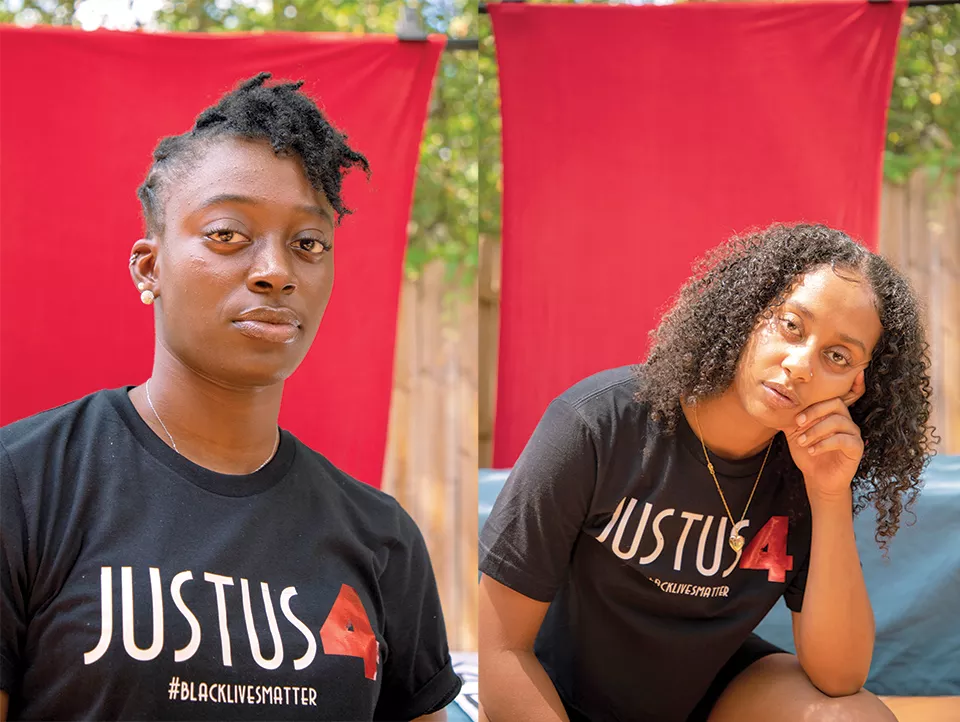 NYARA WILLIAMS
Brooke Jones and Bersabeh Mesfin.
"We dealt with that a lot," Jones says. "It was a constant fight with a variety of men trying to take the lead or organize when we are the organizers. We really combated that by putting our foot down and being stern. When the protest happened, we weren't ready to disclose who we were, but some of the men helping us were. We saw a variety of articles giving them the credit for what we worked eight days, night and day, to do. It was insulting, because at the end of the day, they know they aren't the organizers."
The American public is familiar with the power players in the fight for Black liberation in the U.S. The same recognizable male names have been prominent in the resistance for years. But these lives overlap with women in the movement too: Angela Davis, Bree Newsome, Johnetta Elzie, Brittany Packnett, Marsha P. Johnson and many more.
Jain-Poster, Jones, Mesfin and Crittenden believe that while Black lives matter, they won't matter until all Black lives matter; that includes people who are disabled, transgender, queer and so on.
"I feel like the Black Lives Matter movement within itself is a bit misogynistic," Jones says, "and that's why, as we led chants and spoke, I made it a point to say the names of women and trans women who are suffering from the same things but do not receive the social media attention or recognition just because they are women. Yes, Black men are experiencing these problems, but so are Black women. If we're gonna talk about Black lives, let's talk about all Black lives."
Looking back on their June 7 protest, these four activists are pleased with the outcome — motivating fellow St. Louisans to be part of something purposeful and historic. On Facebook, people were energetic and have asked the group to continue organizing peaceful protests. And so they have. Their next protest is scheduled for July 12. The women say that organizing the Protest Against Police Murder at a critical time in the U.S. showed them true humanity.
"St. Louis is an extremely divided, segregated city, but on June 7th, we were one," Mesfin says.
The way she, Jain-Poster, Jones and Crittenden see it, an entire movement was born out of the desire to get people to just do something positive.
And so the people marched. They wore masks and handed out water. They moved cement blocks for people who are disabled and mothers with strollers. They took to the streets in the summer humidity during a pandemic. Some offered free legal services. Others collected money for bail funds, first aid and small business reconstruction. The people didn't retreat in fear or join an online book club to quell their feelings of guilt and fragility. They wrote letters and stood on the steps of City Hall with fists raised in the air, exercising their right to live, walk home, sleep, drive, buy groceries, wear a hoodie, jog, play video games, listen to music and breathe.
This is what community looks like.