When you become a refugee, you don't get a moving truck. Instead you gather the few things you can carry. You leave your house, your town and your country, and you depart from those places you hold in your heart with more nothing than something.
There are steps and stops along the way, but when you arrive at your final destination, the south side of St. Louis, the International Institute helps you begin to acquire the building blocks of a life interrupted and then begun again: an apartment, the English language, a card table with hard black chairs.
The International Institute's program lasts about three months. During that time, you begin to find community: others who are or who have very recently been in your position, who might even be from your country. Many share Islam as a common bond, and word of new arrivals gets back to the Islamic Foundation of Greater St. Louis — and in turn, to a woman named Lisa Grozdanic.
Grozdanic works as a task manager for the Islamic Foundation's social services division. She spends much of her time focusing on its House of Goods program, which assists refugees who have passed that three-month mark with the International Institute and are no longer eligible for its continued support.
The concept of House of Goods — or Baitulmal, to use the Arabic — is simple: Give donated items away for free to those in need. It can mean food, baby clothes, furniture, toys, shoes. The recipients don't have to be refugees or Islamic, although they often are.
Grozdanic started working with Baitulmal through her son, who volunteered back when donations were still stored in a room in the West Pine Masjid. Soon after the foundation moved the items into a Tower Grove South warehouse in late 2015, she went to pick him up from a Saturday shift.
"Donations were all the way from one end of the building to the next, and all the way to the ceiling, and only two people were in there sorting through clothes," she says. "When I walked in seeing how much donations they had and how [few] people, I couldn't go home knowing all that stuff was there."
Grozdanic stayed that night until 7 or 8 p.m. and returned the next morning for another all-day organization spree. From there, she says "it basically became my full-time job."
She had good reason for wanting to help. The child of a mother from Austria and a father from the Philippines, Grozdanic grew up in south city. In high school, she met her husband, who came from Bosnia. He'd arrived in St. Louis after living in a concentration camp for nine and a half months. "When he was ten years old, his family had everything in their home," she says. "They went to bed one night, and they woke up the next morning, and they lost everything."
Now, the organization has just undergone its third move in a year: from mosque to small warehouse, and now from the small warehouse to a space almost twice the size. They're aiming to reopen in their new digs by mid-October, so long as leaders can get the zoning permit they need from City Hall.
PHOTO BY HOLLY RAVAZZOLO
Adil Imdad.
Adil Imdad started the Islamic Foundation's social services program in 1997, coming off a master's degree in environmental engineering at Washington University (he'd moved from Pakistan for the opportunity). Bosnians were just beginning to arrive in St. Louis, fleeing the war in Yugoslavia — a country that Imdad hadn't even realized included predominantly Muslim areas like Kosovo and Bosnia. "When they started coming into the city through International Institute, that's what gave me a chance to connect with them," says Imdad, now the chairman of social services for the Islamic Foundation.
Imdad and his friends began to organize, arranging to help with payment for refugees' utilities, rent, small medical bills and medication. Around the city, five medical and dental clinics run by the Muslim community were opened to refugees at no cost. Two doctors assisted with psychological services — and anti-depressants for those who'd arrived traumatized.
Imdad took inspiration from a story in the Qur'an about Mohammed, who almost fifteen centuries ago opened the first house of goods in Medina. It was a room or small warehouse where those who were more well-off would keep food and oils and slaughter animals for those who couldn't otherwise afford it. "He was a man of great charity — he would keep very, very little for himself," Imdad says.
Dzemal Bijedic, the state's first Muslim police chaplain, spurred what would be House of Goods' first wave of donations with a Facebook post late last summer, he says. He meets refugees through his work with the St. Louis Metropolitan Police Department, interacting with families and learning about their needs.
When the donations came in — and kept coming in — Baitulmal opened an independent location in November 2015: a warehouse, formerly an old motorcycle shop, in Tower Grove South.
The mission broadened.
"When the House of Goods started, they were helping refugees, and my theory was to help anybody, not refugees," says Muhidin Gamut-Socoro, who until recently was the manager at House of Goods. "I didn't focus on all Syrian refugees or Somali refugees or ethnic refugees — no. Refugees and anybody who's living in the poverty in America, because we do have people living in the poverty situation and they need help. Why should we restrain to give them any? When you have it, you should just give it for free to those that don't have it."
The goal is to "help out humanity," Imdad says. "That includes any religion on this earth. We have never said no to anybody. The preference is for refugees, but if you're needy, come on in. We'll help you out."
Still, the people being served remain predominantly refugees. They hear about Baitulmal by word of mouth, through shared classes at the International Institute or through the community surrounding the Islam Foundation. Grozdanic also finds new families through the institute — those who have given permission for their contact information to be given out — but "mainly we find them on our own or they find us," she says.
Those who aren't refugees come to House of Goods mostly through organizations they're partnered with, including Gateway Corrections. "They bring their clients to us so we can help them reestablish their life," she says.
Almost everyone involved with Baitulmal has a lot going on in their lives outside the organization. Bijedic works 3 to 11 p.m. as a chaplain. Imdad is a chaplain too, for the county police department. In 2014, he started the first Muslim funeral home in the state to provide free funerals for families who could not otherwise afford them (they pay only the cost of the grave site). Grozdanic, whose sister also volunteers with the organization, has a two-and-a-half year old with a heart condition. Gamut-Socoro's wife is going to school, so he's responsible for providing for their two children as well as his 86-year-old mother. In late August, he left his position at House of Goods, cutting his hours with the organization to a once-a-week volunteer basis to make room for a new job as a front office clerk at a hotel that would better support his family.
But they can't stand back when a huge community needs their help.
On one visit in May, the warehouse could best be described as teeming, with the space — around 2,000 square feet, according to Bijedic — packed with people and donations. Given the resources of the organization and the volume at which goods were arriving and being sorted on the sales floor, triage seemed to be the order of the day.
The action isn't only at the warehouse. Volunteers and employees gather donations from around town. They'll also pick up people who need to make a "shopping trip," and, after they select items at Baitulmal, drop them off at their homes. Many new refugees don't drive, after all.
"We have expanded a lot now that we're becoming very well known in the community — not just in the Muslim community but the whole community," Grozdanic says. "With all the new refugees coming, we're always busy; we're constantly on the go; the phones are always ringing ... thank God we're receiving so many donations; it's amazing."
PHOTO BY HOLLY RAVAZZOLO
As a St. Louis native, Lisa Grozdanic can navigate the city in ways that are alien to many immigrants.
On a sunny Tuesday in mid-August, Grozdanic, wearing a head scarf and cheerful pink blouse, drops in on the Shaker-Saleh family, who came to St. Louis from an area of Syria that borders Iraq in July 2015. They live on the top floor of a duplex in Bevo Mill. It's much different than their first apartment in the city, which was on a rough stretch of Oregon. They moved after just three months, once their time with the International Institute was up.
Thirteen-year-old Goran, the younger of the family's two children, opens the front door with a big smile. On the landing leading up to their flat are cubbies for shoes before the final ascent up to their door. Goran opens it to reveal behind him a beaming Amina, his twenty-year-old sister. Bubbling with excitement, Amina and Grozdanic embrace like relatives at the holidays after a long separation.
There is a spacious living room, and Amina, Grozdanic and the siblings' mother, Samila Saleh, settle in an L-shaped Arabic-style sofa with flat cushions on the floor. The room also has another Western-style sofa that Goran perches on. Later, Mohammad Saleh will join and sit quietly in an armchair in the front room, smoking a cigarette.
The Shaker-Salehs are one of the first families who have been with House of Goods since the warehouse opened last year, which means they've spent a lot of time with Grozdanic. "So much so now that we all love each other and look at each other like we are family," she says.
The organization is responsible for the vast majority of what's in their apartment, and now they give back to the organization in turn: Amina visits families with Grozdanic, acting as a sort of interpreter, while Goran and his father volunteer at the warehouse.
Grozdanic is recently back from vacation in Florida, and Amina says that the separation felt like a year, even though Grozdanic video-conferenced with the entire family each night she was away.
"I say, 'Lisa, what day are you back?'" Amina says, laughing. "She say, 'Maybe tomorrow, maybe today.' I say, 'Every day you changed. Why do you change? No more ... back please!'"
When she was living in Syria, Amina was studying to become an Arabic language teacher. Her plans have changed now that she's in a place where Arabic isn't widely offered as a language, much less in the context of a teaching program. But she's looking to community college, and after that, her hopes are set on medical or law school.
The family dealt with culture shock upon arrival. They'd heard there wasn't a Muslim community here — nowhere to pray, no facilities or programs. But Amina says that it's been easy to bond with the community. Ramadan is a time that naturally brings people together.
One of the biggest hurdles for refugees, Grozdanic says, is the dissonance between the America they heard about — a Hollywood-glazed, romantic one where the path to resettlement is easy and the poetry writ under the Statue of Liberty looms large — and the America they arrive in. For those yanked out of everything familiar, who would not necessarily have left their homes but for the crisis driving them out, and who are dealing with the psychological repercussions of that jolt, the on-the-ground reality exacerbates the culture shock.
"Probably every home visit that we've ever gone onto, most of the mothers are crying because ... I guess because they're painted a pretty picture, that when they get here they're going to get this and they're going to get that, and when they get here, they get a very small apartment with table and chairs," says Grozdanic.
She and Amina visited a woman who had recently arrived from Jordan. "The first time I met her she was crying and screaming, 'Send me back to Jordan, please!'" Grozdanic says.
"She say ... 'I don't like living here. Everything bad,'" adds Amina.
Grozdanic's goal is to help them understand that the first apartment is just temporary. "You're safe here," she tells them, asking for patience. "You have a bed to sleep in. If you're sitting on the floor, OK— they'll get everything they need slowly."
Amina also helps new arrivals bridge the culture shock. She explains to refugees taking stock of empty apartments and navigating new systems what her family had when they came — and what they have now.
"Amina gives them the example of [her family's] life," says Grozdanic. "How they first moved here and how they didn't go out of the house, and how they didn't want to eat anything, and how they were so confused."
The woman from Jordan received items from House of Goods in the two weeks since Grozdanic and Amina's first visit. "She was hugging me and kissing me," says Grozdanic. "Thanking me. It was totally different."
Younger refugees tend to be Americanized fairly quickly upon arrival, she says. Amina and Goran are great examples. Amina spoke very little English when she arrived, Grozdanic says, but now look: She acts as a translator.
Goran has crossed cultural bridges in other ways: When he speaks English, his soft Syrian accent is now tinged with vowels pronounced like an English-speaking Bosnian. "I can tell the difference from first meeting them to seeing them now, talking with them now," Grozdanic says.
PHOTO BY HOLLY RAVAZZOLO
Muhudin Gamut-Socoro recently quit his job as manager of House of Goods to earn more for his family. But he continues to volunteer.
Gamut-Socoro came to St. Louis in 1996, fleeing the civil war that devastated Somalia in the '90s. His father was a political activist who'd visited the United Nations in New York in the 1950s. When a general staged a coup in Somalia in 1969, he went into exile in Uganda. Returning to Somalia a decade later after the Ugandan government was toppled, Gamut-Socoro's father was placed on house arrest and stripped of his passport. He never returned to politics but found success in business instead.
Gamut-Socoro was seventeen when he arrived in the U.S., among the first Somalis to come here as refugees. His family came on a Boeing 747 with around 500 refugees in total, he says.
"We thought all of were going to be in one state, something like that," he says. "When they landed us in New York [at] JFK, they separated us into different groups. I think they gave us color groups. Either blue, red, green, and we didn't know what the color group [meant]. We came to find out they were taking us to different states. Some family ended up in Minneapolis, Ohio, San Diego and other states. We were so confused at the time."
Although the majority of his extended family was split up between cities and states, officials kept Gamut-Socoro's immediate family together, placing them in St. Louis. The International Institute sponsored his family — one of only seven or eight Somali clans in St. Louis at the time — during those first few months.
Few Muslims lived in St. Louis then, and few organizations outside of the International Institute existed to help them.
"When we came, we didn't have the House of Goods," Gamut-Socoro says. "I wish there was something like that at the time we came because I was lost." His family, though educated, didn't know how to walk him through the next steps of adulthood in a completely new culture. "Nobody was there to guide us," he says. "Nobody told us, 'You need to go to college. You only graduated from high school.' Or, 'Let's find you a way to the best opportunity.'"
Gamut-Socoro worked multiple jobs to support his parents and siblings, trying to carve out something for himself, too, along the way. His father's health was too poor to work, and his mother was torn between staying at home to care for him or going to work and putting her husband in a care home — something that isn't done in Somali culture.
He started working at the Society of St. Vincent de Paul thrift store, eventually getting promoted to the central office, where he worked with a "bunch of nuns," he recalls. They called him "little Mo."
"I was the only black guy working with the Caucasian women," he says, laughing. "They were treating me like their own kid. Honestly. They loved me so much, so they were bugging me more about school, and I had to change my life. Nobody did that." The nuns helped him enroll at St. Louis Community College-Meramec, where he began taking computer courses before enrolling at New Horizons St. Louis, where he added business to his studies. Nine years after starting his job at St. Vincent de Paul, he began working in the hospitality industry, where he finds himself once again.
Thinking of his years as a young man, he turns solemn: "It kind of hurts me, because I wasted a lot of years in my life before I end up going to college."
Maybe, he thinks, this work with House of Goods is the reason he's here. "I myself believe there was a purpose in my life, that's why I am doing it and what brought me to that situation," he says. "Because before House of Goods opened, I never thought about it. I was hired for something else: I was working as a funeral apprentice."
The outreach is critical. Many of the Somalis who Gamut-Socoro came over with, he says, have ended up in trouble — drugs, alcohol or crime. "Because nobody was there to guide them," he says.
Like Gamut-Socoro, when the first Bosnians arrived in St. Louis, free storehouses like House of Goods didn't exist: Beyond the basics provided by the International Institute, refugees sometimes found themselves looking in alleyways for discarded furniture, says Grozdanic.
Today, they remember what it's like to go three or four months without couches or the things that make a house a home. Now many Bosnians dedicate their time and resources to helping the new waves of refugees coming through. Three months ago, Imdad says, a Bosnian guy donated a whole palette of frozen salmon.
"The Bosnian community helps House of Goods a lot — and when I stress 'a lot,' it's because they were coming from war-torn countries and they know how it feels to come to the U.S. and not have anything," says Grozdanic.
And the refugee families that have arrived recently enough to benefit from House of Goods are already giving back — those who live close enough by or have transportation to get there, that is. "Syrian refugees see what they came from and what they didn't have and now what they have, and now they share it with the other Syrians," Grozdanic says.
Word has caught on within — and outside of — the St. Louis refugee community. Seven months ago, Detroit's police department sent two palettes of noodles and non-perishable food. Non-food donations, especially those not covered by standard government assistance, like baby clothes, washers and dryers, and cutlery — are welcomed as well.
They rely on the community not only to find new families to help, but to find leads for specific items. Social media plays a huge role. Whenever they've posted a request for a lead, they've procured the item within 24 hours, Grozdanic says — every time. "We all come together to try to figure out when someone's in need of something, we always try to find it," she says.
One donation that's especially useful is halal meat, which is slaughtered in a certain ritual. "They don't sell that in everyday grocery stores," Grozdanic says.
Grozdanic's phone is almost constantly buzzing as she dashes between the homes of those who are resettling. When refugees first get to St. Louis, usually while they're in the International Institute's program or shortly after it wraps up, she'll do a home visit. She finds out if the family includes children, and if so, their ages and gender. She brings nonperishable food and toys. More often than not, the children are waiting at the windows for her arrival.
As the only employee of the organization who was born in America, Grozdanic occupies a special —and highly valuable role — with Baitulmal. "I'm so proud of having Lisa as a sister because she's actually born in St. Louis, raised in St. Louis, knows a lot of the things that I would be confused," says Gamut-Socoro. Even twenty years after arriving, he says, some aspects of the city are a mystery to him.
But as the only woman employed by House of Goods, Grozdanic's gender is perhaps even more valuable. It's easier for some women, especially those who have been through trauma, to connect with her.
"I cannot go to a woman who's been traumatized from a war," says Gamut-Socoro. "I don't know what she has seen, or what she has been through, and it would be very uncomfortable just speaking to a guy."
The same day she visits the Shaker-Salehs, Grozdanic visits Fairview Manor, an apartment complex on a lightly industrial stretch of Morgan Ford Road. Inside a second-floor apartment, a twelve-year-old girl is bustling about in the kitchen as her nine-year-old sister stays close by. The apartment is jarringly dark compared to the bright sunlight outdoors.
Their mother, Farhiya Hassan Ali, is paralyzed from a 2011 accident. She sits on one of the International Institute's black chairs in the living room. The family came from a refugee camp in Kenya, where they lived for seven years before being placed in this apartment by the International Institute. It also provided the family with beds, a card table and chairs, and kitchen supplies — the building blocks for a new life.
With limited funds per refugee, the Alis wound up in a neighborhood where, Grozdanic says, Ali's children weren't safe to play outside.
Once their three months with the Institute began to draw to a close, Grozdanic began searching for a new apartment in a good neighborhood, trying in vain to find a unit on the ground level. At least this one had been newly redone, and the neighborhood seemed much better to Ali.
"Now I feel good, and I feel very safe," she says. In their former neighborhood, she adds, "I feel very alarmed."
At the time of Grozdanic's visit, they have lived in this apartment for two weeks. The twelve-year-old does the cooking and cleaning. She put up the curtains that are fastened over the apartment's windows all by herself. Their colors and patterns give the apartment warmth, but without a rod, the panels can't be swept aside to let in light.
Grozdanic visits this family often. Her closeness with Ali and her children is evident in their familiar tones as they talk.
"I am thankful for them, they help me a lot... every day calling me, asking me whatever I need," Ali says. All of the furniture in the room — the two comfortable sofas, the tables and the TV, and even the cable box that Time Warner workers later come in to install — comes from Baitulmal. The family's bills are being paid by the Islamic Foundation via donors until Ali's disability allotment from social security begins to come in. For now, Ali has been approved for food stamps and a cash benefit — the latter of which will be cut off when social security checks begin arriving.
She recalls the privations of the refugee camp. "They asked me, 'Mama, even I want something like this,' and I don't have money to give them," she says. "But now ... I can give everything because now I give to my kids a lot of toys. I give them everything they need ... I'm happy to stay here and to get everything to give my kids. Even I feel good, the kids are happy, and I feel good for that."
It's also the other things, the how-tos of life in a strange country — especially one where the language isn't your own — that Grozdanic helps Ali with: how to pay bills and rent, how to sort out which mail is junk and what's actually important. Today, there's a question over how to pay the gas and electric bills that arrived while Grozdanic was in Florida.
"With her, it's more of a special case; normally I wouldn't go this far out of my way," says Grozdanic. "When you walk in, and you see a twelve-year-old girl standing on a chair, trying to make food for her family — I mean, it does something to you."
Tomorrow is the first day of school for Ali's daughters, who don't yet speak English. They have brand-new backpacks, two of 77 that were donated to Baitulmal and filled with supplies. So far, their only interaction with other children has been during Ramadan, when the Islamic Foundation provided transport to the local masjid, and at the Koran class they attend there.
A bus will pick them up tomorrow morning to take them to their new school, the Nahed Chapman New American Academy off Grand. Most of the city's other refugee children are enrolled there as well.
While they're at school, Ali wants to look into beginning English lessons. Her English, learned from American movies and television, is already very good, though she hesitates with long sentences. She's nervous she'll say the wrong thing.
With new families, Grozdanic frequently warns them how quickly their three months with the International Institute is going to go. "My suggestion to all of the families that I meet is that you don't waste time," she says. "The time is going to fly by, and you're going to be on your own, and you're going to have to pay for everything."
She also listens to the needs they have, from clothing to furniture to toys. Children are still children, after all — refugees or not.
"Making the children happy, that's what does it for me," she explains later.
Bijedic regularly posts on his Facebook page about his experiences going to visit and connecting with refugee families — he met the first Syrian refugee to arrive in St. Louis last September.
"In law enforcement chaplaincy you see all kinds of things happening in the streets, but every night you pass each street there is a story of people that live in these neighborhoods," he posted last October. "I found out just saying hi or how are you to the people that live in different neighborhoods makes a huge difference them.
"Today before going to work I visit an Iraqi family of six that [has] been in STL for almost a week; as soon I came at the door kids were jumping from happiness because I was carrying boxes of different items such as clothing, food items and other stuff that people donated. After that they started following me to my car and said thank you so many times."
PHOTO BY HOLLY RAVAZZOLO
Volunteers keep House of Goods hopping.
The warehouse is not just full of goods. House of Goods is a hub, a meeting place for an exchange: of needs and vulnerabilities, of information and strands of hope, of language and religion, of stories and frustrations.
There's that saying about how you can either give a man fish or teach him how to fish (he's much better off with the last one). Like so many other parables, a version of it exists in Islam, too: The Prophet Mohammad has a beggar bring him his only two possessions, a bowl and a scrap of cloth, and sells them. He gives the beggar the two dirhams from the sale — one for food, and one for an axe — and instructs the man to gather firewood to sell it. The man earned ten dirhams over the next two weeks, enough to buy clothing and food.
A similar mentality runs through Baitulmal as well. A dresser or a bag of rice or baby clothes will satisfy an immediate material need, but the larger challenge is helping new arrivals read the cultural, bureaucratic, social and economic map that will allow them to, eventually, provide those things for themselves.
On August 31, the U.S. reached its goal of admitting 10,000 Syrian refugees this fiscal year, which ends September 30. As of the beginning of this month, a total of 313 of them have settled in Missouri, with 218 of those in St. Louis.
Besides the Syrians, the city itself has taken in an additional 348 refugees in the last eleven months: Afghanis, Bhutanis, Burmese, Colombians, Eritreans, Ethiopians, Iranians, Iraqis, Congolese and one refugee each from Cuba and Pakistan.
That's a lot of people to help, with many different needs, and House of Goods made a critical decision. Just one year after moving into the warehouse, the Islamic Foundation's board agreed to purchase a larger warehouse at an industrial storefront at 5911 Southwest Avenue, just off Hampton Avenue. The space is almost double the size of the old warehouse, clocking in at 3,500 square feet.
The financial commitment wasn't an easy one, says Gamut-Socoro — after all, they're not making a profit and bills need to be paid. Bijedic says the asking price of the building was around $150,000.
The hard work of transporting goods from the old Baitulmal to the new one took place over Labor Day weekend. The grand opening was slated for October 16, but as always when it comes to large projects, there's been a hang-up: After passing inspections and thinking all was smooth sailing, they found out from the city on September 9 that they needed a different zoning classification in order to move in, Bijedic says.
And that, of course, involves a hearing. It's been scheduled for October 13, just three days before they'd planned to open their new doors.
Bijedic immediately spread the world to other community organizations House of Goods has close ties with. "They said that they will came to the hearing for support," he says. "Some of them were shocked when I told them about the issues."
In the meantime, employees and volunteers are hard at work fixing up the new space and installing the shelves that will hold the free wares. In the meantime, the old warehouse is still open on the weekends for receiving donations. After all, there's always people to help — red tape or no.
"I'm not going to stop helping people," says Bijedic. "I will find another way — there is a lot people that are in need."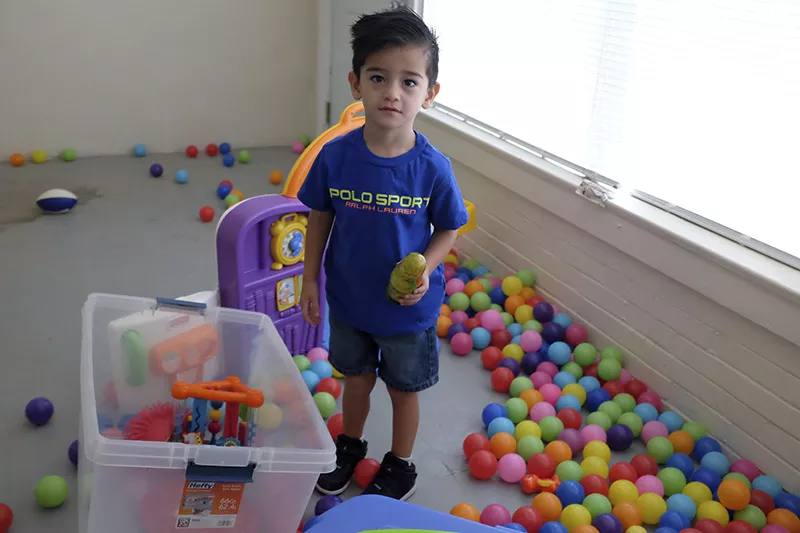 PHOTO BY HOLLY RAVAZZOLO
Community members donate everything from food to furniture to the always popular toys.