Hot Teabagging Action at Kiener Plaza
To put it as accurately as possible: a bunch of people against a bunch of stuff hung out at Kiener Plaza. Here are the best signs spotted.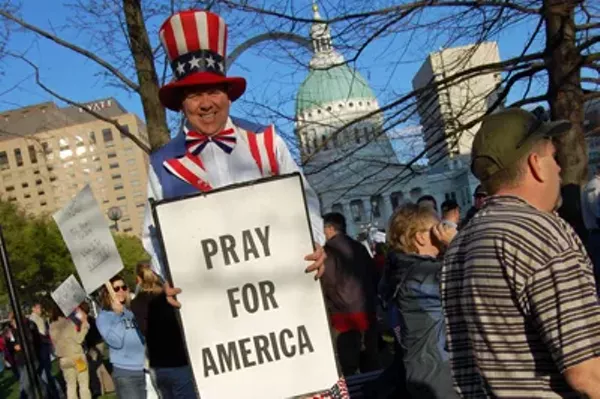 Uncle Sam, perhaps unfamiliar with the First Amendment in his directive here.
When asked about her headdress, this woman said she wore it because she felt like the current state of America is similar to the Trail of Tears, the relocation of 15,000 Native Americans.
Though there were not as many teabags present as the
tea party in February
, a few people still were willingly tea-bagged.
Maybe his "The End is Near" sign is being repaired.
When asked who he'd like to see run for the presidency in 2010, this man was unsure.
Not all cigarette smokers are good spellers, it seems.
This sign really hits you in the gut.
Maybe the best play on words spotted.
Perhaps a Rush Limbaugh fan? Cigars were prevalent at the Plaza on Wednesday.
A couple with stellar homemade signs.
Take that, Mr. President.
This guy is really short. Just kidding, don't shoot! (He's sitting down.)
Hands down, the biggest sign of the rally. They were not sitting in the front row.
Have you seen this Constitution?