A week before Christmas, Isaiah Matthew Harris had a procedure known as laryngoplasty to repair a paralyzed vocal cord. The 31-year-old musician had undergone open-heart surgery as a teenager and spent two weeks intubated, and the paralysis of his right vocal cord was a byproduct. A guitarist, music instructor and aspiring musical therapist, Harris has spent his adult life engaged in musical pursuits but without full use of his voice; the laryngoplasty, he tells me ten days after surgery, was successful and he hopes to make a full recovery.
His latest release dates back to a month before the surgery. Harris had dropped by Dan Mehrmann's Jettison Studios for an informal visit; Mehrmann wanted some feedback on his new Dropkick the Robot tracks, and Harris thought he might demo some songs while at the studio. Mehrmann set up a few mics, and the simple recordings — classical nylon-string guitar and sandpapery voice — are collected on the sparse, seven-track Live at Jettison Studios. Harris has grander aspirations for some of these songs — full production, multi-tracked vocals — but the fact that these recordings took place right before his vocal cord surgery is no mistake. "Part of it was fear, for lack of a better word," says Harris. "I wanted to make sure it was archived for my own purposes if nothing else."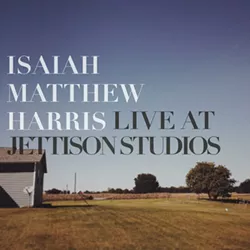 He sings about the procedure on his new collection, but it's hardly surprising fodder for his style of songwriting — and not just because he's a singer. Harris sings about damn near everything on this seven-song, sparsely produced EP, with a documentarian's eye and a diarist's pen. The first song on the collection gives this away by title alone: "Today, I Bought a Guitar" is exactly as quotidian as it appears — recounting day-to-day facts as they might appear in Harris' day planner. If he weren't such a talented finger-style guitarist, you could take these songs as a kind of outsider art, stream-of-consciousness lyrics and all.
But the twist he gives to these songs is to seek grace and beauty in seemingly insignificant interactions. "It works in different ways," says Harris. "I'm trying to find poetry in the mundane and the banal. For the most part, I'm trying to approach every day and experience with reflection and observation."
After a few failed projects with other members and some laptop-based recordings, Harris sought a more direct route to gigging and performing around town. He mentions local artists Eric Hall and Travis Bursik as instrumentalists who are able to use electronics in an immersive and engaging way, but Harris saw his own limits with that kind of hardware. "I don't want to perform with machines; I want to play an instrument," he says. His desire to perform led him to embrace the singer-songwriter persona, though his lyrical approach is knowingly untraditional. "I don't want to write songs that are cliché," he says.
So perhaps it's not surprising that, on his first outing, many of these songs ruminate on Harris' own artistic aspirations. In "I Met Rodney in Chesterfield Valley" he graciously turns down an offer to tour with a few friends to focus on his own compositions. "Mark, You're My Hero" is a love letter to Mark Kozelek, the Red House Painters and Sun Kil Moon leader. "I'm pretty much ripping him off," laughs Harris. "He sings very documentarian kinds of songs." (Given Kozelek's combative and often pig-headed public persona, this song is a rare note of support.) Harris' close, breathy performance, ornamented by the gentle filigrees of his guitar playing, belies a closeness to Kozelek's craft, Pitchfork headlines and hand-wringing op-eds be damned.
Harris' own role in the local community is an open question, and one he addresses on the EP. "Oh, Cherokee" takes a jab at that street's hipster pretensions while admitting an attraction to the scene. "Cherokee is obviously the center for the arts and this harboring of all this talent in different media," Harris says. "But it does sometimes feel exclusive."
Much of the charm on Live at Jettison Studios comes from Harris' free association and seemingly tossed-off lines, but a few songs show traces of more careful craftsmanship. "When My Father Went" is a standout in that regard — not solely for the heaviness of its content but for Harris' own honesty and emotional incisiveness. The song, like many here, scans as a diary entry or a brief but loaded vignette. When he sings of inadvertently tying up his home phone line with a 2002-era modem to surf the Internet — thus blocking the call about his father's passing — he hits Sufjan-esque levels of family history, decades-old guilt and scene-specific detail.
"I was seventeen when my dad died — he died of pneumonia, but he had some form of dementia," says Harris. His father was a Navy veteran, a math teacher and a marathon runner — "a man's man," says Harris. "But in about a year and a half he withered away as this disease took over his brain."
He calls the song "cathartic, for sure," and a tribute to the man who bought him his first guitar and encouraged any pursuit the young Isaiah lit upon. "That song is something that will never own up to that influence."
Harris is convalescing well after surgery and hopes to resume performing and recording in spring. When asked if he's worried that the procedure may have changed the quality of his voice, he admits to some trepidation.
"A friend said, 'Don't get rid of too much gravel; that's your signature!'" says Harris. "It's a little nerve-wracking to think that that special thing might be gone. But even if the sonics change, the spirit is still there."

Listen to the album in its entirety below: