Page 3 of 3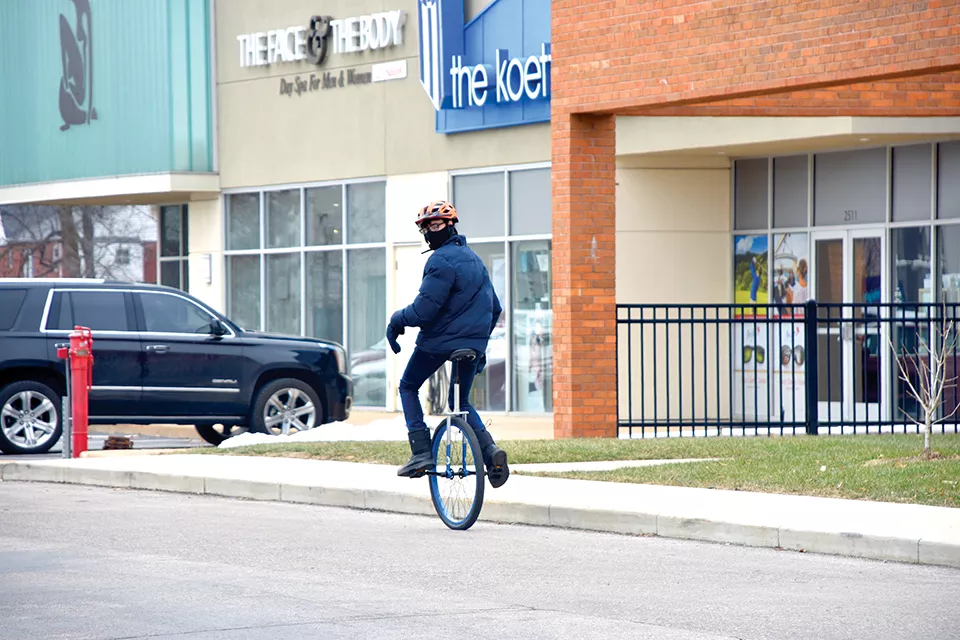 DOYLE MURPHY
"It's the only way I get around, whether it's raining, snowing or a tornado siren is going off," Austin says.
Austin can do it so easily now.
He stands the unicycle on the ground in front of him, rotates the frame back slightly and then springs forward onto the pedals, gliding onto the seat above a 26-inch wheel. He wobbles momentarily and then quickly gains control.
For beginners, the fraction of a second it takes to climb onto the cycle is the hardest part. It is a mixture of strength and finesse, a rapid but precise movement on a hopelessly unstable perch. Think about jumping onto a basketball and standing there on one foot. It is harder than that. Even veteran riders will skip the so-called "free mount" and instead balance themselves against a railing or wall before pedaling away.
For Austin, "it just feels natural to me," he says.
He nearly wore out the twenty-inch cycle his mother bought him for Christmas in 2017 and has upgraded to the larger size. He rides to work. He rides for fun when he is off work. He rode it at the Logos school talent show.
"There are times he's left at 8 o'clock in the morning, and I don't see him until 4 or 5 at night," Laurie says.
As word of Austin's prowess on the cycle spread, a St. Louis circus group reached out to see if he would be interested in trying out for a job. But Austin prefers to ride on his own terms.
"I'm not ever dressing up in a clown costume and riding a unicycle," he says. Besides, he has a job.
On this afternoon, he cruises east and then south, chugging uphill along his familiar route to the Schnucks. He will sometimes carry a small speaker with him, synced up with his phone to play the sound of an engine revving — a little joke he plays on bewildered onlookers. He cuts through a bank parking lot and pedals along the front of the Brentwood Community Center before veering onto the sidewalk that parallels South Brentwood Boulevard.
DOYLE MURPHY
Schnucks in Brentwood is Austin's social hub.
He arrives in twelve minutes at Schnucks, slips off his unicycle and carries it with him through the automatic doors. First stop is the display where a chef doles out samples of sausages.
"When are you going to get a 30-inch?" the chef asks, smiling as he gestures toward the cycle. Austin pauses briefly to chat, compliments the man on the tasty samples and keeps moving. He quickly unloads his stuff in an employee locker room and sets out on his rounds. He is fifteen minutes early, so he snags a custard-filled doughnut from the pastry case, narrating his routine as he walks in those fast, loping strides.
"This is my favorite cashier," he says, strolling into a checkout line to pay for the doughnut.
"Oh, I'm you're favorite?" the young woman says, laughing.
At home, in the presence of a stranger, he lets his mother do most of the talking, but here in the store he is loose and funny. Buy a jar of Grey Poupon, and he will ask, "Ma'am, did you drive your Rolls Royce today?" riffing on the 1980s commercial. When a box of Uncle Ben's rice lands at the end of his checkout counter this afternoon, Austin looks quizzically at a middle-aged couple and asks, "Are you making this for Spider-Man?"
The husband grins. "I get it. Uncle Ben — Peter Parker's uncle."
Brentwood is tiny, and the store has become Austin's social hub. Everybody has to buy groceries eventually. He says he ran into Hogan Haake, a fellow unicyclist, the other day. Haake, a 40-year-old software engineer from Webster Groves, has been riding since 2006 and now rolls around on a 36-inch wheel. They plan to catch up again soon so Austin can try out the big wheel. "He'll probably ride it better than I can," Haake says later.
Not long ago, Austin's old principal at Brentwood, Dr. Loiterstein, was shopping at Schnucks when he spotted his former student.
"Austin, what are you doing?" he called out in mock surprise.
Building Austin's confidence had been one of the middle school staff's main goals, Loiterstein says later. "Even when he was really struggling, he still had a charisma, and he had this likability." Now, Loiterstein enjoys seeing Austin coming into his own. "It was partly this sense of pride in him, partly this sense of relief." When Austin graduated high school from Logos, his old principal and Brentwood High School's principal, Dr. Edward Johnson, were in the audience to cheer him on.
These days, Laurie and Austin still quibble occasionally, but it is the mundane stuff of teens and mothers. She would like him to clean up more, and she bristles when he swears. She caught him smoking recently. "Augh... Teens!!!" she writes in an email.
But there are also "one-minute hugs" and pleasant evenings at home. He grew six inches during his freshman year at Logos and is no longer the tiny little boy that worried her to tears. She is proud every time he walks out the door with his unicycle.
Austin says he will always ride. He gets a little exasperated with the questions and the stares. Sometimes, he thinks it might be nice if it was not such a spectacle.
"Kind of, but not really," he says, "because then it wouldn't be as special.