The slim figure appears almost ghost-like in the photo.
Perched atop, of all things, a unicycle, he leans lightly against the pole of a traffic signal, waiting for the light to turn green. It is January in Brentwood during one of the winter's worst snowstorms. White-knuckled drivers have already turned on their headlights, even though it is still afternoon as they navigate the slush-slicked intersection of South Brentwood Boulevard and Manchester Road.
And here is this young man, not just outside in disastrous weather, but disarmingly relaxed on his unicycle. His right hand rests comfortably on his thigh. His knees are bent as though he is sitting on a bar stool.
If he had been on foot in the blowing snow, he would have seemed pitiable — some sad sack caught out in the elements. But to ride a unicycle in a snowstorm? It sparks something more like wonder.
The photo was taken by a passing driver named Jane Redington. She was on her way from Clayton to Kirkwood and had diverted off the highway because of the storm. As she inched along Manchester, she was stunned to see the unicyclist.
"Who in the hell rides a unicycle in this weather?" she wondered.
Redington was on her hands-free phone with an incredulous friend, so she waited until she was stopped at the intersection and took a photo as proof.
She sent the photo to the Riverfront Times after she got home, and we put it online that evening with the headline, "St. Louis Hero Unicycles Through Blizzard." It was a little cheeky. But there was something truly fascinating about the image of the mysterious rider, blurry through Redington's slushy car window. He somehow manages to seem completely out of place and entirely at ease. He has a whole storm swirling around him, drivers can barely see, and there he sits in perfect balance.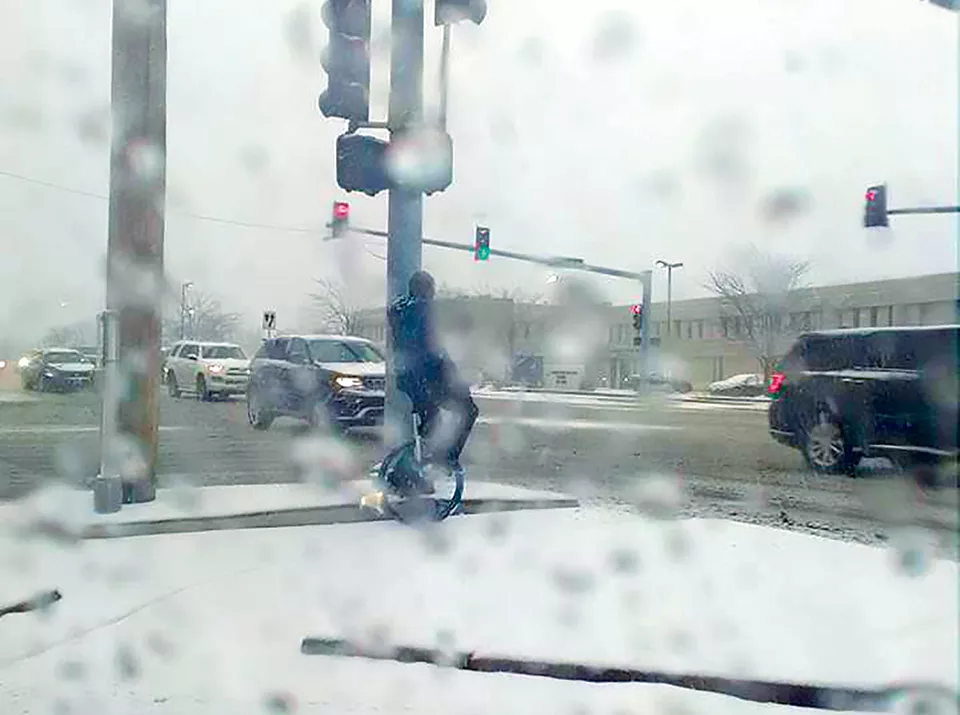 COURTESY JANE REDINGTON
A passing driver took this photo as proof there really was a unicyclist in the snowstorm.
The figure in the photo was instantly recognizable to the unicyclist's friends and relatives.
Eighteen-year-old Austin Calzada cycles everywhere.
"It's the only way I get around, whether it's raining, snowing or a tornado siren is going off," he says.
On the afternoon that he was spotted and photographed, he had been pedaling to his 5 p.m. shift at the Brentwood Schnucks, where he would bag groceries and wrangle carts from across the parking lot. Riding a unicycle alongside busy roads has become such a part of his routine that he barely notices the stares anymore. But this was different. In the days after the RFT article went online, coworkers and shoppers alike began complimenting him on his newfound stardom. Friends of his family called with congratulations.
"Mom, everyone at work says I'm famous on Facebook!" he said, his mother recalls.
Austin is five feet ten inches tall and whip-thin with black-rimmed glasses and brown hair that he wears pushed over his forehead. In addition to the unicycle, he likes Legos and sports cars and sports cars made of Legos. He posts funny YouTube videos and occasionally takes care of stray spiders.
In his early days on the unicycle, Austin was caught off guard by the interest he attracted. There were smart alecks, of course, but he was all too familiar with those types. It was the friendly people who surprised him. Strangers smiled or asked genuine questions. Cops waved.
"I think that was the first time he felt like one of the cool kids," says his mother, Laurie Calzada.
Austin nods his head. "Yeah," he says.
They are in the living room of their Brentwood condo, where Laurie moved her two kids in 2011 during a dark time in their lives. The burnt-orange walls, low lights and comfortable couches give the room a warm feel. It is just the two of them since Austin's older sister went off to college. A couple of house cats, Lucky and Lavender, laze around on the thick, beige carpet.
It is a ride of about ten hilly blocks from here to the Schnucks. Austin, who is autistic, first started working at the store as part of the Summer Work Experience Program, which helps high school students with disabilities try out jobs. Schnucks liked him so much they hired him part time after the eight-week program ended and then increased his hours after his February graduation from Logos, a therapeutic school in Olivette.
It is not hard to see why. The teen says he loves "everything" about the job, and he is unyielding in his commitment. When they planned to visit out-of-town family for Thanksgiving, his mother had to reassure him that Schnucks would not fire him for scheduling some time off.
It was Laurie who bought Austin his first unicycle for Christmas in 2017. He had ridden bikes but never seemed to take care of them. She had a hunch something a little outside the mainstream might appeal to him.
"He's always been a non-conformist," she says.
Austin was immediately taken with the unicycle, heading out in the ice and snow to practice for hours. Within two weeks, he could pedal around his neighborhood. He is fascinated by cars, but that has not extended to actually driving. He walks at the pace of a jog, like he is trying to get it over with as quickly as possible.
"I hate walking," he says. "I don't know why. I just feel awkward, like the world around me is so big, and I'm so small."
On the unicycle, it feels a little more manageable. It has changed his life. He is more independent, more confident, happier.
A business consultant and motivational speaker, Laurie sometimes talks about Austin during her presentations. There are "blessings and curses" to raising an autistic child, she says. It is mostly blessings these days. But there were times when she wondered what would become of him. There were times when she was both afraid for him and afraid of him.
"There was a tear in my eyes for five years every single day," she says.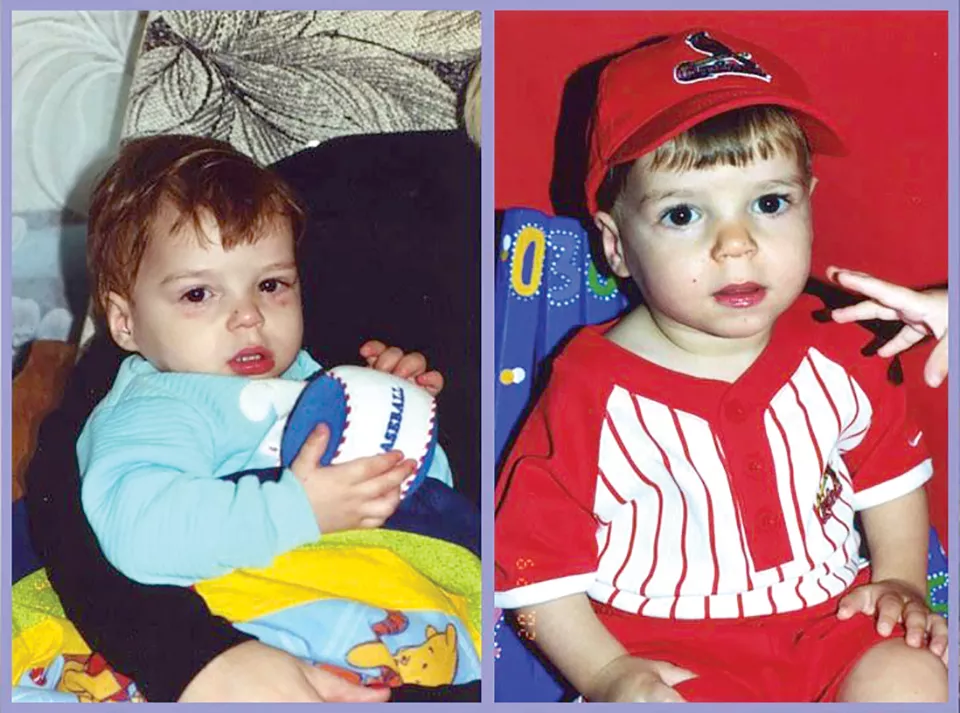 COURTESY LAURIE CALZADA
Laurie photographed Austin immediately after his adoption (left) and again ten days later.
Austin spent the first fifteen months of his life in an orphanage in Russia. Laurie and her husband at the time, Lou Calzada, traveled in May 2002 to the city of Maykop near the Black Sea to adopt the toddler and his older sister. It was a harrowing trip. They expected to be shaken down for bribes, so Laurie says Lou had $7,000 cash strapped to his body in a money belt during the flight across the ocean.
The orphanage was bleak. Laurie recalls babies packed two to a crib in the dingy infant room and a playground comprised of a rusty pipe on a concrete slab.
"It was literally very similar to the movie Annie," she says.
In a picture Laurie took right after the adoption, Austin is sallow-skinned with deep bags under his brown eyes. His older sister, Angeles, was so sick that she was in the hospital when they arrived.
After that stressful first meeting, it was a relief to fly home to the United States. The kids rebounded almost immediately after arriving in St. Louis. In a second photo, taken just ten days after the first, the bags under Austin's eyes have disappeared, and he is so much healthier it is like he is a different boy.
There were still signs of problems ahead. Laurie says she would put him in her lap, and instead of snuggling up, he would immediately roll away to get down.
"You could tell he'd never been held," she says.
She would later learn this was a symptom of reactive attachment disorder, a rare disorder in children who are neglected as infants and miss out on critical early connections with parents. Later, doctors also recognized signs of fetal alcohol syndrome in the boy.
As he grew, he was diagnosed with attention deficit/hyperactivity disorder and prescribed Adderall in the first grade. It was fine at first. But Laurie says she learned later that the combination of the powerful drug and the changing chemistry in boys could have combustible side effects. When he was nine, Austin's behavior suddenly became aggressive and erratic.
"That's when I really saw the highs and lows of the drug," Laurie says.
Austin's mood would swing wildly. He might be calm in the morning and then try to kick the windows out of his mom's car in the evening. Laurie and her husband had separated three years after the adoption, and the kids primarily lived with her. In his fury, Austin would grab knives and threaten his mother, sister or himself. He was tiny — maybe 50 pounds in seventh grade — but Laurie says his anger could be frightening. She recalls waking one night to find him at her bedside, just glaring at her.
"I got to the point where I really thought he was going to seriously hurt me or my daughter," she says.
In 2010, Austin had become so aggressive that he was hospitalized for a week. It turned out to be a major step forward. A neurologist from Washington University helped wean him off the Adderall, and Laurie saw the most aggressive behavior begin to fade almost immediately.
"It was the chemical imbalance," she says of the most frightening times. "It was not Austin."
He was diagnosed with autism in fourth grade. By the time Austin was heading into junior high, the darkest days had begun to lighten. Laurie moved the kids into Brentwood after researching the best school districts for her son — a decision for which she is still thankful.
"Brentwood School District is the best-kept secret in this town," she says.
The middle school's principal, Dr. Andrew Loiterstein, sometimes talked to Laurie six or seven times in a school week as they searched for programs and strategies.
"Some days, he was doing great," Loiterstein says. "Other days, we were trying to micromanage his day minute by minute so he could find some success."
The unprovoked aggression of the Adderall period had subsided, but Laurie says her son still struggled with anger issues. He was socially awkward and sometimes lashed out as he struggled to fit in. Once, he grabbed a saw from the school shop and chased another student. But mostly, it was trouble following rules or navigating the schoolwork expected of him.
Laurie describes the years of late elementary school through middle school as their "journey." Austin required near-constant attention, making it impossible for her to work. Even as he began doing better, issues popped up almost at random. Some of it seems funny — like the time he learned origami and stayed up all night blanketing the floors of the condo in paper cranes. Others were less so.
Laurie and her ex-husband were called into a meeting with the school district because Austin was caught giving other students the melatonin pills he was supposed to take to help him sleep after phasing out the Adderall. Laurie says a former district official at the meeting told them Austin could be expelled. When she described her son's struggles and tearfully pleaded for the district's help to send him to a school for kids with special needs, she says, she was told that little could be done unless he hurt someone or himself.
"That was my real turning point," Laurie says.
Ultimately, Austin was suspended, not expelled. That kept him under the compassionate watch of Loiterstein and his staff for a few more months, but Laurie was terrified. High school was looming, and while Austin seemed to be emerging from the hardest days, it was clear a big public high school was not going to work.
"He was going to drown," Laurie says.
She was not the only one who worried.
"There was this big, vast unknown in terms of what his next steps would be," Loiterstein says.
Then, in Austin's last month at Brentwood Middle School, a school official gave Laurie the number to a psychiatrist in Barnes-Jewish Hospital's behavioral health department.
Desperate for help, she called without knowing what to expect and agreed to bring Austin for a consultation that summer of 2015. Austin spoke to the psychiatrist first, and then his parents took their turn. Laurie laid out their long, painful story, only to learn this was just a one-time visit. It seemed like a total waste of time.
Then she got a call the next day. The hospital had agreed to accept Austin into a program. Not only would he begin therapy with the psychiatrist, he would be assigned a caseworker and educational assistant. Funding would help cover the costs, including medications.
Laurie says she is still not entirely sure what happened, but she is forever grateful.
"That was the day that changed my life," she says.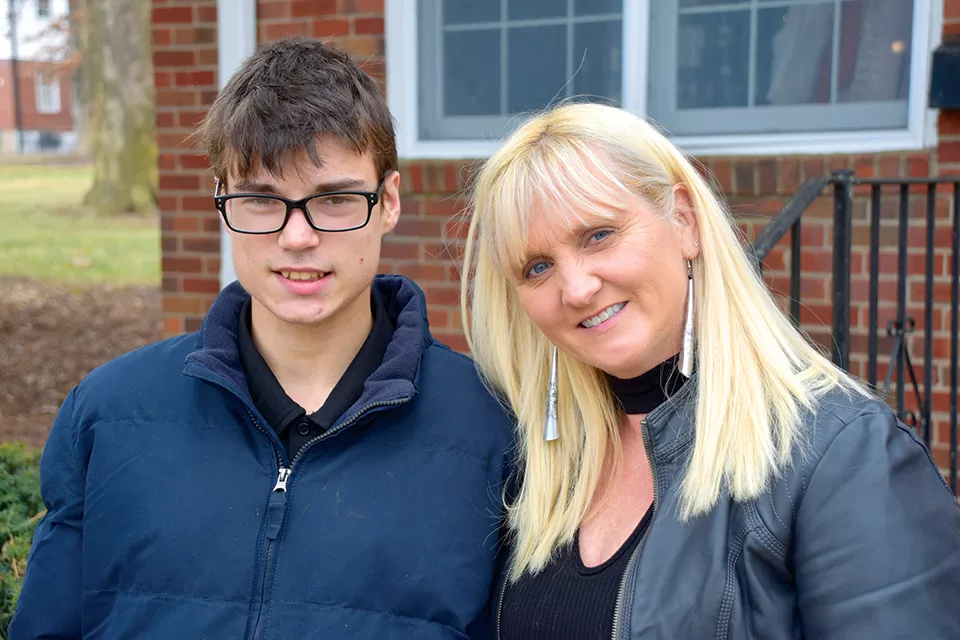 DOYLE MURPHY
Austin and his mother, Laurie Calzada, outside their home in Brentwood.
BJC helped fine-tune his medications, and the first comprehensive psychiatric evaluation of his life revealed bipolar tendencies, along with the autism. He began regular therapy sessions. Laurie could soon see changes taking hold.
Austin's new allies also helped Laurie lobby the school district to place him in Logos. She had filled a file cabinet with her research of potential options over the years, and the private therapeutic school in Olivette seemed like a dream. Designed to address autism along with a wide variety of challenges and disorders, Logos paired each child with his or her own therapist and kept class sizes tiny.
It was also the most expensive of the options available. Laurie and Austin's advocates were asking Brentwood not only to acknowledge that the public school district could no longer provide adequate opportunities as required under the law, but also to pay Logos' tuition.
Austin's future was decided during an intense three-and-half-hour meeting that summer before his freshman year in high school. Laurie and his dad sat around a table of more than fifteen people, including district officials, Loiterstein, teachers, the high school principal, representatives from the special school district, counselors and therapists.
Before they began, they called Austin in and asked him to tell the group what he wanted.
"All I know is I want to be somewhere they understand me and where they'll be nice to me," he said, his mother recalls.
It was so heartbreakingly basic.
"That's all he wanted," she says.
The group ultimately voted to send Austin to a private school — a decision Laurie believes "saved my son's life." The next day, she learned from the district she would get her first choice, Logos.
"I haven't cried a day since," she says.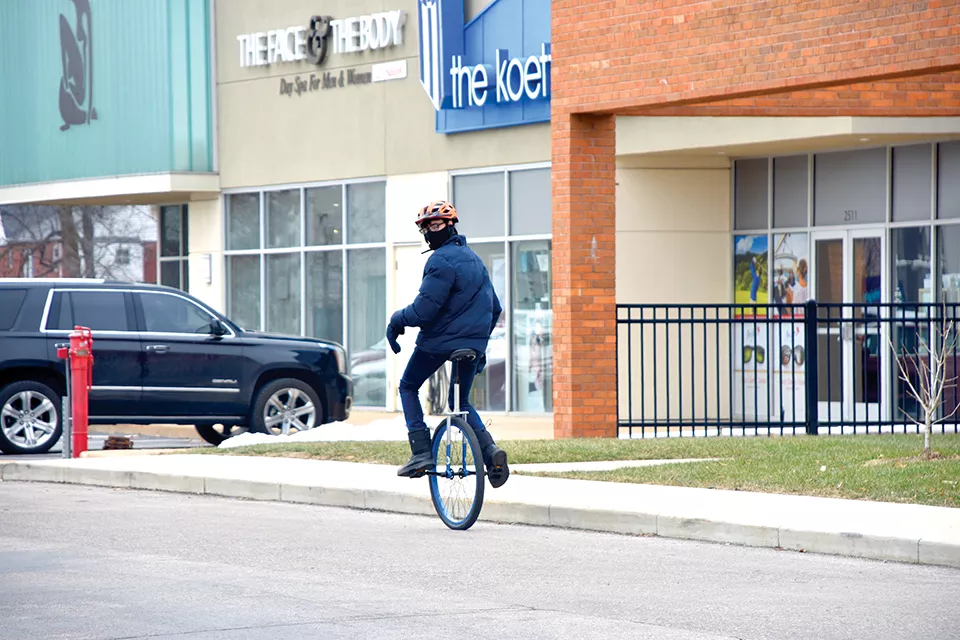 DOYLE MURPHY
"It's the only way I get around, whether it's raining, snowing or a tornado siren is going off," Austin says.
Austin can do it so easily now.
He stands the unicycle on the ground in front of him, rotates the frame back slightly and then springs forward onto the pedals, gliding onto the seat above a 26-inch wheel. He wobbles momentarily and then quickly gains control.
For beginners, the fraction of a second it takes to climb onto the cycle is the hardest part. It is a mixture of strength and finesse, a rapid but precise movement on a hopelessly unstable perch. Think about jumping onto a basketball and standing there on one foot. It is harder than that. Even veteran riders will skip the so-called "free mount" and instead balance themselves against a railing or wall before pedaling away.
For Austin, "it just feels natural to me," he says.
He nearly wore out the twenty-inch cycle his mother bought him for Christmas in 2017 and has upgraded to the larger size. He rides to work. He rides for fun when he is off work. He rode it at the Logos school talent show.
"There are times he's left at 8 o'clock in the morning, and I don't see him until 4 or 5 at night," Laurie says.
As word of Austin's prowess on the cycle spread, a St. Louis circus group reached out to see if he would be interested in trying out for a job. But Austin prefers to ride on his own terms.
"I'm not ever dressing up in a clown costume and riding a unicycle," he says. Besides, he has a job.
On this afternoon, he cruises east and then south, chugging uphill along his familiar route to the Schnucks. He will sometimes carry a small speaker with him, synced up with his phone to play the sound of an engine revving — a little joke he plays on bewildered onlookers. He cuts through a bank parking lot and pedals along the front of the Brentwood Community Center before veering onto the sidewalk that parallels South Brentwood Boulevard.
DOYLE MURPHY
Schnucks in Brentwood is Austin's social hub.
He arrives in twelve minutes at Schnucks, slips off his unicycle and carries it with him through the automatic doors. First stop is the display where a chef doles out samples of sausages.
"When are you going to get a 30-inch?" the chef asks, smiling as he gestures toward the cycle. Austin pauses briefly to chat, compliments the man on the tasty samples and keeps moving. He quickly unloads his stuff in an employee locker room and sets out on his rounds. He is fifteen minutes early, so he snags a custard-filled doughnut from the pastry case, narrating his routine as he walks in those fast, loping strides.
"This is my favorite cashier," he says, strolling into a checkout line to pay for the doughnut.
"Oh, I'm you're favorite?" the young woman says, laughing.
At home, in the presence of a stranger, he lets his mother do most of the talking, but here in the store he is loose and funny. Buy a jar of Grey Poupon, and he will ask, "Ma'am, did you drive your Rolls Royce today?" riffing on the 1980s commercial. When a box of Uncle Ben's rice lands at the end of his checkout counter this afternoon, Austin looks quizzically at a middle-aged couple and asks, "Are you making this for Spider-Man?"
The husband grins. "I get it. Uncle Ben — Peter Parker's uncle."
Brentwood is tiny, and the store has become Austin's social hub. Everybody has to buy groceries eventually. He says he ran into Hogan Haake, a fellow unicyclist, the other day. Haake, a 40-year-old software engineer from Webster Groves, has been riding since 2006 and now rolls around on a 36-inch wheel. They plan to catch up again soon so Austin can try out the big wheel. "He'll probably ride it better than I can," Haake says later.
Not long ago, Austin's old principal at Brentwood, Dr. Loiterstein, was shopping at Schnucks when he spotted his former student.
"Austin, what are you doing?" he called out in mock surprise.
Building Austin's confidence had been one of the middle school staff's main goals, Loiterstein says later. "Even when he was really struggling, he still had a charisma, and he had this likability." Now, Loiterstein enjoys seeing Austin coming into his own. "It was partly this sense of pride in him, partly this sense of relief." When Austin graduated high school from Logos, his old principal and Brentwood High School's principal, Dr. Edward Johnson, were in the audience to cheer him on.
These days, Laurie and Austin still quibble occasionally, but it is the mundane stuff of teens and mothers. She would like him to clean up more, and she bristles when he swears. She caught him smoking recently. "Augh... Teens!!!" she writes in an email.
But there are also "one-minute hugs" and pleasant evenings at home. He grew six inches during his freshman year at Logos and is no longer the tiny little boy that worried her to tears. She is proud every time he walks out the door with his unicycle.
Austin says he will always ride. He gets a little exasperated with the questions and the stares. Sometimes, he thinks it might be nice if it was not such a spectacle.
"Kind of, but not really," he says, "because then it wouldn't be as special.