In the first two minutes and forty seconds of High-Rise, Ben Wheatley's brutal, messy adaptation of the 1975 J.G. Ballard novel, a flash-forward lets the viewer know how the film is going to end, its characters reduced to a level of savagery that the sudden appearance of a "three months earlier" title card doesn't do much to erase. (Lest you think that Wheatley is overdoing the spoiler card, it should be noted that Ballard's novel does the same thing in its first sentence.) As the viewer (or anyone familiar with Ballard's work) has every reason to expect, things start out bad and get worse.
Other directors have brought Ballard's work to the screen, the most notable being David Cronenberg's Crash, but Wheatley, a director whose films seem to start out in one genre but inevitably creep into horror, may be uniquely qualified to draw out the nightmarish elements wrapped in the novel's dark social comedy: His last film, A Field in England, began as a historical drama set in the 1640s and descended into violence and hallucinations, like a blurry mash-up of Cromwell and Psych-Out.
High-Rise is a period piece as well, only it's a different time and a different kind of war. Set right in the middle of the 1970s, cigarettes, facial hair, bad fashion choices and Abba are present, though the signifiers are subtle compared to the cartoonish nods to the past in recent films like Nixon & Elvis. It's anti-nostalgic science fiction, an alternate technological history in which machinery separates rather than unites people.
And then it breaks down.
The film takes place almost entirely within an ultra-modern high-rise apartment building, a microcosmic world unto itself complete with shopping facilities, recreation centers and a strict but unstable class system based on how close a resident is to the top. Laing (Tom Hiddleston) is a surgeon who moves into the respectfully positioned 25th floor. (He's told that his apartment application was "very Byronic.") His neighbors include a famous actress; a perpetual worrier who obsessively monitors the condition of the building trash chutes; Wilder (Luke Evans), a director of TV documentaries (strictly second-floor material); and, at the very top, the fittingly named Royal (Jeremy Irons), usually referred to as the Architect, who commands an enormous suite complete with a terrace of farm animals to satisfy the storybook fantasies of his somewhat spacey wife.
Within weeks, things fall apart. Power failures, broken equipment and disputes over use of facilities escalate and the building becomes an apocalyptic battleground, complete with violence, political factions, struggles for territory and an overall plunge into decadence that recalls one of the era's other landmarks of bad taste, the 1979 film Caligula. Laing, caught very much in the center, clings to his impassivity as he's pushed, pulled, seduced and threatened from all sides, from the increasingly ineffectual Royal and his playful assistant (Sienna Miller) to Wilder and his estranged, enormously pregnant wife (Elisabeth Moss). Hiddleston, who uses aloofness the way Fred Astaire used tap shoes, dominates the narrative and remains the closest thing to a moral guide that Wheatley will allow the viewer.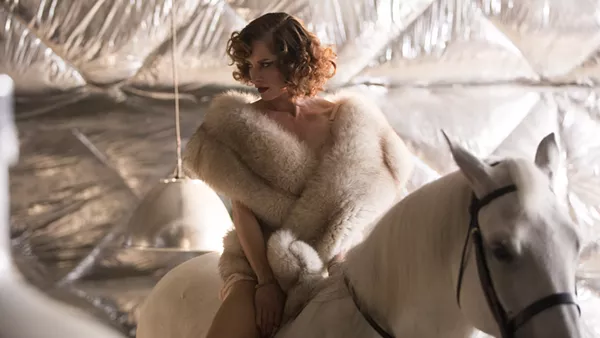 PHOTO COURTESY OF MAGNOLIA PICTURES
Sienna Guillory and horse.
As a political allegory, High-Rise isn't particularly subtle (but then, neither is Animal Farm). The film isn't as much a metaphor for the excesses of late capitalism as it is a simulation of its extremes. It's vicious, even hard to watch (surgical scenes and cruelty to animals, among other things), yet the shock tactics are the provocative balance to the director's skill at staging a complex and multi-layered puzzle. Wheatley usually likes to watch things happen without much elaboration, and it probably requires at least a second viewing to follow all of the intricate political maneuvering running through the film.
As a director, Wheatley presents raw material with a sense of detachment that could almost be described as intellectual. He wants to capture the coarseness of violent action and horror films without embracing their superficiality. He's like a George Miller if he'd never read The Hero With a Thousand Faces, Abel Ferrara without the New York hangups and street anarchy, or a brasher, cockier Cronenberg. He's a filmmaker to watch — and one whose films can be hard to watch.
In its depiction of an English society that wears its brutality just a micro-layer under its skin, High-Rise recalls another recent British film, Steve Oram's Aaaaaaaah!, in which middle-class couples growl, snarl, beat their chests and behave like apes. High-Rise lets its characters keep their language — and their no less telling accents — but matches if not surpasses the animalistic behavior. (Oram co-wrote and appeared in Wheatley's Sightseers.) Wheatley (like Oram) began in television comedy, and while an element of that genre remains in the film, he's stretched the boundary of satire into something more savage, a kind of social critique carved with a scalpel. Just as Ballard's novel refuses to settle into a comfortable level (my 38-year-old paperback copy describes it as "horror," but also compares it to The Towering Inferno), Wheatley's version of High-Rise is too raw to settle into any familiar comic form. It takes disturbing and bitter premises, pushes them to extremes, but never offers the saving grace of a punchline to let the viewer know it's only a joke.