Hibernians' St. Patrick's Day Parade in St. Louis, 2008
No rain on the parade on March 17, 2008 in Dogtown.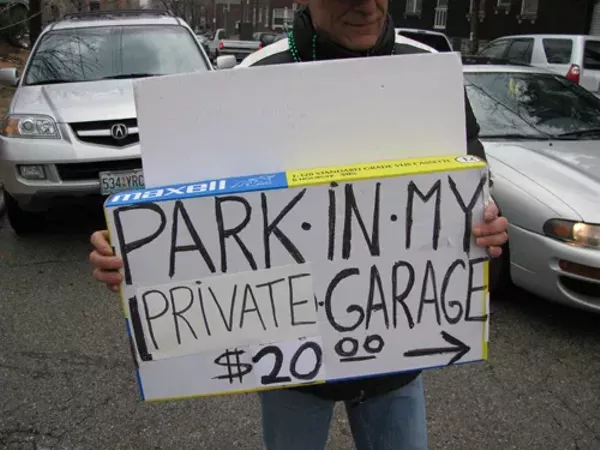 Nick Lucchesi
This man didn't want to be identified, but offered one of the few parking spots that would keep vehicles free of raindrops -- for $20.
Nick Lucchesi
Says Shannon Stewart, "People out here aren't even Irish and don't even know what the (blarney) day means. You got a real Irish girl here." Stewart started her day at 9 a.m. along the parade route.
Nick Lucchesi
Kristen Mann, and Andrea Barrale, background, offer $2 green Jell-O shots. "We're always Irish," Barrale said.
Nick Lucchesi
James McMillan and Katelyn Nesselbush embrace after McMillan proposed -- with a "yes" -- marriage. "I'm Irish, today just seemed like the right day," McMillan said. The two plan to be married in Ireland.
Nick Lucchesi
Parade-goers stayed dry for most of the parade.
Nick
Tommy Hayden: "This is the original, the authentic Irish parade." His hair color is not authentic.
Nick Lucchesi
Jessica Millward and her American Bulldog, Charlee. "It's Manic Panic," she said of the dog's green dye job.
Nick Lucchesi
Nick Berkhart walks out of Patrick's Dogtown Liquor with a $5 Busch tall-boy. "It's pretty rough," he said of the prices. Patrick's was the only liquor store in the neighborhood, making it a busy place along the parade route.
Nick Lucchesi
From the hill of a front yard, Shane Reckert bellowed, "We should have coolers! Let's have coolers next year!" No coolers or backpacks were allowed into the neighborhood this year.
Nick Lucchesi
U.S. Army Staff Sgt. Drew Manes snags a set of beads.
Nick Lucchesi
After beer, beads were the most sought-after items at the parade.
Nick Lucchesi
From the relative quiet of the Patrick's Dogtown Liquor, artist
Daniel Pearlmutter
paints the scene outside the window. It's a six-year tradition for Pearlmutter.
Nick Lucchesi
Dave Holmes, president of Father Timothy Dempsey Division 1 of the Ancient Order of Hibernians, watches the passing parade. "We lead the parade," he said. "The sky cleared up and we had our parade, it always does. I think St. Pat has some pull."
Nick Lucchesi
St. Louis Tionol play traditional Irish music.
Nick Lucchesi
Kenrick Starr, 11, of St. Louis, clamors for a soccer ball being tossed out by float-riding soccer hooligans.
Nick Lucchesi
Revelers from the St. Blarney Stone Academy cross the Tamm Overpass.