Page 4 of 4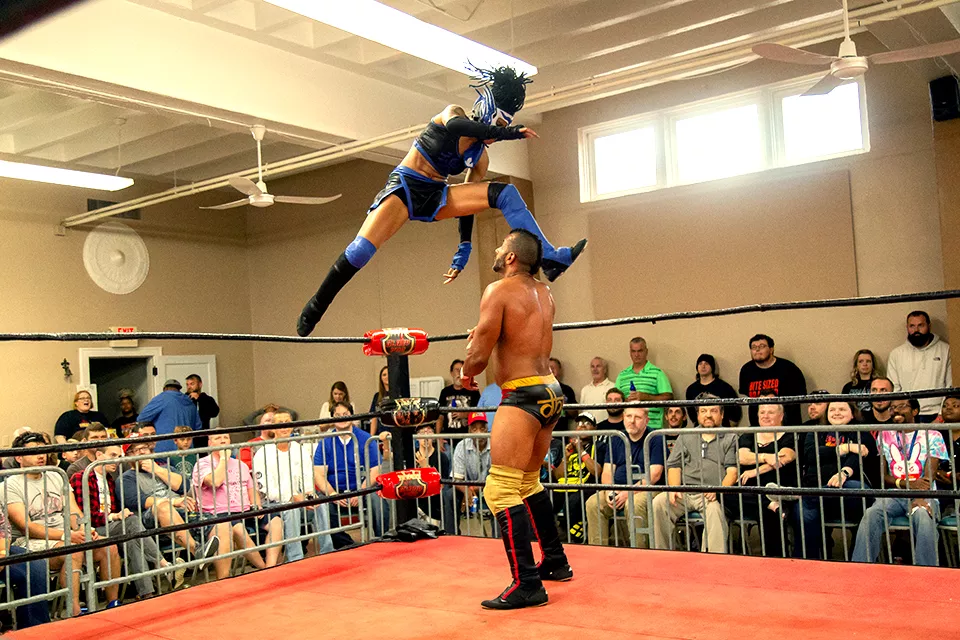 MONICA MILEUR
Clad in a white and blue lucha libre mask, Seishin delivers a flying kick to Hakim Zane.
Like most of the venues where Glory Pro has hosted shows, the Gardenville Masonic Temple auditorium feels small with a professional wrestling ring and barrier centered in the room. Add 200-plus folding chairs surrounding that ring and concessions (inside, the beer is not free, unfortunately), and you find yourself sitting in a bit of a tight squeeze. The event is sold out, and, it turns out, there aren't enough chairs for everyone, so a good number of fans stand around the perimeter of the auditorium, most of them posting up there for the entire three-hour show.
In professional wrestling, the two most important matches are usually the first and the last; the first sets the tone, and the last leaves fans with their final image of the night. At this event, the opening honor goes to six wrestlers — Gregory Iron, Reilly MaGuire, Camaro Jackson, PB Smooth, Barackus and Mike Outlaw — who are more than up to the task. The audience eats it up, but of course the best is still yet to come.
The second match of the night is between Hakim Zane, a rousing heel with a commanding ring presence who's being featured frequently by Impact Wrestling, and Seishin, "The Little Blue Dragon," one of the most talented and beloved female wrestlers in town. This pairing is particularly significant because it couldn't have happened in Missouri before September 30, 2018. From 2005 until about a year ago, intergender matches weren't allowed in the state. (The rule was written primarily to govern professional boxing, kickboxing and full-contact karate, for which it still applies.)
Clad in a striking white and blue lucha libre mask, Seishin is largely silent throughout the match, save bursts of yelling and wailing, mostly when charging at Zane. That's just fine, though, because Zane is enough of a mouth for the both of them: "By all means, bring out that little blue dragon, so I can pluck her wings from her body, and I can show the world that I'm Hakim Zane, and my mother called me sun because I shine like one." He's the kind of heel that fans love to boo; their taunts only make his smile broaden and his mic work meaner.
Next up is a tag-team match between the Riegel Twins (twin brothers Logan and Sterling Riegel) and Halal Beefcake, a duo made up of "The Genetic Jackpot" Joe Coleman and "The Sultan of Shawarma" Idris Abraham. They're followed by a two-way match between Steve Manders and Matt Kenway; both matches further amp up the crowd and display the kind of mid-card talent that Glory Pro is aiming to showcase: wrestlers with larger-than-life personas, to be sure, but with technical prowess.
When the Manders-Kenway match ends, ring announcer Ben Simon blares that there will be one more bout before intermission. The first and last matches might be the most important, but a strong pre-intermission fight is a close third, and Glory Pro fans have never seen one more high-octane than what unfolds next.
MONICA MILEUR
Chicago heels, Knicks (left) and Brubaker rile the crowd.
From behind the entrance curtain burst Knicks and Brubaker, the current United Glory tag-team champions. The duo has been feuding with #NoNewFriends (Davidson, Adams and Mike Outlaw) for most of 2019, and now it's time for the showdown. A lot of their story as heels in this rivalry has been that they're from Chicago and hate St. Louis, so naturally they're clad in Chicago Blackhawks gear. They make a big splash, emphasizing that they're the champs and shamelessly throwing their title belts overhead with a confidence that screams, "Please boo us."
The crowd knows that KLD and Adams are about to follow, and the room is rippling with chants, cheers and a current of excitement and energy that will be familiar to any sports fan. This is the kind of room that can convert the casual viewer into an immediate professional wrestling fan; it's the sort of thrilling drama mixed with daring and ruthless athleticism that draws you in for a match and then for life. This is the feeling that pro wrestling fans try to describe to people unfamiliar with or uninterested in the industry.
"When you walk into a movie theater, you check your disbelief at the door, and it's the same thing with professional wrestling," Davidson says. "I think it's the best form of entertainment in the world; it's theater in the round. The fans come to be entertained — obviously they know it's not real. We're out there telling a story with our bodies and our facial reactions, and just because I know what's coming doesn't mean my body hurts any less."
When Davidson and Adams emerge from behind the curtain, the room erupts in a deafening cry of "KLD, KLD, KLD." Pro wrestling is as personal as any sport; fans feel that they know their favorite wrestlers and their journeys even if they've never met them. That level of admiration and respect doesn't change much from WWE superstars to headliners at the Gardenville Masonic Temple — or at least tonight it doesn't feel that way. Looking around, kids as young as four or five are on their feet, cheering as fiercely for their favorite wrestlers as the adults in the room.
As KLD makes his way around the barrier outside the ring, high-fiving fans young and old, he does so in a purple Affton High School hoodie with "Big Guy" scrawled across the back. Ten years ago, there was the thought that he'd leverage his time on the school's football team into a spot on a college team, but he chose another path. A decade later, to the people in this auditorium in his hometown, he's celebrated for a different kind of athleticism, and one that means so much more to him.
MONICA MILEUR
KLD and Adams hang on to win the United Glory tag-team championship title.
The match is a no disqualification street fight for the tag-team title, and given the narrative buildup and KLD's life-real journey that inspired it, there's little chance that #NoNewFriends won't be victorious. That's also the magic of professional wrestling: The fans can often predict the outcome, but wins and losses don't matter as much as the story and show that get you there. After all, if you lose, you're just teed up for a rematch and another chance to pack the house.
In the ring, KLD is a forceful fighter — when he slaps or chops an opponent, he's really making contact, something known in the industry as fighting "stiff." Tonight, this is evidenced by the mid-match welts KLD freely leaves on Knicks and Brubaker. Although a towering presence, he displays impressive acrobatics, including jumping over Brubaker, clearing almost four feet of air in the process. Brubaker is not a small man, but next to KLD, he looks it, which is as much a credit to KLD's ring presence as Brubaker's ability to play the heel tonight. In contrast to KLD, Adams is a more high-flying, acrobatic wrestler and just as entertaining.
In the end, KLD and Adams defeat the bad guys: After a series of wild exchanges involving a steel trash can, two purple folding chairs and a deluge of chops, kicks and dives from the top rope, KLD throws Brubaker through those folding chairs, choking him out, and then wins by pinfall. The pair of #NoNewFriends then raise their newly won tag-team titles over their heads, embracing one another and seeming to tear up at the victory. The lines of what's real and what's exaggerated are once again blurred — it's an emotional moment, to be sure, but in the crowd, you never forget that it's a planned one as well. Yet for the athletes and entertainers in the ring as much as for the people in the audience, that's the art behind professional wrestling.
Every Glory Pro show won't bottle the same stakes and spirit as the first in Missouri, but therein lies another joy of sports entertainment: You're never guaranteed the same show twice, whether that's at an event hall in Affton or a Wrestlemania pay-per-view. No matter the venue, the wrestlers in the ring are still taking bumps, diving from the top rope and working submission holds for the win, and for audiences, there's never been a more riveting time to tag in.