It's rare to see tailgating in the parking lot of the Gardenville Masonic Temple in Affton. The unassuming building at the intersection of Gravois and Heege roads has hosted magic shows and weddings, but on a recent Saturday, it features a very different kind of ring: one built for professional wrestlers.
The October 5 event marks the comeback of wrestler and Affton native Kevin Kwiatkowski, one of three owners of Glory Pro Wrestling in St. Louis. Known in the ring as Kevin Lee Davidson or KLD, at 378 pounds, Davidson cuts a commanding figure. With a line of attendees snaking out the entrance and across the Affton parking lot before doors open, Davidson can be seen shaking hands and saying hello to friends, family and fans. Free beer is served to those patiently waiting to get inside, but Davidson doesn't partake — this isn't that kind of wrasslin' show.
The day is a long time coming for him. At a match in late January, while catching another wrestler who was doing a dive, Davidson was hit by a second wrestler, and the combined impact tore his bicep tendon clear off the bone. In the nine months since, he's gone through surgery, recovery and training to heal and regain his strength. The past year has also been trying for Davidson personally; in August 2018, his father, David Lee Kwiatkowski (who inspired KLD's ring name), was diagnosed with stage-four pancreatic cancer. He died a week before Christmas and about a month before Davidson's injury. "That stretch right there really wasn't good for me," Davidson says. "I was going through a pretty bad time."
During his recovery, the promise of this comeback show in his hometown helped keep Davidson motivated. For most of 2019, his #NoNewFriends tag-team partners, wrestlers Mike Outlaw and Danny Adams, built up a storyline with two wrestlers representing The Four Star Heroes from Chicago. On October 5, KLD and Adams would finally settle the feud in a no disqualification street-fight match for the United Glory tag-team championship title. Much of the feud revolved around the Chicago wrestlers hating St. Louis and bad-mouthing our fair city, which swiftly made them enemies with #NoNewFriends and fans.
"It was very important to me to have my first match back from surgery in my hometown," Davidson says. "I'm more motivated now than ever. I really did feel like this was a very crucial year in my career that I missed out on. I'm looking to make the most out of these last few months of the year."
It's also a big day for Glory Pro, a promotion that's endured its share of challenges in the past two and a half years, including a public scandal involving its former owner. And though Glory Pro is about to head into its third year of business, the October show is its first in Missouri. Previous events were hosted in venues just across the river in Illinois due to Missouri Athletic Commission licensing and regulation fees that proved prohibitive for the upstart enterprise.
It took a lot of work for Davidson and his current business partners, Dan Kujawa (a.k.a. Danny Adams) and Corey Inskip (an attorney with no ring name, unfortunately) to get to this point. With a final headcount of about 300, their first Missouri show is sold out, thanks in large part to the charisma of its card, including Impact Wrestling star, Tessa Blanchard, featured in a women's fatal four-way match.
As the sun dips low in the sky, the temperature on this early October evening is cooling, yet inside, the packed room of wrestling fans is not only warm, it's hot — that is to say, it's a rowdy and rapacious crowd that's ready for some damn professional wrestling. The fans are excited, fueled by months of hype (and, of course, free beer). Now it's down to the three partners to make sure the night isn't just a success, but hopefully the first of many Glory Pro shows to come in Missouri.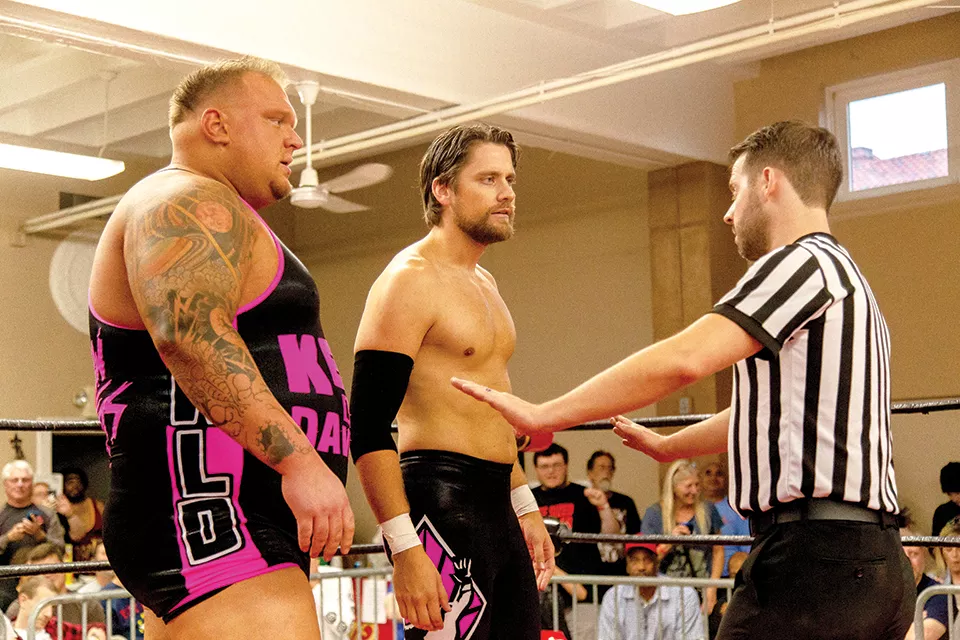 MONICA MILEUR
KLD (left) and Danny Adams had been building for months toward a high-stakes tag-team match against rivals, Knicks and Brubaker.
Long before Glory Pro showed up on the scene, the St. Louis area had a storied history with professional wrestling. From 1959 to 1983, weekly television show Wrestling at the Chase aired on KPLR-TV (Channel 11). Filmed at the Chase Park Plaza Hotel in the Central West End, the show was promoted by the now-defunct St. Louis Wrestling Club, a member of the National Wrestling Alliance (which has, bizarrely, been owned by Smashing Pumpkins' Billy Corgan since 2017 and recently launched a YouTube show).
Although mostly a local sensation, the Chase ring saw some of the most prolific and celebrated wrestlers of the time, including Ric Flair, Bruiser Brody and Ted DiBiase. Missouri native Harley Race, who achieved international stardom with the World Wrestling Federation (now known as WWE), was a familiar face at the Chase as well. In 2000, he founded the Harley Race Wrestling Academy in Troy, Missouri.
Growing up in St. Louis, Adams remembers the impact this promotion had on his family, albeit from the stands. "My roots go back to Wrestling at the Chase days, because my great-grandfather was a super fan of Wrestling at the Chase; he was at every single show," Adams remembers. "He instilled that into my dad, because they'd watch on Saturday and Sunday mornings, and that just trickled down from my brother and cousins to me. I don't remember a time in my life when there weren't wrestling tapes and action figures; it was just always a part of my family."
If Wrestling at the Chase doesn't ring a bell, mention of South Broadway Athletic Club likely will for many St. Louisans. Maybe that's because it actually predates it — the club has operated in Soulard for more than a century — or because it has run monthly wrestling shows for more than 40 years.
When Glory Pro was founded in Alton, Illinois, in February 2017, it was aiming to offer a different kind of local wrestling experience to fans — one that drew from more modern styles and trends in professional wrestling. With Glory Pro, the hope was to reflect not just the current state of mainstream wrestling but also the best talent the indie circuit has to offer. This wouldn't be a place where fans would see the same faces year after year, but one where talent from across the country would travel to perform, including industry superstars.
That mission was embodied by Glory Pro's founder, Aaron Frobel (ring name "Unbreakable" Michael Elgin), a world-traveled professional wrestler who has worked in high-profile promotions including New Japan Pro Wrestling, Impact Wrestling and Revive Pro Wrestling. Elgin's industry experience and connections are impressive, and he'd already opened a successful sister business locally, a wrestling school in St. Louis that was getting buzz well beyond the metro area.
Davidson and Adams both trained at Elgin's school, as did Camron Rogers (ring name Curt Stallion), who moved from his home in Texas to do so. Stallion says he gave Glory Pro its name.
"We wanted something that stood out, as opposed to All American Wrestling or everything else out there today," he recalls. "We wanted something that people would hear and instantly be like, 'OK, that's different.' The original thought process was royalty and kingdoms and stuff like that, but it evolved from the first show. We knew we had something special."
That something special was talent, and not just from within the regional or indie scenes, but nationally and internationally. In less than a year, Elgin booked some very big names in the industry, including The Lucha Brothers, Marifuji, Donovan Dijak (now known as Dominik Dijakovic in the WWE) and Cody Rhodes. (The Rhodes show alone sold a staggering 650 tickets in advance.) Most of these events were held at the Spaulding Club, a bar and banquet hall in Alton, save for the Rhodes show, which was hosted at the Belle-Clair Fairgrounds & Expo Center in Belleville.
Glory Pro also took pains to stage a polished professional wrestling show, including branded ring aprons, turnbuckles, walk-out curtains and a ring announcer who only appears in a suit. The aura of early shows was that this was a cut above what you'd find elsewhere, not just in terms of entertainment but in quality. Glory Pro quickly gained a large following, both on the backs of strong regional mid-card wrestlers and the famous names headlining events.
By the end of 2017, though, the new and promising promotion was in trouble. In December, Elgin was publicly accused of mishandling a sexual assault allegation made against one of Glory Pro's featured wrestlers. The news broke on social media and myriad wrestling sites. The backlash was so swift that Elgin, who was wrestling in Japan at the time, deleted his Twitter account. A few days later, he released a public statement acknowledging the allegations and apologizing for his handling of events, but for many Glory Pro fans, the damage was done.
In the statement, Elgin announced that he was in the process of transitioning ownership of Glory Pro. "I love the company I've helped build, the wrestlers that have worked for it and I love that the fans enjoy the product," Elgin said in the statement. "If me being involved harms that, I wanted to make sure that Glory Pro was able to stand on its own without me if necessary." (In an email, Elgin declined to comment.)
It was a mess, and the timing was terrible. Glory Pro was heading toward its most important event yet, a one-year anniversary show featuring New Japan Pro Wrestling star Tetsuya Naito as the main event. In 2017, Naito was named the twelfth-best wrestler in the world out of 500 by Pro Wrestling Illustrated; to say that the show was a big deal to fans would be an understatement.
Davidson and Adams were too personally invested in Glory Pro and what they'd helped build there to see it die, yet they had no previous experience running a wrestling promotion. (Inskip, a Glory Pro business partner from the beginning, stayed on.) Davidson, who spent his early twenties as a music promoter and concert venue owner before giving up that career for wrestling, knew a thing or two about running shows, but admittedly not as much as he'd have liked before hosting Naito. Even today, Adams quickly channels the anxiety of that first show.
"The guy who started [Glory Pro] got himself into trouble, and the company was in danger of just going away; it was going to be done because there was no one to step up and run things," Adams says. "Just for me, personally, I couldn't let all of the hard work that everyone did — all the wrestlers — that first year building it up for it to just be thrown in the garbage."
Scheduled for February 18, 2018, at Southern Illinois University Edwardsville, the show was billed as the promotion's one-year anniversary, but behind the scenes, Davidson and Adams were struggling to pull it off. "Six hundred tickets sold and, at the time, we had one of the top wrestlers in the world coming in, and we didn't know what we were doing yet," Adams remembers.
Yet the day of the show, the biggest snafu was a disorganized meet-and-greet with the headliner, something that Davidson and Adams still regret but that hardly sunk the show. Over the course of 2018, the pair found their groove as promoters, balancing the needs of Glory Pro with their own personal ambitions as wrestlers.
"I think when we first started, with our experience as wrestlers, we were able to build a wrestler's wrestling show, in that, when I get to a show, what do I want my experience wrestling on the show to be like?" Adams says. "I like shows that are laid back and everyone kind of has the creative freedom to do what they want to do. We're not trying to control the wrestlers. It's not a power-trip thing."
MONICA MILEUR
Impact Wrestling's Tessa Blanchard headlined Glory Pro's first Missouri show.
With the October 5 show, the new owners have gone beyond what Elgin built with Glory Pro by overcoming another hurdle: hosting the promotion's first Missouri show. This may seem like a small thing to industry outsiders, but it required quite a bit of time, money and work. (Inskip and Adams have full-time jobs on top of Glory Pro, Inskip as an attorney and Adams as an IT professional.) The state of Illinois requires no regulation, licensing or fees to stage professional wrestling shows, which is one of the reasons that Glory Pro had previously only hosted events in Alton, Belleville, Collinsville and Edwardsville. "If you find a big hall in Illinois and put a ring in it, there's nothing stopping you from having a show," Adams says.
To begin hosting shows in the St. Louis area, Glory Pro would need to comply with the regulations and licensing governed by the Missouri Athletic Commission. Regulations for pro wrestling events vary from state to state; some states consider it "sports entertainment" (the term industry titan WWE uses as well), while others label it a sport but don't charge the same fees for licensing and regulation. The Missouri Athletic Commission is a fee-funded agency, which means that it is sustained by the income it collects, says Missouri Athletic Commission executive director Tim Lueckenhoff.
To host a pro wrestling event in Missouri, you first need a $400 promoter's license. These licenses are issued every two years and aren't prorated based upon when you buy it; if you need it a month before it expires, it's still $400. Next, a promoter has to provide a surety bond or letter of credit for $25,000, which acts as insurance in the event that a promoter defaults on paying anyone involved with the event. You then need an event permit, which costs $150.
In addition to these permitting fees, the state takes five percent of ticket sales for every show; a portion of that five percent is meant to cover the agency's costs for inspectors, who are on-site for every show. The day of an event, at least one state inspector visits the event venue ahead of the start time to verify that all of the wrestlers participating have state licenses and have had blood work and a comprehensive physical (two more expenses required for wrestlers) completed within the past year before they're approved to participate that day.
The Missouri General Assembly passes the laws that give the commission the ability to regulate the sports in the state. The commission has the power to file requests for statute changes, which first must be approved by the governor's office. Although pro wrestling is often seen as entertainment, it is a physical, full-contact sport that often involves injury and bloodshed. "Several years ago we went to our legislature and tried to not require blood work for wrestlers, just to ease the cost burden, but the legislature advised us that we need to continue because it is a sport where they do bleed," Lueckenhoff says.
For Glory Pro's first Missouri show, Davidson, Adams and Inskip paid for the blood work and physical exams needed for their featured wrestlers whose insurance wouldn't cover those costs, as well as the $40 licenses required for each wrestler to participate. The trio estimate their total upfront costs with the Missouri Athletic Commission for their first Missouri show at about $2,000.
"It's not a bad thing, but it's a huge pain when you want to bring guys in from out of state and you have to explain to them the licensing process, and then they have to go to the doctor and do that on their own time — especially for the wrestlers where it's not hard for them to get work," Davidson says. "It's going to be hard for us to deal with stuff like that in Missouri; luckily we have a core group of wrestlers who are very invested in this product."
The fees required by the Missouri Athletic Commission are perfunctory for industry heavyweights like WWE, which hosts a handful of televised and untelevised shows in Missouri every year, but they can be daunting for new promotions without much capital like Glory Pro, which operates on razor-thin margins. In addition to paying for bloodwork and physical costs for wrestlers whose insurance wouldn't cover those fees, Glory Pro also paid for expenses for its two Impact Wrestling headliners, Tessa Blanchard and Daga.
Blanchard is a rising star in the independent wrestling circuit with promotions including Impact Wrestling, Lucha Libre AAA Worldwide in Mexico and Women of Wrestling. In 2018, she was named the fifteenth-best female wrestler in the world out of the top 100 by Pro Wrestling Illustrated. In the ring, Blanchard displays incredible strength and intensity; her billed weight is 126 pounds yet she wrestles as if she's twice that size, attacking opponents with forceful chops and kicks and landing brutal moves. She is captivating — and most importantly, a lot of fun — to watch, regardless of a given match outcome.
The booking reflects how much the professional wrestling industry has evolved in the past decade: The sun has set on the misogynistic and degrading days of bra and panty or string bikini matches, with female wrestlers finally appreciated for their skills and athleticism in the ring.
At Glory Pro's first Missouri event, Blanchard faces a St. Louis wrestler, Savanna Stone, and two Chicago natives, Elayna Black and Laynie Luck, in a fatal four-way. All four women are extremely talented in the ring, with each bringing a different style and persona to the match. Blanchard is a huge get for Glory Pro; she is one of the most talented and ambitious women working in the indie wrestling circuit right now, if not in the industry in general.
The challenges that Davidson, Inskip and Adams have faced with Glory Pro in the past two years have resulted in greater opportunity for up-and-coming wrestlers, too. In the almost two years since Davidson, Adams and Inskip have run Glory Pro, they've seen the profiles of many of their longtime wrestlers rise, with some even positioned to potentially break into mainstream wrestling in the coming year.
MONICA MILEUR
Curt Stallion (left) and Jake Lander (right) fought Daga at the October 5 show.
There's an element of professional wrestling that's not unlike method acting. To varying degrees of intensity, all wrestlers are putting on a performance, even if it's a performance that's in some way an extension of their own personality. "I wouldn't say I delve so much into a character as I turn me up to 100," Davidson says. "Wrestling should be an extension of yourself."
There are three basic personas most wrestlers fall into: a face or babyface, who is a hero or good guy (think Hulk Hogan before the real-life bad guy shit); a heel, who is a villain or bad guy (Macho Man Randy Savage as the villain to Hogan's babyface); and a tweener or antihero, whose persona falls in between the two (think Eddie Guerrero). In the ring, Davidson is somewhere between a babyface and a tweener: He's intense and in your face, sticking out his tongue and mugging for the crowd, but he's often wrestling more straightforward heels, and — at least in St. Louis — he is never booed.
There is nothing ambiguous about Glory Pro fan favorite "Lonestar" Curt Stallion, however — or the boos that fans enthusiastically hurdle his way. For much of his time with the promotion, Stallion was a textbook antihero, and an incredible one at that: In and out of the ring, he speaks with a slight Texan drawl, but his opponents aren't greeted with Southern hospitality.
At a recent show for a competing local promotion, Saint Louis Anarchy in Alton, Stallion roiled the crowd with an indictment of other popular St. Louis wrestlers. Prior to the match, a fan had shared a photo of four wrestlers on Twitter, calling them the pillars of St. Louis professional wrestling. Stallion received a hero's welcome that day due to a recent Evolve Wrestling special he appeared on that was shown on the WWE Network, so he needed to turn the crowd against him again.
"I've been made aware that there are four pillars of St. Louis professional wrestling," Stallion said at the match. "Let's give them a round of applause, come on. I won't name names, because you really should know who they are, but let me tell you something: I got here in January 2015, and I can't say that there was much of a foundation for those pillars to be standing on until that concrete from Texas came and got laid down. I showed up here, started busting my ass and all these motherfuckers came up right with me because they had no other choice. They wanted to keep up. I came here with a purpose, and that purpose is I want one of those four fucking pillars, and I don't care who it is; I'm going to show you guys exactly how you were able to stand in the fucking first place." (Anarchy, unlike Glory Pro, is not billed as a family-friendly promotion.)
What's smart about this promo is not Stallion's ability to make a crowd hate him (in pro wrestling, you either want to be fiercely loved or fiercely hated). It's how he took a seemingly benign fan tweet and turned it into an opportunity to feud with and fight a local wrestler; he essentially created a rivalry and match out of thin air. Although a talented technical wrestler, Stallion understands that success in his industry is often more about savvy storytelling and character work than perfectly executed piledrivers.
"They told me to go out there and make people mad, and by 'they' I thought they meant the wrestlers, so I started rambling," Stallion says. "Nine times out of ten, when you see me grab a microphone or talk on camera, it is pretty much real. I'm one of the guys who doesn't hold back because I don't care if anyone gets offended by what I say. But this promo was from the heart; these guys were nothing until I gave them a reason to start pushing themselves and stake their claim, and they had to hustle a little harder."
As a kid growing up in west Texas, Stallion idolized WWE superstars like Eddie Guerrero, Shawn Michaels, Stone Cold Steve Austin, Chris Benoit and St. Charles native "The Viper" Randy Orton (the son of WWE hall of famer "Cowboy" Bob Orton). These wrestlers are clear influences on both Stallion's in-ring persona and wrestling style today. "The guys who don't need to call things, but they still have that presence, that aura, to them," Stallion says.
When he describes not needing to call things, he's saying that these are wrestlers who don't slavishly plan out every move in a match other than the finish. "A lot of guys nowadays want to put whole matches together and call a million things [ahead of time], and I can do that too, but I'd rather ... if you don't have a bunch of stuff to remember, you can go out there and have this presence, this energy, because your brain isn't just focused on what's next," Stallion says. "That's what I do. Not a lot of people are capable of doing that."
Stallion is a strategic wrestler; he's always probing, looking for weak spots in his opponents. Tall and lean, his wiriness makes it difficult to predict his movements in the ring. Stallion's style is a little closer to classic wrestling — moves that, if you were wrestling in high school or college, would look familiar — than the flashy scripted spots often associated with sports entertainment.
He remembers telling his maternal grandfather, Curt Tidmore, that someday he'd be a wrestler like the ones he loved watching on TV. So when it came time to choose a ring name, he drew inspiration from his grandfather (as well as Stallion's own middle name, Curtis) and a favorite manga series, Fullmetal Alchemist.
"For the last name, I said Stallion, because I watch a lot of anime, and there was a character named Roy Mustang on [Fullmetal Alchemist], and I thought that was the coolest name. He had nothing to do with horses, it was just Roy Mustang. And Curt Stallion just worked."
Since moving to St. Louis to train under Elgin in 2015, Stallion's popularity on the indie wrestling circuit has soared. Glory Pro was one of the first promotions to give him a title (the industry name for championship belts), and he's gone on to wrestle in promotions all over the country and the world. In January, Stallion signed a contract with Evolve Wrestling, a Tampa, Florida-based promotion that has an exclusive deal with WWE to scout its talent.
Evolve exists on the same plane as many other American independent wrestling promotions, including Impact, New Japan, Revive Pro Wrestling, Ring of Honor and Game Changer Wrestling. In the industry, these promotions have fan bases as fierce and as loyal as WWE yet typically pack much smaller houses. Evolve's affiliation with WWE undoubtedly makes it attractive to wrestlers who, like Stallion, can hopefully use it as a farm team before being called up to the big leagues.
"My goal at the end of the day is to main event Wrestlemania, and I let it be known when I signed with Evolve, these are all the [other promotions] that I turned down, and this is me signing this contract because I'm going to go to WWE," Stallion says. "Wrestlemania, not just WWE. And I'm trying to get there as soon as possible, because I'm 29 years old."
During the second week of October, Stallion had two matches with current WWE wrestlers that may prove to be the most pivotal in his career so far. The matches — one with Kassius Ohno and the other with Cameron Grimes — were watched by WWE talent scout and retired wrestler William Regal.
MONICA MILEUR
Josh Briggs (left) grapples on the ground with Tyler Colton.
Wrestlers like Stallion and promotions like Glory Pro are coming up during a particularly pivotal moment in professional wrestling history. For the first time since the dissolution of World Championship Wrestling around 2000, WWE is again competing with another mainstream promotion, All Elite Wrestling.
Like WCW in the '90s, AEW is positioning its programming as edgier than WWE in both tone and opportunity and promising its wrestlers more creative freedom. Unlike WCW, however, AEW creative has been run by wrestling business veterans from the beginning, including New Japan Pro Wrestling alums Cody Rhodes and Kenny Omega. (And remember The Lucha Brothers from Glory Pro's first year? They're now starring on AEW.) The new promotion is also writing checks from the seemingly robust bank account of billionaire owner Shahid Khan.
For wrestlers like Stallion who want a future in mainstream professional wrestling, the rivalry between the two mainstream promotions could mean an even greater shot at breaking through. In advance of its first show on TNT earlier this month, AEW had been signing up popular wrestlers on the indie circuit for the better part of a year. Never to be outdone, WWE has become more aggressive with signing new talent as well, and recently repackaged its developmental wrestling program, NXT, into its own bona fide brand to directly compete with AEW. To some of the wrestlers signed, this means fame, fortune and validation after years of busting their asses in the indies, while to others, it's just the realization of a childhood dream that they long assumed was out of their grasp.
Since late September, NXT has aired a two-hour show on the USA Network on Wednesday nights, which just so happens to air during AEW's two-hour show on TNT. Fans have already christened the competing shows the Wednesday Night Wars, a callback to the Monday Night Wars between WCW and WWE in the '90s. And on October 4, WWE celebrated a big milestone: WWE's Smackdown Live debuted on Fox, the first weekly wrestling show to air regularly on a major broadcast television network.
Long story short, the energy and excitement in professional wrestling right now is huge for both fans and fighters, and there's a lot of doors opening and opportunity for both to enjoy. For promotions like Glory Pro, that hopefully means an expanding audience for professional wrestling in general and an interest in seeking out homegrown shows.
"The reason that Glory Pro has the benefit of helping younger guys out is because there are mainstream guys who still watch the indies, and by watch the indies, I don't mean that they just watch random Tennessee VFW hall, 40-people-in-the-crowd shows; they're watching shows like Glory Pro," Stallion says. "It's one of the more important places to be as a professional wrestler early in your career, and I've been very fortunate that I've been able to be a part of the entire journey of Glory Pro from the start."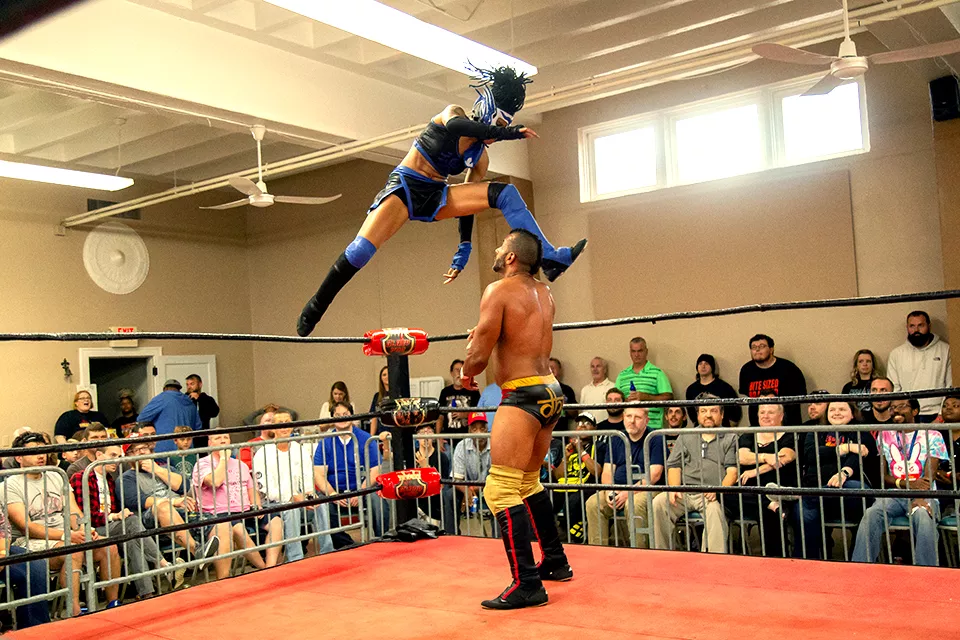 MONICA MILEUR
Clad in a white and blue lucha libre mask, Seishin delivers a flying kick to Hakim Zane.
Like most of the venues where Glory Pro has hosted shows, the Gardenville Masonic Temple auditorium feels small with a professional wrestling ring and barrier centered in the room. Add 200-plus folding chairs surrounding that ring and concessions (inside, the beer is not free, unfortunately), and you find yourself sitting in a bit of a tight squeeze. The event is sold out, and, it turns out, there aren't enough chairs for everyone, so a good number of fans stand around the perimeter of the auditorium, most of them posting up there for the entire three-hour show.
In professional wrestling, the two most important matches are usually the first and the last; the first sets the tone, and the last leaves fans with their final image of the night. At this event, the opening honor goes to six wrestlers — Gregory Iron, Reilly MaGuire, Camaro Jackson, PB Smooth, Barackus and Mike Outlaw — who are more than up to the task. The audience eats it up, but of course the best is still yet to come.
The second match of the night is between Hakim Zane, a rousing heel with a commanding ring presence who's being featured frequently by Impact Wrestling, and Seishin, "The Little Blue Dragon," one of the most talented and beloved female wrestlers in town. This pairing is particularly significant because it couldn't have happened in Missouri before September 30, 2018. From 2005 until about a year ago, intergender matches weren't allowed in the state. (The rule was written primarily to govern professional boxing, kickboxing and full-contact karate, for which it still applies.)
Clad in a striking white and blue lucha libre mask, Seishin is largely silent throughout the match, save bursts of yelling and wailing, mostly when charging at Zane. That's just fine, though, because Zane is enough of a mouth for the both of them: "By all means, bring out that little blue dragon, so I can pluck her wings from her body, and I can show the world that I'm Hakim Zane, and my mother called me sun because I shine like one." He's the kind of heel that fans love to boo; their taunts only make his smile broaden and his mic work meaner.
Next up is a tag-team match between the Riegel Twins (twin brothers Logan and Sterling Riegel) and Halal Beefcake, a duo made up of "The Genetic Jackpot" Joe Coleman and "The Sultan of Shawarma" Idris Abraham. They're followed by a two-way match between Steve Manders and Matt Kenway; both matches further amp up the crowd and display the kind of mid-card talent that Glory Pro is aiming to showcase: wrestlers with larger-than-life personas, to be sure, but with technical prowess.
When the Manders-Kenway match ends, ring announcer Ben Simon blares that there will be one more bout before intermission. The first and last matches might be the most important, but a strong pre-intermission fight is a close third, and Glory Pro fans have never seen one more high-octane than what unfolds next.
MONICA MILEUR
Chicago heels, Knicks (left) and Brubaker rile the crowd.
From behind the entrance curtain burst Knicks and Brubaker, the current United Glory tag-team champions. The duo has been feuding with #NoNewFriends (Davidson, Adams and Mike Outlaw) for most of 2019, and now it's time for the showdown. A lot of their story as heels in this rivalry has been that they're from Chicago and hate St. Louis, so naturally they're clad in Chicago Blackhawks gear. They make a big splash, emphasizing that they're the champs and shamelessly throwing their title belts overhead with a confidence that screams, "Please boo us."
The crowd knows that KLD and Adams are about to follow, and the room is rippling with chants, cheers and a current of excitement and energy that will be familiar to any sports fan. This is the kind of room that can convert the casual viewer into an immediate professional wrestling fan; it's the sort of thrilling drama mixed with daring and ruthless athleticism that draws you in for a match and then for life. This is the feeling that pro wrestling fans try to describe to people unfamiliar with or uninterested in the industry.
"When you walk into a movie theater, you check your disbelief at the door, and it's the same thing with professional wrestling," Davidson says. "I think it's the best form of entertainment in the world; it's theater in the round. The fans come to be entertained — obviously they know it's not real. We're out there telling a story with our bodies and our facial reactions, and just because I know what's coming doesn't mean my body hurts any less."
When Davidson and Adams emerge from behind the curtain, the room erupts in a deafening cry of "KLD, KLD, KLD." Pro wrestling is as personal as any sport; fans feel that they know their favorite wrestlers and their journeys even if they've never met them. That level of admiration and respect doesn't change much from WWE superstars to headliners at the Gardenville Masonic Temple — or at least tonight it doesn't feel that way. Looking around, kids as young as four or five are on their feet, cheering as fiercely for their favorite wrestlers as the adults in the room.
As KLD makes his way around the barrier outside the ring, high-fiving fans young and old, he does so in a purple Affton High School hoodie with "Big Guy" scrawled across the back. Ten years ago, there was the thought that he'd leverage his time on the school's football team into a spot on a college team, but he chose another path. A decade later, to the people in this auditorium in his hometown, he's celebrated for a different kind of athleticism, and one that means so much more to him.
MONICA MILEUR
KLD and Adams hang on to win the United Glory tag-team championship title.
The match is a no disqualification street fight for the tag-team title, and given the narrative buildup and KLD's life-real journey that inspired it, there's little chance that #NoNewFriends won't be victorious. That's also the magic of professional wrestling: The fans can often predict the outcome, but wins and losses don't matter as much as the story and show that get you there. After all, if you lose, you're just teed up for a rematch and another chance to pack the house.
In the ring, KLD is a forceful fighter — when he slaps or chops an opponent, he's really making contact, something known in the industry as fighting "stiff." Tonight, this is evidenced by the mid-match welts KLD freely leaves on Knicks and Brubaker. Although a towering presence, he displays impressive acrobatics, including jumping over Brubaker, clearing almost four feet of air in the process. Brubaker is not a small man, but next to KLD, he looks it, which is as much a credit to KLD's ring presence as Brubaker's ability to play the heel tonight. In contrast to KLD, Adams is a more high-flying, acrobatic wrestler and just as entertaining.
In the end, KLD and Adams defeat the bad guys: After a series of wild exchanges involving a steel trash can, two purple folding chairs and a deluge of chops, kicks and dives from the top rope, KLD throws Brubaker through those folding chairs, choking him out, and then wins by pinfall. The pair of #NoNewFriends then raise their newly won tag-team titles over their heads, embracing one another and seeming to tear up at the victory. The lines of what's real and what's exaggerated are once again blurred — it's an emotional moment, to be sure, but in the crowd, you never forget that it's a planned one as well. Yet for the athletes and entertainers in the ring as much as for the people in the audience, that's the art behind professional wrestling.
Every Glory Pro show won't bottle the same stakes and spirit as the first in Missouri, but therein lies another joy of sports entertainment: You're never guaranteed the same show twice, whether that's at an event hall in Affton or a Wrestlemania pay-per-view. No matter the venue, the wrestlers in the ring are still taking bumps, diving from the top rope and working submission holds for the win, and for audiences, there's never been a more riveting time to tag in.