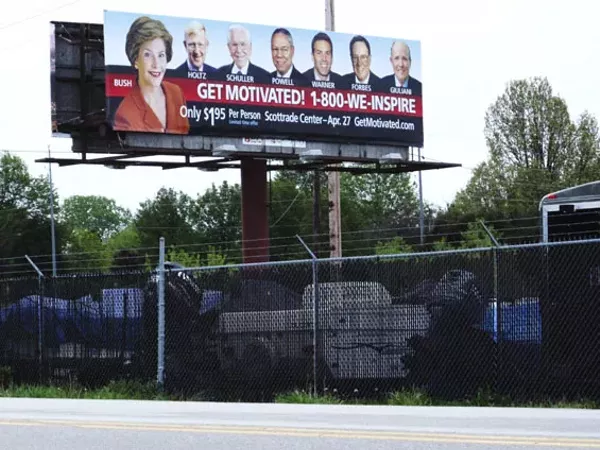 If you managed to miss the billboards papering St. Louis for the Get Motivated! event, you clearly don't get out enough.
An estimated 18,000 people swarmed Scottrade Center -- most of them arriving well before the 8 a.m. start time.
There was no WiFi at Scottrade April 27 -- the better to convince you to cough up your credit card without Googling the guest speakers first.
Signs on stage conveyed subtle oh-so-subtle messages: MOTIVATED! ACHIEVE! SUCCESS!
The Get Motivated! event started with the national anthem.
Get Motivated! workbooks were $4.95 if you pre-ordered them before seeing how crappy they were.
Table after table was covered with clipboards, each one equipped with a slip for your credit card information.
Rudy Giuliani spoke about 9/11 (of course) and also the importance of using your computer -- a key point for a seminar designed to sell you on online investing tools.
"Some people have slogans ... like 'change,'" Giuliani told the crowd in a sly allusion to Barack Obama. "Change? It took me a few years to figure out what that change thing is about. They're not going to leave you with any change in your pocket!"
Citing his use of the Compstat program to reduce crime, Giuliani urged attendees to "become conversant with the computer and use it a lot."
Apparently, the idea of using a computer was somewhat novel to the Scottrade crowd: They listened, rapt, to Guiliani's patter.
A good time was had by all.
Ladies and gentlemen, Kurt Warner!
Warner was a member of the St. Louis Rams from 1998 to 2003.
Thanks to those giant TV screens, the Get Motivated! speakers seemed like they were right next to you, even in the cheap seats.
Prime time was given over to a one-hour pitch for Investools -- the online "investor toolbox" that could be yours for $39 a month, plus a $99 workshop sponsored by Wealth Magazine. No one ever disclosed that Wealth Magazine isn't much of a magazine -- and that it's owned by the same guy who owns Get Motivated!
Bob Kittell spent an hour, plus lunch, hawking Investools. He painted himself as a wealthy investor, showing four single moms how the Investools product could make them wealthy, too.
After the single moms made $28,406 on an imaginary $100,000 investment in an audience demonstration, Kittell told them, "I'm not going to give you the money. It's better to learn. How about, in exchange for being up here, I give you a two-day class that shows you how to use these tools, for free?"
People swarmed the tables to plunk down $99 for the two-day workshop pushed by Kittell.
Even if attendees fail to show up at their course, they still get charged: They're automatically registered for a $99 "online" course instead.