Page 2 of 2
The members of St. Louis band Foxing were in their teens when they first hit the national spotlight with The Albatross. Three albums and one pandemic later, both their sound and ambition is still expanding on their new record, Draw Down the Moon The band's deep association with emo, the genre it's permanently been stamped with, is still there in frontman Murphy's oft-profound lyrics, if not as much in its instrumentation. Foxing's sound has changed, too — expanded, really — from what the band did on its most recent record, Nearer My God. There are more synthesizers this time around, and drummer Jon Hellwig's beats get a bit funky on "Go Down Together" and "Where the Lightning Strikes Twice." Pop records by Caroline Polachek, Carly Rae Jepsen and Charli XCX significantly influenced Draw Down the Moon, Murphy explains. But even with the wide-ranging mix of genres on display, he's still OK with the "emo" tag.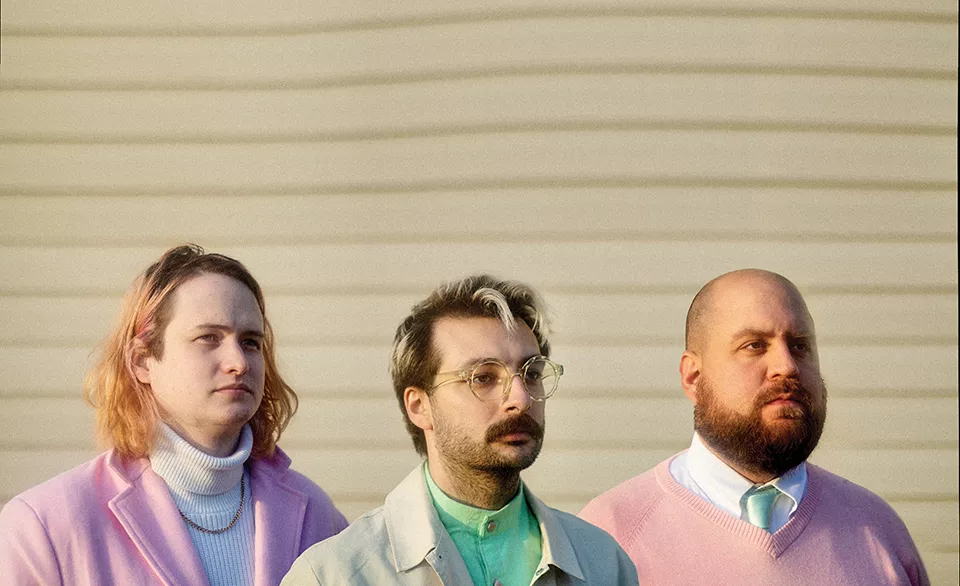 HAYDEN MOLINAROLO
Jon Hellwig, Conor Murphy and Eric Hudson couldn't be in the same room together during the pandemic, which forced them to figure out new ways to work together and apart.
"I think we've always embraced the kind of genre tag or compartment people want to put us into. People still call us an emo band, and honestly, I think that's fine," he says. "I'd call us an emo band at this point. At this point, we're like, whatever you need to call it to be able to describe it to someone else ... yeah, that makes sense. It's always a ranging thing.
"It is, at its core, emotional music," he adds. "We strive to make songs that you really have to sit down and listen to as opposed to something that you just kind of hear on the radio. It's emotionally invested music."
For this effort, guitarist Eric Hudson doubled as producer, and he perfectly captured those pop sensibilities. Hudson worked tirelessly on the record at the band's St. Louis studio for a year before the group decamped to Georgia to put the finishing touches on it with members of Manchester Orchestra. It might not seem like such disparate parts would work to create a cohesive whole, but they do: Foxing has composed a slate of genuinely danceable songs here, even if the lyrics aren't so upbeat. But aren't the best pop songs to dance to also the saddest?
Naturally, the pandemic made the process of creating the album much more difficult than any of the band's previous efforts.
"On a production level, it has never been harder than on this record to write and record something," Murphy says. "We knew Eric was going to produce this album, but he had an incredibly huge amount of work to pull this off. Eric would set up a room that I would then go into and record stuff while he was gone, and he would try to sift it together. At the end of it, it sounds really huge and expansive in some way. I think it's truly just a testament to a really good producer to make it seem like this huge thing that's recorded all at once, rather than being what it actually was, which was really cobbled together."
Soon, the band will emerge, finally, from its pandemic bunker and connect with the world in its most preferred manner once again. This Saturday marks Foxing's return to the live stage and its first-ever outing at the Pageant. The band's lineup will include longtime collaborators Ryan Wasoba on guitar and Brett Torrance on bass. The openers include producers MANAPOOL and Parisian, along with bands LéPonds and Choir Vandals. In typically ambitious fashion, Foxing will perform Draw Down the Moon in its entirety. After that, there will be a short break before the group's members return to play a selection of favorites from their other three records. If the show sells out, Murphy has vowed that he will get a gooey butter cake tattoo live on stage.
After more than a year without performing in front of a crowd, Murphy says the band is beyond excited to hit the stage again.
"It's this really wild mix of emotions for it. I don't even know where to start," he says. "I'm extremely excited to play live in general. Of all of the things I missed the most, this is not just my career but my total passion. The one thing I truly know about myself that I enjoy and that I am in any way good at is performing. And so to not do that for such a long time is — I don't know. It's just draining."
Still, with the Delta variant of COVID-19 surging in the state and nation, Murphy does acknowledge some concerns.
"We have the mask mandate — that's great, but also I doubt that there will be a vaccine mandate for the show, and I'm very worried about people getting sick," he says. "We were selling [tickets] at a time when everything was getting more and more optimistic. But now it's this very scary thing, and we don't want anybody to be sick or die as a result of coming to our fucking concert." (On Monday of this week, after this interview had been conducted, the Pageant instituted a policy that will require proof of vaccination or a negative COVID-19 test in order to gain entry to any concert on its premises, which should hopefully ease some of Murphy's fears.)
The fact that the show will take place at the Pageant, one of St. Louis' most celebrated venues, is deeply significant for Murphy as well. It's not just a stage where he's seen countless of his favorite acts perform live, it's also a venue where he spent some time as an employee, even penning some of the lyrics for the new album while on duty.
"I was doing door staff at a Falling In Reverse show, which was a nightmare," he says. "I was writing the second to last song on the album, called 'If I Believed In Love,' and I was literally writing that on a break. Like, I was writing out the lyrics to it and humming melodies into my phone."
It's an anecdote that neatly encapsulates what Foxing has accomplished with Draw Down the Moon — creating something beautiful and wholly unique in the face of some of the most trying circumstances.
"When I was done with my break, I came back in and it was like, 'Uh, puke. There's puke here,'" he laughs. "'You gotta throw the sawdust on it or whatever.'"